Moving across the country is a challenging feat with plenty of potential problems ahead. With that in mind, your best bet towards having a successful move would be to turn to professionals for assistance. Experienced cross country moving companies New Jersey know just how to address, if not prevent any troublesome situation, making this whole experience rather pleasant for you. Professionals will make sure your goods are safe during the long road ahead, and that you have as few obligations as possible. In terms of getting in touch with the right moving team, whether you need cross country or long distance moving companies New Jersey, know that you can always count on us. Verified Movers will be at your service. Check out our website and make use of our database which is filled with some of the finest movers in the business.
How much does it cost to leave Garden State with professionals?
Many people avoid asking interstate movers in New Jersey for assistance because they think it might break their bank. But, this is almost never true. Some cross country moves are quite expensive, no arguing that. This is mostly the case with huge households or moves from one US coast to another where the distance is huge. This is the reason why, in New Jersey's case, the price will depend a lot on the state to which you're moving. So, we'll give you an idea by sharing the average cost of moves between the Garden State and 5 other states that New Jerseians seem to prefer as their moving destination.
Moving from New Jersey to Pennsylvania; $1,800-$3,500
Moving from New Jersey to New York; $1,800-$3,500
Moving from New Jersey to Florida; $2,900-$5,400
Moving from New Jersey to North Carolina; $2,400-$4,700
Moving from New Jersey to California; $3,900-$6,800
Keep in mind that many things are affecting the cost of your move. The distance is arguably the main one, which is why moves between NJ and NY are much cheaper than those from NJ to CA. For example, the average cost of a move that's 1000 miles long is $4,800. Still, there are many other factors that will make the price jump or fall such as the weight of your items, moving date, special services, etc.
Finest cross country movers in New Jersey will make sure your moving adventure is customized to your preferences
Moving with professionals is an adventure in the true sense of the word. If you didn't have cross country movers New Jersey by your side throughout this journey, your experience would be much worse. When the experts are there for you, leaving Garden State will be smooth sailing. This is mostly due to a plethora of services that interstate moving companies in New Jersey are offering. Apart from the general services that most of these companies are offering, which you'll see in the list below, there are dozens of other services you can customize your move with.
Residential moving
Packing services
Furniture moving
Storage services
Whether you want to move your household or your business, interstate movers New Jersey will be more than happy to assist you. And, they're also here to relieve you of some difficult tasks, such as packing. You can give yourself time to mentally prepare for the upcoming change, while movers are taking care of the packing process.
Relocating specialty items is as easy as it gets when you have the right moving team with you
If you have some items that are valuable and yet hard to relocate, due to their sensitivity, weight, or anything else, make sure to ask cross country moving companies in New Jersey if they'll be able to help with that. With so many specialty items moving services out there, chances are that they will.
In New Jersey, as you're probably aware, you won't get too far without a car. In spite of having a population lower than 9 million, there are over 6 million cars in New Jersey. That's almost one car per resident. With so many cars on the road, there's always a risk of getting stuck in a traffic jam, and that situation is one to avoid when moving out of state. That's why it would be great to ask cross country moving companies New Jersey to relocate your car with the rest of your items.
People in New Jersey, especially Jersey City and Hoboken, love to play pool. In these two cities, there are countless pool rooms with daily tournaments. So, naturally, a lot of households have this entertainment item. However, moving pool tables is a real problem due to their heaviness, as well as their size. Considering how expensive some of these tables are, it's obviously better to leave their relocation to professionals.
Similarly to pool tables, pianos are very difficult to move, and more often than not, even more expensive. That means that the possible damage could prove to be even more costly. Thankfully, with piano moving services that interstate moving companies New Jersey are providing, relocating these instruments is not an issue.
How to find some of the finest cross country moving companies in New Jersey?
This is probably the most important question when it comes to professionally-assisted moves. The decision you make here will make a big impact on the outcome of your move. Of course, we don't want to scare you and put pressure on you, but it is necessary to emphasize the importance of this decision. And, you'll find it much easier to make because Verified Movers will help you with that. Here is what we recommend you:
Taking a look at cross country moving companies New Jersey reviews
The reason why we made Verified Movers available for anyone to read is that we think reviews are so important when choosing interstate movers in New Jersey to relocate with. You'll find out so many useful things by browsing through reviews including the former clients' opinions on whether the company is good or not, which services they're offering, how they approach the move, and many more.
Seeing if the company has valid licenses
Licenses are another thing, not only worth checking but a thing that's practically a must. Fraudulent movers are all over the place, and the best way to avoid them is by checking the licenses. You can do this on the website of the Federal Motor Carrier Safety Administration. This is the agency that regulates all American cross country movers, and those from New Jersey are no exception. The best way to do so is by obtaining a USDOT number from a company. By using that number, you can track down certain cross country movers in New Jersey on the aforementioned website.
Paying attention to how they communicate with you
Finally, even if the company is licensed and has good reviews, you need to remember that each experience is unique. As such, you should demand nothing but the best for yourself, and that includes communication, services, and the moving experience overall. As soon as you get in touch with certain cross country moving companies New Jersey, pay attention to how they communicate with you. If you're happy with what you're seeing/hearing, then great. But, as long as something is bothering you, think about looking elsewhere.
How to pick an optimal moving date?
One thing to keep in mind if you want to ensure a successful move without disturbances is the weather. Weather conditions on your move, both in the state you're moving from and the state you're moving to can play a big part in your experience. When it comes to New Jersey's climate, it probably won't cause you too much trouble. The summers are usually hot and humid, with temperatures ranging from 60-80°F. Winters are quite cold on the other hand, with an average temperature between 16-30°F. With this in mind, relocating is possible all year long, although you may want to avoid the winter periods when the temperatures reach their lowest point.
Also, we wanted to point out that certain periods of the year are busier for movers than the others, and that will affect the price. Summer is the peak moving season in NJ, so expect higher prices during the months of July and August. On the other hand, if you opt for a winter move, especially after New Year, the prices will be at their lowest point.
Cross country moving companies by cities in New Jersey
With so many companies on offer, especially here on our website, it may take time to find the ideal one. So, to make this process quicker, Verified Movers have sorted cross country moving companies in New Jersey by cities, so you can check out the ones that are closest to you.
Frequently asked questions
When is the best time to get in touch with cross country moving companies New Jersey?
The optimal time for calling NJ's moving experts is one month in advance. By scheduling your move on time, organizing the whole process will be much easier.
What is the difference between interstate and intrastate moves?
Intrastate moves are happening within one state, while interstate moves involve 2 or more states.
How long will it take for cross country movers New Jersey to relocate my items?
In general, cross country moves, especially those that don't exceed 1000 miles, last between 2 and 3 weeks. But, you should be aware that sometimes it lasts slightly longer than that.
What is the difference between a binding and non-binding estimate?
A non-binding estimate is subject to changes, and it is usually one you get for free as soon as you contact interstate movers New Jersey. We strongly advise you against signing this estimate. On the other hand, signing a binding estimate means you'll be charged the exact amount listed in the estimate.
How can I get moving insurance?
Getting moving insurance is very easy, considering you only have to ask cross country movers in New Jersey for it. You'll be offered different insurances, and therefore, you'll be able to choose the one that suits you the most.
Verified Movers, with all of our resources, will match you with the right team in a heartbeat
The one thing you should know about us is that we will devote all our resources to helping you get in touch with the finest cross country moving companies New Jersey. Our database is vast, and it contains well over 20,000 moving professionals. By reading Verified Movers reviews, you can learn a thing or two about each and every one of them, and throughout the process, we'll point you to cross country movers in New Jersey who are operating near you and help you select the ideal moving team.
Our assistance will not stop there. We're very familiar with how the moving process works, and that's why we decided to share our knowledge with you. Various moving tips and guides are posted weekly on our blog. So, if there's anything you're not sure how to handle, you'll probably find an answer there. And, of course, for any further dilemmas, you can always contact us, and we'll do our best to help you out.
New Jersey has the worst moving trends in the USA
Now, this is may sound surprising to some people, but yet, it's true. New Jersey has been the worst state in the country regarding moving trends in 2021. Not only that, but it has been the most moved-out state over the course of 2022 as well. Everyone seems to be looking for quick ways to leave the State of New Jersey, as the residents started experiencing major issues in the wake of inflation. We'll get to the reasons for this soon, but we wanted to show you some numbers first. In 2021, 70,5% of relocations happening on New Jersey's soil were outbound. That leaves us with only 29,5% of inbound moves, which is by far the worst percentage out of any state in the country.
The whole population of Garden State shrunk by around 3% in one year. That number is extremely worrying. And, if we look at some towns and cities individually, you'll see that it gets even worse in some cases. For example, the largest city in the state, Jersey City, now has 2,9% fewer residents than it did at the beginning of 2021. To make things worse, Jersey City barely made the top 10 of most moved-out cities in the Garden State, at least percentage-wise. Pine Valley, which is now merged with Pine Hill, lost 35% of its population during that period. Other worthy mentions on this infamous list are North Bergen, Kearny, and East Newark (all of them down 4.3%)
So, how is this possible, considering we're often hearing great things about Garden State? With so many people leaving New Jersey, it's difficult to pinpoint one single reason. The number of outbound moves that's this high doesn't happen overnight nor for one reason only. It is a combination of different factors that makes people want to move out, and exactly why this problem is so complex and difficult to solve.
The main reasons people are fleeing the Garden State
We're going to get straight into the problem and see what are the motives for people to say goodbye to New Jersey and move elsewhere.
Taxes
Every state has a unique tax system with different rates for certain taxes (or no certain taxes at all). New Jersey isn't the most tax-unfriendly state out there, especially if we look at some parts of it. However, one specific tax is a problem for the majority of people, and that is a property tax. The Garden State imposes one of the highest property taxes in the United States, set at the rate of 2.4%. That means you'd have to pay over $7,000 in taxes for a home with a $300,000 price. While some states tax certain things high, they make it up while taxing the others low, or not taxing them at all, that's not the case with New Jersey. In spite of having a huge property tax, there are no notable tax benefits to be found in other areas.
High cost of living
When you have a high tax burden, it certainly doesn't help if the cost of living is huge. Unfortunately for New Jerseyans, the cost of living in their state is among the highest ones in the nation. Its index is 120.5 which makes it 20.5% higher than the nation's average. And, as in most cases, the cost is even bigger in the largest cities, especially those close to NYC like Jersey City or Newark. With the ongoing crisis, some residents simply find it hard to keep up with the daily expenses and ultimately decide to move elsewhere.
Real estate prices are jumping up every year. Soon, the median home price in Garden State will reach the $400,000 mark. Transportation costs are also among the highest ones in the nation, but as far as the other expenses go, there is nothing that stands out. If there is one thing that's more affordable in New Jersey than in the majority of the USA, it would be healthcare. Health-related expenses in Garden State are 12% lower than the nation's average. And, it's worth noting that the New Jersey healthcare system is very good.
Retirement
If you were interested in age group analysis for people who are leaving New Jersey, we'll give you some insight here. Retirees are the leading group when it comes to leaving Garden State. Almost 40% of all New Jersey outbound moves are related to retirement. Even if we put retirement aside, we'll see that in both 2020 and 2021, around 80% of people who left New Jersey were over 55 years old. But, why are retirees leaving Garden State? Well, without an active and, at least, moderate income, New Jersey is simply too expensive to live in. On the other hand, you have some amazing states for retirement nearby such as New Hampshire and Vermont. So, leaving New Jersey upon retiring seems like an easy choice to make.
Other reasons
While the three aforementioned reasons were cited the most among former New Jerseyans, there are a few other things we wanted to mention as well. For example, job opportunities were spoken about a lot among people who left Garden State. Of course, NJ has some potential in this area. After all, 15 Fortune 500 companies call New Jersey their home. But, in spite of that, the unemployment rate in NJ is 4%, which is a lot, considering that there are a lot of states with unemployment rates well below 3%. So, while someone won't find it hard to get a job in Garden State, there are some who will. Therefore, from their perspective, leaving New Jersey is a natural thing to do.
Education is another important motive for people to say goodbye to New Jersey. Less than 50% of high school students in NJ decide to go to the college that's located in their own state. The lack of reputable universities pushes the youth toward leaving Garden State. And, as we all know, once you move somewhere for college, you're much less likely to move back to your home state. So, with all this in mind, it's quite clear why New Jersey is the most moved-out state in the country. And, it doesn't seem like this trend is going to change anytime soon.
Where are all these New Jerseyans moving to?
When you have a state with 70% outbound moves, it's not hard to assume that these people are moving all over the country. However, in spite of hundreds of moving routes people are choosing, there are three states that have established themselves as the preferred destinations among New Jerseyans on the move.
Pennsylvania
You might expect New York here, purely because of NYC, but actually, Pennsylvania is the most frequent choice among New Jerseyans on the move. Moving from New Jersey to Pennsylvania is done by more than 40,000 people a year, at least in recent years. This is almost 20% of all outbound moves from Garden State. Why Pennsylvania? It is mainly because it's close and yet so much more affordable than New Jersey. The Keystone State has many great cities, where life is not too much different from the NYC metro area, such as Philadelphia and Pittsburgh. And yet, both of these cities are really easy to afford compared to, for example, Jersey City and Newark.
This is exactly why the majority of moves are happening between the NYC metro area and Philadelphia, for example, moving from Jersey City to Philadelphia, which is logical considering the size of the City of Brotherly Love. But, in this case, Philadelphia is not a go-to destination in the sense that the majority of moves have this city as their final stop. A lot of other Pennsylvanian cities are very popular among New Jerseyans. Pittsburgh is, interestingly, down the list of preferred destinations among New Jerseyans. But, this isn't a huge surprise considering that the City of Bridges is all the way on the west side of Pennsylvania, and hence, not so close to NJ. Allentown on the other hand is very close to NJ along with cities in the NYC metro area. As such, it welcomes thousands of New Jerseyans on a yearly basis.
New York
And now, it's time for New York. Of course, the emphasis here is on NYC, and for a reason. Out of around 30,000 people who went from Garden State to New York in 2021, almost 70% of them went to NYC. Moving from New Jersey to New York is popular for many reasons, but it probably wouldn't matter if these states weren't so close to each other. New York is actually easier to afford than New Jersey, but this is can't be a motive for the majority of people, since they're mostly going to NYC, which is arguably the most expensive city in the country. However, getting a chance to live in NYC, even if it's for a short period, is not an opportunity that people can easily pass on.
This especially goes for individuals who manage to find their dream job in NYC. Even with everything that's going on in the country right now, you are simply not going to miss that chance. The relocation with cross country moving companies in New Jersey won't be expensive too, especially if you're moving from Jersey City to NYC, which is the most common route. Thousands of people are going on this move every year, and since the cities are less than 10 miles away from each other, the cost of relocation will be negligible. Otherwise, as far as the common routes go, it's obvious that each route at the top has NYC as its destination. Whether it's from Hoboken, Newark, Jersey City, or some other place, NYC tops the moving charts for New Jerseyans and it is the most moved-in city among Garden State's movers.
Florida
Between 25,000 and 30,000 people have moved from New Jersey to Florida in 2021. Florida is very popular among New Jerseyans, but the same can be said for people from the majority of US states. Florida is simply one of the most moved-in states in the country, but not only that. It is also among the leaders in the total number of relocations happening on its territory. There are a lot of people who are leaving the Sunshine State too, and it's one of the most dynamic states in regards to migrations. In terms of moving from New Jersey to Florida, the expenses are surely the main reason. Whether it's about the cost of living or taxes, Florida is much better in both these categories. There is no income tax in Florida and the cost of living is 16% lower than in New Jersey.
It won't surprise you that moving from Jersey City to Miami is by far the most common choice. Between 2,000 and 3,000 people went on this relocation last year. When it comes to other moves, due to the similarity in sizes of Garden State's largest cities, there is no move that stands out. Also, Florida has so many different options, glamourous Miami and Orlando on one hand, and cheap, yet great cities, like Tampa and Jacksonville on the other. So, New Jerseyans are moving all over Florida, but relocations between Jersey City and Miami are the most numerous ones.
With so many outbound moves happening in New Jersey, why are some people still looking to move there?
You need to remember that New Jersey is a beautiful state, even though it's going through a rough patch at the moment. There are a lot of safe towns in the state, that is perfect for raising a family. Closeness to NYC is certainly a big thing in minds of some movers. This especially goes for those who want to work in NYC without paying premium prices for Big Apple's real estate. People can easily live in Jersey City, Newark, North Bergen, even Hoboken, and work in, say, Manhattan. This has become a huge metro area, and traveling between NYC and some cities in NJ is very short.
Otherwise, healthcare is good and affordable in New Jersey. If you manage to find a job that pays well there, you'll enjoy life in Garden State. There are so many outdoor activities you can do in your free time, and make the most use of your weekends. Everyone can enjoy New Jersey, but it is really special for young families with kids. You'd struggle to find a state that's better suited for families than NJ. So, if you're in a position where the cost of living and taxes don't affect you too much, rest assured New Jersey is one of the best states to live in. However, the majority of people aren't in this position, which led NJ to be the most moved-out state in the nation.
New Jersey's inbound moves
Now that we saw that New Jersey is truly a great state to live in, at least for some people, we wanted to show you where are all these people who are moving to Garden State coming from. Although there are more than twice as many people moving out of New Jersey than moving in, we shouldn't neglect the newcomers and their motivations, so let's take a look.
New York
The Empire State is, like New Jersey, one of the most moved-out states in the country. And, since we're talking about New York again, we have to mention the distance between NYC (where the majority of New York movers are coming from) and cities in New Jersey. Moving from NYC to one of the cities in the Garden State makes even more sense than going in the opposite direction, at least at this very moment. As expensive as New Jersey is, it is nowhere near NYC, especially compared to boroughs like Manhattan and Queens. This is exactly the reason why there are more people who are moving from New York to New Jersey than vice versa (around 60.000 a year vs 30.000 a year). Some of them are even keeping their old job in NYC and moving to NJ to cut their living expenses.
Of course, Jersey City is the most common choice. After all, it is right across Hudson, so movers from New York City who are choosing Jersey City, Newark, Hoboken, etc., can be at the doorstep of their new home in the blink of an eye. Almost half of these 60,000 relocations from NY to NJ are from NYC to cities that are within a 20-mile radius.
Pennsylvania
Similarly, as with NJ and NY, Pennsylvania also has a lot of relocations between itself and Garden State. It's simply because this is one of the most dynamic migration areas in the United State. On this part of the East Coast, cities are so close to each other, and people are moving more often than in central, or even western parts of the country. Usually, around 25,000 people a year are moving from Pennsylvania to New Jersey, although to be fair, these numbers worsened over the last two years for reasons we discussed before, These are the same reasons that made New Jersey the worst state in moving trends. Since the pandemic started, less than 30,000 Pennsylvanians have moved to Garden State. Most of them went from either Allentown or Philadelphia to Jersey City.
Florida
We'll conclude the moving trends with Florida, another familiar name. This is one of the rare cases where both inbound and outbound lists for one state contain the same names with the position on the top 3 list being the only difference. Slightly more than 10,000 people have been on the move from Florida to New Jersey in 2021. Before the pandemic started, there were almost 15,000 Floridians moving to NJ every year. Of course, in this case as well, cities that are a part of the NYC metro area are the most common choice among Floridians. And, moving from Miami to Jersey City is the most frequent route. A few thousand Miamians are moving to Garden State any given year, not just to Jersey City, but all over the state. Starting a family life, experiencing a change in weather, and being close to NYC are the main motivations for Floridians who decide to give New Jersey a chance.
If you're moving an office to/from New Jersey, you should strongly consider hiring professionals
Commercial moves are completely different than residential ones. While that doesn't mean they're necessarily harder, there will be some things that you need to pay extra attention to. However, what's specific about commercial moves is that there is a lot more work outside of the moving process itself. This means dealing with a ton of paperwork and, in some cases, with a lot of people, if your business has more than a few employees.
Additionally, you shouldn't forget to register your business in whichever state you're moving it to. New Jersey Department of Treasury deals with business registrations in Garden State. On the other hand, if you're moving a business out of NJ, know that every state has its own agency that regulates business. So, while you deal with that, and unfortunately, there is a lot of work, you see why it would be better to at least not worry about the moving process and leave it to cross country moving companies New Jersey.
Choosing a DIY moving option: pros and cons
Relocating out of New Jersey is a huge endeavor, as well as going on any interstate move for that matter. As such, it's not difficult to conclude that the chances of success will rise significantly if professional cross country movers New Jersey are by your side. However, you need to pay for their services, which we assume is the main reason why you're pondering about going with a DIY solution. Whether it's worth it or not is something that depends on every individual, but in most cases, it's not. Organizing a DIY move is a big task in itself, let alone when the other tasks start catching up with you. If you decide to hire one of the finest interstate moving companies New Jersey, then you should expect smooth sailing from the very beginning until the end.
Devote some time to come up with a moving plan you'll follow throughout the process
A planned move will eliminate the chaos from your moving process entirely. Well, maybe there'll be a few things that will come up surprisingly. But overall, the whole journey will be much easier to navigate when you know what your next step is. Besides having a proper plan that will take you all the way until the moving date, it would be great to have a post-moving checklist up your sleeves. We think that every New Jerseyan's moving checklist should have hiring interstate movers in New Jersey right at the top of the list. But, other than that, we wanted to share a few other things that people tend to forget in the process, simply because they're overwhelmed by a large number of tasks that keep on coming on a daily basis.
Notify US Postal Service and let them know you're moving out of state
Notify your employer about the transition
Collect the medical records for you and your family, as well as your pets if you have them
Make backups of all the important documents
Pack an essentials box you'll keep near you on a moving day
Transfer your utilities or cancel those you won't need any more
Transfer/cancel magazine or similar subscriptions
Verified Movers will help you find the ideal team of interstate movers New Jersey
While undoubtedly complicated and hectic, the moving process does not have to be a stressful event. Once you have the right moving team at your side, you will have nothing to worry about. True professionals of the trait know just how to address every part of the relocation, leaving you, the client, with peace of mind. And, with Verified Movers helping you out, you will get in touch with some of the finest cross country moving companies New Jersey in no time.
Facts About New Jersey
01. Main Information
Popular Cities
Newark, Jersey City, Trenton, Princetown, Atlantic City
US Senators
Bob Mendendez, Cory Booker
State Website
State Moto
Liberty and Prosperity
State Nickname
The Garden State
02. Geo Population
Total Population
9,255,437
Highest Elevation
1,803 ft
Lowest Elevation
Sea level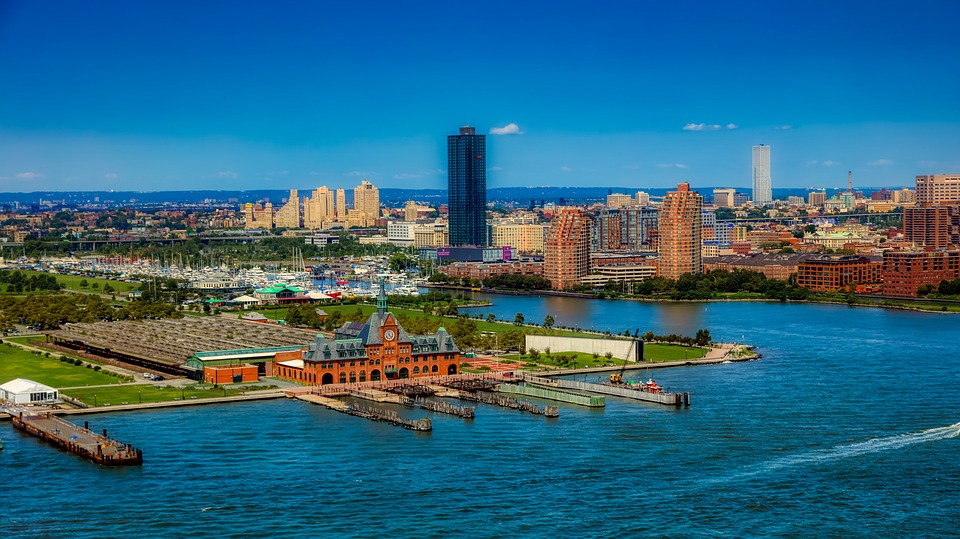 03. Education
Top 5 Elementary Schools
The Pingry School, Dwight-Englewood School, Kent Place School, Princeton Day School, Rutgers Preparatory School
Top 5 Middle Schools
The Pingry School, Newark Academy, Dwight-Englewood School, Kent Place School, Princeton Day School
Top 5 High Schools
Princeton International School of Math and Science, The Lawrenceville School, The Pingry School, Newark Academy, High Technology High School
Top 5 Colleges
Princeton University, Rutgers- The State University of New Jersey, New Jersey Institute of Technology, Montclair State University, Seton Hall University
04. Rates
Crime Rate
12.88 (per 1,000 residents)
Average Income (household)
$89,703