A long distance move does not have to be a stressful and arduous process. As long as you have professionals at your side to take care of moving tasks, you'll get to experience a whole different scenario. This way, a smooth and simple move is well within reach. Verified Movers will help you make the best pick, thus ensuring that your relocation experience is the way it should be. Our platform is filled with some of the most professional, diligent, and reliable long distance moving companies New Jersey has to offer. Browsing through our website and Verified Movers reviews will give you a unique insight into what the industry has to offer, not only when it comes to Garden State's long distance movers, but also cross country moving companies New Jersey, meeting you with all the important information that's necessary for making a sound choice. We, therefore, invite you to visit our website and make a huge step towards the proper moving experience you deserve.
Long distance moves explained
Although the term in itself tells us a lot about what kind of relocation this is, some things still need to be explained in order to understand it fully. Long distance move is any move that goes beyond the 50-mile radius. While some count it as a move that exceeds 100 miles, in most cases, it is 50. However, there are still two types of long distance moves, and it would be good for you to know the difference before you jump into the moving process. On one hand, we have interstate moves. They are also known as cross country moves, and that's any relocation that goes beyond the borders of one state, in your case New Jersey. So, know that if you wish to move out of Garden State, the services of interstate movers in New Jersey are the ones you should ask for.
On the other hand, we have intrastate moves. If you're moving from Trenton to Newark, Elizabeth to Toms River, or any other relocations between the cities that aren't in the same metro area for that matter, you're going to need help from long distance moving companies New Jersey. The Garden State is known for a lot of cars being on the road throughout the whole day, traffic jams are frequent, and moving a household or business by yourself won't be a pleasant experience. Not to mention all the work you'd have to put in to successfully complete the moving process. With NJ's moving professionals, all these problems won't be yours to deal with.
Moving trends in New Jersey have never been worse
Once among the most popular states in the nation, New Jersey is going through some very tough times right now. Negative moving trends have been present for a while, but the last two years brought a whole new dimension. When it comes to migration trends, New Jersey has hit rock bottom and now it's the most moved-out state in the country. With 70.5% of outbound moves, hardly any state comes close to NJ in this category. People are leaving it in flocks, and Garden State is set to be the most moved-out state for the third year in a row. While every New Jerseyan is well familiar with the advantages of living in this state, it seems like the pros are being outnumbered by the cons.
The high cost of living is just one of the reasons people are leaving NJ the first chance they get. Sitting at more than 20% higher than the nation's average, the cost of living in Garden State is among the highest ones in the US. Housing prices are rising steadily, and soon, the median home price will surpass the $400,000 mark. But, this is just the beginning. The State of New Jersey imposes one of the highest property taxes in the country, and even the rest of the tax burden is quite big. The majority of movers are elderly people, retirees to be precise. They are moving to nearby states that provide more benefits for this age group than Garden State.
What influence do these negative moving trends have on relocations within New Jersey?
Well, it's expected for these negative moving trends to have a severe impact on the majority of cities. Don't matter if it's about relocations within New Jersey, such as the one you're probably considering since you're here. It's a fact that the majority of New Jerseyans who are looking to change their environment would rather leave the state altogether than move to other cities in the Garden State. Therefore, it's difficult to name any cities in New Jersey that are having positive moving trends. There are a few of them, but they are mostly small peaceful towns where the cost of living hasn't become huge yet. But, we will cover a few of the major cities in NJ nevertheless, and hopefully, help you make a decision on where to move.
Jersey City and Newark would have an even bigger problem if there weren't so many New Yorkers moving to these cities
First of all, we must mention that both of the Garden State's largest cities are experiencing a population decline. And, this decline is quite significant too. Jersey City is by far the worst one, way worse than Newark because the last year's net migration in this city was -8,000 residents. For a city with a population of less than half a million, this is quite big, and a huge reason to worry. Newark on the other hand, while better than Jersey City, has bad numbers as well. The net migration in Newark was -3,000 in 2021. To be fair, the largest cities of almost every state in the country are losing residents in the wake of the pandemic, which ultimately brought inflation and a big economic crisis.
One silver lining for both Jersey City and Newark is that New Yorkers are moving there in flocks. NYC is one of the most moved-out cities in the US. During these challenging times, people find it hard to pay premium prices in the Big Apple, especially across Manhattan, Queens, and Brooklyn. Movers usually tend to move somewhere not far away from their homes, and Jersey City and Newark are perfect options for New Yorkers. Both of these New Jerseyan cities are welcoming thousands of New Yorkers on a yearly basis. However, they aren't so popular among New Jerseyans, at least not at this very moment.
To be fair, there are some exceptions. Some people are looking to pursue their careers in Jersey City and Newark, cities that really have a lot of opportunities to offer. Additionally, some New Jerseyans may find a job in NYC and decide to move to these cities that are a short drive away from Manhattan. Jersey City is also great for families, and it truly has some of the best parks in the country, where you can spend your weekends enjoying waterfront views of the Manhattan Skyline and the Statue of Liberty.
Edison and Elizabeth are in a similar position as Jersey City and Newark
Almost everything we mentioned for Jersey City and Newark works for both Edison and Elizabeth. Not so many people are looking to move there at the moment, while the number of those leaving is increasing every month. To be fair, Edison didn't have a huge net population loss in 2021 (less than 1,000 people). Despite being cheaper than Edison, Elizabeth experienced a net loss of around 1,500 residents.
For anyone looking to move to Elizabeth, know that it's great for commuters and it's a good place for families. Located right across Staten Island, the cost of living in the city is 5% lower than the New Jersey average. Edison on the other hand attracts people of similar profiles. Since it's one of the safest cities in America, along with having a great public school system, it's a perfect soil for young families to start their life. However, the cost of living index there is 135 which makes it 35% more expensive than the nation's average.
New Jerseyan cities with a lower cost of living, such as Trenton and Toms River, are in a slightly better position
When we say in a better position, unfortunately, we don't mean a good position necessarily. Truth is, Trenton and Toms River both have negative moving trends, but they aren't soo bad as the majority of large cities in Garden State. Their affordability makes them appealing to some New Jerseyan movers. However, the majority of these movers would still rather leave the state entirely than move to one of these cities. Both Trenton and Toms River are diverse places, and by no means bad cities to live in. As we said, the best thing about them is their affordability. In fact, Trenton, the state's capital, has a cost of living lower than the nation's average, let alone the average in New Jersey. Toms River is only slightly more expensive than Trenton.
How much will my move cost?
This is often the first question that comes to mind when one considers hiring professional assistance. It all depends, mainly on distance, but a few other things as well. If your long distance relocation within New Jersey isn't complex, chances are you will save some money along the way. We'll focus on the distance here, and give you a few examples of how much it costs to move between certain cities in Garden State.
The great thing about relocations throughout New Jersey is that the distance can't affect you too much. Simply, almost every major city in Garden State is within one hour drive from each other. Therefore, moving costs will be low. Well, as low as they come when it comes to professionally-assisted long distance relocations.
Moving between Newark and Lakewood; $400-$1,500 (52 miles)
Moving between Jersey City and Trenton; $400-$1,500 (50 miles)
Moving between Paterson and Hamilton Township; $430-$1,550 (60 miles)
Moving between Jersey City and Atlantic City; $550-$1,700 (96 miles)
Moving between Newark and Toms River $400-$1,500 (55 miles)
So, as you can see, all these relocations have average price ranges that aren't too different. When it comes to shorter moves, such as Newark to Jersey City, the price will be even lower. To be fair, these are mainly local moves rather than long distance ones. However, we had to mention them due to the fact that so many people are moving between these cities in the NYC metro area.
Calculating the cost of your move
Understanding the cost of long distance move is more complex than you think. This is simply because there are a lot of things that could make an impact on the final price. So, whenever you have more than a few factors, calculating the final price is a difficult task. Luckily, long distance moving companies in New Jersey are offering a free moving estimate. So, if you don't feel like jumping into some serious calculations, this is the best solution. In less than an hour upon getting in touch with moving experts in the Garden State, you'll have the estimate right in front of you. Nevertheless, we wanted to show you a few things that can make the price go either up or down, depending on the circumstances.
The distance between the states – Distance plays a huge role in the final price, and you'll pay much less if you're, for example moving from Jersey City to Elizabeth as opposed to moving from Newark to Lakewood. A relocation that's exactly 100 miles long costs $1,250 on average.
How difficult it is to load items from your home – In Garden State, there are a lot of regular family homes that have only one level. These households are much easier to navigate for long distance movers New Jersey and the price is usually lower in these cases.
The date of your move – There are some periods throughout the year when long distance moving companies New Jersey are very busy which makes the price go up. In Garden State, the peak moving season is summer, and you should expect summer moves to cost slightly more than during the rest of the year.
Special services you ask for – Special services aren't included in the basic cost. If you ask for any of them, expect to be charged more.
The quantity and weight of your items – If you have a lot of items to relocate, or even if you don't, but they are heavy, moving professionals in NJ will have to bring bigger or specialized moving trucks, which results in a price increase.
With the assistance of Verified Movers, you'll find the right long distance movers in New Jersey in no time
Our goal is to help each and every person get in touch with a moving team that suits them perfectly. Not only do we do it for New Jersey, but we're also covering the whole United States. There are over 20,000 movers in our database, and we won't stop any time soon. This proves our dedication to analyzing professionals in the moving business and it is the precise reason why we could be your perfect moving companion. Here on our website, you will find a lot of reputable long distance moving companies New Jersey. And, not only that, but you'll also learn a lot about them through Verified Movers reviews.
Another thing we would like to help you with is getting through the moving process unscratched. Everything that will happen until the moving date can take a toll on a person. Especially if you're a relocation first-timer, there are a lot of unknowns. And, as we all know, when you're able to predict certain tasks, they will surely be much easier to handle. This is why we're sharing useful moving tips on the Verified Movers blog, and if you visit it, you'll most definitely learn a thing or two about ways to deal with the upcoming adventure.
For all these reasons, we firmly believe you should consider us to give you some help. And, we will be more than happy to do so. Ultimately, if you have any more questions about the moving experts in Garden State, or about the proper ways to move from one New Jersey place to another, don't hesitate to get in touch with us.
How to check if the moving company is legitimate?
Whether the company is good or not is a whole different story. Don't worry, we'll cover that very soon too. But first and foremost, you need to be sure that they're legitimate, since this is the best way to avoid moving scam, which is, unfortunately, happening in all parts of our country. Legitimate long distance moving companies in New Jersey have obtained the necessary licenses required by agencies that are regulating this line of business.
The way for you to find out if movers who you got an eye on are licensed, is by visiting the website of the New Jersey Division of Consumer Affairs. Remember, your belongings are too valuable to be put in jeopardy, and if they end up in the wrong hands, who knows what might happen? Therefore, you need to be sure that the company is licensed and legitimate before signing anything. Only then will you be able to dig deeper and see if the certain company in Garden State suits you or not.
The significance of online reviews
Long distance moving companies New Jersey reviews are very important, almost irreplaceable, tools for anyone who's about to go on a move that's assisted by professionals. Why is that? Well, even if a certain company is licensed, that doesn't necessarily mean that they're good at what they do. Overall rating along with individual reviews will give you an answer if the company is a worthy candidate for your relocation. The importance of online reviews also lies in learning a lot of information about little details that can make or break your moving experience. For example, you'll get to know how the relocation with those movers looks from the beginning until the end, which services they're offering, how are they communicating with their clients, etc.
The only bad thing about these testimonials is that they're spread all over the Internet, on various websites. You'd need a lot of time to keep up with the ocean of information you'll find everywhere you look. But, don't lose hope because this is exactly what we'll help you with. At Verified Movers reviews, you will find everything in one place. Long distance moving companies New Jersey reviews have never been so easy and simple to reach. You can scroll through these useful testimonials on our website for as long as you want, and ensure you're making the right moving choice.
Moving services that long distance movers in New Jersey are providing will help you ensure a unique moving journey
Any relocation that's orchestrated the way you want it has to be pleasurable. A moving experience to remember is possible and easy to reach. Well, it is if you hire one of the finest long distance moving companies in New Jersey. A plethora of services they're offering will make your move unique and stress-free. Since there are so many of these services, and they are different for each company, it's hard to name them all. But, we'll mention a few of them that the majority of companies are offering. Hopefully, this will help you find ideal moving services for you, and make the most out of your moving journey.
Residential moving – This is the most common long distance moving service out there, that helps you move a household between Garden State's cities, for example, from Jersey City to Trenton.
Commercial moving – If you're moving your business across New Jersey, you'll have to ask for commercial moving services.
Packing services – Such a useful service, that helps you stay away from the packing process entirely. Long distance movers in New Jersey will pack up your belongings in less than a day, and spare you a huge amount of time and energy.
Junk removal – If you need to, or want to, throw a lot of things away prior to relocation, but don't want to get your hands dirty, NJ's moving experts will gladly take care of it for you.
Storage services – Renting safe storage space in a climate-controlled facility allows you to place some of your items there and not worry about them for an extended period of time.
This is just the tip of the iceberg. There are many more services you can count on, starting with specialty item moving, all the way to furniture moving, senior moving, etc.
Your specialty items will be safely transported by long distance moving companies New Jersey
If you're in possession of any specialty items, you'll be glad to know that a lot of movers in Garden State will be able to transfer them safely. What are specialty items? Basically, these are the items that are fragile or heavy, and yet, very valuable. Huge expenses would be involved in terms of fixing them if things didn't go as planned. The common specialty item moving services are:
Piano moving
Antique moving
Fine art moving
Pool table moving
If you're an owner of any of these items, you need to think about their safety throughout the relocation. Long distance movers New Jersey are able to guarantee their wellbeing. For example, almost every New Jerseyans owns a car. In fact, Garden State has almost one car per resident. If you don't want to deal with unpredictable traffic and have a smooth moving day instead, you should ask movers to transport your vehicle.
Long distance moving companies by cities in New Jersey
Verified Movers want you to spend the least amount of time and work during your moving journey. This is because the less there is for you to do, you'll be able to enjoy the move more. One of the ways to do that is by putting long distance movers from Garden State in several groups based on which city they're operating from. Now, you can search companies by city, and find the ideal team that operates near you.
Picking a moving date: How to do it right?
There are many things you can overthink during the moving process. Picking an optimal moving date is certainly one of them. For example, weather conditions can affect your experience, no doubt about that. Luckily, in New Jersey's case, you probably won't have to overthink this one. The weather in Garden State along with the temperatures is moderate almost all year long. Some winter intervals can be very cold, but nothing that's too difficult to deal with. From this point of view, New Jersey is suitable for relocation in any given season.
But what's worth mentioning though, and we spoke about this briefly before, is that the moving date will affect the price slightly. Summer is the peak season for long distance movers in New Jersey, and higher prices are expected during this period. On the contrary, winter, especially the months of January and February are when Garden State's movers are least busy. Moving in the off-peak season might save you a few bucks, but keep in mind that there is a higher chance of bad weather. So, assess all the pros and cons before making a decision. Either way, it's unlikely that your move will be a disaster at any given time considering NJ's climate.
How much will it take for movers to transport my belongings across New Jersey?
On average, long distance moves last between 10 and 15 days. However, New Jersey is not a big state, especially because all of its big cities aren't too far away from each other. So, you should expect your move to be at the lower spectrum of this range. To be exact, long distance move across the Garden State has every chance to be completed in 10 days or less. But, bear in mind that not everything is up to movers. There can be some unexpected delays due to traffic issues, weather, etc. Either way, don't worry because you will get a 24-hour notice before long distance movers New Jersey arrive at your new home.
Creating a moving plan: What to include?
A moving plan gives us something we can follow throughout the period. It's incredibly helpful since there is a sheer amount of tasks that are coming your way. Needless to say, going into this unprepared will cost you a lot of nerves. But not only that, there could be some significant expenses along the way if there was no plan in place. So, making a thorough checklist early will also help you avoid unplanned moving expenses. First of all, for a successful relocation across New Jersey, you should hire Garden State's moving professionals. And, this is how that process should look:
Researching long distance moving companies in New Jersey
Getting in touch with a few of them and asking for a free moving quote
Doing a quote comparison to find an ideal one
Calling movers in NJ whom you choose and arrange the moving date
Waiting for them to come and enjoy a professional relocation of the highest standard
Even though long distance movers New Jersey will do most of the work, there are some things they can't help you with. Don't worry, it's nothing too complicated. However, it's still essential that you don't forget these things in order to complete the move successfully.
Asking for some time off work around the moving day
Getting rid of the stuff you won't need
Notifying your landlord about the fact that you're leaving
Creating an inventory list containing pretty much all of your items
Gathering your records (financial, legal, medical)
Transferring your utilities
Packing an essentials box for the moving day
DIY moves are doable, but they are nowhere near as smooth as professional moves
Almost every mover, especially the first-timer has a big dilemma right at the beginning – DIY moves vs professional moves. It's only natural to seek different ways to cut costs during the relocation. But based on everything we've witnessed in the moving field, relocation is not something you should look to go extra cheap with. DIY moves are possible to manage and they can lead to a successful outcome. However, there are too many risks. And, even if everything turns out ok, it could be at the expense of your well-being. Not only there are too many physical tasks where you can injure, or in the best case exhaust, yourself, but it could also be a very stressful experience.
New Jersey is not a huge state, but it is densely populated, especially in some areas. And, considering how many relocations are throughout these areas, such as the NYC metro, it won't matter whether you're moving in or out, the whole trip could be difficult to handle. And this only concerns moving day, let alone everything that will happen before it. When you hire one of the best long distance moving companies New Jersey, it will be nothing like this. A seamless journey from start to finish, without any headaches, and with the safety of your items being guaranteed, are the things that make professional moves so great.
Frequently asked questions about professionally-assisted long distance moves
Throughout this article, we tried to give you as much info as we could about your upcoming long distance relocation, as well as how the whole process of relocating with long distance moving companies New Jersey works. All that's left for us to do is mention a few of the most commonly asked questions that we haven't covered just yet. And, feel free to get in touch with us if there's anything else you'd like to know about.
What kind of moving insurance is offered by long distance moving companies in New Jersey?
There are many reasons to purchase moving insurance, but mostly it's because it's better to be safe than sorry. You'll even get a chance to choose between different types of moving insurance. Usually, there are three types:
Basic carrier liability
Declared value protection
Full replacement liability
Which things are prohibited from a moving truck?
It's not certain that your long distance movers New Jersey will accept transferring all of your belongings. Some items, for safety reasons, are not welcome in the moving truck. These are:
Household chemicals
Illegal items
Ammunition
Fireworks
Nail polish remover
Oxygen bottles
Frozen food
Paint
Gasoline and kerosine
…along with similar items that can be considered safety risks.
How can I file a moving complaint?
There are many different ways to file a complaint, or better said, many agencies you can contact, especially if you've been a moving fraud victim. The New Jersey Division of Consumer Affairs is an agency we mentioned before, and you can contact them. Also, you can get in touch with a few federal agencies:
How far in advance should I schedule a move?
Ideally, you would call long distance movers in New Jersey a month in advance. Knowing that this isn't possible in every case, you shouldn't worry, because you can schedule it on shorter notice. However, if you have the option of doing everything on time, it would be for the best organizational purposes.
What is the non-binding estimate?
A non-binding estimate will contain the amount that's not set in stone. To be precise, it's the estimate where the price is subject to change. In most cases, it is a free estimate you'll receive upon getting in touch with long distance moving companies New Jersey. On the other hand, a binding estimate contains a final offer. If you sign it, there won't be any additional costs.
Verified Movers will help you through every step of the way
If you have decided to relocate with professionals, that's great. It's the first step in your moving process, but the one that paves the way to success. You won't be alone through the rest of your journey because Verified Movers will point you in the right direction whenever you're not sure how to proceed. Make sure to check out our database in order to find some of the best long distance moving companies New Jersey to ensure a swift relocation.
Facts About New Jersey
01. Main Information
Popular Cities
Newark, Jersey City, Trenton, Princetown, Atlantic City
US Senators
Bob Mendendez, Cory Booker
State Website
State Moto
Liberty and Prosperity
State Nickname
The Garden State
02. Geo Population
Total Population
9,255,437
Highest Elevation
1,803 ft
Lowest Elevation
Sea level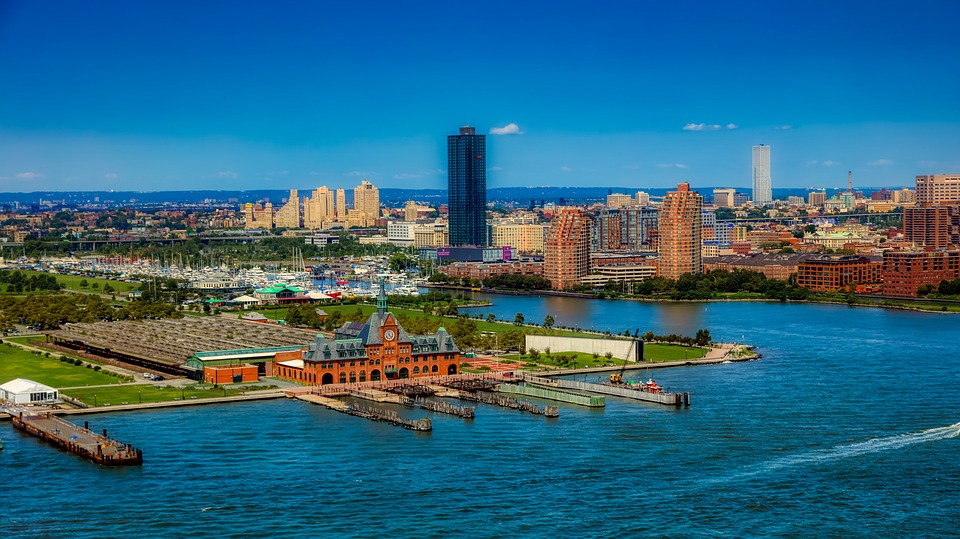 03. Education
Top 5 Elementary Schools
The Pingry School, Dwight-Englewood School, Kent Place School, Princeton Day School, Rutgers Preparatory School
Top 5 Middle Schools
The Pingry School, Newark Academy, Dwight-Englewood School, Kent Place School, Princeton Day School
Top 5 High Schools
Princeton International School of Math and Science, The Lawrenceville School, The Pingry School, Newark Academy, High Technology High School
Top 5 Colleges
Princeton University, Rutgers- The State University of New Jersey, New Jersey Institute of Technology, Montclair State University, Seton Hall University
04. Rates
Crime Rate
12.88 (per 1,000 residents)
Average Income (household)
$89,703