Moving doesn't have to be a complicated process, especially when you have interstate moving companies Ohio we recommend by your side. Verified Movers and its team are here for you. Our platform contains over 20,000 moving companies, including both cross country and long distance moving companies Ohio, as well as reviews about their services, allowing you to acquire all the important information in a swift and simple manner. Make sure to check out our database today, and find your ideal moving team with great ease.
People often tend to underestimate the task of moving from state to state. There are things to consider before and during the moving process. You need to find a new home, plan out your relocation, find packing materials and, of course, find cross country moving companies Ohio has to offer. And we know that all of this can take up a lot of your time and effort, which can be better invested in other matters. This is why you need expert guidance in the form of insightful interstate movers reviews. So, visit our website and get your movers matchup before you start planning your relocation to the Buckeye State.
How much does the cross country relocation costs?
Whether you are planning to leave or move to Ohio, you want to know how much the relocation will cost you. The most important thing you should know is that there is no universal price. This is because the cost of the move with interstate movers Ohio offers depends on many different factors. The first factor is the distance, then the number of items you need to move, moving services that you have chosen, insurance, the difficulty of your relocation, and many more things. But we can give you some price ranges so that you know what to expect. To know exactly how much you will pay you should request a moving quote from one of the cross country moving companies Ohio has to offer. They will be able to give you a full price breakdown.
Now let's see some of the examples:
Moving from Ohio to Florida- The distance between these two states is quite big. It is a 16-hour drive between these two states. Depending on the size of your move and other factors you can pay anything from $923 to $7,612. This is a huge difference, this is why we always recommend asking for multiple moving quotes. This way you will see how much each moving company charges.
Moving from Ohio to South Carolina– This is an approximately 8-hour drive. Since South Carolina is closer than Florida you will pay a bit less. However, prices are still quite elevated. Moving costs can range anything from $630 to $6,639.
Moving from Ohio to Texas – Texas is even farther away than Florida, which means that you will pay more if you plan to move there. If you decide to move during the winter you will be able to save some money on moving expenses, since this is considered to be a low moving season. The moving price starts at $1,107 and can go up to $8,452. Mind you the price can go even higher. The more rooms and items you have the bigger the final price is going to be.

Moving from Ohio to California

– If you plan to move to California we suggest you declutter as much as you can. This way you will have fewer things to pack, which will lower your moving price. The costs of the relocation with interstate moving companies in Ohio can range anything from

$2,041 to $9,441!

Moving from Ohio to New York– If you prepare well for your relocation and if you are not moving a big home, you can have a reasonably priced move of about

$630. However, if you are about to move a four-bedroom apartment then your relocation costs can go up to $6,639 and more.

Moving from Ohio to Indiana- These neighboring states are not that far away from each other. This is a short 3-hour drive. Therefore, you will pay significantly less compared to moving to other states that we have mentioned above. The cost ranges from $328 to $3,647.
How to know that your cross country movers in Ohio are trustworthy?
You need to be very careful when choosing one of the interstate moving companies Ohio has to offer. There are many fraudulent movers that don't have the right intentions. All they want is to scam you. To avoid being a victim of these criminals there are some things you can do.
Firstly you need to check if interstate movers in Ohio that you are planning to hire have a moving license. You can do so by visiting the Federal Motor Carrier Safety Administration. They regulate all the moving companies in the country. All you need to do is type in the USDOT number of a company that you are interested in and you will see if they are registered or not.
Take a look at the reviews. This is the best way to get to know the company and the services they provide. And, with our exstensive database of cross country moving companies Ohio, you can reach all the info you need in one place. You can read the comments and see what people have to say. The good thing is that we monitor all comments to ensure that they are real. Always go for a company that has positive reviews and that responds nicely to its customers.
Customer service is important. The way staff communicates with you will show you whether or not they are professional. Reliable and experienced interstate movers in Ohio will take their time to answer all your questions and provide you with all the information you need. Real professionals treat their customers like royalty.
Ask interest movers Ohio residents recommend the most about the moving services they offer
In case you need some extra help with your relocation, make sure to ask your movers about the moving services that they offer. Each cross country moving company in Ohio is different, therefore, they provide different moving services. Let's say you need to move your piano from Ohio to Michigan, in this case, you will need the help of piano movers. If a certain company doesn't offer piano moving services, make sure to book one that does. For this reason, it is important to talk with your movers and give them all the information you can about your relocation. This way they can tell you whether or not they can provide you with the help that you need.
Now let's take a look at some of the basic moving services that the majority of cross country moving companies in Ohio offer:
packing services
storage services
You will save a lot of time by adding some of these moving services to your moving contract. Packing for example can take a long time, therefore it is better to leave it to your movers. Moreover, you will not have to worry about the safety of your items. Professional interstate movers in Ohio use the best packing materials and high-quality boxes to ensure your items stay safe during the move. Even if you need to leave some of your items in a safe storage facility you can ask your movers to help you with packing. They know all the packing secrets and will know how to pack properly in order to help you optimize your storage space.
Cross country moving companies by cities in Ohio
Frequently asked questions about interstate moving companies in Ohio
Do cross country moving companies in Ohio offer free moving estimates?
Most of the companies offer free moving estimates. Some of them can provide you with online, while others can provide you with onsite moving estimates. Reliable movers can give you an accurate price. Therefore, you will easily calculate your moving budget.
Is moving insurance included?
This depends on the type of insurance. Every moving company in Ohio is required to cover your items up to a certain amount, by federal law. However, this is not a lot. If you want more coverage for your items, you can ask which additional insurance options they offer.
Are there any items interstate moving companies in Ohio will not move?
Anything that is flammable, and potentially dangerous is not allowed in the moving truck. The same is with plants and animals. Each state has different rules and regulations when it comes to moving certain items; This is why you should ask your Ohio movers to provide you with the list of non-allowable items before you start preparing for your move.
Is there any way to file a complaint and how to do it?
Yes, you can absolutely file a complaint if you are not satisfied with the provided services. There are a few ways to do this. By contacting BBB, FMCSA, or American Trucking Association.
A worry-free moving experience is possible with interstate movers in Ohio
We have said it before, and we will say it again, nothing beats moving with professionals. A moving team that knows how to prepare for relocation and knows how to navigate roads is the team that can provide you with the smoothest moving experience ever. Moving related tasks can take a toll on you which can have a negative impact on your mental health. You can avoid the moving stress by entrusting cross country movers in Ohio with your move. They have done this before, therefore, they will know what to do to make the moving process as simple as possible for you. By having professional movers by your side you will avoid making moving mistakes. Just leave the moving logistics to them and sit back and relax.
Use our database to find the best cross country movers Ohio residents trust the most. We are here to help you with this so that you don't feel alone and stressed. With just a bit of our help and the help of the movers that you will choose you will have a great cross country moving experience.
What is there to explore in Ohio?
Although Ohio has 16 metro areas, the most identifiable and popular ones come down to Columbus, Cleveland, and Cincinnati. People are drawn to other smaller cities and towns in the state for business, arts and culture, diversity, outstanding universities, and more.
Here's an overview of the main cities you might want to consider before you call up interstate movers in Ohio:
Columbus – Ohio's capital and largest city is located in the middle of the state. The population is 750,000 city residents, with 1.6 million living in the Greater Columbus area.
Cleveland – is located in northeastern Ohio on the shores of Lake Erie. Home to the Cavaliers and Browns, Cleveland is the second-largest Ohio city.
Cincinnati – with a population of over two million in the metropolitan area, and 296,943 within the city limits, this is Ohio's third-largest city. The home of the Bengals is located in the southwestern corner of the state on the banks of the Ohio River.
Who is moving to Ohio?
California
It might sound crazy to some, but a lot of people have been moving from California to Ohio lately. California is great but the high cost of living and high housing prices are one of the main reasons why people decide to move to Ohio. The number of outbound moves In California has been on the rise for the last two years. Ohio is one of the cheapest states in the country, which means that you will live a way better life here. There are more green spaces and the state is considered to be quite safe.
Florida
The fact that many people are moving from Florida to Ohio surprises many people. Florida is a great state, it offers a great quality of life and it has a booming economy, so what is making Floridians move to Ohio? Well not everyone is into the hustle and bustle of the big cities. Ohio is much laid back compared to Florida. On top of that, the cost of living is lower. You will be able to afford a home with a backyard, without having to spend a fortune. The community is great and there are many highly-rated schools. Compared to Florida where robbing can happen quite often, in Ohio this is not the case. You will feel safe both during the day and night.
Virginia
By moving from Virginia to Ohio you will be close to New York, Washington, and Boston. This goes without saying that the state of Ohio has a great location. Affordable housing is what brings many people from Virginia here. The cost of living is lower by 22% in Ohio! The number one city where Virginians move is Columbus. There are many great job opportunities. In the last few years, Columbus has become one of the most popular cities for startups.
Where are people that are moving out of Ohio going to?
Texas
Texas is definitely one of the top states where people from Ohio are moving to. Texas has favorable tax laws and a booming economy. Every year many companies relocate to Texas, which is creating more jobs. You will easily find a well-paid job in Texas. And thanks to the low taxes you will be able to save some money. If you too plan on moving from Ohio to Texas make sure to book interstate movers in Ohio to help you relocate.
Illinois
Moving from Ohio to Illinois is the second most popular choice. This is all due to the fabulous opportunities that the city of Chicago offers. Even though the cost of living in Ohio is lower than in Illinois, the cost of living is not that elevated compared to other countries. Illinois has some reasonable prices when it comes to groceries, rent, transportation, etc. Apart from Chicago being the most popular place to move to, many decide to move to Wheaton. This peaceful city is very popular among families, plus it is only a short 25-minute drive from Chicago.
New York
The state of New York is very diverse. People often forget that there is more to New York than just NYC. Places like Buffalo, and Albany are quite popular. The reason why many people from Ohio move to NY is great job opportunities. Many are looking to make a progress in their career and the state of NY is the best place for that. Even though the cost of living is higher in NY, the salaries are higher, which compensates for the high cost of living. If you are one of those people that are planning on moving from Ohio to New York start preparing for your move as soon as you can. Also, make sure to declutter since you will most likely have a much smaller place in NY.
A good moving plan is a must for a successful relocation
As soon as you know that you need to relocate start working on your moving plan. Write down everything that you need to do before, during, and after the moving day. You can also make some sort of a moving checklist. This way you will not forget anything. Moreover, once you hire cross country movers in Ohio they will provide you with a moving plant too. They will plan your move from A to Z and calculate the time needed to complete the relocation. Everything starts with a good moving plan. Without one, the entire process would be hectic. This is why having the finest interstate movers Ohio has to offer by your side is key. Their knowledge and experience allow them to create unique moving plans that make each relocation a seamless process from start to finish.
Who to notify about your move with cross country movers Ohio has to offer?
The first thing you need to do is transfer your utilities. Don't wait last minute to do this, because you can easily forget and end up paying unnecessary fees. Next on the list is your kids' school. Make sure to transfer their records and notify their school about the move. Once you do this, take care of your medical records and driver's license. Since every state has different laws concerning driver's licenses make sure to check them before you do anything. Also, don't forget to cancel your newspaper and magazine subscriptions or simply change the address to start receiving them at your new home.
If you are moving your business, it is of great importance to notify your clients and suppliers about your relocation. Write them an email or give them a call and explain to them the motives for your move and provide them with the new address and contact information.
And last but not least, inform all your friends and family members about your move. Give them some details about your relocation and notify them about the moving date.
Contact your cross country movers in Ohio in advance
The best thing you can do is contact your movers at least two months in advance when moving from state to state. Of course, you can do it even before, but the most important is not to wait last minute to contact them. You will get a better moving date and better price. Last-minute relocations are possible, however, you should know that they will cost you more. By booking your movers two months in advance you will have enough time to organize everything without rushing. The same goes for your movers. The more time they have to prepare everything the better your moving experience will be.
Cross country moving companies Ohio guidelines
With any move, detailed planning is crucial, so it's never too early to start preparations for your interstate relocation:
Make sure your mail arrives at your new home once you pack those moving boxes and move to Ohio. All you have to do is fill out the USPS change of address form online.
Explore our website for detailed access to moving quotes, packing services, and consumer reviews – the safest way to find and hire state-to-state moving companies.
Plan to avoid rush hours, Mondays and Fridays – because areas have their share of high-traffic times and congestion.
You don't need any special permits when you plan a move to Ohio. However, if your new home is in one of the metropolitan areas, you should apply for a residential parking permit on the official website of the city.
The weather in Ohio varies from area to area but all four seasons overlap. Summers can be stifling and should be considered before a move. Unpredictable winters are also nothing strange in Ohio. Other things to consider when it comes to weather are spring and early fall thunderstorms and tornadoes. So, try to schedule your cross country moving companies in Ohio in milder weather.
Moving without breaking the bank
Yes, it is possible. And especially now when you have Verified Movers and its cross country moving companies in Ohio by your side. We are here to make things easy for you. All you have to do is to explore your options. And as soon as you check out our official website – you will come to realize that there are many. Our team will work hard and do everything that is in their power to not only understand your needs but to satisfy them. But, how to save money when moving?
Cut moving expenses
DIY moves are tempting. And especially if you decide to move across the country. It can all seem too expensive. But, make no mistake – hiring some of our interstate moving companies Ohio has to offer will actually save you money. With professional interstate movers in Ohio by your side, you will avoid moving mistakes, scams, injuries, and problems. All of which will save you a lot of money and time. And as you already know – time is a luxury when moving.
To cut your moving expenses there are some additional things that you can do:
Declutter your home before you start packing. This way you will have fewer items to move, which will lower the cost of moving. You probably have a lot of things you don't need anymore. Consider selling some of those items and make some money that you can put towards your moving budget.
Move during the low moving season if you can. Summer is known to be very busy for movers. Since a lot of people are on vacation the demand for cross country movers in Ohio is high. And when the demand is high the moving prices go up. For this reason, opt to move during the winter. This is known as a low-moving season. During this period you will get better moving dates and many moving companies offer discounts.
Compare the moving quotes. Request moving quotes from a few moving companies and choose the one that offers the best price. You can use our website for that. You will easily find hundreds of movers and pick the ones that you like the most. You can try and negotiate lower rates, you never know it might work!
Moving with interstate movers Ohio has to offer vs DIY move
If you want to cut the moving costs you should move on your own. However, DIY-ing your move can be dangerous. You are not a professional mover, you don't have the experience they have, and you can easily hurt yourself. You are about to move across the country, this is not a simple local move that you can execute in a couple of hours. Cross-country moves can take days. You will be tired and overwhelmed by the number of things that you will need to do.
There are many cross country moving companies in Ohio that offer affordable moving services. All you need to do is give them your budget and they will find a solution to provide you with the moving services that will help you have a successful move. When moving with interstate movers in Ohio the safety of your items is guaranteed. They will take proper care of your items and make sure everything arrives in perfect condition. We always recommend our clients to move with professionals. You don't move every day so you might as well make it memorable.
We are here to match you with the best cross country movers from Ohio!
You don't need to spend days researching cross country moving companies from Ohio, there is a simpler way to do this. Take a look at our database which consists of over 20,000 moving companies. A few minutes is all it takes to find movers that will respond to your moving needs. You can look at the cross country moving companies Ohio reviews to learn more about their way of operating. We have checked every moving company that you can see on our website. Therefore, we assure you that only reliable and trustworthy movers are a part of our database. Our goal is to make the search for movers simple for you. We are your ally when it comes to finding professional interstate movers in Ohio.
Turn to Verified Movers for some of the best cross country movers in Ohio
All who move would rather do it with professional, conscientious, and affordable assistance. That is why Verified Movers step forth with a vast database, containing a plethora of useful information for people just like you. Apart from learning about the services interstate moving companies Ohio has to offer, and reading cross country moving companies Ohio reviews, you will also be able to read the reviews on the quality of their assistance. Our website is also brimful with useful tips regarding the moving process itself. Make sure to check it out and reach out to us if you have any questions or concerns.
Facts About Ohio
01. Main Information
Popular Cities
Columbus, Cleveland, Cincinnati, Dayton, Toledo
US Senators
Sherrod Brown, J. D. Vance
State Website
State Moto
With God, All Things are Possible
State Nickname
The Buckeye State
02. Geo Population
Total Population
11,747,774
Highest Elevation
1,549 ft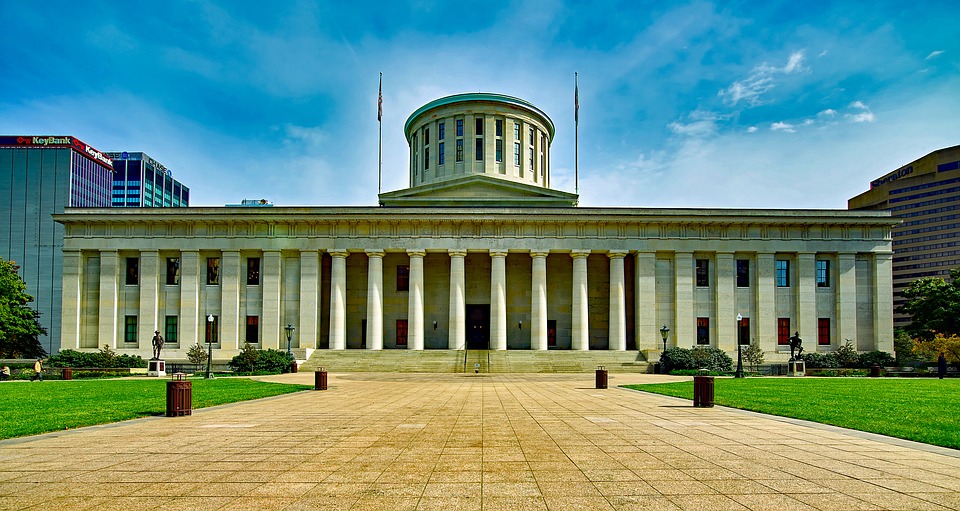 03. Education
Top 5 Elementary Schools
University School, Hawken School, Hathaway Brown School, The Seven Hills School, The Columbus Academy
Top 5 Middle Schools
University School, Hawken School, Hathaway Brown School, The Seven Hills School, The Columbus Academy
Top 5 High Schools
Western Reserve Academy, University School, Hawken School, Hathaway Brown School, The Seven Hills School
Top 5 Colleges
The Ohio State University, University of Cincinnati, Case Western Reserve University, Kent State University, Bowling Green State University
04. Rates
Crime Rate
21.82 (per 1,000 residents)
Average Income (household)
$61,938