If you need the best long distance moving company in the state of Ohio, you are at the right place! In your search for one of the reliable long distance moving companies Ohio, Verified Movers are your best ally. The beautiful landscapes and Ohio River are waiting for you in the "Buckeye State."
Cross Country (Interstate) Moving Companies Ohio
Facts About Ohio
01. Main Information
Popular Cities
Columbus, Cleveland, Cincinnati, Dayton, Toledo
Governor
Mike DeWine
US Senators
Sherrod Brown, Rob Portman
State Website
https://www.usa.gov/state-government/ohio
State Moto
With God, All Things are Possible
State Nickname
The Buckeye State
02. Geo Population
Area (sq mi)
44,825 sq mi
Total Population
11,714,618
Highest Elevation
1,549 ft
Lowest Elevation
455 ft
Time Zone
Eastern/UTC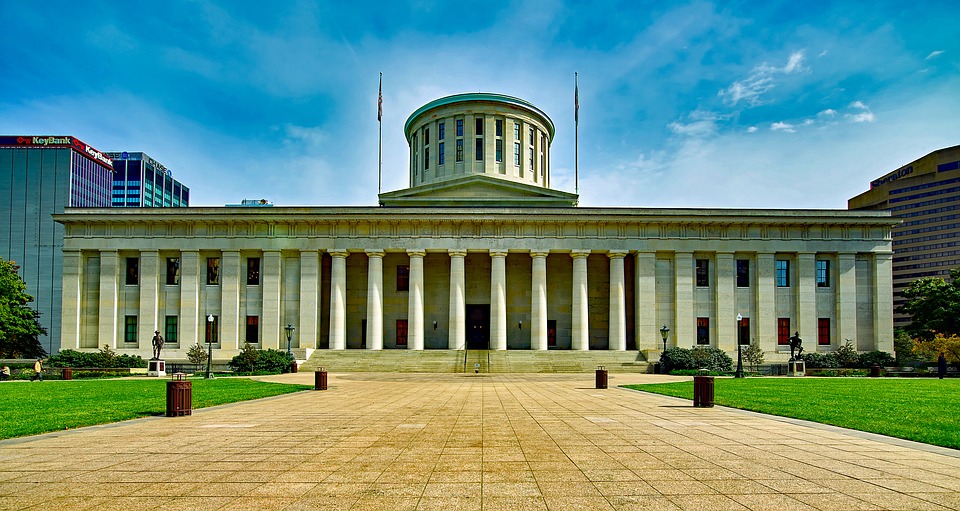 03. Education
Top 5 Elementary Schools
Hawken School, Hathaway Brown School, University School, The Seven Hills School, The Columbus Academy
Top 5 Middle Schools
Hawken School, Hathaway Brown School, University School, The Seven Hills School, The Columbus Academy
Top 5 High Schools
Hawken Schoolm, Hathaway Brown School, Western Reserve Academy, University School, Indian Hill High School
Top 5 Colleges
The Ohio State University, University of Cincinnati, Case Western Reserve University, Kent State University, Ohio University
04. Rates
Crime Rate
23.49
Employment Rate
60%
Average Income (household)
$56,602
Poverty Rate
14.02%
Whichever way you look at it, moving is always a tremendously easier process when you have professional assistance at hand. This is true with every complex task. And, when it comes to relocations, there is never a lack of things to do. Especially when you are moving over long distances. With this in mind, Verified Movers steps forth with some of the best long distance moving companies Ohio has to offer. With them at your side, you will get to experience a smooth and simple relocation. Make sure to check out our website, and find just the ideal moving team for your needs.
The Best of Long distance Moving Companies Ohio
Long distance Moving Companies Ohio have different moving agents based in all cities in Ohio area. Pick reliable long distance movers that are fully licensed, bonded, and accredited by the BBB. Years of experience are another important fact you should check with your long distance movers. Experienced moving experts reduce the stress involved with relocation, helping you do settle down into the apartment of state capital Columbus or in-house in German Village.
When it's time to move, let your long distance moving companies Ohio take care of it for you. Your reliable agents handle residential move same as providing you with commercial moving services for large and small business.
Long distance moving companies Ohio can help you every step of the way
Moving is not only our job, it is our specialty. And that is why we are the best choice when planning a move. Whether you are in the need for reliable long distance movers Ohio or planning a business move the first step is to understand your personal needs. You need to evaluate the size and weight of your long distance move. And what are the services you are looking for?
Our long distance moving companies Ohio can provide you with:
Household long distance moving services.
Office long distance moving services.
Specialty long distance moving services.
Packing and unpacking service.
Storage services in your area.
Auto shipping services.
Whatever you need – Verified Movers and its team can provide it for you. All you have to do is to give us a call. We will provide you with many options to choose from. And yes – finding some of the best long distance moving companies Ohio has never been any easier.
Moving organization 101
Moving can be hard, but it can also be pretty fun. New beginnings are usually like that. And for many reasons. We all love our fresh beginning. New house, new neighbors, new job. Everything is new and shiny. However, moving house (or even your business) doesn't have to be that way necessarily. And especially if you don't come prepared. Our long distance moving companies Ohio can help you plan, prepare and finally move. But – there are still some things that you will need to do on your own. If you aren't sure what they are, feel free to explore our blog. Read our guides and make your long distance move simple and easy.
Pack your belongings for a long distance move
Many of our long distance moving companies in Ohio can provide you with packing services. Verified Movers connect you with moving experts who can provide packing materials and packaging services same as short and long-term storage options. Professional movers and packers assist you on every step of the long distance way, offering you high-quality customer service. If you want to be sure your belongings are properly packed and transported make sure to follow every step of the packing process. So, here are few top packing secrets.
Be sure that everything is well cushioned inside the box.
Boxes should be well sealed and labeled
Only use high- quality moving boxes so they can handle long distance move
Moving with kids – let us make it simple
Are you planning on moving with your family? If so, that means that you'll need some assistance. Moving all by yourself is a much simpler task to take on. And now – you have to think about others as well as about your personal needs. That is why you should definitely consider hiring long distance moving companies Ohio. Let professionals handle everything for you. Create more time and space to spend with your family. Long distance moves with your kids by your side means only one thing. It means that you need to help them adjust to the change. And our moving professionals are going to allow you to do that.

What a Move to Ohio Has to Offer?
Ohio is located in the center between the Northeast and the Midwest. So, it is not surprising why much cargo and traffic comes through its borders. The "Buckeye State" has its own well-developed highway network, so it is easy to commute with long distance movers. North Dakota is just a one-day drive of at least half of North America's population, which makes your long distance move a lot easier. If you want to live in the home country of many notable people including Halle Berry, Neil Armstrong, Marilyn Manson, and Dave Grohl, hire long distance movers to help you relocate to the state capital Columbus or other most identifiable cities Cleveland and Cincinnati.
Long distance moving companies by cities in Ohio
Verified Movers is the assistance you can count on
Moving will always be best handled by professionals. And, getting in touch with some of the finest long distance movers in Ohio is really not that much of a challenge anymore. Verified Movers is here to help you find just the ideal team for your needs and wants, thus ensuring you have a smooth and simple move you deserve. Reach out to us today, and let us help you make the right first step in your moving process.