It is no secret that moving is a complicated venture filled with hardship, challenges, and deadlines. After all, they are characterized as some of the most stressful periods in a person's life. However, your experience doesn't have to resemble this scenario. With some of the finest cross country moving companies Illinois has to offer, you can even go so far as to enjoy your move from start to finish. Finding the right moving team is crucial for the success of your relocation, and that is what Verified Movers are here for. Our goal is to help you choose the company that will fulfill all of your specific needs and wishes. You can also rely on us when searching for long distance moving companies Illinois, if you're ever in need of a move across the Prairie State. We invite you to take a look at our platform, read Verified Movers reviews, and browse through the plethora of professional moving companies we have here.
How much will it cost to leave the Prairie State with interstate movers Illinois?
Right at the beginning, we want to encourage you to contact cross country moving companies Illinois. Any reputable company you encounter will surely give you a free moving estimate. And, this estimate is likely to be the most accurate one because it will be based on little details of your relocation, which make the final cost easier to predict. But, until you do that, we'll give our best to help you out. So, in order to do so, we'll take a few states Illinoisans are moving to the most, and show you some average price ranges. Bare in mind that the cost will be pretty much the same if you're moving in the opposite direction as well. So, let's get into it.
Moving from Illinois to Indiana: $1,900-$3,500
Moving from Illinois to Florida: $2,900-$5,000
Moving from Illinois to Texas: $2,600-$4,600
Moving from Illinois to California: $3,200-$5,600
Moving from Illinois to Wisconsin: $2,000-$3,600
Pick a licensed company when leaving Illinois
In order to avoid various moving scams, you need to make sure that the company of your choice is licensed. Every interstate moving company in the United States needs to be registered at the U.S. Department of Transportation. At this institution, they will receive a unique USDOT number. The majority of reputable movers will put this number on their website so that everyone can see they are legit and transparent. If you can't find this number, make sure to ask for it. And, the best way to check the record of that company using a USDOT number is by going to the website of the Federal Motor Carrier Safety Administration. There, you will find some essential pieces of information about licensed cross country moving companies in Illinois.
Relocating with cross country movers Illinois gives you the opportunity to use various moving services
Cross country movers in Illinois are offering services that will cover your every moving need, which is another area where professionally-assisted moves beat the DIY ones. While every company in Prairie State is free to have its own policy when it comes to the type of assistance they offer, you can still expect certain services to appear with most of them. Some of these services are regular, and some are designed for taking care of specialty items. So, with this in mind, we present you with some of the most popular services you'll find at the majority of interstate moving companies Illinois.
Residential moving. This is the most common service since it concerns people who are moving a household no matter how far. If you want to move your household out of Prairie State, you'll be asking for cross country residential moving services Illinois.
Commercial moving. Opposite to residential moving, commercial relocation services are for people who are moving their businesses.
Packing services. There's hardly anyone out there who enjoys the packing process. It's a time-consuming activity during which many things can go wrong. Luckily, you can leave it to professionals. Cross country movers Illinois will expertly pack up your home.
Furniture moving. Moving pieces of furniture is not an easy task by any means. It usually requires disassembling, and even when you separate it into a few pieces, the job is not done yet. Packing, carrying, and loading await. This takes up a lot of your time, so if you want to avoid it, don't worry, moving experts have got you covered.
Storage services. When you're relocating from one state to another, maybe there will be some stuff you don't want to move, at least not at that very moment. Some non-essential items can become a burden during relocations, and you can leave them in a safe storage facility that some interstate movers in Illinois provide.
Services for specialty items
Piano moving. If your home in Illinois has a piano, then asking movers to take care of it is highly recommended due to the nature of these items.
Fine art moving. Pieces of art are usually very valuable, which is why they need special attention during the relocation period. The last thing you'd want after leaving Illinois is to come to your new home and realize that your expensive piece of art has been damaged in the process.
Auto moving. When Illinoisans are moving out of their state, they are usually going far away, except for some who are moving to Indiana or Wisconsin. So, if you're moving to Texas, California, Florida, or some other distant state, you're probably not looking forward to driving to your destination. The good news is that there is a simple solution, which is asking interstate moving companies Illinois for their auto moving services. They'll safely transfer your car in a timely manner.
Cross country moving companies by cities in Illinois
Moving FAQ
If you have any dilemmas regarding your professionally-assisted Illinois relocation, we'll mention a few of the most frequently asked questions here. And, of course, if you have any additional questions, Verified Movers are at your service, so don't hesitate to give us a call and we'll do our best to help you out.
How long will my relocation last?
We hear this a lot, and no wonder you're interested in how long your relocation is going to last. Well, if you're leaving Illinois and moving to some nearby states, for example, Indiana or Wisconsin, the relocation shouldn't last longer than 14 days. However, for more distant relocations, like moving from Illinois to Washington, it could be 3, or even 4 weeks.
What is the difference between interstate and intrastate moves?
Intrastate relocations are the type of long distance relocations that stay within the borders of one state, in your case Illinois. However, if you're moving from the Prairie State to another state, then we're talking about an interstate move.
Is reading cross country moving companies Illinois reviews important?
Yes, it is. We encourage every single one of our clients, including you, to read the reviews for interstate moving companies in Illinois before making a final call. After making sure that the company is licensed, analyze Verified Movers reviews to understand how satisfied the previous clients of a certain company were. That way, you'll be sure you're making the right choice.
When is the best time to move out of Illinois?
Weather plays a huge part in the relocation process. It can make your moving journey both pleasant or awful. So, try to move during a season with stable, relatively warm weather. For example, if you're living in Chicago and want to move out of the city, you might want to avoid winter or early spring because Chicago is very windy during this period. After all, there's a reason why Chicago's nickname is Windy City. So, probably the best strategy would be to move either during May, June, or September.
Are there any things that interstate moving companies Illinois will refuse to move?
Yes, there are some items that aren't welcome in the moving truck. Actually, there are a lot of them, but they have one thing in common. They are either hazardous or flammable, so if you were planning to transfer some belongings that are risky to move, interstate movers in Illinois will refuse to do so.
Verified Movers are ready to match you with the experienced and reputable moving professionals
Your Illinois relocation has a good chance to be a fun and effortless experience. Hiring cross country movers Illinois will ensure this. Instead of wasting days of your precious time doing unnecessary hard work, call the professionals and ask them to help you out. Verified Movers can match you with some of the finest interstate movers in Illinois in no time. We understand the importance of having reputable movers by your side during any relocation, and that's why we want to help you find them sooner rather than later. And, with 20,000 moving professionals all over the USA in our database, know that it won't be difficult. Feel free to browse through our website, because apart from thousands of moving experts you'll encounter, the Verified Movers blog could prove to be very helpful since it's filled with useful moving advice.
Moving trends in Illinois
The Prairie State has an enormous problem with migration trends. The last year was the worst for Illinois in terms of inbound-outbound moves ratio. But, this problem isn't a new one by any means. Long before the pandemic started, Illinois was losing residents. The trend that is yet to be turned around started way back around 2015. Every year the moving trends worsened, which led us to catastrophic percentages in 2021. To be precise, Illinois recorded 67% outbound moves in 2021; hence, the percentage of the inbound ones was only 33%.
That easily puts the Prairie State among the worst ones in the nation. To make things worse, it doesn't seem like these trends are going to improve in the near future. So, what has caused this? Over the next few sections, we'll discuss the reasons people are moving in and out of Illinois, and show you where these people are going to or coming from. Hopefully, this will give us some insight into why moving trends in Illinois are so bad at the moment.
Reasons to move to Illinois
Although the current moving trends would suggest otherwise, Illinois is really not a bad state to live in. There are some problems, of course, but the Prairie State has its perks as well. So, let's see what are some of the most popular reasons people are moving to Illinois.
Stable economy
The state of the economy should always play a huge part when deciding where to move, and the economy in Illinois is strong and stable. In fact, the Prairie State has the fifth-largest GDP in the nation. Of course, Chicago plays a huge part here, because businesses are flourishing in this city. But even for the ones outside Chicago, their closeness to Windy City manages to improve their prospects. Another great thing about Prairie State's economy is that it's diversified, maybe even the most diversified economy in the United States. In Illinois, you will find successful businesses in various industries like electronics, food, machinery, chemicals, transportation, etc. And, it's worth mentioning that agriculture is developed as well.
Finding a job is not a problem in the Prairie State
With a diverse economy and so many developed industries, there is something for everyone in the State of Illinois, especially in Chicago. The Windy City is home to the headquarters of some major companies, and you really shouldn't have any problems finding a job there. The same goes for the whole of Illinois. Although the pandemic has had a big impact on the unemployment rate in the Prairie State, raising it to some record numbers, the state is recovering. Now, the unemployment rate is 4,5%, the lowest it has been since the pandemic started. Salaries aren't bad either, since the employers in Illinois pay their employees $70,000 on average.

Reasonable cost of living
For a state with a great location, close to some big cities in the other state, and ultimately, for a state that has Chicago, Illinois is not expensive at all. The cost of living in the Prairie State is 7% lower than the nation's average. Most expenses are slightly lower than the USA average, but the largest difference comes from housing (20% cheaper in Illinois). Even when you look at the City of Chicago where you'd expect high prices, you won't see many price increases. The only thing that's way more expensive in Chicago than in the majority of the USA is transportation (50% more expensive). Otherwise, every regular expense in Chicago is right around the nation's average, which is certainly good news for anyone moving to the Windy City.
Where are the new residents of Illinois coming from?
Although there aren't many people moving to Illinois nowadays, at least not even close to the number of people moving out, it will be interesting to see among which states Illinois is most popular. After all, based on the benefits of living in Illinois we spoke about, there are some people looking to take these opportunities.
Indiana
Illinois is most popular among the residents of Indiana. Between 15,000 and 20,000 people are moving from Indiana to Illinois each year. Job opportunities are the main motivation for everyone going on this relocation. The fact is that Indiana is more affordable and tax-friendly than Illinois. So, job opportunities along with the Chicago lifestyle are the main reasons people are moving from Indiana to Prairie State. Although, there are some family-motivated relocations as well. The most common route is moving from Indianapolis to Chicago, which is expected considering the size of these cities. This route takes up a whole quarter of total moves from Indiana to Illinois.
California
The Golden State is among the most moved out states in the nation. And, there is no go-to destination for former Californians as they are spreading all over the country. One of the states, although not among the top 10, that Californians seem to like, is Illinois. Around 15,000 people are moving from California to Illinois yearly. But why would anyone leave California to move to the Prairie State? Well, the cost of living seems the be the main motivation for this relocation. California is 22% more expensive than Illinois which is a huge difference. Plus, the fact that Illinois has Chicago is very important as well, because the majority of Californians are coming from Los Angeles or San Francisco, so they're looking for another big city to live in that provides them similar lifestyle and opportunities.
And this is where the cost of living becomes even more important because the difference between 2 of the Golden State's largest cities and Chicago in terms of daily expenses is even bigger and goes beyond 30%. With this in mind, it's not difficult to conclude that moving from Los Angeles to Chicago is the most common route between these two states. Chicago welcomes around 5,000 newcomers from the City of Angeles every year. It's worth noting that, considering the population difference, San Francisco is not far behind. The Golden City sends somewhere between 2,000 and 3,000 people to Windy City on a yearly basis.
Florida
It may seem unlikely at the first glance, but Florida actually sends almost as many people to Illinois as California. And, you have to factor in the population difference here, with the Golden State being the most populous one in the nation. So, why are people moving from Florida to Illinois? Well, the cost of living in the Sunshine State is 7% higher compared to Illinois. That's not a huge difference, but considering that the majority of these people are coming to Chicago, it becomes more significant. For example, Miami is 15% more expensive than Chicago. Another reason for this relocation has to be about the job opportunities. It's true that Florida has so many job openings, but bare in mind that a lot of them are in tourism and hospitality, while Illinois is home to a much larger number of big companies.
Unlike California, where by far the most common routes are the ones from San Francisco and Los Angeles to Chicago, cities in Florida are sending a similar number of residents to the Prairie State. With somewhere between 2,000 and 3,000 movers a year, moving from Miami to Chicago is in the first place. But, 3 other cities in Florida are sending more than 1,000 people to Chicago every year, and those are Tampa, Orlando, and Jacksonville.
Why are moving trends in Illinois among the worst ones in the United States?
Last year, 80% of counties in the Prairie State had a population decline. 67% of relocations involving Illinois were outbound in 2021. On top of that, these awful moving trends are something Illinois is getting used to because negative migration has been present for 7 or 8 years, to say the least. So, what has caused this? Why is everyone leaving Illinois?
High taxes
The tax system in Illinois is what former Illinoisans have mentioned most frequently when talking about the reason for leaving their state. The Prairie State imposes the second-highest property tax in the county with a rate of 2,16%. That is twice bigger than the nation's average. Only New Jersey imposes a higher property tax than Chicago, and it won't surprise you that the Garden State accompanies Illinois among the most moved out states in the nation. But even outside of property tax, the whole tax system in the Prairie State doesn't seem to have any benefits whatsoever. The average combined local and state sales tax rate is almost 9%, and to make things worse, Illinois imposes both personal and corporate income tax with the rates of 4.95% and 9.50% respectively.
Illinois is far from being one of the safest states to live in
Unfortunately, crime rates in Illinois are very high, especially in Chicago. If there weren't for Chicago, we probably wouldn't be talking about the crimes in Illinois as much. But, the Windy City is where the majority of Illinois's population lives, and Chicago's crime rates are almost 70% higher than the nation's average. The biggest city in Prairie State has been infamous for crimes for a while now, and this is surely a reason why so many people have decided to leave it. On top of that, people started leaving big cities in flocks when the pandemic started, which made top movers in Chicago even busier than they were before.
Other reasons people are moving out of the Prairie State
With the number of outbound moves in Illinois, there must be more than 1 or 2 reasons for people to leave the state in flocks. High taxes and high crime rates are surely at the top of the list, but what else is there? According to some surveys, retirement was one of the reasons that were mentioned frequently. Retirees from Illinois are moving to other states that are providing more benefits to this group, most notably the smaller states on the East Coast. Family-related and educational reasons motivated people to leave Prairie State as well. Finally, although houses, and the cost of living in general, can be considered affordable in Illinois, there are more than a few states that are way cheaper. And, this is something that's very important to people, especially after the outbreak of COVID-19 and the economic crisis that happened as a result of the pandemic.
Where are Illinoisans going to?
If you are here to look for services of interstate moving companies in Illinois, you're probably looking to leave the state and move somewhere else. If that's the case, you're far from being the only Illinoisan to do so. Moving trends in Illinois speak for themselves, and now we're going to take a look at some of the states that Illinoisans prefer to move to.
Indiana
The majority of Illinoisans who decide to leave the Prairie State actually don't go very far. Indiana is the most moved in the state among the former Illinoisans, and it's not hard to see why. The closeness of these states plays a huge part. It's familiar territory for the people of Illinois, and the relocation isn't expensive. Apart from that, moving from Illinois to Indiana is motivated by the cost of living as well. Indiana is 10% cheaper than the Prairie State. To top it off, Indiana has a lower tax burden and it's a safer state to live in. So, no wonder why around 35,000 Illinoisans are moving to the Hoosier State every year. Moving from Chicago to Indianapolis is, by far, the most common route (around 7,000 a year). Indianapolis is, actually, the fifth most common city people from Chicago are moving to.
Florida
Another state that features in both Illinois's inbound and outbound list is Florida. But, the number of people who are moving from Illinois to Florida (25,000 a year) is far larger than the number of people who are moving in the opposite direction (15,000 a year). The Sunshine State is one of the most popular states in the nation, although lately, it has been experiencing some declines in moving trends, that are positive nevertheless. What motivates Illinoisans to move all the way down south is a mix of several factors. The fact that Florida doesn't impose a personal income tax, and that the property taxes are way lower than in Illinois is a good place to start. Additionally, beautiful weather conditions, the famous Floridan lifestyle, and a healthy job market are all good reasons for people to decide to go on this relocation.
We mentioned earlier that regarding moves from the Sunshine State to Illinois, most notably Chicago, there weren't any standouts. Similar trends can be seen here as well. Of course, the majority of relocations are from Windy City, but Illinoisans are moving to many Floridian cities nevertheless. Moving from Chicago to Miami is the most frequent choice (3,700 people a year), and other cities are following closely.  Tampa welcomes almost as many residents from Chicago as Miami. Orlando is not far behind as it is a preferred destination among 2,500 former residents on a yearly basis. And, finally, Jacksonville comes fourth, with around 2,000 people moving from Chicago to Jacksonville every year.
Texas
For a while now, Texas has been one of the most moved in states in the country. The popularity of the Lone Star State wasn't neglected by Illinoisans. Although Texas is more popular among some other, more expensive states, due to its affordability, it still welcomes around 25,000 Illinoisans a year. Florida, Texas, and even California which comes fourth in this list have pretty much the same number of newcomers from Illinois. So, why is moving from Illinois to Texas so popular? It's because the Lone Star State is 6% cheaper than Illinois in spite of providing more opportunities. The economy in Texas is booming, and the state's tax-friendliness puts it on the radar of every mover in the USA.
For all these reasons, Texas is popular among residents of pretty much every larger city in Illinois. But, of course, with Chicago being the center of life in Illinois, the most common routes have the Windy City as a starting point. Moving from Chicago to Dallas is the relocation that's being chosen by 6,000 Illinoisans a year. And, for what it's worth, Houston welcomes just a thousand Chicagoans less than Dallas.
Should you move by yourself or with cross country moving companies Illinois?
If you're contemplating a DIY move, you should certainly get familiar with the pros and cons of this option. Learning about the benefits of DIY moves won't take long, because aside from affordability, there aren't any. Of course, the affordability part is certainly eye-catching, but moving with some of the best interstate movers Illinois brings so much more to the table. You surely don't want to risk the safety of your items, and the safety will be guaranteed during a professionally-assisted move. Think about all the tasks that accompany DIY moves. When you're moving with the experts, the majority of those tasks will vanish. Well, they'll still be there, but you won't be the one tackling them.
Tips for your commercial relocation to or from Illinois
Office moves are rarely easy to navigate. Almost every piece of your office material is important and damaging it or losing it would be a disaster. On top of that, there's a ton of paperwork that needs to be done in order to relocate properly. With all these tasks, hiring cross country moving companies llinois should be the priority. We also want to remind you to register your business after moving to another state. Every state has different regulations regarding businesses, which is why you need to see what are the institutions where you can register your business. We can tell you that in Prairie State, the institution you need to contact is the Illinois Department of Revenue. But this is only for people who are moving to Illinois. If you're among those moving out, don't forget to learn a thing or two about the regulations in the state you're moving to.
Things that the final price of your relocation depends on
The main reason we have put average price ranges earlier in the introduction is the fact that the cost of your relocation depends on many factors. In the list below, we'll try to list as many of these factors as we can. And, hopefully, this will help you understand the cost of your relocation better, and you may even find a way to make it more affordable.
The number of items. This is surely one of the most important things that affect the relocation price. If your current home in Illinois is big, and hence you have a lot of stuff to transfer, know that your relocation will be more expensive.
The distance. Earlier, we talked about the prices of relocations between Illinois and 5 different states. You probably noticed that the relocations between the Prairie State and Indiana, or Wisconsin, are much more affordable than the ones between Illinois and California, which is purely due to distance. So, if you're moving to one of Illinois's neighboring states, expect the moving cost to be much less than it would be if you were going to the West Coast for example.
Total weight. Similarly, as with the number of items that are about to be transferred, the price will be more expensive if these items are heavy. There is a certain weight limit for every truck, so if your household needs larger trucks because of your bulky valuables, the price will be bigger as well.
Moving date. Choosing the date when movers aren't busy can cut the cost of your relocation. Summer is the busiest season for movers in the Prairie State, which is why you shouldn't expect increased prices during this period, especially during July and August. And by the way, we advise you to set your moving date as early as you can if you want your relocation to be seamless. So, right after reading cross country moving companies Illinois reviews, contact the company that you like the most.
Using special services. We've already mentioned some popular special services that interstate movers Illinois are offering. But, if you want to use these services, naturally, the more specialized services you ask for, the more you will end up paying.
How to save money when moving?
This question is pretty common. How to move without breaking the bank? There are some methods that can help you move on a budget. It might not be much, but it's still worth giving it a try.
Ask several interstate moving companies Illinois for free moving estimates, compare them, and pick the most affordable one (only if it's a company you did a background check on and you're certain that they are trustworthy)
Calculate your budget in advance and make sure to stick to your plan.
Organize a yard sale and get rid of things you don't need or use anymore. This way you will spend less on packing materials and even make some money along the way. But, if you live in Chicago, you will have to obtain a permit from the city in order to organize a sale. Due to a high population, Chicagoans are limited to 3 sales per year.
Choose the moving date during the period when cross country movers Illinois aren't busy.
Let Verified Movers help you achieve a seamless moving journey

Having fun and smooth moving experience will be possible once you team up with our country moving companies Illinois. Verified Movers and our team are here for you to help you relocate safely and in a timely manner. We're aware of how difficult can it be to find reputable interstate movers in the Prairie State. That is why we will do everything in our power to help you pick the team that will get you to your new destination in the most efficient way. On our website, you will find, not just reliable moving companies, but also relocation advice that we shared from our vast experience. Verified Movers is your relocation ally, so make sure to reach out to us if you have any questions or concerns. We are here for your convenience.
Facts About Illinois
01. Main Information
Popular Cities
Chicago, Peoria, Rockford, Champaign, Naperville
US Senators
Dick Durbin, Tammy Duckworth
State Website
State Moto
State Sovereignity, National Union
State Nickname
Land of Lincoln
02. Geo Population
Total Population
12,807,072
Highest Elevation
1,235 ft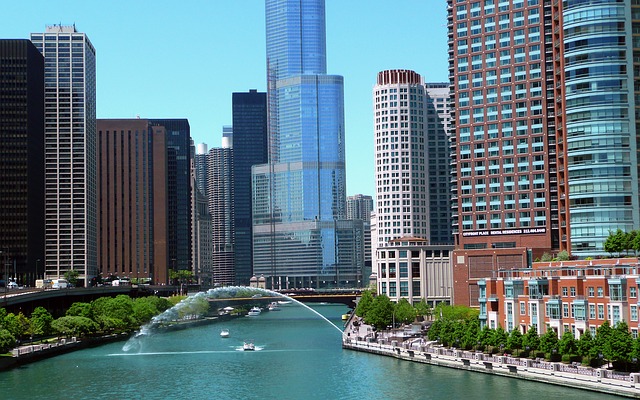 03. Education
Top 5 Elementary Schools
University of Chicago Laboratory Schools, Latin School of Chicago, North Shore Country Day, British International School of Chicago, Roycemore School
Top 5 Middle Schools
University of Chicago Laboratory Schools, Latin School of Chicago, North Shore Country Day, British International School of Chicago, Roycemore School
Top 5 High Schools
Payton College Preparatory High, Northside College Preparatory, Illinois Mathematics and Science Academy, University of Chicago Laboratory Schools, Lake Forest Academy
Top 5 Colleges
University of Chicago, University of Illinois at Urbana-Champaign, Northwestern University, University of Illinois at Chicago, Northern Illinois University
04. Rates
Crime Rate
18.79 (per 1,000 residents)
Average Income (household)
$72,563