Reaching professional long distance moving companies Virginia is the goal of all who plan on having a smooth and stress-free move. However, knowing how to pick them out from the bunch can be trickier than it seems. There are plenty of factors to take into consideration and a lot of research to take care of. That is if you don't go through Verified Movers' database. Our website is filled with reliable professionals, including cross country moving companies Virginia, as well as the long distance ones, useful information on them, and reviews regarding their services. This will allow you to find just the moving team you need in a simple and straightforward manner.
Find movers that will provide you with customized moving services
Virginia isn't just a great place for a vacation it is also a great state to call home. With its incredibly beautiful and rich culture and heritage, many find Virginia as a great destination to start a new life. If you have moving needs in Virginia and outside the Virginia, experienced professionals can help you out. Providing you with the best quality, great customer services, and clean and safe moving trucks, long distance moving companies Virginia guarantee you an amazing moving experience.
In our database, you will find movers that will provide you with moving services tailored to your needs. After you settle for the right long distance movers Virginia has they should take an inventory of your belongings and provide you with a free estimate. Also, walk them through your moving needs and let them assist you with choosing the right moving services for your relocation. This way your movers will customize their services to anticipate all your needs and you will get the service that you require and that can fit your budget.
Need assistance relocating to, from, or within Virginia? We are here to help out
There is no doubt that Virginia is one of the best places to live in. It is a very safe state and has a property and violent crime rate that is lower than average. If you add to that low taxes, an excellent healthcare system, and a great education system many would ask why Virginians decide to leave this state. The main reason would be the cost of living. For example, the average rent cost for a one-bedroom apartment in Virginia is $1.030 while the national average is $930. Still, the median home value is $296.604 and it is expected to increase by 6.7% in the years to come.
Whether you are looking for long distance moving companies in Virginia to relocate you to this great place or you seek assistance to relocate you out because of the high cost of living Verified Movers will be glad to assist you. Let us match you with some of the best movers and enjoy your Virginia relocation.
Know the difference between interstate and intrastate moves
Even though you are relocating long distance you can still encounter different terminology that you should be aware of. If you are relocating long distance but within the state of Virginia, this type of relocation can also be called an intrastate move. On the other hand, if you are relocating to another state your moving company will refer to this type of move as interstate relocation. Be aware of these two types of long distance moves as they can differ when it comes to calculating moving costs. Also, there might be different rules when relocating some specialty items. For example, you will probably be able to relocate plants if you are relocating intrastate. But if you are for example moving from Virginia to Texas you should check regulations of the certain state with the Department of Agriculture.
Virginia moving trends
Over the last 15 years, there were more people that have decided to leave Virginia than the ones that have decided to move to Virginia. According to the U.S. Census Bureau migration data in 2019, there were 264,885 people that have moved to Virginia and 276,849 that have left the state resulting in negative net migration. Still, because of the economic growth and stability of the state, this trend started to change. Between March 2020 and October 2020, net migration was positive by 95. This means that 95 more people moved to Virginia than moved out. There is no doubt that the pandemic affected the moving trends in 2021 and 2022, but with its fast-growing economy, it is excepted for Virginia to see positive net migration in the years to come.
The moving trend within cities in Virginia
Even though there has been a significant number of people that have decided to leave Virginia, relocations within the state are still popular. In 2020, during the pandemic, most of the suburban areas in Virginia, such as Chesterfield County, Loudoun County, and Stafford County experienced population growth, while urban areas saw a decline in their population. Still, this was a temporary growth as in 2021 more and more people have decided to hire long distance moving companies in Virginia and return to some of the urban areas. Especially to places that can offer Virginians a quility lifestyle, a safe environment, and an acceptable cost of living.
Virginia Beach is the safest large city in the country
When it comes to relocation within the state of Virginia most long distance movers in Virginia perform relocations to Virginia Beach. The main reason for Virginians to choose this place is its safety. According to the research on the safest cities in America, Virginia Beach ranked number one in the category of large cities. Also, in a state that has a high cost of living, Virginia Beach stands out as a place that has an acceptable cost of living compared to the monthly household income. And the cost of living is the main factor and the main reason that Virginia Beach became the most common destination for people from Richmond to relocate here. Restaurant prices in restaurants in Virginia Beach are 8.23% lower than in Richmond. Also, grocery prices are lower in Virginia Beach than in Richmond by 2.58%.
Williamsburg offers Virginians a suburban vibe
Williamsburg is another common destination for Virginians to relocate to. It is certain that because of the number of parks, restaurants, and job opportunities many young professionals choose to hire long distance movers in Virginia and relocate here. As it offers a feeling of a small town many Virginias that are looking for an urban but quiet place find Williamsburg ideal to live in. Apart from the peace that this place has to offer it can offer a quility lifestyle to its residents. With an average salary of $5,000 a month and an average cost of living that is around $2,160 a month, it is understandable why Williamsburg became one of the most popular places for Virginians to move to.
Norfolk is one of the most affordable places in Virginia
In 2021, Norfolk was ranked number 99 on the list of the best places to live in. For that reason, it is no surprise to notice that more and more residents of Virginia hire long distance moving companies Virginia based to relocate them here. This is a vibrant city that offers many job opportunities and outside activities. Also, the cost of living in Norfolk is below the national average making it one of the most affordable places in Virginia. Especially when it comes to the housing market. For example, housing cost in Norfolk is 30.7% lower than in Virginia Beach. This is why many people from Virginia Beach decide to move here, but from Richmond and Sudley as well.
Average long distance moving cost within Virginia
The average moving cost within Virginia can vary from $1.515 to $4.328. It will depend on the distance of your move and the size of your home. It will also depend on whether you are relocating your house or apartment that has difficult accesibility. The average price to move a smaller house within Virginia would be around $2,000. To have an idea of how much money you would have to spare for your move within Virginia we have listed the most common relocation routes for the long distance moving companies in Virginia.
Moving from Richmond to Virginia Beach (107 miles)
1 Bedroom $690 – $860
3 Bedrooms $1.310 – $1.650
5+ Bedroom $2.060 – $2.580
Moving from Lorton to Williamsburg (118 miles)
1 Bedroom $710 – $890
3 Bedrooms $1.330 – $1.670
5+ Bedroom $2.080 – $2.610
Moving from Sudley to Norfolk (172 miles)
1 Bedroom $790 – $990
3 Bedrooms $1.420 – $1.790
5+ Bedroom $2.180 – $2.740
Factors that will affect your moving budget and ways to calculate the cost of the move
When making your moving budget there are many factors that you should take into consideration. Each move is unique and the price of your relocation will depend on your circumstances.
Distance of your move
There is a difference between moving cost calculation between local and long distance moves. Normally for the local moves, companies charge by the hours while long distance movers in Virginia will base their charges on the weight of your shipment. For example, the average cost for the move from Lorton to Richmond (93 miles) for a 2 bedroom apartment would be between $960 and $1,200. On the other hand, the average moving cost of the same apartment for moving from Lorton to Virginia Beach (584 miles) would be between $1,090 and $1,370.
Types and size of your relocation
The price will be different for residential and commercial relocations. Also, there will be a difference between moving a studio apartment and a three-bedroom home. For that reason, it is important to take inventory of your belongings in order to calculate the approximate weight of your long distance move
Moving services that you will require
The price for moving a small office and a warehouse can never be the same. Your moving cost for the relocation that requires special moving services such as relocation of big and heavy machines, piano, or pool table will be higher than relocating basic items such as furniture
The timing of your move
The season will play a pivotal role when it comes to calculating your moving price. The moving season for long distance movers is summer when 60% of US relocations take place. If you are moving during this time you can expect that your moving cost will be 20% to 30% higher than if you relocate from September to April. Still, have in mind that because of the weather conditions the peak season for long distance moving companies in Virginia can be September as well.
Do not underestimate the importance of free moving quotes
To have an idea of your moving cost make sure to ask your movers to give you a moving estimate. At Verified Movers we give you chance to compare prices between different moving companies. This is helpful because you will be able to plan and organize your moving cost as well as know which moving services can fit your moving budget. There are 3 types of moving estimates:
Binding moving estimate
Non-binding moving estimate
Binding not-to-exceed moving estimate
Always look for binding or binding not-to-exceed the moving estimate. If you sign the contract with one of these two moving estimates your Virginia long distance movers will not be able to add any additional costs to your price.
Prepare the right size and type of moving boxes for your Virginia long distance relocation
To ensure safe transportation of your belongings it is important to pack them and protect them properly. There are some large and bulky items that will require only wrapping. But most of your valuables will have to be wrapped and placed into the moving boxes. Because of the different shapes and sizes of the items, you will require different types of moving boxes. As one of the leading moving platforms, we have made a list of different types of moving boxes by size that you could use for your Virginia long distance relocation.
Small – 1.5 cubic feet
Medium – 3 cubic feet
Large – 4.5 cubic feet
Extra-large – 6 cubic feet
Apart from the different sizes of moving boxes, there are different types of moving boxes specialized for certain times:
Wardrobe boxes
Dish barrel boxes
Mirror and picture boxes
Office/file boxes
How many moving boxes are you going to need for a long distance relocation?
The number of moving boxes that you will require for your relocation to or within Virginia will depend on the items that you have and the size of your home. Of course, the number of specialty moving boxes is unique for each relocation and it will depend on the type of items that you possess. But based on the experience long distance moving companies in Virginia recommend that you have the following number of moving boxes when relocating:
Studio apartment:
Small boxes: 13
Medium boxes: 9-17
Large boxes: 5-6
Extra-large boxes: 2-7
One-bedroom home:
Small boxes: 15-18
Medium boxes: 18-29
Large boxes: 10
Extra-large boxes: 4-9
Two-bedroom home:
Small boxes: 35
Medium boxes: 27-38
Large boxes: 15
Extra-large boxes: 6-11
What are the other costs related to your relocation that you might encounter?
Even though you have learned everything that you need to know about long distance moves there are still some unexpected things that can happen. Unforeseen moving costs can be one of those things. Whether you are relocating just across the street or to another city in Virginia there are some additional expenses that you should be aware of. To help you save yourself trouble Verified Movers has made a list of things that people usually don't include in their moving budget:
Junk removal services
Professional cleaning services
Building fees
Vehicle registration
Groceries
Who regulates the moving industry in Virginia?
The moving industry in Virginia has been regulated by The Virginia Department of Motor Vehicles (DMV). All licensed long distance moving companies Virginia based have to have the approval of the DMV when it comes to their rates and charges. Also, DMV requires all moving companies to have a minimum amount of coverage on file. Otherwise, they are not allowed to provide moving services. To perform moving services and shipments 31 miles away or more Virginia movers must have a so-called Certificate of Fitness. Only with this certification movers are allowed to transport goods within Virginia.
If you are relocating cross country your movers must be registered with the Federal Motor Carrier Safety Administration (FMCSA). Any licensed and insured moving company that has permission to perform cross country moves will get its own unique USDOT number. Before you hire one of the interstate moving companies Virginia based ask them for this number and check its validity by using the FMCSA website. Only then you can be certain that your movers are meeting all the regulations and safety standards when it comes to interstate moves.
Many businesses relocate their headquarters to Virginia because of tax advantages
Whether you are relocating your business within Virginia or you have decided to move it to Virginia from another state there is no doubt that this is a state that offers many benefits to entrepreneurs. Virginia has corporate income taxes of 6% that are based on sales, payroll, and property factors. For many business owners, this is a convenient advantage which is why Virginia has become home to many corporate offices.
If you are relocating your office to Virginia be aware that you should register your business with Virginia State Corporation Commission. You can either apply online or register by mail. On the other hand, if you have decided to relocate your office within the state of Virginia you would have to report any changes in your business to the Virginia Tax Department, even if it's just a change of address.
6-step moving plan for a successful Virginia move
1. Research the Verified Movers platform and choose your long distance moving company
The first thing that you should do is check the Verified Movers database. We have a number of skilled and experienced long distance movers in Virginia based that will be able to assist you with your relocation. After you give us your moving details we will give you a list of movers in your area. Compare prices and settle for the one.
2. Contact your movers and get your moving quote
Once you decide on the moving company contact them and ask for your free estimate. According to DMV, all reliable and licensed moving businesses in Virginia should provide you with a moving quote. This is important so you can plan your moving budget. Know that there are different types of moving estimates so ensure to get the one where your movers will not be able to add any hidden and additional charges.
3. Choose moving services that you will require
This is one of the most important tasks that you will have to cover. While making your moving checklist make sure to think about moving services that you will need to arrange with your long distance movers in Virginia. The first one is related to the distance of your move and the type of relocation. Also, do not hesitate to get packing services as well. In case you have any specialty items such as a piano, safe, or pool table emphasize that to your movers. Lastly, go through your items and check if you will need a storage unit for your excessive.
4. Transfer all your utilities and change your home address if necessary
This is an important task that you will have to complete. Ensure to call all your providers and inform them that you are changing your address. If you are unsure how to do it contact The Division of Public Utility Regulation as they are the ones that provide support when it comes to utilities in Virginia. Transfer electricity, gas, and water, but also don't forget to change the address in your bank or your driver's license.
5. Enjoy your moving day
When moving day arrives all that you should do is enjoy it. For the peace of your mind check your home one more time so that you didn't forget anything. But generally, everything should be prepared and ready for your long distance movers in Virginia. Let them transport your belongings and relocate to your new location stress-free.
6. Settle in and start a new chapter in your life
The last part of your moving plan should be the process of settling in. This is probably one of the most exciting tasks in your whole moving experience. After you unpack start exploring your neighborhood and your new area. Get to know new people and let your new journey begin.
Difference between moving with Verified Movers and relocating on your own
At the end of the day whether you will relocate on your own or hire professional movers will depend on your priorities and budget. If you are on the budget and you are moving just a few blocks away from your current home in Virginia then relocating on your own shouldn't be a problem. Call friends to help you out, rent a moving truck and half of your job will be done. Still, even when relocating just a few blocks away you will have to pack properly your belongings and protect them. And this is something that will require time and patience.
On the other hand, hiring professional movers has many advantages. Especially if you are moving long distance. There is no reason to waste time and nerves on packing, loading, and unloading the moving truck and transporting your belongings miles away when you can have professionals do it for you. Verified Movers has a number of skilled long distance moving companies Virginia based that will provide you with full moving services. From the moment you hire your movers, you will not have to think about the safety of your belongings. Check our platform, experience the beauties of the moving process and forget about the stress.
Choose one of the most recommended long distance moving companies Virginia has based on reviews
As we live in the digital world there is no doubt that the internet became one of the main resources for obtaining information. Even though mouth-to-mouth recommendations are still honored among Virginians, online reviews became one of the most trusted ways of collecting data. For that reason, we have created a platform that will give you insight into the moving world and help you choose your movers based on the reviews and recommendations. As we constantly invest in our technology be assured that we use one of the most advanced fake review control systems. With our long distance moving companies Virginia reviews you will find accurate information about your movers as we do not allow companies to remove or alert testimonials that clients left.
Should you leave a review after your relocation is over?
This is a very simple question that has a very simple answer – YES. Just like reviews will help you find ideal movers to make your moving experience more enjoyable, your review can be valuable information to somebody else. At Verified Movers we encourage our clients to write their experiences whether it is positive or negative. Most long distance movers Virginia will be able to provide services that people need. But just a few will do it in a way that will stand out and tailor their service to your budget and needs. For that reason, write your comment as maybe your long distance moving companies Virginia review will help somebody choose the right crew for the job.
Customer-oriented service and quality relocations are the reflections of experienced long distance moving companies Virginia
Satisfaction with moving services is the most important thing for every reliable long distance moving company. Giving you a list of long distance movers with different services, Verified Movers help you find that one moving company to fit your moving needs. You don't have to worry about your belongings when you hire a moving company with an impeccable reputation with the BBB Better Business Bureau.
Coordinating household and commercial moves is easy with long distance movers
Reliable long distance movers handle the biggest and smallest move with the same qualities in moving services. In Virginia, you can find skilled agents across the state who are ready to handle your household or commercial move from every local community.
Hiring long distance moving companies Virginia with years of experience is a great way to coordinate household and commercial moves with ease. Verified Movers will find trustworthy long-distance movers that can even transport your car to your new home.  So, if you are relocating within Virginia or even to another state and you need help from long distance movers, call one of the companies you can find on our website.
Packing is a simple task with professionals packers by your side
There is no doubt that packing is one of the most difficult tasks when it comes to relocation. Because of the number of fragile and sensitive items that you might possess it requires patience in order to protect them well. Reach out to Verified Movers and find some of the best professional packers Virginia has. By having a crew that knows all the packing secrets and has the right packing materials you will have peace of your mind when relocating long distance.
Do not overfill your new home and find a storage solution for your valuables
Whether you are moving to a smaller apartment or you need to downsize your office there is no reason to throw away your valuables. There are many long distance moving companies Virginia based that offer a full moving experience that include storage solutions. Place your items in one of the climate-controlled storage facilities. That way your items will not get damaged because of Virginia's weather conditions and it changes in temperature or humidity. Find the right storage unit for your needs and relocate with ease by knowing that your belongings are secured in a pest-free environment.
Long distance moving companies by cities in Virginia
FAQ when relocating long distance
At Verified Movers, we understand that you might have many questions when it comes to the long distance relocation. In order to help you prepare for the moving day, for your convenience, we have singled out some of the most common and frequently asked moving questions.
What is the difference between local and long distance moves?
Before you decide to hire your movers you should know if you would require services from local movers or from the long distance movers in Virginia. In general, a local move is considered any move between two locations that are 50 miles or less apart, and it is usually performed within the same city. Anything above that distance can be considered a long distance move. Regardless of whether you are relocating within the state of Virginia or to another state. Still, be aware that this number of 50 miles that sets apart local moves from the long distance ones may vary among moving companies.
How should I choose the right movers for me?
A reliable moving company has good and positive reviews. Good service inspires good reviews. Search for a long distance moving companies Virginia that has good online reviews you can look on the Better Business Bureau, Yelp, and Google. Make sure to hire the moving company with the best testimonials.
Are there ways to spot fraudulent moving companies?
Planning a long distance move requires patience and being careful especially when you are looking for long distance moving company. You should be aware of the number of fraudulent moving companies on the market. There are a lot of moving scams out there and you should be able to recognize them. Fraudulent moving companies will usually give you an extremely low starting moving price. If you encounter this be mindful of potential scams as you might end up paying much more because of the hidden fees. Also, if you encounter fraudulent movers make sure to report them to the Virginia Department of Motor Vehicle.
How well in advance should I book my moving day?
There is no correct answer to this question. Still, the larger your relocation is further in advance you should contact your movers. General advice is to book your moving date at least two weeks in advance for a smaller move and at least a month in advance for a larger relocation. But bare in mind that this will also depend on the moving season and how busy are your movers. So to be safe, the best decision would be to contact your long distance movers in Virginia as soon as you find out about your relocation. Also, when you are choosing your moving date take into consideration Virginia's traffic congestion and be prepared for any possible delays.
Will my long distance movers Virginia relocate pets and plants?
There is a number of long distance moving companies that will not be able to relocate your pets and plants because of different regulations. For that reason, make sure to check with your chosen moving company if they will be able to do that. If not make sure to organize the relocation of your pets and plants by taking them with you or entrusting them to a company that is specialized in this kind of relocation.
How can I protect my belongings in case of any unexpected events?
Before you entrust your valuables to your movers you should protect them in case they get damaged at the end of the job. There are three different types of moving insurance:
Basic Carrer Liability
Declared Value Protection
Full replacement Liability
Different types of coverages will cover different percentages of the damages. So make sure to ask your Virginia long distance movers to walk you through their insurance program and check if you would have to purchase additional coverage for your valuables. This is recommended if you possess antiques, an art collection, or other valuable and rare times.
Have a smooth and simple long distance move with the right moving crew
Verified Movers is here to help you get in touch with the moving team that will cater to all of your needs in the best possible way. Our platform is easy to navigate, and you will have no trouble reaching any piece of information you need in order to make the soundest decision. Should you need any assistance visit our platform, and we will be happy to help you start your move on the right foot. Find some of the most recommended and reliable long distance moving companies Virginia based and experience a hassle-free moving process.
Facts About Virginia
01. Main Information
Popular Cities
Richmond, Virgina Beach, Norfolk, Fairfax, Roanoke
US Senators
Mark Warner, Tim Kaine
State Website
State Moto
Thus Always to Tyrants
State Nickname
Old Dominion
02. Geo Population
Total Population
8,709,873
Highest Elevation
5,729 ft
Lowest Elevation
Sea level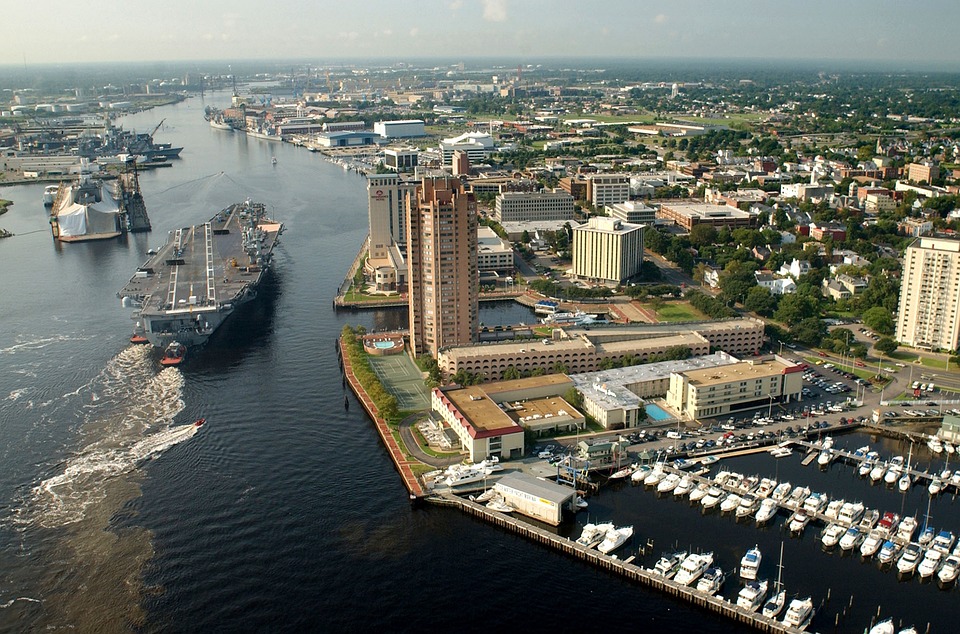 03. Education
Top 5 Elementary Schools
BASIS Independent McLean, The Potomac School, Flint Hill School, Norfolk Academy, St. Stephen's and St. Agnes School
Top 5 Middle Schools
BASIS Independent McLean, The Potomac School, Flint Hill School, Norfolk Academy, St. Stephen's and St. Agnes School
Top 5 High Schools
Thomas Jefferson High School for Science & Technology, Maggie Walker Governor's School, BASIS Independent McLean, The Madeira School, The Potomac School
Top 5 Colleges
University of Virginia, Virginia Polytechnic Institute and State University, George Mason University, Virginia Commonwealth University, College of William & Mary
04. Rates
Crime Rate
17.05 (per 1,000 residents)
Average Income (household)
$80,615