It's well-known that any relocation experience is much better when the professionals are by your side. However, even when you decide to move across the Palmetto State with movers, choosing the right one is not as easy as it sounds. This choice will have a lasting and final effect on the outcome of your moving process. After all, these are the people you are going to entrust all your goods with. With that in mind, you really ought to devote ample time and effort to finding the right team. That is why Verified Movers are here, to help you get in touch with some of the finest long distance moving companies South Carolina. Our platform is brimming with useful information on quality movers, allowing you to have the broadest perspective when making your choice. You can also learn so much about cross country moving companies South Carolina, if you ever happen to need their services. With that in mind, we invite you to check out our website and jump into the moving process with us!
Know which type of long distance move you need before calling professionals
First of all, if you wish to hire professional moving help for your upcoming relocation, there are a few factors you need to take into consideration. Before contacting any long distance moving companies South Carolina, you need to make sure what type of relocation you want to conduct. Here, we need to talk about the difference between intrastate and interstate moves. Long distance moves are typically referred to as intrastate moves. And, even if the other group, interstate moves, belong to this category as well, we mostly refer to them as cross country moves. So, in case you're moving out of the Palmetto State, know that you'll have to ask interstate movers in South Carolina for some assistance. On the other hand, if you're here because you've decided to move from one city in South Carolina to another, you're in the right place. Verified Movers will happily help you understand the whole process of relocating with professionals and point you in the right direction when it comes to finding these experts.
How did South Carolina suddenly become one of the top moving destinations?
Some big events tend to change the moving scene in the United States entirely, and one of those events was the pandemic of COVID-19. We must say that South Carolina started becoming appealing even before 2020, but ever since the pandemic started, it experienced a true blast in moving trends. Now, it's one of the most moved-in states in the country, and here's why. First and foremost, it's very easy to afford to live in the Palmetto State. With a cost of living 13% lower than the nation's average, it's among the most affordable states in the country. But, of course, this is not the only benefit of living on this part of the Atlantic Coast.
Beautiful scenery, a strong economy, and a growing job market are the things responsible for the Palmetto State having 63% inbound moves in 2021, compared to only 37% outbound. Now, the state welcomes people from all over the United States. However, as with any other example, some states send way more people to South Carolina than others. The Palmetto State is especially appealing to people from neighboring states and those that have high costs of living. So, before we jump into the analysis of South Carolinian cities, here are the five states that South Carolina got the most residents from in 2021.
North Carolina
Georgia
Florida
New York
Virginia
Charleston is one of the most moved-in cities among both South Carolinians and out-of-staters from the East Coast
When talking about South Carolina's moving trends, starting with Charleston is the most obvious choice. This is not just because it's the largest city in the state. It has very positive net migration when it comes to both South Carolinians and out-of-staters. And, of course, there's a good reason for this, or a few of them to be precise. We must mention that it is a very picturesque area, and as such, a true joy to live in. But that's rarely a reason for people to move. A lot of other things have to align perfectly for someone to make a decision to move to a certain city. Well, this alignment is present in Charleston.
It is not an expensive place at all, with a cost of living slightly higher than the state's average, but still 3% lower than the USA average. For a big city, this is a huge advantage, especially considering all the Miamians and New Yorkers who are looking for a new place to live. Furthermore, it has a very strong local economy along with plenty of jobs on offer. South Carolinians are moving here in flocks, and now we'll see which cities they are mostly coming from. It won't surprise you to see Columbia taking first place here. It's normal that two of the largest cities in one state exchange a lot of residents among them, and that's exactly the case with South Carolina. Columbia sends between 1,000 and 1,500 people to Charleston on a yearly basis. Interestingly, Greenville, in spite of being two times smaller than Columbia, sends almost as many people to Charleston every year (as many as 1,000). Even some smaller cities like Spartanburg, Florence, and Hilton Head Island send a few hundred people to Charleston every 12 months. So, it's fair to say that this place is very popular, and if you're considering it for your SC relocation, it seems highly unlikely that it will be a mistake.
The appeal of Columbia cannot be neglected
Columbia offers similar things as Charleston, and not so long ago, it was really under the radar. To be fair, South Carolinians were aware of Columbia's appeal long before that. But, among movers from all over the USA, it has only recently become very popular. Like Charleston, net migration in this city is very strong. It has a healthy economy and you won't find it hard to get a job there. In spite of being one of the fastest-growing metro areas on the East Coast, you can still feel its unique small-town charm. The majority of Columbia newcomers are moving from, you've guessed it right, Charleston. Around 2,000 people have moved from the "Holy City" to Columbia. The city of Sumter is in second place with slightly over 1,000 relocations to Columbia last year, following Greenville with almost identical numbers.
The prospects of other South Carolinian cities
South Carolina all around is very promising, and it's nearly impossible to say that one of its cities is not a good place to live. It's filled with affordable places, the tax burden is low, pollution is low as well, and the economy is quite strong. So, even if you're looking to move to some other city other than Charleston and Columbia, you certainly won't be making a mistake. In fact, if you want to lead a quiet and peaceful life, cities like Greensville, Florence, Spartanburg, Sumter, etc., could be the perfect choice for you.
The average cost of a long distance move in South Carolina
Now, you must be interested in the cost of services long distance moving companies South Carolina are about to provide you with. We'll try to help you by showing you some numbers. But, it is important for you to remember that the final price of one relocation depends on so many things, which makes every price different and every move unique. With that in mind, here are the average prices for moves between some cities in the Palmetto State:
Moving between Charleston and Columbia; $650 – $1,900 (116 miles)
Moving between Charleston and Greensville; $800 – $2,250 (201 miles)
Moving between Columbia and Florence; $500 – $1,700 (74 miles)
Moving between Spartanburg and Charleston; $750 – $2,200 (185 miles)
Moving between Myrtle Beach and Columbia; $650 – $1,900 (125 miles)
What should you be looking for when searching for reliable long distance moving companies in South Carolina?
Looking for professional movers from South Carolina is the most important task you will need to do. Therefore, you shouldn't approach it lightly. You need to do everything you can to ensure you find trustworthy, experienced, and knowledgeable movers. Of course, it's impossible to conduct thorough research on every moving company. We at Verified Movers alone have an enormous database of movers. It would be impossible to research them all. Usually, what's best to do in this case is to pick at least three potential moving companies. It would be much easier to do complete research if you focus on a smaller number of companies. That way, you will minimize the risk of encountering fraudulent movers.
Once you pick out the three potential long distance movers in South Carolina, there are a couple of ways to ensure that they are professional and trustworthy. The most important things you need to pay attention to are: checking the licenses, reading their moving reviews, getting a free moving estimate, and checking what additional services they offer. You can then compare their services and prices to find the ones that suit you best. However, you need to be very careful. Cheaper isn't always better. Sometimes, a low cost can be an indicator of fraudulent movers, as much as a moving price that is too high.
What makes online research so favorable?
Before the age of the Internet, people had to go through a lot of trouble when they wanted to hire professional moving help. They spent hours looking through newspaper ads and speaking over the phone with potential long distance moving companies in South Carolina. Nowadays, things are much easier. A lot of moving companies have their own websites. And on those web pages, you can usually find out everything you need to know about a company you are interested in. So, by looking for professional movers online, you can:
Compare different moving companies and their offers
Easily find various offers and discounts
Save money on hidden moving costs by finding a reliable mover
Plan and organize your long distance relocation with some professional assistance
Get all the information that you might need
Notice red flags and fraudulent movers
How is reading moving reviews beneficial when hiring long distance movers South Carolina?
Reading moving company reviews may sound a bit tedious and time-wasting at first. While it certainly requires dedication, it is definitely not a waste of time. Reading moving reviews of a company you wish to hire may be life-saving in many cases. Since nowadays, there are numerous moving companies that advertise their services, there is a risk of encountering fraudulent movers that will want to take advantage of you and take your money. But luckily, reading moving reviews can minimize this risk.
Websites that specialize in moving reviews like Verified Movers, can help you greatly with this. With our database, you are surely going to find everything you need. We provide a space where anyone can share their experience with a specific moving company. And there is no better way of finding out how a moving company conducts its business than to see whether its customers are satisfied or not. Therefore, if any movers are doing their job badly, you will surely read about it in someone's moving review. So, make sure to dedicate time to do your research. It can have enormous benefits in the long run.
Checking if long distance movers South Carolina are licensed
This is a very important step to ensure you're making a good choice. Fraudulent movers are present and one of the most efficient ways to avoid them is by hiring licensed movers. But, how to check these licenses? Actually, it's not that hard. Since you're in need of long distance movers in the Palmetto State, know that they are regulated by the South Carolina Office of Regulatory Staff. There, you'll be able to find some important pieces of information regarding movers who are transporting people across South Carolina. For further information, we'll show you how to find it in the next sections.
Don't miss the chance to get a free moving quote from a potential moving company
Nowadays, when the moving industry has become a competitive one, many moving companies offer free moving estimates or moving quotes. But what are they, and how can they be beneficial when it comes to your relocation? A moving estimate is a calculation of the price of your entire relocation that the movers provide you in advance.
It means that a company will send a professional to your home who will evaluate the factors calculated into the cost. These are usually the number and weight of your possessions, the access to your building, the equipment they will need, etc. This is an excellent way to see whether the cost of the move will fit into your moving budget. That way, you can find out whether you may take on additional moving services or not.
What services can you expect from long distance moving companies South Carolina offers?
Long distance moving companies South Carolina has to offer can help you move residentially or commercially, no matter how difficult or far. So, trust in our choice of South Carolina moving experts, and you can relax after the move. Many movers today offer additional services alongside the basic ones that include loading, transporting, and unloading your goods. So, if your budget allows it, taking on additional services is an excellent idea. Transferring some of the tasks to professionals will make your relocation much easier and as stress-free as possible.
These are some of the most popular ones:
Residential moving
Packing and unpacking services
Storage services
Senior moving
Piano moving
Furniture moving
And now, we'll take a more detailed look into some of these services and show you exactly what they mean.
Planning and organization of the move
This is a task many dread. Planning a relocation across the Palmetto State is a difficult, long, and even tedious process. It involves many tasks that need to be done in different time frames before the moving date. And if you forget even the slightest task from your moving checklist, your entire relocation process can be delayed or completely ruined. This is why the organization is so important. And if you don't want to risk anything, it's best to leave everything to professional long distance moving companies in South Carolina.
Household or commercial moving
Depending on whether you are relocating your home or your entire business or office, you are going to need different moving services. However, when it comes to commercial relocation, it's always best to choose long distance movers in South Carolina who have experience with it. They will have the necessary knowledge to handle your business equipment properly that may need a specific way of handling it. Therefore, you won't risk damaging your valuable equipment by hiring inexperienced movers.
Packing and unpacking services
These services are among the most requested moving services in the Palmetto State, according to moving experts that handle statistics. Packing is one of the biggest tasks there are when it comes to moving. And so it takes the most time to complete. However, you don't need only to pack. You have to worry about getting the right moving supplies, decluttering your homes, and forming piles of belongings to determine which are best to pack with each other, and there are also the breakable and valuable items. Furthermore, you can hire long distance moving companies South Carolina to do the unpacking for you as well. When all this comes to mind, it's clear that it would be best to let the professionals handle this task. Plus, they know all the best packing secrets to do the job perfectly. That way, you would have more time to focus on other moving-related tasks.
Storage and warehouse services
Booking a storage unit in South Carolina is an excellent choice, no matter what type of move you are conducting. It can be beneficial in many ways. A storage unit is perfect for those items that you cannot bring to your new home immediately, those too large to transfer together, items you don't want in your new home but don't want to give or throw away, etc. Storage gives you many options. You can choose smaller or bigger units and even specialized units like climate-controlled storage for your most sensitive items. Usually, items that people keep in storage the most are furniture, large book, or artwork collections that need special conditions. And the best part is, you can rent it for as long as you need it, be it long or short-term. Long distance moving companies in South Carolina will keep your goods safe for as long as you want.
Specialized relocation services
Some of your items may require a bit more attention than others. Usually, large and valuable items need to be handled extra carefully by people who are trained in handling them. This is why many long distance moving companies in South Carolina are offering services of specialized relocation, that is, you can hire experienced and knowledgeable piano movers, furniture movers, pool table movers, etc.
Auto moving
The service of auto moving is especially useful when it comes to long distance relocation. Driving all the way across South Carolina is very difficult. This is when the auto moving service will come in handy. Your moving company will arrange everything in order for your vehicle to reach its destination safely, whether it's by land or even sea.
Junk removal
Since cleaning up is probably the most tedious task of them all, many would be happy to have someone else do it. Luckily, a lot of long distance movers South Carolina can provide you with junk removal as a part of their moving services. You may take on their services after you declutter your old home and want to get rid of some things. Likewise, you can hire movers to clean up your new home and remove all the unnecessary junk before you settle into it.
White glove moving service
This is the best and the most detailed luxury service any moving company from South Carolina could offer you. White glove moving is an all-inclusive moving service that will have you move across the Palmetto State like a VIP. Within this service, your professional movers take care of absolutely everything moving-related. This means you won't have to worry about anything, and you won't have to lift a finger. However, since it is considered a luxurious service, it is a bit on the pricy side. But if your budget allows it, it will certainly be worth having it.  The white glove experts are highly knowledgeable and experienced and handle every detail with extra care. It is such a detailed service that you can even expect to find all your cables connected and plugged in when you arrive at your new home. This is one of the best moving tips we could possibly give you.
We hope that with our help, you will easily find long distance movers in South Carolina that stand out. You should always search for integrity, professionalism, and also efficiency. Verified Movers are here to give you support to have a memorable and comfortable relocation.
Checking out the Verified Movers platform is the best place to start your moving journey!
Verified Movers is truly a great place to start your relocation process, and here's why. Within our database of over 20,000 moving companies, you will be able to find suitable movers for your relocation. You just need to visit our website, put in the necessary information, your needs, and preferences, and we will select a personalized list of movers for you. And through our platform, you can get detailed information about these movers, which can make your choice as easy as it could possibly be. Additionally, you can find many useful pieces of information on our blog. After all, with all the experience we have gathered by being in the moving industry for so long, the least we can do is share some advice with our clients. And most importantly, we're more than happy to help out.
Long distance moving companies by cities in South Carolina
Now, since we're familiar with the fact that searching among all companies in the Palmetto State could take time, we decided to help out a bit. If you don't have time to analyze movers who are operating all over South Carolina, we have sorted them by cities, which will narrow down your choices. Now, you can call one of the companies that are operating near you and speed up the process.
Do you really need moving assistance?
And does DIY relocation sound like a better option for you somehow? The answer to this question is more than simple. Moving all by yourself might seem like a good idea. At this point. But once your moving day comes closer, things tend to get hectic and stressful. And that is exactly why you need all the assistance you can get, as long distance relocations are complex. On the other hand, having the right moving professionals by your side is something that can make things so much easier for you. And that is where Verified Movers come in, to help you find these experts and make sure that your moving experience is a good one.
How to move without breaking the bank?
We are aware that relocation costs can quickly add up. However, there are a few tips and tricks you can incorporate into your moving plan to ensure you don't have to pay any more than you have to. Luckily, moving on a budget can be done easily. And especially once you team up with one of the many different long distance moving companies South Carolina. Here is what you need to do.
Start making a plan for your relocation with long distance moving companies South Carolina early
Making a plan is crucial at this point. And especially if you are trying to save some money on your relocation. Creating a clearer picture of your relocation project is something that will help you a lot. The best way you can create a plan is to have a moving checklist. The list should contain all the tasks that need to be done before your moving date. A good idea would be to divide these tasks into a time frame. That way, you will know which ones you need to do as soon as possible and which can wait a little bit.
Since your list will be filled will numerous tasks, it would be best to keep everything moving-related in one place. We suggest opening a folder on your computer and putting important documents, information, contacts, and other moving-related things there. That way, you will always know where everything is and won't have to get stressed about not being able to find some important piece of paper with the info you have written down.
Try to avoid moving across the Palmetto State during the hurricane season
Now, this is just a precaution. But, it's better to be safe than sorry. Especially for those of you who are booking long distance movers South Carolina a month, or even more, in advance. Hurricane Ian was the best example that weather forecasts cannot predict events such as hurricanes too early. And, you, being a South Carolinian, are surely well aware that the Palmetto State is infamous for hurricanes. So, you can never know what will happen. Of course, since the hurricane season is long (June 1st – November 1st) there's every chance you won't experience such problems. If you have to move during this period, so be it. But, if you have a chance to move before it, for example sometime during the months of May or April, that would be ideal. As far as the prices go, summer is still the peak moving season in SC. This means that June, July, and August bring higher moving prices than the rest of the months, simply because long distance moving companies in South Carolina are busier. This especially goes for arranging last-minute moves during the summer, because there's every chance you'll pay more than you expect.
Don't forget to plan out a moving budget
This is one of the essential tasks that you will need to do before anything else. By planning out a moving budget, you will be aware of how much money you can spend on the relocation, which moving services you can afford, and which are better to pass on. How to plan a moving budget is one of the most frequently asked questions about relocations. Our advice on this is to consult with your accountant first. Together with them, you can decide on the amount of money you are able to set aside for moving. They will also be able to advise you on other matters, such as whether is it wiser to buy a rent a home in your place of destination.
Get the necessary moving supplies in order to prepare for your move
If you choose to pack your belongings by yourself, you will first need to find the necessary packing material. In this case, it's always best to stick to essential supplies like cardboard boxes, bubble wrap, and packing paper. You can buy all of them online, however, if you want to save some money, you can implement a few tricks. For example, instead of buying cardboard boxes, you can see if your local supermarket has any to spare. Also, you don't have to buy things like markers, duct tape, scissors, etc. Those are items we all have lying somewhere around the house.
Which type of boxes do you need?
When it comes to gathering moving supplies such as cardboard boxes, it's advisable to get as many as possible. However, you should pay attention to their size. Since you are most probably to have items of various sizes, long distance moving companies in South Carolina recommend that you get small, medium, large, and extra-large cardboard boxes.
Moving FAQ
In the end, we wanted to share some frequently asked questions. If we didn't clear all your dilemmas until now, then the answers you'll find below might do the work.
Can I ask for moving insurance?
Asking for moving insurance is not only advisable, but it is also nearly necessary. Even when you're moving with the most reputable professionals in South Carolina, mistakes can happen, and it's important to be insured when they do. Depending on your bank, you will be able to choose between partial and full insurance, Of course, having full protection would be ideal, but partial insurance often covers the majority of undesirable scenarios.
What is a binding estimate?
We've already discussed the free moving quotes, which are also referred to as non-binding estimates. On the other hand, a binding estimate is a legal document. After you sign it, there won't be any changes to follow, and you'll end up paying the exact price as stated in the document.
Is there anything long distance movers in South Carolina won't move?
In fact, there are many items that your movers will refuse to move. However, these are usually hazardous and flammable materials, and they are rarely related to the majority of your belongings. However, to be safe, make sure to check with your movers if there's anything on your inventory list that's not welcome in a moving truck.
How long will my move last?
Typically, long distance moves in South Carolina are completed within 2 weeks. If the distance between the cities isn't more than 50-60 miles, your relocation could even be completed in less than 10 days.
How far in advance should I book long distance moving companies South Carolina?
The general rule is to welcome everything prepared, so in that case, we'd have to recommend contacting long distance movers in South Carolina one month in advance. However, if you aren't able to do so, don't panic. Many companies out there will be able to provide you with their assistance on shorter notice.
Verified Movers is the help you can count on
While moving is complex and often stressful, there is plenty you can do to make it less so. And, Verified Movers is here to point to all the ways you can make sure your relocation is a smooth and simple process. Apart from looking for quality long distance moving companies South Carolina on our website, you will also be able to read up on plenty of quality advice for the process ahead. We are here to make sure you are indeed ready for what's to come in every sense of the word. So, in order to start your moving adventure on the right foot, make sure to visit our website and we'll be more than happy to help you out!
Facts About South Carolina
01. Main Information
Popular Cities
Charleston, Columbia, Greenville, Myrtle Beach, Florence
US Senators
Lindsey Graham, Tim Scott
State Website
State Moto
While I Breathe I Hope
State Nickname
The Palmetto State
02. Geo Population
Total Population
5,372,002
Highest Elevation
3,560 ft
Lowest Elevation
Sea level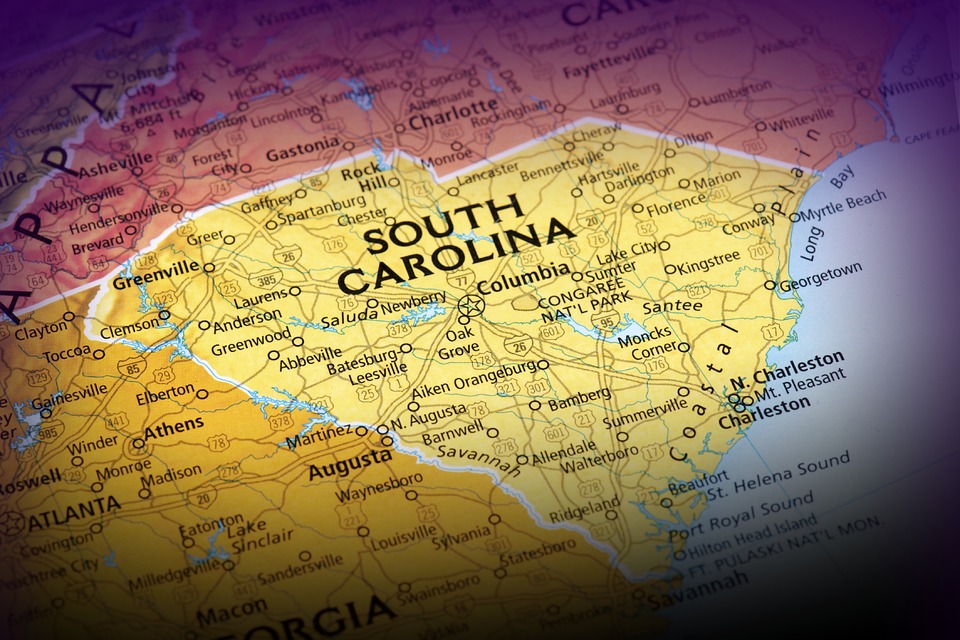 03. Education
Top 5 Elementary Schools
Christ Church Episcopal School, Heathwood Hall Episcopal School, Hammond School, Porter-Gaud School, Hilton Head Preparatory School
Top 5 Middle Schools
Christ Church Episcopal School, Heathwood Hall Episcopal School, Hammond School, Porter-Gaud School, Hilton Head Preparatory School
Top 5 High Schools
South Carolina Governor's School for Science & Mathematics, Academic Magnet High School, Christ Church Episcopal School, Heathwood Hall Episcopal School, Hammond School
Top 5 Colleges
University of South Carolina, Clemson University, Medical University of South Carolina, College of Charleston, Furman University
04. Rates
Crime Rate
31.09 (per 1,000 residents)
Average Income (household)
$58,234