The state of South Carolina, which got its name in honor of Charles 1 of England borders Georgia and North Carolina. If you want to move to one of the 46 counties of the state, or to its major towns such as Columbia, Sumter, Florence, Charleston or Rock Hill, visit Verified Movers to get the best reviews for long distance moving companies South Carolina. The list of long distance movers come with reviews given by other customers so it is easy to select a moving company that best suits your moving needs.
Cross Country (Interstate) Moving Companies South Carolina
The choice you make in the moving company will have a lasting and final effect on the outcome of your relocation process. After all, these are the people you are going to entrust all your goods with. With that in mind, you really ought to devote ample time and effort to find the right team. That is why Verified Movers is here, to help you get in touch with some of the finest long distance moving companies South Carolina has to offer. Our platform is brimming with useful information on quality movers, allowing you to have the broadest perspective when making your choice.
Verified Movers will help you get in touch with some of the best long distance moving companies South Carolina can offer
Moving is a complex endeavor that requires all the knowledgeable hands on deck. Only the experienced, trained and the properly equipped team will be able to guarantee success. And, when you take into consideration the fact that moving takes place as one big step in a person's life, promising betterment, it is only reasonable to want the process of the relocation itself to be smooth and swift.
This is why we are here. Verified Movers has the job of providing you with as big of a choice, and as much of information as possible. Our goal is to make sure you step into the selection process with an all-encompassing perspective. We know just how intimidating it can be to venture into the search of your movers, not knowing what to look for, who to trust, and what to expect. With that in mind, we made sure to collect all the important data on all the reliable, professional and experienced movers all over the US. Our website will allow you to cast the widest net, but still stay safe on the shore, as the reviews and information on the services will keep your feet firmly on the ground. Once you define what you want and need, you will be able to make the soundest choice just by browsing our website.
Do you really need moving assistance?
And does DIY relocation sound like a better option for you somehow? The answer to this question is more than simple. Moving all by yourself might seem like a good idea. At this point. But once your moving day comes closer – things tend to get hectic and stressful. And that is exactly why you need all the assistance you can get, as long distance relocations are complex.
On the other hand – having the right moving professional by your side is something that can make things so much easier on you. And that is where Verified Movers come in, to help you find the right moving professional for the job.
What makes online research so favorable?
By looking for professional movers online you can:
Compare different moving companies and their offers
Easily find various offers and discounts
Save money on hidden moving costs by finding a reliable mover
Plan and organize your long distance relocation with some professional assistance
Get all the information that you might need
Notice red flags and fraudulent movers
What services can you expect from long distance moving companies South Carolina?
Long distance moving companies South Carolina can help you move residentially or commercially, no matter how difficult or far. So, trust in our choice of South Carolina moving experts and you can relax after long distance move.
A perfect combination of experience, knowledge and high-quality services give you a reputable moving company with a plethora of services:
Planning and organization
Household or commercial relocation
Packing & unpacking services
Specialized relocation services – furniture, office supplies, piano moving, pool table relocation, etc.
We hope that with our help you will easily find long distance moving companies South Carolina that stand out. You should always search for integrity, professionalism, and also efficiency. Verified Movers are here to give you support to have a memorable and comfortable relocation.
How to move without breaking the bank?
This can be done easily. And especially once you team up with one of many different long distance moving companies South Carolina has to offer. Here is what you need to do.
Start early
Making a plan is crucial at this point. And especially if you are trying to save some money on your relocation. Creating a clearer picture of your relocation project is something that will help you a lot.
Purge your belongings
One of the simplest and most logical ways of lowering the cost of your move is by making your shipment smaller. It really is basic math. Besides, moving is a great opportunity to get rid of all the things you no longer need or use. So, use it to your advantage, and purge your goods of all the redundancies. It will make your relocation bill smaller, and your new place much more enjoyable.
Long distance moving companies by cities in South Carolina
Verified Movers is the help you can count on
While moving is complex and often stressful, there is plenty you can do to make it less so. And, Verified Movers is here to point to all the ways you can make sure your relocation is a smooth and simple process. Apart from looking for quality long distance moving companies South Carolina on our website, you will also be able to read up on plety of quality advice for the process ahead. We are here to make sure you are indeed ready for what's to come in every sense of the word. Make sure to reach out to us should you have any questions or concerns, and we will be more than happy to help.
Facts About South Carolina
01. Main Information
Popular Cities
Charleston, Columbia, Greenville, Myrtle Beach, Florence
Governor
Henry McMaster
US Senators
Lindsey Graham, Tim Scott
State Website
State Moto
While I Breathe I Hope
State Nickname
The Palmetto State
02. Geo Population
Area (sq mi)
32,030 sq mi
Total Population
5,277,830
Highest Elevation
3,560 ft
Lowest Elevation
Sea level
Time Zone
Eastern/UTC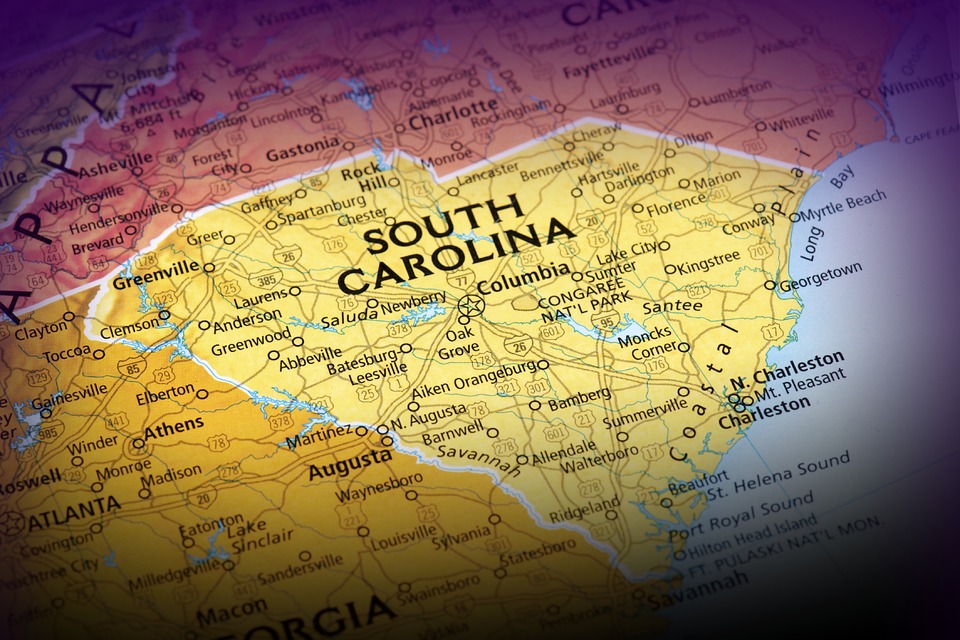 03. Education
Top 5 Elementary Schools
Christ Church Episcopal School, Hilton Head Preparatory School, Hammond School, Porter-Gaud School, Spartanburg Day School
Top 5 Middle Schools
Christ Church Episcopal School, Hilton Head Preparatory School, Hammond School, Porter-Gaud School, Spartanburg Day School
Top 5 High Schools
South Carolina Governor's School for Science & Mathematics, Academic Magnet High School, Christ Church Episcopal School, Spring Hill High School, Hilton Head Preparatory School
Top 5 Colleges
University of South Carolina, Clemson University, Medical University of South Carolina, College of Charleston, Furman University
04. Rates
Crime Rate
28.96
Employment Rate
56%
Average Income (household)
$53,199
Poverty Rate
15.20%