With the high complexity of the moving process, it's better to welcome it as prepared as you can. Relocation consists of many demanding tasks, all paired with deadlines, and the pressure of delivering a great job for every single task. Therefore, it's not hard to conclude that this process can be rather stressful and nerve-racking for any individual. However, it doesn't have to be that bad, and it won't be if you seek some assistance. This is where professionals come to the rescue. With reputable long distance moving companies Pennsylvania has to offer, you will get to experience a smooth and stress-free relocation. Verified Movers will be able to match you with some of the best companies in the business, and that goes for both long distance and cross country moving companies Pennsylvania, so make sure to visit our website where you'll find the ideal moving team.
Verified Movers are here to help you in many ways
When searching for long distance moving companies Pennsylvania, you'd struggle to find a better ally than Verified Movers. We are aware of who the best movers in the business are, not just in the Keystone State, but throughout the whole country. Here on our platform, there are more than 20,000 moving professionals, so know that somewhere in there, there's an ideal team waiting for your call. Apart from matching you with top companies, you have a chance to scroll through Verified Movers reviews and learn a few things about each company. In the end, if you want some moving advice to help you deal with the upcoming tasks, the Verified Movers blog is the place to be. If you consider us as your moving ally, rest assured your chances of having a successful relocation will increase drastically.
The difference between intrastate and interstate moves
Long distance relocations can be split into two major groups. These are interstate and intrastate moves. They do sound very similar, however, the difference between them is huge. And, knowing the difference will be important for you in the quest for professional movers who will assist you during the trip. On one side, we have interstate moves. These are the relocations where a person is moving from one state to another. If you're leaving Pennsylvania, you should ask for an interstate relocation. They are also called cross country moves. So, if you have decided to say goodbye to the Keystone State, cross country moving companies Pennsylvania will be able to help you out in the process.
On the other side, there are intrastate moves, which we'll discuss in more detail here. Intrastate long distance moves always stay within one state. But, the mileage plays a part here. The State of Pennsylvania classifies all moves shorter than 40 miles as local moves. So, if the distance is longer than 40 miles, and the place you're moving to is in the Keystone State, that's an intrastate move. For example, moving from Philadelphia to Pittsburgh, Erie to Scranton, Reading to Allentown, etc., are all intrastate moves. And, in this article, we'll do our best to help you out with your intrastate long distance relocation in Pennsylvania, and show you how to find the moving team that will take care of your belongings.
The story behind Pennsylvania's worsening moving trends
In the last two years, moving trends in Pennsylvania changed drastically, and for worse. The pandemic of COVID-19 played a huge role in the decline of Keystone State's population. The majority of Pennsylvania's population is stationed in either Philadelphia or Pittsburgh. And, as we all know, the pandemic caused an exodus in big cities, with people moving back to their hometowns to work remotely, or moving to another state chasing better opportunities and lower cost of living. To be fair, the cost of living in Pennsylvania is very reasonable, so there weren't too many relocations motivated by this. Still, in 2021, only 47% of relocations in Penn State were inbound, so the outbound moves outnumbered the inbound ones.
In the last two years, the State of Pennsylvania was among the worst states when it comes to population loss. The total population of the Keystone State now has 0,3% fewer people than it did before the outbreak of COVID-19. While this percentage may seem negligible at first glance, it puts Pennsylvania as the 6th worst state in the country based on net population loss. As we said, negative moving trends in Philadelphia play a huge part here, and we're going to take a look at that in the next few sections. If you're still undecided on where to move, we'll show you the moving trends between cities in Philadelphia and explain the reasons behind them.
Where are Pennsylvanians who are leaving the state moving to?
Pennsylvanians love to move, and a lot of them are switching places of residence multiple times in their lives. To be fair, the majority of these movers are staying at Penn State. They simply change the city. And, of course, we'll get to that very soon. Still, it's interesting to see where are cross country moving companies Pennsylvania relocating people the most. Usually, they aren't moving too far. It's mostly to the nearby states, with just one exception. Here are the 5 most common destinations for people who are leaving the Keystone State:
Florida
New York
New Jersey
Ohio
Maryland
Philadelphia is the most moved-out city in Pennsylvania
The City of Brotherly Love is one of the most famous cities in the USA. Additionally, even in spite of current moving trends, Philadelphia is the 6th most populous city in the country. So, needless to say, there's something great about it, but the numbers are quite worrying. Philadelphia actually had positive moving trends before the pandemic. However, now it is a completely different story. Why are people leaving Philadelphia? Well, for starters, a lot of people who have been given the opportunity, or who have been forced, to work remotely, moved back to their home towns. Some of them even lost their jobs.
But, what's interesting though, former Philadelphians were included in various surveys. When they were asked why did they leave the city, there was almost no one who spoke bad things about Philadelphia. It is still a great city to live in, and it's very affordable compared to nearby metro areas that are similarly sized. So, the majority of people who were interviewed simply stated that their moves were either motivated by family reasons or career-related ones.
The number of Pennsylvanians who are moving to Philadelphia is rapidly decreasing
Every year, around 60,000 Philadelphians leave their city, while the number of newcomers is almost 10,000 lower. Of course, a large number of these people are either going to a different state or coming from another state. We'll focus on relocations that stay within Pennsylvania. Either way, top movers in Philadelphia have a lot of work to do with so many people leaving the city. And, unfortunately for Philadelphia, it's hard to find another city in the Penn State that sends more people to the City of Brotherly Love than it receives. As a result, the majority of cities in Pennsylvania are benefiting from the Philadelphia exodus. What's interesting though, is that Pittsburg is the most common destination among Pennsylvanian cities for former Philadelphians.
Allentown is welcoming the most Philadelphians out of any other city in the state. But, when you look at the distance between the cities, which is barely 50 miles, it looks like an obvious choice. Especially considering that a lot of people from Allentown have been working in the City of Brotherly Love until the pandemic started. Then, they switched to a work-from-home regime and went back to their hometown. So, almost 5,000 people have moved from Philadelphia to Allentown in the last two years. Pittsburgh is in second place among the most common destinations from Philadelphia. And, it's not far behind Allentown, with 4,500 people moving from Philadelphia to Pittsburgh over the last couple of years.
Pittsburgh is popular among movers from nearby states, but not so much among Philadelphians
With Pittsburgh, it's a similar story as with Philadelphia. Pittsburgh is a big city, and the pandemic caused real problems to its moving trends. Even without relocations, Pittsburgh is among the worst cities in the US when it comes to natural decline (more deaths than births). This is also a reason why Pittsburgh is shrinking so fast. And, of course, relocations play a big part too. The job market is experiencing certain problems. Pittsburgh has benefited from its steel industry for decades, and when the industry collapsed, it brought Pittsburgh's economic problems to light. Not so many young people are coming to live in Pittsburgh, and even late millennials who have been living there, are now moving to other cities and states chasing better-paying jobs.
Apart from Philadelphia, Pittsburgh is losing residents to almost every other big place in Pennsylvania. The nearby Reading is benefiting the most from these negative trends in Pittsburgh. Every year, more than 1,000 people are relocating from Pittsburgh to Reading, while not even 200 are going in the opposite direction. Truth be told, Reading is much smaller than Pittsburgh. But still, it is a big difference and Reading is growing quickly at the expense of Pittsburgh. It goes without saying, the majority of outbound moves in Pittsburgh are in Philadelphia's direction (around 3,000 a year).
Reading and Scranton are growing steadily due to their low cost of living
With Pennsylvania's negative moving trends, it's hard to find a place that stands out with positive net migration. Big cities, outside of Philadelphia and Pittsburgh, have either neutral or slightly positive moving trends. Reading and Scranton are the ones to keep an eye on. They seem like the preferred choice among Pennsylvanians, and they have shown some good growth over the last 5-6 years. Both Reading and Scranton have a cost of living that's 25% lower than the nation's average. This means they are also among the cheapest cities in the Keystone State, which is a big factor in the US moving trends at the moment.
Needless to say, houses are very cheap, with the median home price not exceeding $120,000 in either of these cities. This has also been a motivation for people from New York and New Jersey to come and live in Scranton or Reading. Of course, the majority of people these cities are welcoming are coming from either Pittsburgh or Philadelphia. The City of Brotherly Love sends around 1,000 people to Scranton and more than 2,000 people to Reading every year.
What about Allentown and Erie?
Allentown and Erie are not expensive cities by any means, but they're still not on the level of Scranton and Reading. Their costs of living are around Pennsylvania's average. Allentown is especially popular among New Yorkers because it's located just 70 miles away from NYC. But, otherwise, Pennsylvanians don't seem to prefer it as their moving destination. The same can be said about Erie. While the city has positive trends against Pittsburgh and Philadelphia, which in itself is great, otherwise, there's not a lot that's worth mentioning. It's a good place to live that won't be hard to afford, and it will provide a decent number of opportunities.
Average prices for long distance relocations in Pennsylvania
If you want to move with assistance from professionals, it's going to cost you. So, naturally, before hiring long distance moving companies in Pennsylvania, everyone wants to know what the price will be. Right at the start, we want to suggest you call the experts and ask them for a free moving estimate. Since the final cost depends on a lot of things, they will be able to account for all the details you share, and in less than 1 hour, you'll get the most accurate price. Nevertheless, we decided to share some average price ranges for you to take a look at before doing research on movers and giving them a call for a free quote.
Moving between Philadelphia and Pittsburgh
Routes between these two cities are by far the most common ones in the Keystone State. But, Philadelphia and Pittsburgh aren't so close to each other. In fact, the distance between them is 257 miles, so your relocation would probably cost somewhere between $1,000 and $2,400.
Moving between Philadelphia and Allentown
This is probably the least expensive long distance relocation there is. With the distance of only 50 miles between two cities, your cost will be significantly lower than in the previous example regarding Philadelphia and Pittsburgh. Expect to pay between $400 and $1,500.
Moving between Pittsburgh and Erie
Pittsburgh and Erie aren't too far away from each other. The distance is 116 miles which isn't a long trip. This move isn't too expensive either, and the average price range for it is $600-$1,900.
Moving between Allentown and Scranton
Scranton has become very popular lately and people from all over Pennsylvania are looking to start a life there. If you're from Allentown and want to give Scranton a chance, or, of course, if you're going in the opposite direction, long distance movers in Pennsylvania will probably charge you anywhere from $400 to $1,500. This is also among the least expensive long distance move since the distance between the cities is only 56 miles.
Moving between Scranton and Philadelphia
A lot of people from Philadelphia are looking to cut their expenses and move to Scranton. And, naturally, a lot of them are going from Scranton to Philadelphia to pursue their careers or get a taste of the Philly lifestyle. With a distance of 104 miles, the average price range for this move is $500-$1,700.
Moving between Reading and Pittsburgh
Finally, we have two cities with a longer distance between them (236 miles). This move won't break your budget, but it will be more expensive than the majority of long distance moves that are happening in Pennsylvania. The Keystone State's moving experts will most likely charge you between $950 and $2,300.
Understanding the price of your move
Now, the reason why we couldn't tell you the exact price is that we don't know all the information about your move. You'd be surprised to see how many things can affect the final price. Calculating the moving cost is a complex endeavor, so, to give you a whole picture, we decided to share the most important things that will impact the final price.
Special services – Right away, know that all the special services that long distance movers Pennsylvania are providing are paid extra, so if you ask for one (or a few) of them, expect a larger price.
The distance – Obviously, the distance is a huge factor, and moves from Philadelphia to Allentown have to be much cheaper than moves between Reading and Pittsburgh. Longer distances require more fuel, more driving, and things like that ultimately affect the cost.
Loading – Here, we're talking about the difficulty of loading. We know that Philadelphia is famous for its row houses that have several levels, and of course, there is no shortage of high-rise buildings in the City of Brotherly Love. These homes tend to make loading more difficult for movers, and as a result, the price will increase.
Quantity of items – The size of the truck that long distance moving companies Pennsylvania have to bring will depend on the number of items you're moving. If you need a smaller truck, you won't pay too much.
Insurance – if you want to be covered in the worst-case scenario, then you should ask for moving insurance. Long distance moving companies in Pennsylvania usually offer 3 types of insurance, but it depends on each and every company. Of course, you will have to pay for it, so the cost of your move will also be affected by the type of insurance you choose.
Finding moving help in Pennsylvania
The quality of moving services will play a huge role in the outcome of your move. Picking the first company that comes into your sight is never a good idea. While there is a chance that a certain company is great for you, you also have to understand the importance of this decision. Movers with whom you decide to relocate will have the access to pretty much all of your belongings, so you need to make sure that you can trust them. That's why background checks are practically a necessity when choosing long distance moving companies Pennsylvania. So, how to make sure that the company is worthy of your trust?
Pay attention to the reviews
Reviews will tell you a lot about the company. When reading long distance moving companies Pennsylvania reviews, you're likely to find out if the company is trustworthy, which services they provide, how they do their business, and many, many more. The first thing we mentioned here is also the prime example of why moving reviews are important, and that is making sure you're in the hands of a trustworthy company. With moving scams happening all over the country, it is a big relief to hear that the movers you're considering hiring are perfectly legit. Since this is a huge step for anyone that's about to dive into the professionally-assisted move, we have decided to make it easier for you. So, if you're interested in reading testimonials, and we think you should be, Verified Movers reviews will be very useful. Everything you should know will be available in one place, and that's right here on our website.
See if the company has all the necessary and valid permits it needs to transfer people across Pennsylvania
Choosing licensed movers for your relocation is something that is crucial for peace of mind during the process. Movers who didn't obtain the necessary permits were required to present a great risk for your wellbeing. Of course, there are some new companies in the business that are in the middle of their registration. Still, you need proven long distance movers Pennsylvania to have the relocation you want. So, how to check if the company is licensed? Well, that depends on whether they're moving people within one state or cross country. For example, interstate movers are regulated by federal agencies.
But, since you only need movers who are operating within Pennsylvania, we're going to talk about that. Long distance movers in the Keystone State have to be licensed by the Pennsylvania Public Utilities Commission. Not only does this institution regulate moving companies, but it's also trying to protect people from fraudulent movers by raising awareness of moving scams that are happening on a daily basis. They also receive complaints in regards to long distance movers in Pennsylvania who mistreat their clients. So, if you want to check if your movers are legitimate, make sure to go to the Pennsylvania Public Utilities Commission website and look them up.
Customer treatment
Unfortunately, movers can be both licensed and have some good reviews but still look for small ways to take advantage of their clients. They can only do so much of course, but observing how they communicate with you could help you determine whether they're good or not. Companies that don't put their clients first, and that are looking for ways to make quick money, won't be as pleasant to communicate with as trustworthy and reputable long distance movers in Pennsylvania. They will either keep pushing for you to sign some documents, or they'll give their best to hide some essential information from you. So, make sure to ask for everything you want to know, and if they don't give you the answers, you can always look elsewhere.
When you're moving with reputable long distance moving companies in Pennsylvania, you'll have plenty of services to pick from
If you're hiring long distance moving companies in Pennsylvania, chances are that the most important thing for you is to avoid all the work. That's perfectly normal, but it's also the reason why people are pleasantly surprised when they hear how many services are professional movers providing. Every move is different, and therefore, everyone manages to find something for themselves. Hence, some of these services that are ideal for you. They'll help you enjoy a customized move, tailored according to your preferences. First of all, we'll mention the most common services that long distance movers in Pennsylvania are offering, so here they are:
Residential moving services – If you're moving a household from Philadelphia to Erie, Pittsburgh to Scranton, or from/to any other city within Pennsylvania, you should ask for residential moving services.
Commercial moving services – If you're one of the many Pennsylvanians looking to move a business to Philadelphia, you should ask for commercial moving services. The same goes if you're looking to make an office move to any other city in Penn State. Hiring professionals is crucial for the well-being of your office material.
Storage services – Renting a storage unit is often a perfect solution during the move. Placing a portion of your items somewhere safe and not worrying about them during the moving process is the huge upside of storage services that long distance movers Pennsylvania are providing.
Packing services – Did you know that you can leave the time-consuming and tiring packing process to professionals? Enjoy an effortless relocation by asking for packing services.
Have some specialty items that you don't know how to relocate? Long distance movers in Pennsylvania will do it for you!
Homes in Pennsylvania are usually well-decorated and more often than not, they have a specialty item or two that's fairly difficult to relocate. However, you don't have to be the one that deals with this task. Long distance moving professionals in the Keystone State are trained to move all kinds of specialty items, and here are just a few examples:
Pennsylvanians love to drive and practically every household is in a possession of a vehicle. With almost 11 million cars in the state, which is approximately one car for every resident, it's fair to assume that you're a car owner. If that's the case, then asking for auto moving services surely wouldn't be a bad idea, considering how exhausting it is to drive long distances in the middle of the relocation process.
Antique items are valuable to every owner, and as such, they need to be taken care of during the move. With their, more often than not, fragile nature, it's better to leave their transfer to long distance moving companies Pennsylvania.
It's a similar story with pianos as is with antiques. Plus, they're bulky and difficult to carry and load. So, considering their value, you might want to ask the professionals to assist you.
Art pieces are another type of specialty item that requires extra care and protection during the move. Long distance movers Pennsylvania are trained and equipped to properly pack art pieces and transfer them without a scratch.
Long distance moving companies by cities in Pennsylvania
In order to spare you some time and effort, we have sorted Pennsylvanian movers based on the cities they're operating in. That way, you can track down reputable movers that are closest to you, and make the moving process even quicker.
Do your research on several companies and compare the estimates
When you are planning a long distance move, you need to hire a moving company that fits your needs, and your budget. The fact that long distance movers in Pennsylvania are offering free quotes is very useful as it will help you have a relocation within your budget. By comparing several moving estimates, you'll be able to find out what the price will probably be like. And, of course, you can choose the most affordable offer. However, you should make sure to get all the services you need.
Even if it means paying a slightly higher price. If a few extra bucks aren't a problem for you, it's better to hire long distance movers Pennsylvania who will be able to give you exactly what you're looking for. In the end, if you find a company that offers you a great balance between the price and quality of service (and with our vast database we're sure you will) then choosing them seems like the best choice.
Picking a moving date: Things to consider
Assuming you're not in a rush and don't have a fixed deadline for completing your move, you might struggle to decide when is the best to move. For starters, let's mention the weather conditions. Some states have a climate that makes it very difficult to move during certain periods of the year. Luckily, that's not the case with Pennsylvania. With a moderate and pleasant climate all year long, you shouldn't worry too much about the weather when arranging the moving date.
Maybe July and January are the months to avoid because they are most likely to bring certain temperature extremes. Still, it's very little chance that your moving experience in the Keystone State would be ruined if you moved during these two months. But, what is worth noting, is that the price might differ depending on the date of your move. If the long distance movers in Pennsylvania are in the middle of a busy period (and usually, that's the summer) you should expect a slightly higher price than it would be during the period when people are moving less (November, December, and January).
Moving by yourself: Should I rethink it?
If you're considering a relocation without professional assistance, then you have to be thoroughly prepared. There are a lot of common DIY moving mistakes, and you need to do your best to avoid them. Having a successful moving journey without long distance moving companies in Pennsylvania is a real challenge. If the move was local, it might have been slightly easier. But long distances are really hard to navigate without a helping hand. Our opinion is that you should definitely rethink this decision, because professionally-assisted moves are way easier than DIY ones, more than you can imagine. However, if you decide to move on your own, we wish you the best of luck, and our only suggestion would be to at least ask a few friends or relatives to help you out a bit.
Frequently asked questions – Moving FAQ
How far in advance should I arrange the moving date?
The ideal scenario would be to call long distance moving companies Pennsylvania a month, or even 2 before the date you prefer. But, if you're not in a position to do this, don't worry, because a lot of companies out there are offering last-minute moving services.
How long does it take for long distance movers Pennsylvania to transfer my belongings?
Long distance moves within Penn State shouldn't last longer than 10 days, depending on the distance between the cities.
Will I get a notice before the arrival?
Movers will give you a notice 24 hours prior to their arrival.
If I opt for packing services, how long will it take for movers to pack up my home?
Naturally, it will depend on the size of your household. In most cases, movers will get the job done in just one day. If that's not the case, then it shouldn't be more than 2 days.
Can I file a complaint if I'm not content with the outcome?
Yes, there are several institutions you can contact if the movers didn't do their part of the job. On federal level, these institutions are the Better Business Bureau and the Federal Motor Carrier Safety Administration. However, since you're not moving across the country, your best bet would be to contact the Pennsylvania Public Utilities Commission, which we spoke about earlier.
Find the best movers in the business by using the Verified Movers platform
We know just how intimidating this whole process of searching for movers might seem. In reality, it is far away from simple. After all, the choice you make will have an effect on your whole relocation. However, making the right choice doesn't necessarily have to be difficult. Verified Movers are here for you and we work non-stop in order to provide you with as much information as we can regarding all the moving companies on our platform. Apart from learning about their services, you will also get to read the Verified Movers reviews and see how certain companies do their business. And, of course, if they're trustworthy or not. So, don't wait and reach out to us. If you do, we'll do our best to connect you with reputable movers that are tailor-made for your needs.
Facts About Pennsylvania
01. Main Information
Popular Cities
Philadelphia, Pittsburg, Harrisburg, Allentown, Erie
US Senators
Bob Casey Jr, John Fetterman
State Website
State Moto
Virtue, Liberty and Independence
State Nickname
The Keystone State
02. Geo Population
Total Population
12,931,957
Highest Elevation
3,213 ft
Lowest Elevation
Sea level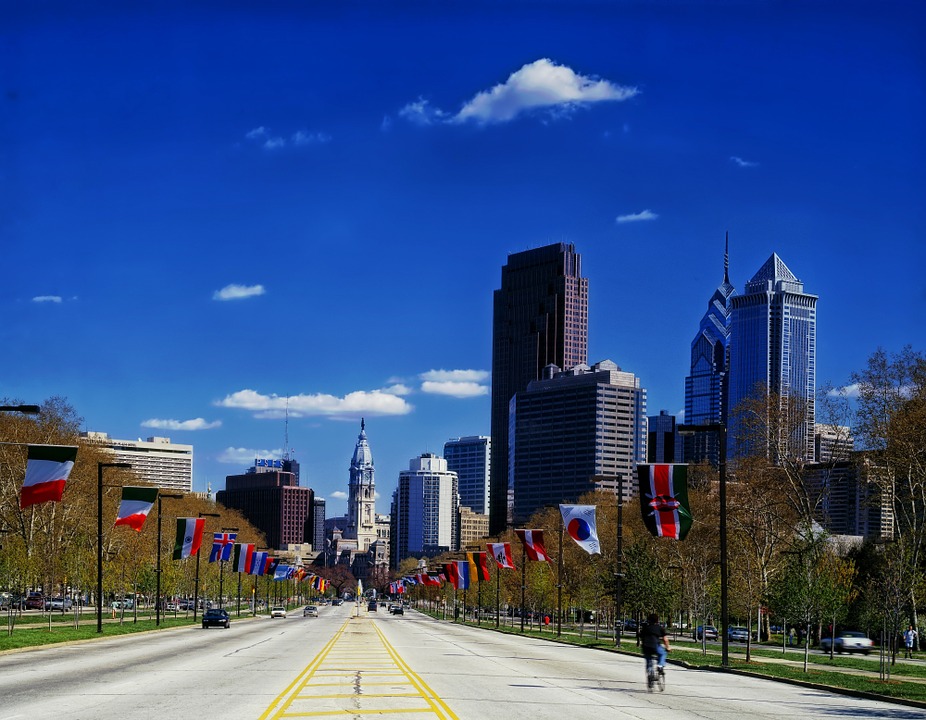 03. Education
Top 5 Elementary Schools
Germantown Friends School, Mercersburg Academy, The Episcopal Academy, The Baldwin School, The Hill School
Top 5 Middle Schools
Germantown Friends School, The Episcopal Academy, The Baldwin School, The Haverford School, Jack M. Barrack Hebrew Academy
Top 5 High Schools
Germantown Friends School, Mercersburg Academy, The Episcopal Academy, The Baldwin School, The Hill School
Top 5 Colleges
University of Pennsylvania, Carnegie Mellon University, Penn State University, University of Pittsburgh, Temple University
04. Rates
Crime Rate
19.07 (per 1,000 residents)
Average Income (household)
$67,587