New Jersey also is known as the Garden state got its name from the Channel Isle of the jersey. Garden state borders Delaware, New York, and Pennsylvania, so it is easy to manage your state to state relocation from one of these states to New Jersey. Verified movers have a list of all the professional long moving companies New Jersey. All long distance movers come with reviews from previous customers to help you get a picture of their customer services. Many of them have a cost calculator that helps you get the free estimate for your move.
Cross Country (Interstate) Moving Companies New Jersey
A long distance move does not have to be a stressful and arduous process. As long as you have professional movers at your side, taking care of the bulk of the process, you will get to experience a whole different scenario. You will be able to have a smooth and simple move. Verified Movers is here to help you make the best pick in the professional moving team, thus ensuring your relocation is a smooth and simple as it can be. Our platform is filled with some of the most professional, diligent and reliable long distance moving companies New Jersey can offer. Browsing through our website will give you a unique insight in what the industry has to offer, meeting you with all the important information, as well as the reviews from previous customers.
Long Distance Movers New Jersey for Secure Relocations
With trustworthy movers with quality equipment and safe trucks, you can rest assured that your possessions will be picked up and delivered when promised. Long distance movers provide you with highly-trained drivers and professional packers. Safe and secure relocations in New Jersey are possible when you have experts in relocating goods over long distances.
New Jersey Long Distance Moving Services
Pick the best long distance moving company which can customize your pricing to fit your needs and budget. You will get a free estimate with guaranteed prices. When you chose which of long distance moving services you need (packing, crating, storage, auto transport, unpacking, etc.) ask them for a quote and more information about their capabilities.
Superior moving service – something you do deserve
No matter you are moving to or from New Jersey, you can always rely on our long distance moving companies New Jersey. Our long distance moving experts in New Jersey are always ready to handle your move with ease. No matter the distance. And no matter how complex your relocation seems. We provide you with a wide range of moving services that will satisfy your moving needs. At once. And at an affordable rate. Our dedicated and skilled long distance moving professionals make us one of the largest moving networks that can provide you with everything that you might need to make your move a success!
Are you looking for some extra storage space?
We all tend to gather too many belongings as we go through life. And end up not having enough space. No matter how good we organize everything. We just need some extra space. But the solution exists, Verified Movers and its team have prepared the best storage solution for you. No matter where you need us to find you a facility – we can do it. And even more importantly – our long distance movers in New Jersey will do it gladly.
Household relocations 101
Are you looking for a reliable household movers? Because if you are, you are in the right place. There are many different moving companies on our market. But not all of them are able to provide quality residential moving service. However, Verified Movers understand you, as well as your needs. We are all very sensitive when it comes to moving our personal belongings to another address. You need to know that your belongings are in the safe hands, at all times. Our long distance movers New Jersey understand that and they will do everything that is in their power to meet your expectations. When you decide to hire one of our long distance moving companies New Jersey, you will ensure your safety, and the safety of your belongings. Our residential movers have years of experience in moving business, and they are more than happy to provide you with all.
How much will my move cost?
This is often the first question that comes to mind when one considers hiring professional assistance. It all depends on the distance and the number of things you are planning on relocating. If your long distance relocation in New Jersey isn't complex – the chances are – you will save some money along the way. However, you can always contact our teams and learn more about the final cost of your move.
When and how to move to New Jersey? Tips for safe relocation
Seasonality. Spring and early fall are the best times of year to move to New Jersey. Temperatures aren't so extreme in this time of year. Moving during summer requires drinking plenty of water to remain hydrated. But, if you are relocating to New Jersey during winter months make sure your vehicle is winterized, with properly functioning brakes and winter tires.
Traffic. The Garden State's roads are some of the busiest in the nation. So, you need long distance movers New Jersey who know how to drive in and around cities, or know how to handle coast to coast moving.
Permits. When moving to NJ, you won't need a moving permit. But be aware of local parking restrictions.
We coordinate all of the logistics of your move
Long distance agents are trained and dedicated to coordinate all of the logistics of your residential or commercial move in NJ area. Our long distance moving companies New Jersey are more than ready to help you every step of the way. And all you have to do is to give us a call. Verified Movers and its team will take it from there.


Long Distance Moving Companies by Cities in New Jersey:
Facts About New Jersey
01. Main Information
Popular Cities
Newark, Jersey City, Trenton, Princetown, Atlantic City
Governor
Phil Murphy
US Senators
Bob Mendendez, Cory Booker
State Website
State Moto
Liberty and Prosperity
State Nickname
The Garden State
02. Geo Population
Area (sq mi)
8,722.58 sq mi
Total Population
8,874,520
Highest Elevation
1,803 ft
Lowest Elevation
Sea level
Time Zone
Eastern/UTC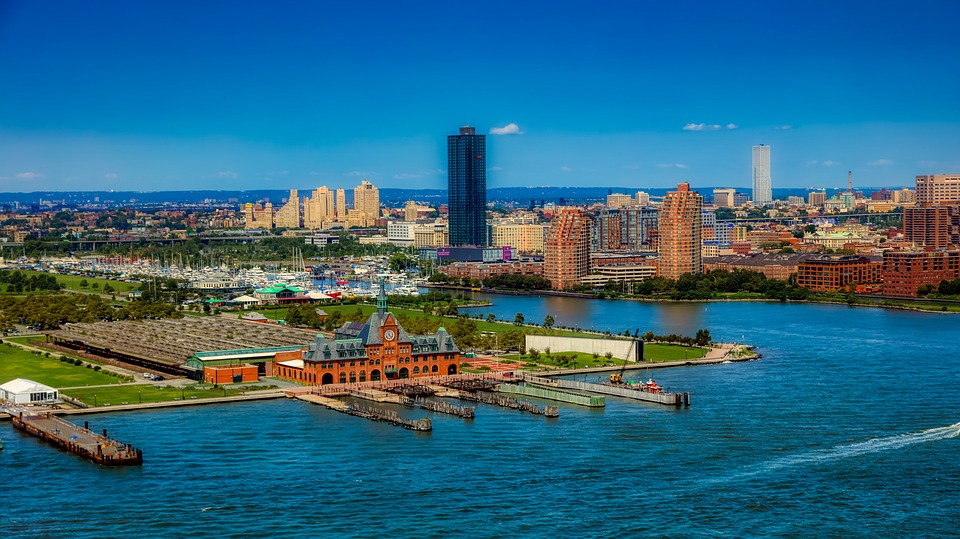 03. Education
Top 5 Elementary Schools
The Pingry School, Dwight-Englewood School, Kent Place School, Rutgers Preparatory School, Montclair Kimberley Academy
Top 5 Middle Schools
The Pingry School, Newark Academy, Dwight-Englewood School, Kent Place School, Rutgers Preparatory School
Top 5 High Schools
The Lawrenceville School, Bergen County Academies, The Pingry School, Newark Academy, High Technology High School
Top 5 Colleges
Princeton University, Rutgers, The State University of New Jersey, New Jersey Institute of Technology, Seton Hall University, Montclair State University
04. Rates
Crime Rate
15.43
Employment Rate
62%
Average Income (household)
$82,545
Poverty Rate
9.98%