Reaching reliable movers can be easy, as long as you know where to look. Luckily, Verified Movers are here to provide every piece of information you need to make a sound decision. Our platform is brimming with professional long distance moving companies Washington for you to choose from. Apart from the useful info on their services, you will also get to read about other people's experiences with those same companies. We have the goal of making sure you have a comprehensive insight into the moving companies you are choosing from, which will undoubtedly lead to a successful moving experience. If somewhere along the way, you happen to decide to leave the Evergreen State, you can browse through our website to find some of the finest cross country moving companies Washington. With this in mind, we invite you to take a look at our platform, read the Verified Movers reviews, and find Evergreen State's moving professionals who are tailor-made for you.
What kind of long distance move do you need?
Long distance moves are generally those that are longer than 50 miles, or sometimes 100, depending on how each individual interprets it. But, there are types of long distance moves that are often mixed since their names are very similar. We have intrastate and interstate moves. It's important to know the difference though because it will be easier for you to research movers in Washington and choose the right ones.
Interstate moves
Often referred to as cross country moves, interstate relocations are those that involve more than 1 state. If you're looking to leave the Evergreen State and move to California, Oregon, or any other state then you're going to need the services of interstate movers in Washington. Don't worry, if that's the case, you'll still have our assistance.
Intrastate moves
These relocations along with movers who can help you with them are going to be our topic here. Intrastate moves are long distance moves that stay in one state. So, if you're moving from Spokane to Tacoma, Seattle to Vancouver, or between any other cities in Washington, you're in the right place, so stay tuned.
Migration trends in Washington are in decline
Washington is not showing numbers like it used to just a few years back. While it's one of the best states to visit, and to live in, at least in terms of life quality, the high cost of living has lowered its appeal. Truth be told, it's not too bad, because Washington's moving trends are still positive. In 2021, 51% of moves were inbound. But, as we said, it is definitely not like it was. Although, we should say that Seattle, as the largest and most populous city in the state, is actually the one where these issues can be felt the most. Other parts of Washington are pretty much showing either positive or neutral moving trends. On the other hand, Seattle is being left in flocks ever since the pandemic started.
While this city offers so many opportunities, the cost of living there is huge. It's enough to say that the cost of living in Emerald City is basically the same as in Los Angeles. And, we all know that LA is infamous when it comes to housing prices and the cost of living in general. Plus, after the pandemic, many people lost their jobs in Seattle and decided to say goodbye to it. The good thing for the State of Washington though, is that a lot of them decided not to leave the state. They instead moved to other cities in the Evergreen State, so the moving trends surely aren't as bad as they could have been. Now, we'll take a detailed look into migration trends between the largest cities in the Evergreen State, and see where Washingtonians are moving to the most.
Seattle is being left by many of its residents, and Washingtonians seem reluctant to move there
It makes sense to start with Seattle which is the true center of the Northwest. With many giant companies calling this city their home, like Microsoft and Amazon, you'd expect to see better moving trends. To be fair, they were good a couple of years ago. But, the pandemic has caused major problems for the City of Seattle. While the cost of living in the city has been on a rise for years, even decades, it wasn't such a problem when there was an abundance of job opportunities and no economic crisis on the horizon.
However, things have changed drastically, and now Seattle is suffering consecutive years of population decline for the first time since the 1970s. Needless to say, Washingtonians from other, more affordable, cities are unwilling to move there, unless they have a stable job with a good salary that awaits them. This is precisely one of the reasons some people are moving from Seattle. If you have the security of the job, and you don't have a problem affording high prices in the Emerald City, then this is an amazing city to live in. However, many people aren't so lucky, so Seattle has a negative net migration with pretty much every other city in Washington.
Where are Seattleites moving to?
Spokane is the most common choice for Seattleites. Since the pandemic started, more than 5,000 people have moved from Emerald City to Spokane, while only around 1,500 went in the opposite direction. This is perfectly normal in these times, considering that Seattle is almost 90% more expensive than Spokane. Spokane is, of course, the most obvious choice among the residents from other cities in Greater Seattle metro area. The state's capital, Olympia, due to its closeness with Seattle, is the second most popular choice. Almost 5,000 people have moved from Seattle to Olympia over the last two years.
As you can see, it's no wonder why top movers in Seattle have so much work to do. When you just look at Spokane and Olympia, the numbers are huge, and we also have a lot of local moves from Seattle to Tacoma or Bellevue, and we shouldn't forget about other cities like Bremerton and Vancouver, that have also proved to be quite appealing to Seattleites.
Spokane is the go-to destination for Washingtonians at the moment
At the moment, the majority of relocations in the US are motivated by the cost of living. People are looking for affordable places to live, but at the same time, the ones that will be able to provide them with a reasonable number of job opportunities and a nice lifestyle. This is exactly what Spokane offers, and why so many Washingtonians are moving there. The cost of living in Spokane is 8% lower than the nation's average and almost 30% lower than the Washington average. And, as we said, it is 90% lower than in Seattle. Spokane is the complete opposite of Seattle when it comes to moving trends because Spokane's net migration is positive in relation to almost every other city in Washington.
While we already mentioned how many people are moving from Seattle to Lilac City, it's a similar story to the other ones as well. Moving from Bellevue to Spokane is really popular, and that goes for any other place in the Seattle metro area, like Tacoma for example. Spokane has welcomed more than 1,000 people from Vancouver and around 700 people from Olympia during the last year. However, some people still decide to leave it, and they are mostly going to Seattle. The majority of these people are moving to pursue their careers in Emerald City. And, of course, that's natural because Washingtonians love to move. But, Spokane, along with Spokane Valley, remains the most popular destination, at least among Washingtonians.
Bellevue and Tacoma, like Seattle, are experiencing a population decline
As parts of the Seattle metro area, Tacoma and Bellevue haven't been able to resist the negative moving trends that started happening in this part of Washington. Bellevue especially since the prices are skyrocketing there. Homes in Bellevue are even more expensive than in Seattle. The median home price in Bellevue is almost $1M. So, it's obvious why moving trends are negative, at least for now. In fact, moving from Bellevue to Seattle has been really frequent since the pandemic started. With Tacoma, it's a different story because it's a lot cheaper that its neighbors. If you want to live in the Seattle metro area, Tacoma is surely a worthy candidate. Apart from Seattle which is really close, Olympia and Spokane are the most common choices for movers from Tacoma and Bellevue.
Other cities that are popular among Washingtonians
The Evergreen State is full of great cities that offer a unique and enjoyable lifestyle. A lot of them are also popular moving destinations. Apart from Spokane and Seattle as the two largest cities in the state, Olympia and Washington are definitely worthy of mention. Olympia is really benefiting from the Seattle exodus, mostly because it's very close to the Emerald City. But, make no mistake, Olympia is a peaceful and safe city, perfect for raising a family. If it wasn't so great, Seattleites wouldn't move there.
Vancouver on the other hand is right at the border with Oregon and is a part of the Portland metro area. Therefore, it's more popular among Oregonians than Washingtonians. But, that doesn't mean that Washingtonians aren't moving there. In fact, around 2,000 people moved from Seattle to Vancouver in 2021. Even Spokane sent slightly less than 1,000 people to Vancouver during that period. With a cost of living that's lower than Washington's average and the closeness to Portland, Vancouver is another place you could consider moving to.
How much will your long distance move in Washington cost?
Relocations aren't cheap, whether you're moving by yourself or with the help of long distance moving companies in Washington. But, don't worry, you definitely won't have to break your bank. Plus, there are many ways to cut the cost during the relocation, which we'll get into later. For now, let's see what are the average price ranges for moves within the Evergreen State.
Moving between Seattle and Spokane
This is, by far, the most common moving route in Washington, whether you're going in one direction or another. Two of the Evergreen State's largest cities aren't too close to each other. The distance between Seattle and Spokane is 227 miles, which makes the price range for this move $900-$2.200.
Moving between Seattle and Olympia
Unlike Spokane, the state's capital, Olympia is much closer to Seattle. The distance is only 68 miles. Hence, this relocation will definitely be cheaper than the first one. Expect long distance movers in Washington to charge you between $450 and $1,500.
Moving between Tacoma and Vancouver
Relocations from the Seattle metro area to Vancouver, and vice versa, are also very common. It's good to know that the distance isn't huge, slightly over 100 miles, or 116 to be precise. The average price range for the relocations between Tacoma and Vancouver is $600-$1,800.
Moving between Vancouver and Spokane
Truth be told, moves between Spokane and Vancouver are nowhere near as numerous as the ones between Seattle and Vancouver. However, there are some people who are choosing this route. If you're one of them, with the longer distance of 283 miles between cities, you can expect to pay anywhere from $1,100 to $2,500.
Moving between Spokane Valley and Bellevue
The distance between these cities is basically the same as between Spokane and Vancouver (285 miles). So, it's natural that you can expect the same price range, which is $1,100-$2,500.
Relocating with long distance moving companies Washington: What to expect?
Moving can often be a very difficult period, and any assistance we can get in the process is welcome. With so much stuff to do, it's easy to get lost. Especially if you're doing everything by yourself. But, moving with long distance movers in Washington is a completely different story. Just by hiring professionals, you're already close to a smooth journey, with just a few things left to care of. Your mind will be free of any worries and stress because you'll know that your belongings are safe and that you don't have so much work to do. You will enjoy the process as well as the moving day. That is, of course, if you manage to find a reliable company that fits your needs. Verified Movers are here to make sure that you do.
How to find a reliable company in the Evergreen State?
This is not an easy task, that's for sure. But, if you follow just a couple of guidelines, you'll be fine in the end. The process of tracking down legitimate and trustworthy moving professionals in Washington will revolve around background checks. You should do a little research on any company you're considering before you give them a call. Let's see how to do it right.
Make sure that the company has the necessary permits to transfer people within Washington
Hiring unlicensed movers is never a good idea. When a person hires these movers, they should be prepared for the worst. So, Verified Movers want to strongly emphasize that you should only move with licensed companies. We don't want you to make a huge mistake and get scammed during the relocation. Instead, we want to help you achieve a stress-free and pleasant relocation, which is why we're going to show you how to find out if the movers are licensed or not.
Long distance moving companies in the Evergreen State are regulated by the Washington Utilities and Transportation Commission. Getting in touch with this institution, or simply browsing their website, will be much useful to you. All local and long distance movers Washington who are licensed to transfer people's belongings across the state are in their database. If you're considering a certain company, but can't find it there, you should look for another company. In the end, we wanted to mention that cross country moving companies are regulated at the federal level. So, if by any chance, you change your mind and decide to leave the Evergreen State, you can do a background check on interstate movers by visiting the Federal Motor Carrier Safety Administration website.
Check out the reviews to get a better idea of what the company is like
While the licenses are the most important thing to check when hiring moving experts, you shouldn't skip the reviews either. Long distance moving companies Washington reviews are a handy tool that will help you realize if the company is suited for you or not. Of course, if you see awful ratings and reviews, it will show you the company is bad at what they do, so you will rule them out right at the beginning. As we said, testimonials from the company's previous clients will give you a good insight into what to expect. For example, if certain movers can provide all the services you want, how long does it take to move with them, etc? We realize the importance of this topic, which is why you can scroll through plenty of Verified Movers reviews here on our website. They're available all the time, so feel free to check them out.
You'll get a chance to ask for a variety of services when relocating with long distance movers Washington
Moving services are one of the most important parts of doing business with moving professionals. Apart from the safety of your belongings, which is surely the most important thing for everybody, moving services are the ones that make your relocation unique. With so many different services on offer, you'll get a chance to have a customized relocation based on your preferences. With long distance moving companies in Washington, here are some of the regular services you can ask for:
Residential moving
Packing services
Storage services
Furniture moving
So, it's certainly good to know that whether you need a household or an office move, the majority of professionals in the Evergreen State will be able to give you top assistance. As far as the other ones go, you don't need us to tell you how useful packing services can be. Such a gruesome task would be nice to avoid, wouldn't it? This is exactly what long distance moving companies in Washington are offering. And of course, storage services and furniture moving can come in very handy as well. So, if you need any of these services, ask for them. And, if a certain company doesn't offer one of the services you're looking for, just hire another one. There'll be plenty of professionals who will offer everything you need.
Moving specialty items won't be an issue if you hire long distance moving companies in Washington
If you have some specialty items, you might be worried about relocating them. Some are too heavy to carry and load, other ones not so much, but they are fragile, and relocating them is very risky. But, you'll have nothing to worry about if you hire long distance movers in Washington. With trained and experienced movers, your items will be expertly packed and transported safely. Some of the most popular specialty items that movers in Washington will be more than happy to take care of are:
Pianos are one of the heaviest and most valuable musical instruments out there. You don't need us to tell you how difficult it would be to move it by yourself. Without experience and top equipment, it's nearly impossible. The good news is, long distance movers Washington are trained for this maneuver and they'll take care of it for you.
While people in the majority of cities in Washington aren't too keen on cars, Seattleites are the complete opposite. In Emerald City, there are 610 cars per 1,000 residents. If you have your own car, or maybe more than one, you're probably not looking forward to driving it all the way to your new home. Of course, some people are enjoying that, but if you're not one of them, asking for auto moving services would be the right thing for you.
Washingtonians, and especially Seattleites love playing pool. A relaxing Washingtonian lifestyle without rush is perfect for pool enthusiasts. For example, just in Seattle, there are a few dozen pool halls. So, if you need to move a pool table, don't worry, because Evergreen State's moving experts will give you their assistance.
When is the best time for a Washington relocation?
Washington is one of the states with the most pleasant climate. Although it's all the way up north, it doesn't get too cold, and summer temperatures are very enjoyable. So, relocating from one Washington place to another is something you can do all year long. It may be good to avoid December or January just in case it snows, but otherwise, take your pick. It's worth noting that the summer months, June especially, are the busiest ones for the Evergreen State's moving companies, which means that prices are higher during that period. So, if you want to save a few bucks, choosing April or May could lead to the most enjoyable moving experience.
Scheduling a moving date
One of the common questions regarding professionally-assisted moves is how far in advance should you schedule a moving date? Well, it's flexible that's for sure. So, if you were worried about being too late already, everything will be fine. For people who are in a rush, there are companies in the Evergreen State that are providing last-minute moves. Truth be told, they come with a higher price. But, if it has to be done, then it's definitely better this way than going through the deadline panic without any assistance. But, if you have enough time at your disposal, it would be great if you gave a call to long distance movers Washington at least 1 month in advance. You could do it even 2 months earlier if you have the luxury. That way, you'll have plenty of time to organize and complete the upcoming moving tasks.
Long distance moving companies by cities in Washington
Even if you don't live in or near Seattle or Spokane, or you don't live close to any major cities, worry not, because long distance movers in Washington will be able to reach you. The smart thing to do would be to call the companies that operate in the city that's closest to you. On the other hand, if you're currently living in one of Washington's metro areas, it will be even easier. To spare you some time, Verified Movers have put together a list of long distance movers by cities in the Evergreen State:
Moving with the professionals – Frequently asked questions
How long will my relocation last?
It will mainly depend on the distance from point A to point B, but some other things might affect the duration as well. Usually, long distance moves are completed within 2 weeks, sometimes even much shorter than that. For example, relocations between Seattle and Olympia shouldn't last much longer than one week, due to the closeness of these cities. But, some other moves, like from Seattle to Spokane will be slightly longer than that (around 2 weeks max).
Will I get a notice from long distance movers Washington?
Your movers will give you a 24-hour notice before they arrive.
Will some of my belongings be denied from a moving truck?
Yes, there are some things that movers will have to reject. These are usually the items that are safety risks.
Gasoline
Ammunition
Car batteries
Nail polisher
Lighter fluid
Fireworks
Oxygen bottles
Paint
Propane cylinders
…as well as other items that are considered either flammable or hazardous.
Where can I file a complaint?
The Washington Utilities and Transportation Commission is the institution you should contact if you want to file a complaint. Long distance moving companies Washington are within their jurisdiction.
Am I entitled to moving insurance?
Moving with licensed and reputable long distance movers in Washington means that you'll have moving insurance available. Actually, there are three types of moving insurance that you're likely to be offered:
Full value
Limited liability
Added value
On our platform, reputable long distance movers in Washington are at your fingertips
Verified Movers have been gathering data on American moving companies for years now, with the sole goal of helping our clients have the moving experience of their dreams. Your safety is, of course, the priority, which is why we want to match you with trustworthy professionals who will take expert care of your belongings. With so many long distance movers Washington in our database, it's fair to say that everything you need is here.
We want to be your moving ally and help you with various tasks that the moving process brings to the table. So, you might want to visit the Verified Movers blog, if you need any advice regarding relocation whatsoever. In the end, you can just sit back and browse through Verified Movers reviews in order to learn a thing or two about certain companies. And obviously, if there is anything else you want to know, we would love to help you out, so don't hesitate to reach out to us.
Making a moving plan
Coming up with a moving plan helps us navigate the upcoming tasks much better. While you can make your own moving checklist, depending on other things you need to take care of, and also depending on which moving arrangement you're going for, we decided to help you out a little bit. Assuming that your relocation will be a professionally-assisted one, here are the steps that will pave the way for a smooth moving journey in the Evergreen State:
Doing some research on long distance moving companies Washington
Contacting a few of them and asking them for a free moving estimate
Deciding which company you're going to hire based on the estimates you were given
Setting up the moving date
Waiting for movers to arrive
Enjoying your moving day
It may sound too simple, but relocating with professionals really is as simple as it gets.
Things that affect the cost of long distance relocations
Not every relocation carries a similar price. On the contrary, every move is unique and has its own price. The final cost is not easy to determine, as it depends on a variety of factors. That's why we wanted to mention them, just to show you what to count on when budgeting for a move. The average price ranges for the Washington relocation we talked about earlier will be useful certainly. But, it won't hurt to take a look at the other factors. And, who knows, maybe you'll be able to save money, at least some of it, after seeing this.
The distance. Moving from Seattle to Olympia with a distance of barely over 60 miles can't be as expensive as moving from Vancouver to Spokane with 283 miles between them. The longer the distance, the bigger the expense will be.
The number of items. The quantity of items will affect the price. More items require bigger moving trucks, and more time loading them, so it's natural for the price to go up.
Loading difficulty. Typically, houses with more than one level, along with apartments in high-rise buildings, are more difficult for movers to navigate which leads to a price increase. But, the majority of Washington households, especially outside Seattle, are single-level houses, so if that's the case with you, you won't have to worry about the loading difficulty.
Moving date. We mentioned this earlier when we talked about the optimal time to relocate within the Evergreen State. June and July are busy seasons for long distance movers in Washington and that affects the price. The cheapest options are winter relocations but beware of the weather if you decide to move during December or January.
Special services. The additional services that moving experts are offering are paid extra. Considering how useful they are, they're definitely worth the extra money.
Is it smart to move without professional assistance?
We understand that you want to cut the cost during the relocation, and a DIY move is naturally the first thing that comes to mind. DIY vs professional assistance is a big dilemma, but when it comes to long distance relocations, we must recommend hiring professionals. This is simply because the benefits are endless. Long distance moving companies in Washington will ensure that all of your belongings arrive on the time without damages, scratches, and additional costs. Also, asking for their services could be cheaper than you thought. That's why we talked about average cost when moving through the Evergreen State. With peace of mind and no hard work to do, professionally-assisted relocations win by a mile.
But, DIY moves are achievable, that's for sure. While you need to be prepared for certain challenges with the deadlines coming thick and fast, in the end, you'll save some money. Still, before you opt for a move without the assistance from the experts, ask yourself these questions:
Will someone else (family, friends, coworkers, etc.) be able to give me a helping hand?
Do I have enough time to devote myself to the moving process?
How much money will I save, and is it worth it?
If the answers to these questions are negative, then you should probably ask long distance movers Washington for some help. People tend to underestimate the complexity of the moving process, so before it's too late, sit down and think if you could really do it without professionals.
Verified Movers are here for your convenience
Washington is a beautiful state, and a road trip throughout it has the potential of becoming a real adventure. Even if you're relocating it can be fun and memorable. But, if you really want such an experience, make sure to ask long distance moving companies Washington to take care of your belongings. Only when your mind is free of stress and worries, your relocation will have a chance of becoming pleasant. Reaching moving professionals is simple with Verified Movers. Use our vast database to your advantage, and find the ideal moving team for your particular needs. After all, with over 20,000 companies in our database, finding reputable professionals in the Evergreen State won't be a problem. Make sure to check out our website today for all the information you need!
Facts About Washington
01. Main Information
Popular Cities
Seattle, Vancouver, Spokane, Tacoma, Bellevue
US Senators
Patty Murray, Maria Cantwell
State Website
State Nickname
The Evergreen State
02. Geo Population
Total Population
7,830,827
Highest Elevation
14,411 ft
Lowest Elevation
Sea level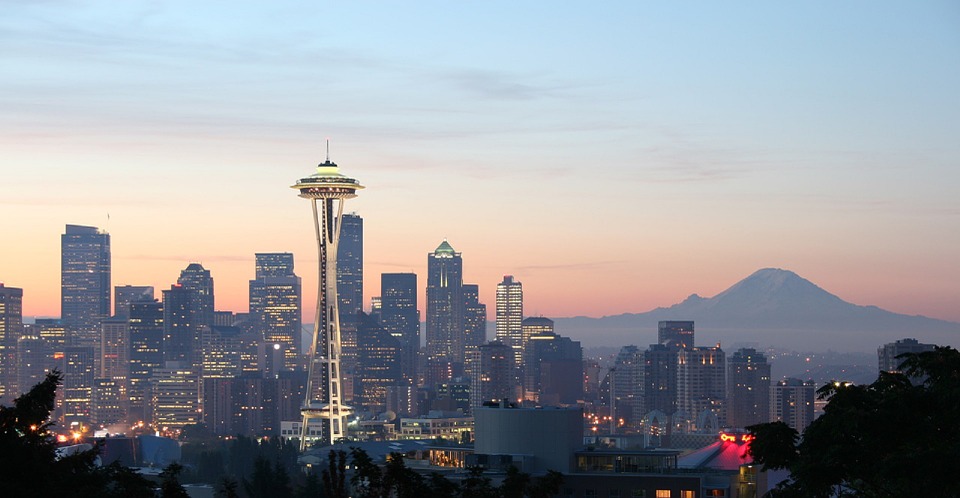 03. Education
Top 5 Elementary Schools
Annie Wright Schools, The Bush School, Charles Wright Academy, The Bear Creek School, St. George's School
Top 5 Middle Schools
Lakeside School, The Overlake School, Eastside Preparatory School, University Prep, Seattle Academy
Top 5 High Schools
Lakeside School, The Overlake School, Eastside Preparatory School, University Prep, Seattle Academy
Top 5 Colleges
University of Washington, Washington State University, Western Washington University, Seattle University, The Evergreen State College
04. Rates
Crime Rate
34.69 (per 1,000 residents)
Average Income (household)
$82,400