If you're preparing to embark upon a long distance moving journey across Maryland, we would like to introduce you to everything that awaits in the process. And, even more so, help you make the process as smooth as possible. Introducing you to long distance moving companies Maryland and what to expect from them is at the top of the list, because when moving long distances, you should really hire professionals. Our platform provides you with all the important information on moving experts, allowing you to browse easily through your options. In addition, you will be able to read up on the previous experiences people like yourself have had with these movers, and thus gain an all-encompassing perspective on the quality of services the companies offer. So, make sure to visit Verified Movers because you'll find everything you need right here!
Cross Country (Interstate) Moving Companies Maryland
Long distance moves and which one to choose?
You can get an idea of what a long distance move is simply due to its name. It means moving long distances, and instantly, you know that a big trip is ahead of you. But, there are some clear definitions here, and knowing which type of relocation you need is a nice place to start when jumping into the moving process. Long distance moves are, in general, those that go beyond 50 miles. So if the city you're considering is outside of your current metro area in Maryland, you'll probably need a long distance move. Still, there are two types of these relocations, and these are interstate and intrastate moves.
What's an interstate move?
Interstate relocations are also called cross country ones. They always involve more than one state. When we look at it from Maryland standpoint, going on an interstate move would mean leaving Maryland as a whole. The key thing here is, if you wish to say goodbye to the Old Line State, then you should get in touch with cross country moving companies Maryland. This is simply because some companies are operating locally, or within one state, and you'd need those that are licensed to transport people outside of the borders of the state they're located in.
What about intrastate moves?
As opposed to interstate moves that go beyond one state, moving interstate means moving further than 50 miles but staying within one state. There are some exceptions to this rule, as certain companies, especially in smaller states are considering any move outside of your city a long distance one. However, in the majority of cases, intrastate long distance moves are those that go beyond 50 miles but don't exceed state's borders. So, if you're moving from Baltimore to Ocean City, Germantown to Annapolis, or similar moves within Maryland, stay with us, because we'll cover intrastate moves in more detail across the next sections.
Maryland is maintaining neutral moving trends, in spite of the pandemic
Before we jump into the Old Line State cities individually, let's see where the state is in terms of moving trends. Some states have been impacted by the COVID-19 pandemic a lot, and their moving trends changed a lot either for better or for worse. The State of Maryland wasn't affected much. To be fair, some cities did become more popular than others, but the state's moving trends remained practically neutral. To be exact, 53% of relocations happening across Maryland in 2021 were outbound, and 47% were inbound. Those are pretty much the same numbers the state was showing at the end of last decade.
People who moved out of Old Line State cited job opportunities as the main reason. The next most cited reasons were retirement and family-related reasons. When it comes to states that these Marylanders went to, here are the top five:
Virginia
Pennsylvania
Washington D.C.
Florida
North Carolina
On the other hand, those who moved in did so because of Maryland's good economy which provides a decent number of good career opportunities. And, the fact that the Old Line State has one of the best healthcare systems in the nation certainly helped too.
Marylanders are no longer keen on living in Baltimore
The famous Charm City, once the undisputed center and go-to relocation in Maryland, is now having real problems when it comes to migration. Way more people are leaving the city than moving in. Top movers in Baltimore are having their hands full dealing with all these outbound moves. But what's the problem with Charm City? It's hard to pinpoint one reason which dropped Baltimore's appeal. For starters, high crime rates are never a good sign, and certainly a big reason for people to leave the city. The unemployment rate is also very high (7%), and Baltimoreans are leaving in chase of better opportunities.
These trends of people moving out have been present for a while now. In the last decade, Baltimore's population shrunk by 30,000 residents. With such trends, Baltimore entered the COVID-19 era, and the problems became even bigger. In 2020 and 2021, more than 10,000 people said goodbye to Baltimore as the exodus of Charm City continues.
Where are all these people going? In Baltimore's case, a lot of them are leaving the state too. Philadelphia and Washington D.C. are the most common choices. But, if you're from Baltimore and you're looking to move to some other city in Maryland, cities in the Baltimore metro area, such as Columbia, proved to be the most popular destinations. Silver Spring and Germantown are not far behind either.
Two other cities in the Baltimore metro area, Columbia and Townson, are growing
Both Towson and Columbia are cities that are on the rise, following the downfall of Baltimore, of course in terms of moving trends. What's interesting though, is that both these cities are significantly more expensive than Baltimore. Both of them are roughly 30% more expensive than Charm City, and yet, they're attracting movers while Baltimore isn't. How did this happen? Well, Columbia and Townson are a true representation of Maryland's healthy economy. There are more than enough opportunities in these cities, and naturally, jobs pay higher there than in Baltimore.
They are generally located in one of the US' most business-advanced areas, with the nation's capital, Washington D.C. right around the corner. Even Philadelphia isn't too far away. Baltimore seems to be the only city that's struggling to keep up. Of course, both Washington D.C. and Philadelphia are currently experiencing negative moving trends due to the pandemic, but that will change soon. With Baltimore, it's a different story because the trends were negative way before COVID-19, and since then, they have only worsened. But, Baltimore is not a topic anymore, so we can go back to Towson and Columbia. Both cities are fairly safe, with good educational opportunities. Although they offer an urban-suburban mixed feel, they have more than enough places to visit and spend their free time at. Plus, everything is within the walking distance, unlike in nearby Baltimore where traffic can be quite tricky.
Frederick is one of the fastest-growing cities in the Old Line State
While there are some small towns that are growing fast, Frederick is the fastest-growing place among the largest cities in Maryland. At the moment, it is the 5th most-populated city in the Old Line State. However, moving trends are suggesting that it could soon enter the top three, overtaking Silver Spring and Germantown. It's not hard to see why considering that the city grew by 20% over the last decade. A charming city, where everything is at your fingertips is a safe place and ideal for people of all age groups. It's appealing to young professionals, families, as well as retirees. If you're moving from other cities in Maryland then you should definitely take this place into consideration. Frederick's newcomers are mostly coming from Baltimore, but some are even coming from other states.
How much does it cost to move across Maryland?
Giving you an answer to this question is not a simple thing to do. First of all, it depends on the distance between your current city and the one that you'll call home soon. But, there are some other factors involved as well. However, we won't leave you empty-handed. Below, you'll find the average price range for relocations between various cities in Maryland, so let's take a look.
Moving between Baltimore and Germantown
With only 50 miles between these cities, going on this route means having the cheapest long distance relocation possible, at least in terms of distance. The average cost of this move is $450 – $1,600.
Moving between Baltimore and Frederick
We have virtually the same distance here because Baltimore and Frederick are only 50 miles away from each other. Considering how popular Frederick is, seeing Baltimoreans moving it is very common. Since the distance is equal as in the previous example, the price is too, and that's $450 – $1,600.
Moving between Columbia and Ocean City
Here, we have two cities that are further away from each other than most cities in the Old Line State. The total road distance is 137 miles. Of course, that means a spike in price, so long distance moving companies in Maryland are probably going to charge you between $600 and $1,800 for this move.
Moving between Salisbury and Towson
There's quite a distance between Salisbury and the whole Baltimore metro area. We took Townson here as an example, but know that the price would be pretty much the same if instead of Townson it was Colombia, Ellicott City, or Baltimore. With a distance of 150 miles, expect to pay anywhere from $650 to $1,900.
Moving between Annapolis and Frederick
Finally, if you're relocation involves the state's capital, Annapolis, on one hand, and Frederick on the other, you'll probably pay between $500 and $1,650 if we account for the distance between them, which is 71 miles.
The Old Line State's moving professionals can give you the most accurate estimate for free
We have tried to help you out with some average price ranges, simply for you to get a temporary idea of how much your move is going to cost. But, if you're looking to know the accurate number, or at least a number close to it, then you need to contact long distance moving companies in Maryland. After sharing a few details with them, you will get a free moving estimate, probably in less than one hour. While that won't be a binding estimate, it should be close to a final price. Another good thing about these free estimates is that you can ask several movers for them. After that, you simply compare them and choose the one that you like the most.
Why should I hire long distance movers in Maryland instead of going with the DIY option?
People often fall into the trap of thinking they can navigate a long distance move without any assistance. To be fair, it's not impossible to do so. But, organizing a DIY move and successfully completing it is very difficult, time-consuming, and stressful. Those are the things you simply can't avoid. When you're with professionals, new horizons are opening up. The guaranteed safety of your goods is the main benefit of relocating with the best movers in the business. This is something that can't be guaranteed during DIY moves. And, the best thing is, this is just the beginning.
If you were to move across the Old Line State by yourself, you'd need to take care of every task on your own. Even with long distance movers Maryland, there will be more than enough chores for you to deal with. If you add all the moving assignments to that, you could easily get lost in the process. Therefore, when you hire the experts, you at least have a decent chance of having some fun before and during the moving day. To be fair, DIY moves are always less expensive. Still, if the price is something that's important to you, at least ask several movers for a free estimate. Who knows, maybe you'll be pleasantly surprised and you'll see that a professional move actually fits your budget easily.
Good research will help you find honest and reliable long distance moving companies Maryland
When you're choosing movers who will help you relocate across Maryland, you could roll a dice and hire the first company you encounter. But, that isn't a smart idea. Although it might work just fine, you shouldn't rely on luck when there is so much at stake. So, it's necessary to make sure that the movers you're considering are truly genuine and not looking to take advantage of you. For starters, check the licenses. Moving companies in the Old Line State have to be registered with the Maryland Department of Labor. Don't neglect this step and go to the website of this agency to see if the company of your choice has obtained the necessary permits. When you know that those movers are licensed and registered, you'll be able to relax knowing that your belongings are in safe hands.
Consult Verified Movers reviews to get further information about movers
Knowing that the company possesses the required permits to transport people's belongings across the state is a big step in the right direction. However, it shouldn't be the final part of your research. Reading the reviews is something that you shouldn't skip either. Even when a company is licensed, that doesn't guarantee that they are good at what they do. And, you certainly don't want amateur handling your belongings. So when you're choosing among plenty of Maryland's movers, read the reviews and take it from there.
And, if you don't want to spend hours going from website to website in pursuit of finding an extra piece of information or two, turn to Verified Movers reviews. On our platform, you'll find everything you need, and browsing through these testimonials will be smooth and easy. We've been advocating the importance of reviews for quite a while, and we decided to make them available to all of our clients. In the end, we suggest you write a review once everything is done and dusted, simply to help someone else as other people have helped you.
Choose the company based on the moving services you need
After conducting thorough research, you're almost there. Now, you have narrowed down your choices and it's time to make a final choice. Well, depending on what your priorities are, making this choice could be motivated by many different things. However, one thing that should be at the top of your list is moving services. Every move is unique, and every person needs different things. With so many services on offer at long distance moving companies Maryland, rest assured you'll be able to get what you want. But, you need to understand what is it exactly you need, and hence, find a company that provides it. To give you an idea of what you can ask for, we compiled a list of the most common moving services.
Residential moving
Packing services
Furniture moving
Senior moving
Junk removal
Storage services
College moving
Have any specialty items you don't know how to relocate? Long distance moving companies Maryland have got you covered!
Another thing you should know about professionally-assisted moves is that the diligent personnel of the finest long distance moving companies in Maryland can take care of almost any item you possess. Every household has some item, often more than one, that is very valuable and fragile. Frequently, these items are also bulky. All of this makes them very hard to transport, and this is exactly where having experts besides you is priceless. Specialty item moving services are very common, and here are the most sought-after ones:
Auto moving – Maryland isn't one of those states that have more cars than residents. Marylanders aren't keen on having more than one car per household. Still, the majority of households do have one vehicle, and driving it long distances is a difficult thing to do. If you don't feel like doing this, it's good to know that you can find reputable movers who are offering vehicle transport.
Fine art moving – If your home in the Old Line State contains valuable art pieces then you need to be extra careful when transferring them. Any damage to these pieces whatsoever would be truly awful. So, if you're not sure you have what takes to do this right, it's better to ask movers for their assistance.
Piano moving – Same goes for pianos, very valuable instruments. Marylanders especially love pianos, as you can more than 30 piano stores just in Baltimore, let alone the whole state. Make sure that your beloved instrument is transported safely, and let long distance movers Maryland deal with this.
Long distance moving companies by cities in Maryland
Don't want to scroll through countless long distance moving companies Maryland to find the right one? No problem, because we sorted them by the cities they're operating in. Now, you can easily find movers who are always near you. Not only does this narrow down your choices, but at the same time, helps you make a better decision.
Through Verified Movers, you can find a company that offers all the services you're looking for
With all these things we mentioned about long distance moving companies in Maryland in mind, it's time for you to begin your quest of finding an ideal team. Well, we assure you that there's no better place to start than Verified Movers. Our vast database is filled with moving professionals from all around the country, more than 20.000 of them to be precise. Of course, some of the best movers in the Old Line State are there as well.
With a good plan, knowing exactly what you want and where to look for it, you will manage to track down an ideal team sooner rather than later. That's what Verified Movers are here for and we'll help you on your way to achieving a successful relocation.
One of the ways to do so is via Verified Movers reviews. On our website, you will find honest testimonials, and understand which Maryland company is truly among the best in the business. So, don't forget to check that. Outside of reviews, there are other ways for us to assist you, and we're more than happy to do so. For example, you can always take a look at our blog to find useful moving advice. We have been in the moving field for quite a while now. During that period, we accumulated a vast knowledge of the moving process itself, and we are delighted to share it with you on our blog. You'll find guides, comparations, tips, tricks, and many more, so make sure to visit us!
Picking the right time to move across Maryland
Your moving experience is affected by so many little things. To be fair, some aren't small, such as making a decision to move with professionals. If you do this, that's the most important step toward a seamless moving experience. However, you can pay attention to a few other details in order to have the highest chances of a pleasant journey. One of those is picking the best time of the year to move across the state. If you're limited in terms of this choice, that's not ideal, but at least you won't have to overthink the decision. You just play the cards you were dealt. However, if you have the opportunity to relocate whenever you want, here's what you should keep in mind.
Maryland isn't the best state for winter relocations, so stay clear of moving during this season
The Old Line State's climate is very specific, but it's not unique considering that some nearby states are experiencing the same kind of weather. Maryland's summers are warm and humid, while winters can get very cold and snowy. One of the things that our experience in the moving field has thought us, is that moving while it's cold and snowy is very likely to ruin your experience. Well, not completely ruin it, but certainly make it less smooth than it could be. So, our suggestion would be to avoid December, January, and February when relocating across Maryland.
On the other hand, summer moves are the most expensive ones in the Old Line State
Another thing to keep in mind is how the moving date affects the price. The problem with avoiding winter moves is that they're also the cheapest, so if you don't move during winter, then you'll have to pay a higher price. The most expensive professional relocations are those that are happening during the summer, at least in Maryland. This is the busiest moving season during which more than half of yearly relocations in the Old Line State are happening. We're talking about the months of June and July, even August to some extent. So, it may be for the best to find some middle ground and move during spring or autumn. April, May, September, and even October, are perfectly fine for moving across Maryland, but make sure to check the weather forecast just in case.
Other things that the price of your relocation depends on
In the previous section, we discussed the fact that moving dates can affect the price, which is something many people don't know. Now, we wanted to show you the other factors that will cause the price to go either up or down.
The distance between the cities – Another thing we spoke about earlier when we were mentioning the prices is the distance. The average price of a 100-mile move is about $1,250. So, the price will reflect how far the two Maryland cities you're relocating between are.
Special services – If you need additional moving help with some tasks, such as packing, or you need a storage unit, long distance movers Maryland will be able to help you. However, special services are charged additionally.
The weight of your shipment – Along with the distance, this is what impacts the moving cost the most. It's similar with the number of items because a shipment from a huge household has to be heavy. Larger and heavier shipments require bigger trucks, and that, obviously, affects the price.
Moving insurance – If you want to be insured in case something unexpected happens, know that moving insurance is paid extra. Luckily, this isn't a big investment. And also, long distance movers in Maryland are offering both full and partial coverage that is, of course, differently priced, so you can choose the one that suits you more.
The difficulty of loading – In the Old Line State there are a lot of houses with several levels, and of course, a lot of high-rise buildings in cities like Baltimore. These types of households usually make it more difficult for movers to do their work, which naturally results in a higher price.
Moving by yourself through the Old Line State's congested traffic can be a nightmare
Maryland is in an odd situation regarding traffic. In spite of being among the top 5 states with the lowest car-per-capita ratios, its traffic is infamous for being very congested and hence, time-consuming. According to some reports, Maryland is the fifth-worst state to drive in. Most of this is because of Baltimore, where the situation is really bad. Baltimore's drivers lose around 37 hours to congestion every year, which is a prime example of wasted time. That puts Charm City among the 20 worst cities in the USA regarding this matter. And, considering that the majority of long distance moves in the Old Line State involve Baltimore, simply because it's the largest city, there's another reason for you to hire moving professionals.
A good moving plan paves to way for a smooth relocation
One of the things you truly need to navigate the moving process successfully is a moving checklist. To be fair, giving you an ultimate moving checklist, or even suggesting the majority of one, is quite hard considering that each and every person has different chores. After all, every move is unique. With that in mind, that are some things that should be included in every single moving checklist and this is what we wanted to help you with. For starters, let's start with the 5-step plan that revolves around hiring long distance movers in Maryland.
Doing some research on the Old Line State's moving companies
Reaching out to several long distance moving companies in Maryland and asking for a free quote
Comparing the quotes to find the best one, or simply the one that you like the most
Calling the company that provided the quote in question and arranging the moving date
Waiting for long distance movers Maryland to arrive and enjoying a professional relocation
Other things you should keep in mind
Besides hiring movers, there will be a lot of other tasks to take care of. The sheer amount of tasks that every relocation brings to the table is the precise reason why we need movers in the first place. We need them to take some weight off our shoulders during the process. So, while Maryland's moving professionals are doing what they do best, here are a few other things you shouldn't forget about.
Notifying U.S. Postal Service to let them know you're changing the address.
Collecting the medical records of you and your family members
Canceling or transferring your magazine and other subscriptions
Transferring your utilities
Letting your loved ones know you're moving
Notifying your employer about the relocation
Asking for some time off work around the moving day
Giving your landlord a notice a month or two before moving out
What to do while movers are moving?
There's not much you can do really. Although people are often confused thinking that there is something for them to do as well, there really isn't. If the movers you have found are legitimate and experienced, they won't need your help. So, in that sense, not getting in their way is the best thing you can do. To be fair, when you see them taking a break, it would be nice of you to offer them a refreshing beverage. After all, they are doing all the hard work. Otherwise, stick to the original agreement, unless there's some emergency that calls for change, and everything will be just fine.
Frequently asked questions
Now, just as we're about to wrap things up, we wanted to cover a few things we haven't already. Also, these will be some of the most frequently asked questions about moving. Or, to be precise, moving with Maryland's long distance movers.
Which items long distance moving companies Maryland won't move?
Some items and substances are dangerous to transport in a moving truck. Some of these items are:
Oxygen bottles
Gasoline and kerosine
Lighter fluid
Matches and lighter fluid
Nail polish remover
Fireworks
Ammunition
Paint
Propane cylinders
Pesticides and similar chemicals
How long will it take movers to transport my goods?
Since Maryland isn't a huge state, it definitely won't take too long. Expect your belongings to arrive in less than 2 weeks. It could be even less than 10 days if you're lucky.
Where can I file a complaint?
When it comes to long distance moving companies in the Old Line State, your best bet would be to contact the Maryland Attorney General Consumer Protection Division. Of course, you can also turn to BBB, but starting with local authorities might be the best way to go.
When asking for packing services, how will the packing process last?
Long distance movers in Maryland who can provide you with packing services are usually the experts in terms of dealing with this task. So, you should expect everything to last less than 24 hours.
Do I get a notification from the movers before they arrive?
You will receive a notification 24 hours before the movers come to your house.
With Verified Movers helping you out, finding an ideal moving time is just a matter of time
Moving across the Old Line State is considerably easier with professional movers, and finding them is rather simple with Verified Movers. Just remember that no part of your moving process needs to be stressful. With the right team by your side, you will really be able to enjoy every step of your relocation. That's why you will find our resources very helpful. With so many reputable long distance moving companies Maryland in our database, finding the one that suits you the most is only a matter of time. Therefore, we invite you to visit our website and read the Verified Movers reviews which will ultimately help you have a much better moving experience!
Facts About Maryland
01. Main Information
Popular Cities
Baltimore, Frederick, Rockville, Annapolis, Columbia
Governor
Larry Hogan
US Senators
Ben Cardin, Chris Van Hollen
State Website
State Moto
Strong Deeds, Gentle Words
State Nickname
Old Line State
02. Geo Population
Area (sq mi)
12,407 sq mi
Total Population
6,065,436
Highest Elevation
3,360 ft
Lowest Elevation
Sea level
Time Zone
Eastern/UTC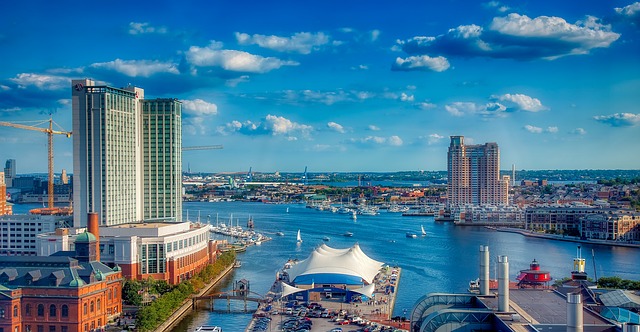 03. Education
Top 5 Elementary Schools
Holton-Arms School, The Bryn Mawr School, Gilman School, Landon School, Park School of Baltimore
Top 5 Middle Schools
Holton-Arms School, The Bryn Mawr School, Gilman School, Landon School, Park School of Baltimore,
Top 5 High Schools
Holton-Arms School, The Bryn Mawr School, Poolesville High School, Gilman School, Georgetown Preparatory School
Top 5 Colleges
Johns Hopkins University, University of Maryland, University of Maryland, Baltimore County, University of Maryland, Baltimore, Towson University
04. Rates
Crime Rate
24.04
Employment Rate
64%
Average Income (household)
$84,805
Poverty Rate
9.19%