If you're getting ready to say goodbye to Maryland, we'll walk you through this complex process. Moving is so much more than going from point A to point B. It's filled with challenging tasks from the very beginning until the end. It's fair to say that any help during the move is greatly appreciated, and that's why you should consider hiring cross country moving companies Maryland. They will not only make the process easier; They can make it so easy that you end up enjoying the journey instead of anxiously waiting to get it over with. If you consult Verified Movers reviews, you'll make a big leap towards finding reputable Old Line State's moving professionals with whom you'll relocate, and this goes for both cross country and long distance moving companies Maryland who are taking care of relocations across this state. So, don't wait, visit our website, and gather all the necessary information to make the best choice!
What's the price tag of a move assisted by cross country movers in Maryland?
If you're someone who hasn't moved with professionals before, we assume that the first thing on your mind is the price. So, it makes sense for us to start with that. To be fair, we aren't able to give you the exact amount. The price of relocation depends on things such as distance, the weight of your shipment, the special services you ask for, and even the date you pick. Without knowing such details, an accurate price is impossible to give.
However, Verified Movers have been in the moving field long enough to observe the average prices of moves. And, this is exactly what we're going to share. We'll take a look at Maryland's moving trends and use the five states that Marylanders are moving to the most as the example, to show you the average range. So, let's get into it.
Moving from Maryland to Virginia; $1,900-$3,700
Moving from Maryland to Pennsylvania; $1,900-$3,700
Moving from Maryland to Washington D.C.; $1,800-$3,500
Moving from Maryland to Florida; $2,800-$5,400
Moving from Maryland to North Carolina; $2,300-$4,500
On the other hand, if you're moving all the way to the West Coast, it will be much more expensive, probably between $4,000 and $6,800. And, for anyone who's looking to move to states like Texas or Colorado, you'll pay $3,200-$6,000 on average.
Interstate moving companies Maryland are offering free estimates, so don't hesitate to ask for it
We did as much as we could in terms of telling you how much you'll pay for your relocation. As we said, small details matter when creating a final price. That's what you'll share with cross country moving companies Maryland upon contacting them. Pretty much all reputable movers in the Old Line State are giving away free moving quotes. You can make the most use of that by contacting several companies and getting yourself a few estimates. Keep in mind that this won't be a final price, but an approximate one. Still, it will be enough for you to decide and give you an idea of how to budget for a move.
How to find a company you can trust?
With tens of thousands of moving companies operating in the USA, finding an ideal one may seem impossible at first. But, by following a few simple steps, you'll easily narrow down your choices. First of all, there's a smaller sample in Maryland since the state isn't too big. Eventually, by following the tips we share, you'll track down a company that suits you perfectly. So, what should you pay attention to?
Start with checking the licenses
In the beginning, you should make sure that the company you're hiring is registered, and hence, legitimate. Unregistered movers are too big of a risk, and your belongings are way too important to take any risks in this process. So, how does one check if certain movers are licensed? Here's how. Interstate movers in Maryland aren't being registered at local and state authorities, but federally. The Federal Motor Carrier Safety Administration is an agency where you can check whether the company has obtained the necessary permits or not. You can do this by inputting their name, or their USDOT number which should be visible somewhere on their website. To clarify, the USDOT number is a unique number that the company gets upon registering at the U.S. Department of Transportation, another agency that has a share in regulating moving companies both in Maryland and across the USA.
Dive into reviews to find out all the important details
When it comes to making a moving choice, it's hard to find a thing as important as reading other people's experiences. Through genuine and honest cross country moving companies Maryland reviews, you'll truly get a sense of what the potential outcome with certain movers would look like. Recognizing the importance of this topic, we wanted to make it easier for you by putting these testimonials all at one place. So, if you want to truly get to know movers from the Old Line State, head out to Verified Movers reviews and get all the pieces of information you need to make a good decision.
Get in touch with interstate moving companies in Maryland and see how the communication with them unfolds
In the end, as a final step of recognizing whether certain interstate movers in Maryland are right for you or not, communication will tell you a lot. No matter how well-rated they are, or how many awards they have gotten, if they don't treat you with respect, you should look elsewhere. Relocating out of the Old Line State is a big moment in your life, and you should spend it with polite professionals. So, if you encounter individuals who are rude, not keen on giving you important information, or pressuring you to sign contracts, you should walk away.
With many services up for grabs, relocating with cross country moving companies Maryland will be a unique experience
A thing that separates the DIY moves and professional ones the most is the wide range of services you'll have available with the latter. When you're in the process of leaving the Old Line State, there will be a lot of tasks to tackle, and the best thing about professional moves is that cross country movers Maryland can take care of it all. From regular services to specific ones such as moving specialty items, a whole plethora of them will be at your disposal. So, make sure to understand which ones of those are ideal moving services for you, and ask the movers as soon as you get in touch with them. We'll list some of these services, but considering how many there are, this will be just the tip of the iceberg.
Residential moving
Commercial moving
Senior moving
College moving
Packing services
Junk removal
Furniture moving
Storage services
Packing is arguably the most sought-after moving service, of course besides two regular ones that are residential and commercial moving. Many people find the packing services so helpful because it's a truly exhausting and time-consuming assignment. And to make it even better, you don't even have to do packing preparations because interstate movers Maryland will bring packing supplies with them, so you'll be relieved of that duty as well.
Contact cross country movers Maryland for a safe transfer of your specialty items
Professional moving companies will take care of your local, long distance, or cross country move, whether it's residential or commercial in nature. Of course, not all of them are offering all these services, but you won't find it hard to track down a company that's offering these things. But, one would think that specialty items are more difficult to relocate and it's not easy to find interstate movers in Maryland who'll be able to take care of it. However, even that won't be a problem when Old Line State's moving professionals are by your side. Here are some of the specialty item moving services that these experts are offering.
Auto moving
Even though Maryland isn't one of the states with too many cars, there's still a high chance that your household has one. By asking for auto moving services, you would let movers transport your vehicle instead of you driving it across the country. Considering how long some cross country trips can be, this is a very useful option.
Piano moving
Pianos are also quite popular in the Old Line State. The fact that there are a few dozen piano stores in Baltimore and Columbia tells you enough of how popular these instruments are in Maryland. While they're beautiful additions to every home, they represent a huge challenge during the move. To be fair, it won't be challenging if you let experienced professionals deal with this. With a great experience at their disposal, along with years of experience, it will be a smooth transfer.
Fine art moving
Art pieces, no matter in what form, are always delicate, and often fragile. With such value, they need to be well-protected, and cross country movers in Maryland know how to do that. Make sure your art pieces are safe and call the professionals to help you transport them.
Cross country moving companies by cities in Maryland
What to keep in mind when choosing a moving date?
There are two main things you should keep in mind prior to choosing a moving date. For starters, you need to consider weather conditions. Maryland has warm and humid summers along with cold winters. To be fair, in coastal zones winters are cool rather than cold, but in the continental part of Maryland it can be really cold and snowy. Needless to say, this is not what you want when relocating your household, or even a business. So, with this in mind, the best time to leave the Old Line State is probably late spring or early fall.
But, there's another thing worthy of mentioning, and that's a moving season. Peak moving season brings higher prices. In Maryland, despite often hot and almost exclusively humid summers, June and July fall into a peak season. That's when cross country movers Maryland are most busy, and when the prices are higher. This is because summer is in general most suited for people to relocate, especially those who are employed or have kids. So, this is even better news if you have the opportunity to move during April, May, or September. These months will bring neither the cheapest nor the most expensive prices. They're at their low point in January, but we've already established that moving during the year's first month, or the rest of the winter, is not recommended. But, it's worth saying that it's doable nevertheless.
The duration of a professionally-assisted interstate move
If you're in a rush to expedite your move, you're probably impatiently waiting to hear how long is your move going to last. It may depend from company to company, but truth be told, it will mostly depend on the distance. And, you probably have to be a bit patient, especially if you're not moving to one of Maryland's neighboring states. On average, the duration of a cross country move assisted by interstate moving companies Maryland is between 2 and 3 weeks. Still, some moves can be longer than that, or shorter for that matter. For example, relocations between the Old Line State and Washington, or Virginia, can be done and dusted in less than two weeks. On the other hand, if you're relocating from Maryland to California, or some other state in the West such as Arizona, or Oregon, it could take more than 3 weeks.
Moving with interstate movers Maryland – FAQ
Are intrastate and interstate moves the same thing?
No, they aren't. Intrastate moves are the type of long distance moves that stay within one state. If we take Maryland for example, moving from Baltimore to Germantown would be an intrastate move. On the other hand, if you're leaving Maryland and moving to any other state, you're about to embark upon an interstate moving journey.
Will cross country movers Maryland provide me with insurance?
The reliable ones certainly will. You'll even get to choose between different moving insurance options. You can go for either partial or full coverage. Choose whichever suits you the most, but remember, accidents can happen and it's very important to have the safety net that is insurance.
How long does it take for movers to pack up my household?
If you ask interstate moving companies in Maryland for packing services, expect a quick and efficient process. Your household should be packed in less than 24 hours. That is unless your household is huge, in which case, there's a chance of lasting for one extra day.
Do we receive a notification before interstate movers in Maryland arrive?
Yes, movers from MD will notify you 24 hours before coming to your doorstep.
Are cross country moving companies in Maryland prohibiting some items from the moving truck?
In fact, yes, they are. The Old Line State's interstate movers will help you with a variety of tasks and will transfer various types of items, but even they can't transfer every single thing for safety reasons. The items that are not allowed in a moving truck are usually either hazardous or flammable. Some of these items are gasoline, oxygen bottles, fireworks, ammunition, matches and lighter fluid, etc.
Make the most use of the Verified Movers platform and bring your moving experience to a whole new level
Verified Movers can be helpful in so many different ways. First and foremost, we have around 20.000 moving professionals in our vast database. That means that there is no reason for you to look elsewhere, as the finest moving professionals from Maryland, and the whole of the US, can be found right here. With what Verified Movers reviews bring to the table, you'll even learn a lot of details about cross country moving companies in Maryland. And, last but not least, the Verified Movers blog contains tips and tricks that will help you navigate the move easier, along with some useful guides. Checking out Verified Movers is the first step on the road to achieving success in the moving process, so make sure to visit us.
Maryland is neither among the worst nor the best states regarding moving trends
The Old Line State hasn't recently had some major ups and downs in terms of its migration trends. It's always relatively close to neutral, 50-50, correlation between inbound and outbound moves. However, the period of the COVID-19 pandemic pushed these numbers slightly toward the side of outbound relocation. Last year (2021), Maryland had 53% outbound moves, while 47% were inbound. With the moving dynamic that pandemic has brought, this is not something worth panicking about for people who are considering relocating to Maryland. However, having a negative net migration can't be a good sign either. We'll jump into this problem in the upcoming sections. But first, let's take a look at how Maryland's cities rank when it comes to moving trends.
Baltimore is experiencing negative moving trends, while the rest of Maryland's largest cities are growing
Baltimore is the largest city in the Old Line State, but it is also the city that Marylanders are leaving the most. The Charm City is shrinking in numbers at a yearly rate of 0.60%. That's actually quite big, even though it doesn't sound like that. By following these trends, Baltimore lost nearly 30,000 people due to relocations in the last decade, which is more than 5% of its population. No city in Maryland has this big of a problem. For example, in Columbia, a city only 20 miles away from Baltimore, it's a completely different story.
In fact, Columbia is showing almost identical percentages, but only on the positive spectrum. So, Columbia is growing, as is Germantown. However, the fastest-growing city in the Old Line State seems to be Silver Spring, expanding its population by 1.17% yearly. As you can see, some cities are growing while Baltimore is the main name in Maryland that's shrinking swiftly. Now, we'll take a look at Maryland's appeal, to see why people are moving to this state, and where are they moving from.
The appeal of the Old Line State
Maryland offers a lot to its residents, and there's no doubt about that. Some of the things that Maryland can provide you with are definitely good enough reasons for people to move there. Great location, a lot of small peaceful towns, and the unique charm are some of the Old Line State's characteristics. And, it's very close to Washington D.C, and yet, much more affordable. Here are some things at which Maryland beats the majority of USA states.
Maryland is among the 15 states with the largest GDP
For years now, Maryland has been an above-average economy in the United State. But it seems like now more than ever, the job market is booming and opportunities are plenty. The main sectors include farming, aerospace, and telecommunications. If you have any kind of experience in this field, life in Maryland will offer you so much. A healthy economy should be at the top of your list when choosing a state to live in, and considering that the Old Line State has one, there's no reason for people to avoid it throughout their considerations. Additionally, there are 3 Fortune 500 companies in Baltimore alone, and 6 across Maryland. Last but not least, the average salary in the state is $73,000. So, in terms of job prospects, Maryland ticks all boxes.
Health-system in Maryland is of the highest quality
If you like the security of living in an environment where you have experts capable of taking the best care of your health, then Old Line State is the place for you. This state's health system is recognized as one of the top ones, and it's currently ranked 6th in the USA. Some of the country's best hospitals are located in Maryland, most notably the ones in Baltimore and Columbia, but even the one in Annapolis. And, to make it even better, health-related expenses in Maryland are 16% lower than the nation's average.
Maryland's newcomers and where are they coming from?
The Old Line State attracts many Americans. Most of its benefits were already discussed above, and when you combine them, it's no wonder why people would love to give Maryland a chance. Here are the states that lead the line when it comes to sending people to MD.
Virginia
When you take into account how close these states are to each other, seeing Virginia at the top is according to expectations. There are more than 20,000 people moving from Virginia to Maryland every year. Family-related reasons are usually the main motivation for this relocation. But, of course, people are moving for career opportunities as well, and even for retiring in one of Maryland's beautiful towns around the coast. Relocating from Virginia Beach is easily the most common route since there are more than 1,000 people yearly moving in this direction.
Washington D.C.
Although it's not technically a state, more of a district, Washington D.C. is right next to Maryland and we are witnessing tens of thousands of relocations going on this route every year, no matter the direction. First, we'll talk about people who are moving from D.C. to Maryland. There are almost 20,000 of these relocations yearly on average. The COVID-19 pandemic and the moving trends that it brought, pushed this slightly over 20,000 across 2021. A lot of people are choosing this move, and it's not hard to see why. Washington D.C. is a really expensive place to live.
The majority of people who are leaving it with moving to Maryland in mind are going to Baltimore. Baltimore is actually 40% less expensive than Washington, so the difference is simply huge. So, it's pretty obvious why this is the most common route, and why as many as 10,000 people decide every year to make this transition. The same goes for other cities across the Old Line State. Whether it's Columbia, Annapolis, Silver Spring, Germantown, or some other place. All of them are very affordable compared to Washington, and as such, quite appealing to Washingtonians.
Pennsylvania
We have another neighboring state here. Pennsylvania is right across the whole northern part of Maryland's border. This part of the East Coast, in general, is very dynamic when it comes to moving trends. The whole area that involves Philadelphia, Washington, and Baltimore is very engaged in relocations. So, seeing Pennsylvania here is somewhat expected. There are around 15,000 people moving from Pennsylvania to Maryland any given year. Unlike with Washington D.C., the pandemic didn't cause major changes when it comes to moves between these states. There aren't big differences between their costs of living. So, people are moving in order to experience a change, seeking job opportunities in the neighboring state that's easy to relocate to, and of course, there are a lot of family-motivated moves too.
Needless to say, the most frequent route is between the largest cities of each state, and that's moving from Philadelphia to Baltimore (between 3,000 and 5,000 people a year). To be fair, Pittsburgh sends a lot of people to Baltimore as well, but it's nowhere near Philadelphia. As we'll see later on, a similar thing is with the moves in the opposite direction. People of the Old Line State and Pennsylvania will never stop moving between these two states, as they are so well-connected and suitable for relocations.
Those who decide to leave Maryland are mostly doing so because of better job opportunities
It might be slightly contradictory that Maryland has a healthy economy, but people are deciding to leave it for better job opportunities. This is not just the case with Maryland. Plenty of other states are in this situation. Simply, job opportunities are one of the main motivations for Americans who are moving, and when they're asked about the reasons for leaving their state, job opportunities are always mentioned by at least 25% of people. In Maryland's case, that percentage was 39%. As we mentioned earlier, this whole area of the USA is very dynamic in terms of relocations, and people are always looking for better opportunities.
To be fair, Marylanders are more than capable of finding a better-paying job in, for example, Washington D.C., Philadelphia, and even in some other nearby states such as North Carolina. Keep in mind that New York City is not that far away either.
Retirement and cost of living are among the other frequently cited reasons
Retirees aren't keen on staying in the Old Line State to enjoy their, well-deserved, retirement. They are often moving to some other states along the coast, some of them even go all the way down to Florida. There are so significant tax benefits for retirees in Maryland, which is another reason why they aren't looking to stay in this state.
Cost of living was the other commonly cited reason. To be fair, the cost of living in Maryland is only slightly higher than the nation's average (10%). So, whether you can consider it affordable or not, depends entirely on which state you're comparing it to. When compared to the nearby Washington D.C., Maryland is very affordable. But, for example, if you compare it to Delaware, you'll see that the Old Line State is 20% more expensive. So, each and every person's situation along with their point of view determines whether Maryland is expensive or not. It's enough to say that for some people, it is expensive, which is why they're deciding to say goodbye to it.
The preferred destinations for former Marylanders
Marylanders are mostly moving across the East Coast states. Moves to the Midwest, South, or to West Coast are very rare among Marylanders. Of course, the distance plays a part there, but that didn't stop people from, for example, New York or Florida, moving to very distant states. However, Marylanders who are leaving the Old Line State are usually not moving too far away, and we'll see the three states that they're moving to the most.
Virginia is the #1 destination for Marylanders
Once again, we start off with Virginia. Same reasons we talked about before applying in this case as well. A lot of family-related moves are happening between the states, and the pure closeness between them makes this such a suitable relocation for movers. Even the number of people who are moving from Maryland to Virginia is almost the same as the number of people moving in the opposite direction. It's around 25,000 people a year. What's specific for going in this direction though, is that Maryland's retirees love Virginia because it's better ranked than the Old Line State in terms of safety, and there are a ton of peaceful towns where they can enjoy the retirement.
Even the cost of living favors Virginia, but only slightly. It still depends a lot on which cities are involved in your move. Speaking of which, the most common route is from Baltimore to Virginia Beach, with as many as 1,500 people going in this direction any given year. Also, every 12 months, there are between 500 and 1,000 people moving from Baltimore to Richmond, which is surely worth mentioning.
The appeal of Philadelphia puts Pennsylvania in the second place
The City of Brotherly Love is very popular among Marylanders, and its appeal is the main reason why so many of them are moving from Maryland to Pennsylvania each year. In some years, the number of relocations in this direction surpasses 20,000, which tells you a lot about how many Marylanders are moving up north to Penn State. As we said, credits mostly go to Philadelphia, one of the US' most famous and largest cities, where plenty of opportunities await. But also, we have to say that Pennsylvania is 14% less expensive than Maryland overall. With that in mind, let's see the most common routes.
It won't surprise you that moving from Baltimore to Philadelphia easily leads the line. The number of people relocating in this direction occasionally reaches the 5,000 mark, so it's fair to say that top movers in Baltimore are familiar with every corner on this route. When it doesn't, it rarely falls under 3,000. Philadelphia is more expensive than Baltimore, but it is much cheaper than the majority of similarly-sized cities. And, with all the things that the City of Brotherly Love is offering, it's definitely worth it. Although this is by far the most common choice, you'll see many of your fellow Marylanders moving to Pittsburgh, Allentown, Reading, Erie, Scranton, etc. They are mostly moving from Baltimore, but other cities in Maryland are also being left, although not to that extent.
Washington D.C. completes the top three
We'll finish this section with Washington D.C., once again, a district, not a state. But, it had to be included here considering that Marylanders are so attracted to it. The nation's capital is offering some great opportunities. All the major federal institutions are there, along with some great tech companies, or companies that need tech talent. If you have some kind of experience with tech, cybersecurity, programming, etc., Washington D.C. might be your dream destination. There are around 15,000 people moving from Maryland to D.C. each year, and that tells you a lot about the popularity of this relocation.
Once again, we have to mention Baltimore, but that's reasonable considering that it's both the largest city in MD and the city that people are moving from the most. Moving from Baltimore to Washington, therefore, is by far the most frequent choice, and the one that approximately 10,000 people make on a yearly basis.
Moving a business across the state borders
When it comes to commercial moving, there are a lot of things to take care of. With these types of moves, professional assistance of cross country moving companies Maryland becomes even more essential. You have enough on your plate as is, with so many documents you need to fill and obtain. One of them is a license in a new state. Every state has its own agency that regulates this. In the Old Line State, that's the Maryland Business Express. But, that is only for people who are moving to Maryland. You have to keep these things in mind to ensure a smooth transition of your business. And, hiring interstate moving companies in Maryland will allow you to focus on these types of things and not worry about relocation.
Is moving without cross country moving companies in Maryland a mistake?
We wouldn't call it a mistake, but, by going DIY, you would put yourself under a lot of unnecessary pressure. You need some great skills to organize a DIY move, and even then, a smooth journey is not guaranteed. If you were going on a local move, we would have a different conversation. But, as far as the interstate ones go, it's better to be safe than sorry. And, with interstate moving companies Maryland, you won't have to worry about safety. If you want to save a few bucks and move on your own, you're probably in for a stressful period. However, it is something you can manage. And, if you want to have a smooth journey from the beginning until the end, call Old Line State's moving professionals.
Head out to Verified Movers and find yourself reliable cross country movers in Maryland
The best way to ensure the safety of your goods, rather than jeopardizing it, is by turning to cross country moving companies Maryland and asking them for some assistance. Relocations don't come too often, so instead of having a stressful period, do your best to enjoy them. And, if the professionals are on your side, you have a real chance of having a pleasant journey. Verified Movers, and our reach database, have all the experts you need. Some of the best movers from the Old Line State are here on our platform. So, make sure to check out our website, and your pursuit of finding an ideal moving team can finally begin.
Facts About Maryland
01. Main Information
Popular Cities
Baltimore, Frederick, Rockville, Annapolis, Columbia
US Senators
Ben Cardin, Chris Van Hollen
State Website
State Moto
Strong Deeds, Gentle Words
State Nickname
The Old Line State
02. Geo Population
Total Population
6,154,710
Highest Elevation
3,360 ft
Lowest Elevation
Sea level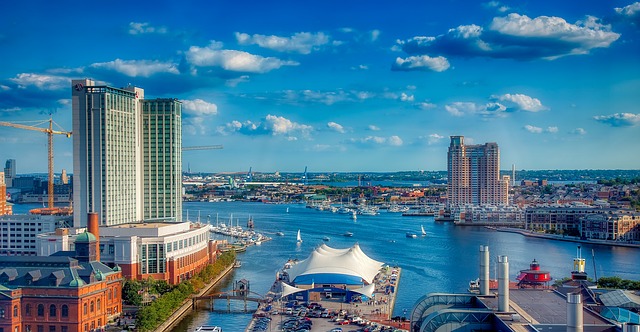 03. Education
Top 5 Elementary Schools
Holton-Arms School, The Bryn Mawr School, Landon School, Gilman School, Rochambeau The French International School
Top 5 Middle Schools
Holton-Arms School, The Bryn Mawr School, Landon School, Gilman School, Rochambeau The French International School
Top 5 High Schools
Holton-Arms School, The Bryn Mawr School, Landon School, Gilman School, Poolesville High School
Top 5 Colleges
Johns Hopkins University, University of Maryland, University of Maryland - Baltimore County, University of Maryland - Baltimore, Towson University
04. Rates
Crime Rate
19.82 (per 1,000 residents)
Average Income (household)
$91,431