Being a thriving entrepreneur in the moving industry is quite a satisfying experience. Watching relocations unfold without a hitch, seeing your workers taking care of business, hearing numerous thank-yous from satisfied customers – it is all extremely rewarding. However, there comes a time when not everything goes so smoothly. And in an industry as demanding and challenging as moving, there is a lot of room for mistakes. Sooner or later, they are bound to happen. It is a harsh reality of our line of work. Needless to say, since your clients suffer the most, they are sure to be furious. And they will often express their dissatisfaction online. That's why Verified Movers are bringing you these useful tips to handle negative customer reviews online. Because, when it happens, you will have to be prepared to react and resolve the issue to both yours and your client's satisfaction.
Don't ignore the need to handle negative customer reviews online?
Even though we live in the age of the Internet, the human touch is still what drives the sales. Your customers are quicker to trust their peers than your well-thought-out ads. Put simply: word of mouth is still the most effective marketing strategy. And since the presence on the internet is a must in this day and age, dealing with online reviews will be your everyday reality. Considering how it is so easy for anyone to write a review, be sure that your customers will make their voice heard. So, without further ado, let's see what can you do if you have to deal with the fallout.
1. Respond A.S.A.P.
Do not take your sweet time to respond to the negative review. Show your antagonized customer that you care and value their opinion. In most cases, a swift response will result in a dialogue. And this can lead to the said customer giving you a second chance. Of course, you should take your time to come up with the answer. Just don't take too long. Which brings us to the next point.
2. Don't ignore the review!
This is, without a doubt, the absolute worst thing that you can do. It tells your customer (and potential clients reading the review) that you:
Don't know how to deal with the situation.
Have no ways to deal with the fallout.
Don't care enough to bother.
We don't think it's necessary to tell you how this line of thought can be detrimental to the reputability of your company. Therefore, make time in your busy schedule to handle negative customer reviews online.
3. Don't lose your cool
Hell hath no fury like customer scorn. OK, we might have paraphrased that a bit. The fact is, not all customers will give a polite negative review that will constructively delve into the problematics. More often than not, they won't shy away from using harsh language or insults. This is understandable – they are furious and need to take it out on someone. That someone being you, of course. In this situation, it is essential to remain calm. So don't get into an argument. It will only serve to fuel the rage of the customer. And no, it doesn't matter if you're 100% right. They won't care. Just be polite and professional, and you'll see the fire subside pretty quickly. Kill them with kindness, if you will.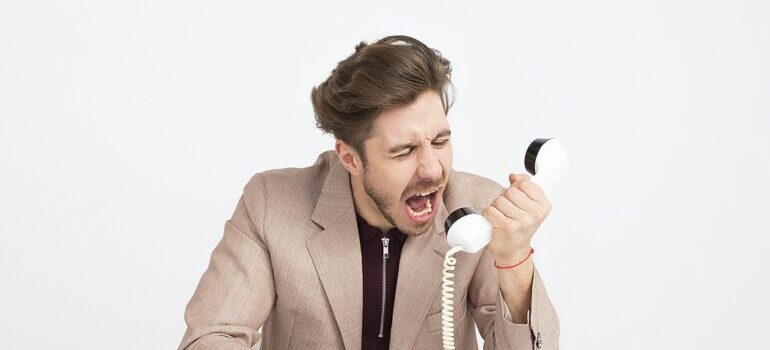 4. Offer to find the solution to the problem
An apology is a good way to start handling the fallout. But apology alone might not be enough for your customer. Therefore, be ready to go the extra mile to resolve the conflict with your client. Offer the solution, and work with the customer until you find a common ground. After the problem has been resolved, you can even kindly ask the customer to remove the negative review or to update it with the new experience.
5. Don't use the review website to pursue the issue
Unless you want to give other potential clients a show, you should always aim to take the discussion offline. Many review sites have the option to contact the person who made the post directly, either via the client on their website or through an email. And you should do that immediately after posting your answer. That's right, let people see that you're willing to work toward the solution.
6. Accept the criticism
Every review is a positive review – even when it's negative. It will give you valuable insight into the functioning of your own company. And you should use it to your advantage. Therefore, take the time to read through the reviews. Pay close attention to repeating complaints. If too many people express their discontent with the same thing, it can be a good sign that something isn't clicking the way it should. Focus your effort to improve that specific aspect of your services, and you will surely increase customer satisfaction and reduce the number of complaints.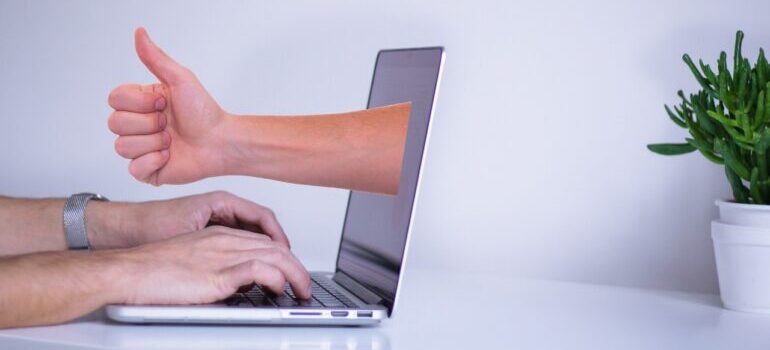 7. You can demand fake and defamatory reviews to be taken down
Not all reviews are constructive criticism, nor are they all genuine. As mentioned, everyone can leave a review. Competitors can stoop so low as to try and defame you publicly, via a review website. Or someone can do it just for fun. Yes, unfortunately, some people derive a sick sense of pleasure by vilifying random people/companies. When you come across such a review, you can demand from the website to take it down. Most of the time it will be a direct breach of the Terms of Service Agreement, and moderators will remove it.
Customer reviews can be a powerful tool
Tracking your online presence can only be beneficial to your company. Therefore, dedicate a few minutes each day to read the reviews. Use Verified Movers' tips to handle the negative reviews online, note down the positive ones, and don't hesitate to contact us if you need help or advice. In the long run, both will go toward the improvement of your business.