Going through a cross-country move can be a tough task. Something always seems to get broken, damaged, or lost. You don't want to end up damaging walls and doors because of bulky and heavy furniture pieces. Avoid all injuries and damages by hiring one of the reputable cross country moving companies Maine. Your move doesn't have to be stressful and filled with anxiety. And, with the help of Verified Movers, you can ensure that you have the perfect moving team at your side. Even if you change your mind and decide to move within the borders of Maine, we'll be more than happy to provide you with all the information on long distance moving companies Maine. So, head out to our platform today and find a team that's truly worthy of your trust!
Whether you are having a commercial or residential move, opting for moving assistance is a smart idea. Cross country relocations are challenging, and in the least bit for the distance you have to travel. Every moving process carries with itself certain unpredictable instances only the professionals can deal with in the most adequate way. For any novice, they would prove to be too much to handle. With that in mind, Verified Movers strongly advise that you take a look at our database, and check out the cross country moving companies Maine. These experts will make sure your relocation is a smooth process, and you will enjoy this big step in your life – as you should.
Is it expensive to relocate out of Maine with professionals?
A professional move won't break your budget. As long as you get a hold of reputable interstate moving companies in Maine, you won't overspend. When it comes to the exact price, that's really difficult to know. The cost of relocation depends on so many things, so we'd need a few details in order to give you the most accurate price. Luckily, you can share these details with us and we'll provide a free moving quote that will help you plan your moving budget better. Also, seeing a few examples won't hurt either, so make sure to take a look at the average prices for relocations between Maine and several other states.
Moving from Maine to New Hampshire; $1,800 – $3,400
Moving from Maine to Massachusetts; $1,900 – $3,500
Moving from Maine to New York; $2,000 – $3,700
Moving from Maine to South Carolina; $3,100 – $5,400
Moving from Maine to Texas; $3,500 – $5,900
How to pick the right interstate moving company in Maine?
Let's start at the top. First, you will need some time to plan and prepare for your upcoming move. Moving across state lines can be hard. But, preparing for such relocation can be just as complicated. And that is exactly why you need some professional assistance. Assistance Verified Movers and its team can provide you with. And with pleasure. We are here to help you move with a smile on your face. And no, it doesn't matter if you are planning on moving to or from Maine, we'll be here to help you out. For starters, we want to show you a few steps for choosing a moving company to relocate with. Of course, we'll get into more detail about these steps too.
Your safety comes first – Make sure to choose interstate movers Maine who are fully licensed and properly insured.
Think about your needs – Every moving company is different, and that is why you need to know what to look for from the very beginning.
Looking for online moving reviews.
Explore your options. (moving date, moving expenses, …)
How to check if cross country movers Maine are licensed?
Maybe it sounds like big research that will take hours to conduct, but this is really not the case. Checking if a company is licensed doesn't take more than a few minutes. The first thing you need to know is that interstate moving companies from all states are regulated federally rather than locally, which is the case with long distance and local moving companies. So, all the info you need about licensed professionals can be found at the Federal Motor Carrier Safety Administration. Also, these companies need to obtain the necessary permits from the US Department of Transportation. It really won't take too long for you to check this, and it's extremely important that you do it to avoid different kinds of moving scams.
Cross country moving companies Maine reviews: Why is reading these testimonials so essential?
We often emphasize the importance of reviews, and there's a good reason for that. Hearing about the experiences that other people had with certain movers gives you a clear picture of what that company is like. Of course, not every review is to be trusted, as some companies often try to mislead people by posting fake reviews. But, we have a solution. Verified Movers reviews is the place where you can find cross country moving companies Maine reviews, but not only that, we're also checking each and every individual review for legitimacy, ensuring that only honest comments remain on our platform. So, feel free to use our platform to browse through these testimonials, and of course, pick a company that has a good overall rating.
Moving services
As we have mentioned before, there are many cross country moving companies in Maine, but only a few of them can satisfy your moving needs, wishes, and criteria. This is simply because every relocation is unique in its own way. After all, every person has their own specific needs, and they need a company that can take care of them. That is why you need to know what to look for before you even start looking for interstate moving companies in Maine. Here is a brief introduction to the services that movers from Pine Tree State are offering-
Basic moving assistance options
Residential moving – assistance with household relocations
Commercial moving – assistance with business relocations
Storage services – providing customers with a safe storage space where they can store some of their belongings temporarily
Packing and unpacking services – expert assistance with the most time-consuming moving tasks
Furniture moving – interstate movers Maine can give you a helping hand with the relocation of your furniture, which is often one of the most physically-exhausting tasks.
Special moving assistance options
Fine art crating
Fine art shipping and handling
Auto shipping
Senior moving assistance
Piano moving assistance
Billiard table moving assistance
Hot tub moving assistance
And that is not all. This is only something to give you an idea of what you can expect. So, be patient and browse our database until you find the company that offers everything you're looking for. Considering how many movers our database has, finding the right team shouldn't be a problem. Remember, moving across state lines can be difficult and time-consuming. Therefore, it's very handy to have one of the reputable cross country moving companies Maine on your team.
The duration of a cross country move
Well, regardless of which state you're moving to from Maine, you probably don't expect the relocation to be done overnight. Considering that this is a long distance trip in every sense of the word, it's natural to expect the whole journey to last much longer than a local move. But, it's possible that your cross country move will last shorter than you think. For example, on average, it takes between 15 and 20 days for an interstate move to be completed. But, if you're moving to some other state in New England, the whole thing could be over in less than 2 weeks. On the other hand, if you have the relocation all the way to the West Coast in mind, then your move could easily last around a month. One thing is sure, reputable cross country movers Maine will try to deliver your belongings as quickly as they can.
Verified Movers will help you find reliable moving assistance
One thing we established is that the experts in interstate moves can do all the hard work and heavy lifting for you. Also, if you want, they will even pack up your things, and unpack them at your new home. So, let Verified Movers help you find reliable cross country movers in Maine you can trust with your belongings and valuables. There are many cross country moving companies in the Pine Tree State, and finding the right one can be tricky business. After going through the search for them, you will have to compare all the services they offer, as well as their estimates, and have faith in their honesty and integrity. Or, you can turn to Verified Movers, and make your quest that much easier.
We have gone through the trouble of finding, and sorting interstate moving companies Maine, and listing all the important information on their service and customer support. That being said, our database will not only show you the company's info but also customers' reviews, providing you with a unique insight into their work, that will greatly facilitate your search.
One other thing we need to mention is that we can share some advice with you, of course if you need any. We studied the ins and outs of the moving process in order to give you the complete picture. While we specialize in stuff related to moving companies, we're also very familiar with other tasks that the relocation process brings. Therefore, we're also familiar with solutions to such issues, and we're sharing them via Verified Movers blog. It's a part of our platform that, like the rest of it, is incredibly user-friendly and easy to navigate, so feel free to check it out.
When is the best time to leave Maine?
Now, this is a very tricky question, simply because the weather is always unpredictable. We can pinpoint one month or one date and say that you should definitely move then. But, we can discuss Maine's climate in general, and once we take a look at it, it's pretty obvious that summer is the most pleasant season for relocations in the Pine Tree State. The issue with summer moves is that they are most expensive since interstate movers in Maine have most work up their sleeves throughout this period. Nevertheless, if a slight difference in price doesn't concern you, schedule your move for summer and enjoy the relocation.
To be fair, maybe it's a bit more complex than that. For example, you should also take into account the weather in the state you're moving to. People who are moving from Maine to Arizona, or Florida, may not have the best time unpacking and settling in during summer due to very high temperatures in those states. So, that's one thing to keep in mind. And, as you probably know, Maine does get quite cold during the winter, which is why we usually suggest avoiding winter when leaving Pine Tree State.
The assistance of interstate moving companies Maine is much-needed when relocating your business
If you're a business owner looking to relocate your business across the country, then you're probably already aware of so many tasks that are coming your way. No need to be scared though, we're sure that you planned it well. But, we must mention that you should really have interstate movers Maine by your side during this transition. With so many other things to take care of, dealing with the transport of your office material is simply the last thing you need. You can focus on obtaining all the licenses you need to register your business in a new state. The State of Maine Bureau of Corporations regulates businesses in the Pine Tree State, but once you move elsewhere, you'll have to find the agency that's responsible for this matter in that state.
DIY move: advantages and disadvantages
If you're still considering the do-it-yourself option, here's what you need to be aware of. Let's start with the upsides. Well, truth be told, there is only one true upside, but it's a big one. DIY moves are less expensive than professional moves. But, this is maybe more beneficial during the local move. When moving across the country, a DIY move will not be a cheap endeavor. Nevertheless, it will be less expensive than a professional one. The problem is, everything else is easily in favor of relocations assisted by cross country moving companies Maine.
Once you get in the hands of true professionals, the moving journey is truly a breeze. You won't have to worry about the safety of your goods, because interstate movers Maine will take the best care of them. The whole process will last shorter, which is certainly another benefit. And, obviously, there will be a lot fewer tasks for you to do, giving you the opportunity to actually enjoy your moving adventure rather than anxiously waiting to get it over with. These are the reasons why, in our eyes, professional moves with cross country movers in Maine are much better than DIY moves. However, if you still decide to go without the assistance of the experts, check out a few articles on DIY relocations on our blog.
Frequently asked questions
You've probably noticed by now that relocations really aren't that simple and that there are many topics to cover. This is why, naturally, people have many questions about it, especially when it comes to moves with interstate moving companies in Maine. So, in this section, we'll answer a few of the most common questions.
Which items aren't welcome in the moving truck?
If you thought that cross country movers in Maine will relocate every one of your items, that's unfortunately not true. For safety reasons, some items aren't allowed in the moving trucks, and some of these items are:
Fireworks
Ammunition
Nail polish remover
Oxygen bottles
Pool chemicals
Matches and lighter fluid
Gasoline/kerosine
Paint
Plants
Which moving insurance options are available when moving with cross country movers Maine?
Usually, cross country moving companies in Maine will offer three types of moving insurance that are differently priced based on their coverage.
Full value protection
Released value coverage
Separate liability insurance
How far in advance should I get in touch with movers?
There's no exactly right or wrong here because it's very circumstantial. What we can advise though, is to call interstate movers Maine as soon as you can. One month in advance is probably an ideal period to do so.
Can I file a complaint in case something goes wrong?
Besides leaving a bad review, you can actually file a complaint formally, and it's highly encouraged that you do that if you think you've been a victim of moving scam. Of course, even if you simply aren't happy with the outcome, you're free to file a complaint. You can contact Federal Motor Carrier Safety Administration (FMCSA) or the Better Business Bureau (BBB).
What is a binding moving quote?
We mentioned free moving quotes a few times so far, and they are estimates that aren't binding. However, a binding estimate is completely different, and it means that you're required to pay the price listed in the estimate. This is a final price you agree on that won't be prone to changes later on.
There aren't too many people who are leaving Maine
Even though many states in New England are really struggling to keep residents, Maine is definitely an exception. Maine had 54% inbound moves in 2022. It became one of the top contenders for welcoming people who are leaving the most expensive cities and states on the East Coast, most notably New York City, and Boston. Why is Maine so appealing? Well, Pine Tree State is truly a beautiful place to live in. With plenty of outdoor recreational opportunities, low pollution, and greenery all over the place, these are mostly the reasons why Maine attracting movers over the years. It's worth mentioning beach towns as well, and for a while now, Maine has been one of the best places for retirees.
However, nowadays, people are primarily moving to Maine due to the low cost of living. While Maine isn't among the least expensive states in the country, it is one of the least expensive states in this part of the USA. With a cost of living 5% lower than the nation's average, Pine Tree State is one of the most affordable places in New England, which is enough of a reason for many people who are living in the expensive states nearby to give Maine a chance. The tax burden is also fairly low compared to most of Maine's neighbors. As you can see, there are many benefits of living in Pine Tree State, so before we jump to its disadvantages, let's dig a little bit deeper into Maine's inbound moves.
Massachusettsans are flocking to Maine, but New Hampshirites and Connecticuters are very keen on moving here as well
The state that sends the most people to Maine pretty much every single year is Massachusetts. Sometimes, New Hampshire takes over the top place, but this hasn't been the case for a while now, at least not since the pandemic started. As soon as we witnessed the outbreak of COVID-19, moving from Massachusetts to Maine was firmly established as the most common route that involves Maine as the destination. Considering that Massachusetts is 26% more expensive than Maine, it's really not hard to see why this relocation is so common. Over 15,000 people relocated from Massachusetts to Pine Tree State since the pandemic started. Needless to say, most of them came from Boston, since there are tens of thousands of people leaving this city every year. Portland welcomed over 1,000 people from Boston last year, which makes this the most common route between cities of these two states.
As Maine's closest neighbor, New Hampshire simply had to be on this list. There are many people moving from NH to Maine and vice versa simply because of their closeness. Both states are fairly similar in what they're offering, although Maine is slightly less expensive. The Pine Tree State welcomed around 6,000 New Hampshirites last year. Moving from Manchester to Portland is the most common relocation here, in terms of routes between the cities. Around 300 people went on this move last year, and it's mostly within that range of 200 to 500 people a year.
Finally, we have Connecticut close to the top. One would've thought that we'll discuss New York before CT, and indeed, NY is not far behind. But, Connecticut did take the third place in Maine's inbound list, and it did so because almost 5,000 Connecticuters opted for Maine in the past twelve months. The main reason is surely the huge gap in living costs as Connecticut is 20% more expensive than Maine. However, there are many routes with almost an equal number of moves here. Moving from Bridgeport to Portland is in first place with around 200 moves a year, but there are many more routes with over 100 relocations a year.
What are the main motives for leaving Maine?
Although there aren't many people who are leaving Maine, some still decide to pack up their things and move elsewhere. One could wonder why is this the case since there are so many people moving and planning on moving to Pine Tree State. Well for starters, Maine isn't among the best states in terms of job growth. While there are still enough job opportunities here, predicted job growth is at a very low rate, actually among the lowest ones in New England. Additionally, some people may not be fans of Maine winters which can be quite harsh.
It's also worth noting that young people are looking to pursue their education, and jump-start their professional careers in other states, feeling that Maine doesn't provide them with enough opportunities. You simply can't argue that there are more opportunities in cities like Boston and NYC, as well as their respective states, even further down south with Philadelphia or even Washington DC. While Main remains a wonderful state for retirees and families looking to live a peaceful life, it's a fact that this state is not suitable for everyone. That's why interstate moving companies in Maine are helping thousands of people relocate out of Pine Tree State on a yearly basis. Some states are especially appealing to Mainers on the move, and in the following section, we'll find out exactly which states are attracting the most Mainers.
Preferred destinations for Mainers on the move
It won't surprise you that Massachusetts is easily the first state here. Being very close to Maine, with the appeal of the famous Boston that brings so many career and educational opportunities, Massachusetts is really an obvious choice for every Mainer that decides to leave their state. Over 5,000 Mainers relocated to Massachusetts last year, and more than half of them went to Boston. Almost every common route includes the "Beantown", and here are the most frequent ones. Moving from Lewiston to Boston is quite popular with around 100 relocations a year. The same goes for moving from Auburn to Boston, with almost the same number of relocations. However, by far the most common route was from Portland to Boston, and the number of moves here often exceeds 500.
When it comes to the second most moved-in state from Maine, it's a bit surprising. Florida welcomed more Mainers in 2022 than any state in New England, apart from Massachusetts. Moving from Maine to Florida has been incredibly popular in the last five years. The Sunshine State is attractive to movers from all over the country, and Mainers couldn't resist its appeal. While there is some distance between these states, that didn't stop over 4,000 Mainers from completing this relocation. Low taxes, much warmer weather, similar cost of living, and an abundance of opportunities are the reasons why so many Mainers went all the way down south. Almost 300 people went from Portland to Miami, which makes this the most frequent route between the two states.
Finally, the neighboring New Hampshire sneaked into the top 3. It wasn't much behind Florida, attracting almost 4,000 Mainers last year. The most common route was from Portland to Manchester, but with only about 150 relocations in the last twelve months.
Cross country moving companies by cities in Maine
Check out our platform, and find a team of interstate movers Maine that suits you perfectly
With reliable cross country moving companies Maine taking care of your moving process, you will get to enjoy this big change in your life every step of the way. Verified Movers are here to help you find the assistance you need, and see that this, otherwise stressful period, goes by in a smooth and swift fashion. You will always have an ally in us, and we'll be more than happy to give you as much info as possible on moving companies in Pine Tree State to help you make the best possible decision. So, make sure to visit our website today, and a seamless moving experience will be just around the corner.
Facts About Maine
01. Main Information
Popular Cities
Portland, Bangor, Augusta, Lewiston, Bar Harbor
US Senators
Susan Collins, Angus King
State Website
State Moto
I Lead, I Guide, I Direct
State Nickname
The Pine Tree State
02. Geo Population
Total Population
1,393,442
Highest Elevation
5,270 ft
Lowest Elevation
Sea level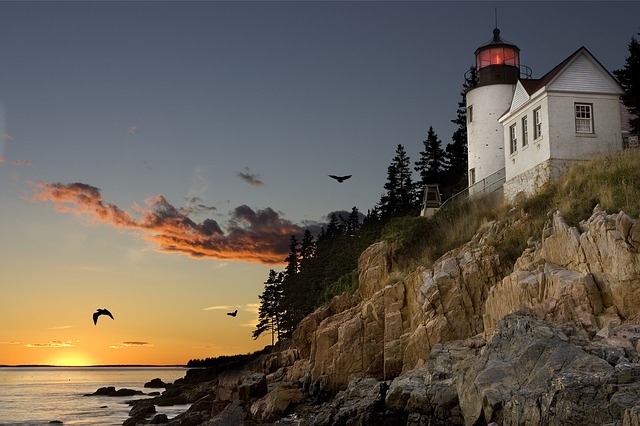 03. Education
Top 5 Elementary Schools
Waynflete, Berwick Academy, Conners-Emerson School, Pond Cove Elementary School, Mt. Desert Elementary School
Top 5 Middle Schools
Waynflete, Berwick Academy, Conners-Emerson School, Cape Elizabeth Middle School, Mt. Desert Elementary School
Top 5 High Schools
Maine School of Science & Mathematics, Waynflete, Gould Academy, Berwick Academy, Yarmouth High School
Top 5 Colleges
The University of Maine, Colby College, Bowdoin College, Bates College, University of New England
04. Rates
Crime Rate
12.79 (per 1,000 residents)
Average Income (household)
$63,182