Home to thriving and exciting cities, Maine has plenty of reasons to attract families. Even though not the most diverse state in terms of language and ethnicity, Maine is economically wide-ranged. There are plenty of wealthy retirees in the state who are long-time residents. And from time to time, we all need a change of scenery, especially when that change helps us explore Pine Tree State. So, what can one do then if not contact long distance moving companies, Maine? Some people are even deciding to leave this state altogether, so if that happens with you, know that we can point you to both long distance and cross country moving companies Maine. You can rely on Verified Movers over the course of your moving process, so make sure to visit our website!
Be it local or long-distance, every relocation is easier with professional movers helping you out. Howbeit, while a local move is something you might be able to take care of yourself, long-distance relocations are trickier in that regard. The bigger the distance, the greater the challenges along the way will be. With that said, we honestly advise that you get in touch with reliable long distance moving companies Maine, and ensure your move is a smooth and successful process. Verified Movers is here to help you make the right choice in your moving assistance. Check out our platform for all the information you may need for your search.
Do you need an intrastate or an interstate move?
Before you get into any details about moving companies and start learning about different ways they can assist you, how to identify reputable individuals, etc., you need to be certain about which kind of relocation you want. If you already are certain, then you can maybe skip this short section. But, the truth is, people often mix up intrastate and interstate moves, so it's really worth reading just to be 100% sure what you need. While long distance relocation is the one that goes beyond 50 miles, the type you need depends solely on the destination.
Interstate long distance moves
Interstate moves, often called cross country moves, involve 2 or more states. It, quite literally, means moving across the country, and it always refers to moves where people leave their current state. So, if you ended up here and your idea is to leave Maine, then feel free to browse for cross country movers in the Pine Tree State on our platform. Verified Movers can always help you out with that.
Intrastate long distance moves
So, we needed to be sure you don't need a cross country move in order to proceed. Now, assuming you're looking to move across Maine, you're definitely in the right place, and make sure to stay tuned. We'll discuss long distance moving companies Maine here, trained professionals who can help you move within the Pine Tree State. You'll find many useful pieces of information on Maine movers here, but first, we'll mention moving trends in this state, and see if there are actually more people staying in Maine or if Mainers are looking to leave it.
What makes people stay loyal to Maine?
Each year individuals and families, young and old relocate to the State of Maine. To be fair, that's true for most states. However, what makes Maine special is that Mainers are mostly deciding to stay in the state. Why? Well, for the benefits of the state's safe towns and cities, good schools, welcoming communities, and recreational opportunities. The fact of the matter is almost nothing is difficult to reach here. You have everything you need in Pine Tree State. You can experience a classic urban life or you can choose to live in a rural location and commute to a job in a commercial center. And, of course, you can also settle down somewhere where you can walk or bicycle to work. The decision is totally up to you.
And, one enormous benefit of living in Maine is that the cost of living here is lower than anywhere else in New England. In fact, it's even lower than the USA's average, by 3%. If you're interested in more details about the positive moving trends in Pine Tree State, here is a number that will explain it perfectly. Maine had 54% inbound moves in 2022, making a significant inbound-outbound gap. We'll briefly mention the states that sent the most people to Maine last year, and then, we'll discuss cities in Maine as well as their attractiveness to Mainers.
Massachusetts
New Hampshire
Connecticut
Florida
North Carolina
High living costs in Portland resulted in the loss of interest for this city among Mainers
Portland is the largest city in the Pine Tree State, but that didn't stop negative moving trends from coming its way. Truth be told, once you look at the whole picture and add the out-of-staters to the equation, Portland's moving trends are actually positive. This is mostly due to a huge inflow from the most expensive metro areas on the East Coast, most notably Boston, but NYC as well. Portland is in a much better situation than these cities. Nevertheless, Mainers are not very keen on moving here nowadays, especially with the economic consequences of the pandemic that the whole world is dealing with at the moment.
The reasons for this are quite the high living costs in this city. Portland has a cost of living of 12% higher than the nation's average, and 15% higher than the Maine average. That alone is a big gap, showing you that Portland isn't quite easy to afford. But, the fact that Mainers are opting for some other cities is even more logical when you see their cost of living. Don't worry, we'll get to that as well in the upcoming sections. For now, we want to show you what moving trends in Portland are like when you compare them with the two other largest metro areas in Pine Tree State.
People from Portland, as well as South Portland, have Boston, MA as their first moving choice. But, that's something that cross country movers are dealing with. We'll focus on cities in Maine, and Lewiston is the most moved-in city in ME from Portland and the second most common choice overall for people from Maine's largest city. With almost 1,000 relocations in this direction last year, it's clear how popular Lewiston is. We also have a lot of relocations from Portland to Bangor, around 200 to 300 a year, and last year was no exception. However, as you can see, that's nowhere near as close as the number of moves from Portland to Lewiston, the most common moving route in the whole of Maine.
Lewiston and Bangor are extremely affordable, which encourages thousands of Mainers to move to one of these cities
There aren't many affordable cities in New England, as you probably already know. But Lewiston and Bangor are truly among the rare ones. Living costs here are extremely low when you compare it to nearby cities, even to the Maine average. For example, the cost of living in Lewiston is 15% lower than the nation's average, and around 10% lower than Pine Tree State's average. Considering the opportunities Lewiston provides, which are plenty for a city of this size, this is a great deal, and no wonder why so many Mainers are moving here, and not many are leaving the city.
We already mentioned that Lewiston welcomed almost 1,000 people from Portland last year. However, what's interesting is that only around 500 people went in the opposite direction. That speaks a lot of how content people are with life in Lewiston. Now, we don't want to neglect Bangor, nor do we have any reason to do so. The route between Lewiston and Bangor sees almost the same number of moves in both directions, which is anywhere from 100 to 200 a year. However, like Lewiston, Bangor also gains a lot of residents from Portland, and it's clear why. Bangor is actually even easier to afford than Lewiston, with a cost of living 20% lower than the nation's average.
Expected cost when moving long distances across Maine
Needless to say, long distance moves cost more than local moves. With more work, more fuel, and more additional expenses, the price rises as the distances become longer. However, don't worry because you may actually be positively surprised. But, bear in mind that distance isn't the only thing affecting the price of your move. You will be charged, for example, by the weight of your total shipment, special services you hire long distance movers Maine for, etc. So, it's tricky to predict the price without knowing those details. That's why we'll give you an average price for relocations over some frequent routes in Maine. Still, make sure to grab a free moving quote on our platform.
Moving between Portland and Bangor; $650 – $1,850 (129 miles)
Moving between Portland and Lewiston; $350 – $1,300 (35 miles)
Moving between Lewiston and Bangor; $600 – $1,800 (107 miles)
Moving between Auburn and Bar Harbor; $700 – $1,900 (153 miles)
Why do people need long distance moving companies Maine?
Maine holds a spot on the list of the top 10 healthiest US states. Public trails, land preserves, and access to rivers and lakes make it easy to enjoy the state outdoors. With the general and specialized care Maine hospitals provide, it's no mystery why older people choose to spend their retirement years here. In fact, the quality of life and the quality of place that historic districts and vibrant communities of Maine offer will leave you speechless. As Maine has plenty to offer to all ages, people like to stay here. So, when people want to change the environment, they mostly stay in Pine Tree State and switch their city of residence. And that is where long distance moving companies can help. With their expertise and diligence, relocations are handled in a swift and efficient manner.
Besides the safe transfer of your items, top movers can provide you with additional services
If you're moving for the first time, or, to be precise, if you're moving with professionals for the first time, you may actually be surprised when you see their whole offer. No, it's not just about the transport of your belongings. Relocating with long distance moving companies Maine is truly a lot more than that. You can enjoy many different services that'll be provided to you if you need them, so let's see some of the most popular ones:
Residential moving (local, long distance, cross country, international)
Commercial moving (local, long distance, cross country, international)
Furniture moving
Storage services
Senior moving
White glove moving
Packing services
From packing & unpacking services to transportation and various storage options – Verified Movers can help you find the company you're looking for. No matter how large or small your move is, we have some of the best long distance moving companies Maine in our database, so rest assured you're in the right place. Also, this is just the beginning in terms of moving services available.
Long distance movers Maine can deal with the relocation of the most delicate items
While a few services we mentioned above were some of the most common ones, professionals can help you out with many other assignments. For example, people tend to struggle when it comes to moving certain items that are delicate in nature. They can be delicate due to their value, fragility, bulkiness, etc. Whichever the reason for this is, they are heavy to move, and long distance movers in Maine are ready to help you out with it. Below, you'll find just a few examples of these specialty item moving services:
Piano moving
Fine art moving
Pool table moving
Antiques moving
Once you know all the services you want, it's time to find a reputable company that provides them
Here, we're going to talk about the process of hiring movers, or better yet, understanding which companies are worthy of your trust. There are plenty of honest and professional long distance moving companies Maine, but unfortunately, there are also some who are looking to scam their customers. That's why you always need to be on the lookout for these fraudulent relocation companies, and carefully follow the few steps we give you in order to stay clear of scams. Without further ado, let's see what can you do to make sure that your movers are trustworthy.
Local and long distance moving companies in Maine don't have to be licensed, which is why you need to be extra careful
Surely one of the best ways to understand if a moving company is honest and legit is by checking whether they have the necessary permits or not. But, if a certain company wants to help people relocate across Maine, transporting their belongings in their trucks, they don't need any moving permit for that. So, if you wish to see if long distance movers in Maine you're considering are legit, you'll have to do it another way. Of course, long distance moving companies have to register as a business, but no additional permits are required.
Use Verified Movers reviews for useful information on moving companies from the Pine Tree State and the whole of the US
Moving reviews are very important, even in the state where movers have to be licensed. It's still worth taking a look at these testimonials. However, in the case of Maine, where movers don't have to be licensed, at least not the long distance movers, the importance of reviews is enormous. For all additional information, on the company's ways of conducting business, their offer, the speed and efficiency of their services, and many more, make sure to take a look at Verified Movers reviews. Why? We simply offer one of the richest selections of long distance moving companies Maine reviews combined with a user-friendly platform you'll find very easy to navigate. So, don't wait and check out the reviews on our platform right away!
With Verified Movers by your side, your moving process will be simpler and more efficient
Verified Movers is here to show you everything your long distance relocation needs to be as comfortable and as easy as possible. Planning is caring, so we will match you with some of the best long distance moving companies Maine from the very start. Once you decide on a particular moving company, they can have a representative come to your home or office. They will be equipped with all the knowledge and tools that a fast and effective relocation in Maine needs. Just make sure to do some research and pick a reputable company. And, the best thing is, you can do such research easily by reading company profiles and Verified Movers reviews.
The residential or commercial moving companies you can find on our platform offer a variety of services to help conduct your relocation. In case you decide to pack by yourself, Verified Movers will reveal some packing secrets that might help you out. And in case you have no room in your new home, rest assured that, here, you can find long distance moving companies Maine who are offering some great storage options in quality facilities. Simply put, Verified Movers will be here to assist you in different parts of your moving journey, and all that with one goal in mind – helping you relocate smoothly, safely, and without any unnecessary stress.
FAQ
For people who are moving for the first time, there are certainly more questions than answers. That's why we are trying to cover every part of a professionally-assisted move with the intention of giving you the clearest picture of what you can expect. And, that's exactly what this section is here for, providing you with answers to some of the most commonly asked questions.
Are relocation prices prone to fluctuations throughout the year?
As a matter of fact, they are, mostly due to higher demand. For example, in Maine, most relocations are happening in the summer, July especially. This is the season when you'll pay the most for a move assisted by long distance movers in Maine. If you want to go with the cheapest option, that would be winter, but beware of the unpleasant weather conditions that usually follow this season.
Does it take long to complete the relocation across Maine?
Relocations across Pine Tree State are usually very quick, and they are completed in about 10 days. Of course, your long distance movers in Maine will tell you exactly when you should expect the arrival of your belongings.
How far in advance do I need to schedule my move?
Well, the relocation is all about preparations and being in charge of everything that's happening around you. Therefore, if you have the option of booking the services of long distance moving companies Maine well on time, you should go for it. One month in advance would be ideal, but you can do it even before that.
Is there anything I can do while movers are working?
Well, it's always good to be around them and see if they need anything throughout the process. But, for the majority of the process, you won't have to do anything. You will be able to relax while long distance movers Maine deal with the transport of your items.
What is the white glove moving service?
The most important thing movers can help you with is the safe transfer of your belongings. And, that's what you'll get in every scenario. However, if you want the professionals from Pine Tree State to deal with all the other tasks that are strictly moving-related, ask for white glove movers. This is a full service move that comes at a higher price, but it's well and truly worth it.
Here are some things people usually forget when moving
It does not matter how organized you are, relocations are particularly hectic and stressful. This makes all of us especially susceptible to making a mistake or forgetting something. Don't beat yourself up about it, as moving mistakes and problems can happen to anyone. Still, here is some advice on is how you can prevent them, and a few things your moving checklist should have:
Cancel memberships. Or – transfer them. And on time. (library, gym, magazine subscriptions, etc.)
Transfer your kids' school records and find them a new school on time.
Talk to your little ones and prepare them for the move. Make them feel like a part of the process.
Gather important documents, organize them and then make backups.
Find a new house and a new job before your long distance move. Both of these things can take some time, and it is always better to come prepared.
Notify your employer of your move.
Also, notify state agencies and service providers of your move.
Prepare your vehicle for the move.
Visit your pet's vet and check if your furry friend is ready for the relocation.
Sort your belongings and say goodbye to everything you don't need or use anymore.
How to save money on your long distance move?
Relocations usually aren't cheap, but there are definitely some proven ways to save money when moving. For starters, you need to hire one of the reputable long distance moving companies Maine. Reputable movers in Maine are experienced, properly insured and professional. Just what you need when moving long distances. This way you won't only avoid common moving mistakes and scams that can cost you a lot of money, but you will also avoid having to pay extra fees and hidden costs. Once you made sure there won't be any hidden costs involved in your move, it's time to look for other ways to save some money.
Consider purging your belongings
This simple act will not only lower your moving costs but also ensure your new place is filled only with the items you truly need. A truly fresh start you have been looking for! What you need to do is sort your belongings and make an inventory list. If you don't need a certain item, it is time for you to part ways.
However, while you can donate or toss the belongings you no longer have use for, you can also consider throwing a yard sale. This is a great way to make some money along the way. After all, you know what they say: one's man's trash is another man's treasure. You can organize a garage sale in Maine prior to your moving day and make your long distance relocation much easier. You will not only make some money by selling your items but also save some money because you won't need as many packing supplies as you needed in the beginning.
DIY vs relocating with professionals
Moving is a complex process, often containing plenty of unpredictable circumstances only the professionals can deal with. Simply put, sometimes, you can never know what's going to happen next. However, long distance moving companies Maine can successfully deal with these challenges. On the other hand, if you decide to move DIY, there will be a lot of work, with no guarantees of a successful outcome. That's probably the worst part about these moves. You can put in so much work and energy in order to complete it, and something could still end up broken or lost.
That's why it's much better to have professionals by your side and ensure a smooth transition. Don't forget that there will be still some things for you to take care of, but they aren't heavy physical tasks. It mostly revolves around taking care of the documents and stuff. And, just imagine if you had to deal with loading, unloading, and transporting the whole household on top of these other tasks. That's why we always recommend moving with professionals, which is practically a way of looking out for yourself and your safety.
Long distance moving companies by cities in Maine
Before we wrap things up, we wanted to help you narrow down the choices even more, and save you even more time with the upcoming move. As you can see, we sorted long distance moving companies in Maine based on the city they're operating in. So, instead of looking at all companies that operate on the soil of Pine Tree State, now you can search for those that are practically in your neighborhood.
Have a smooth and stress-free move with the help of Verified Movers
All you need for a simple move is reliable, experienced, and efficient assistance. That is why we are here. With our assistance, you will be able to find the moving company that perfectly suits your needs, possibilities, and preferences. And, with such a moving team at your side, you can rest assured that your moving process will be a smooth and simple ride. Meanwhile, you can focus on preparations for starting the new chapter of your life in the other part of the Pine Tree State you have chosen. If you need any advice on other moving tasks, feel free to visit our blog where we shared some expert moving tips. So, in order to find some of the best long distance moving companies Maine who are ready to rise to the occasion, check out the Verified Movers platform!
Facts About Maine
01. Main Information
Popular Cities
Portland, Bangor, Augusta, Lewiston, Bar Harbor
US Senators
Susan Collins, Angus King
State Website
State Moto
I Lead, I Guide, I Direct
State Nickname
The Pine Tree State
02. Geo Population
Total Population
1,393,442
Highest Elevation
5,270 ft
Lowest Elevation
Sea level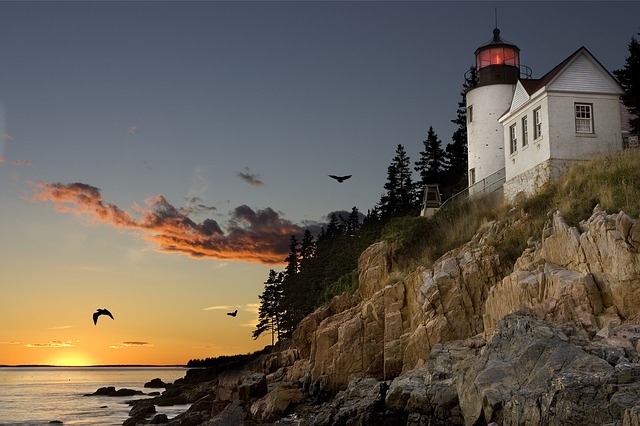 03. Education
Top 5 Elementary Schools
Waynflete, Berwick Academy, Conners-Emerson School, Pond Cove Elementary School, Mt. Desert Elementary School
Top 5 Middle Schools
Waynflete, Berwick Academy, Conners-Emerson School, Cape Elizabeth Middle School, Mt. Desert Elementary School
Top 5 High Schools
Maine School of Science & Mathematics, Waynflete, Gould Academy, Berwick Academy, Yarmouth High School
Top 5 Colleges
The University of Maine, Colby College, Bowdoin College, Bates College, University of New England
04. Rates
Crime Rate
12.79 (per 1,000 residents)
Average Income (household)
$63,182