Home to the thriving and exciting cities such as Portland, Maine has plenty of reasons to attract families. Even though not the most diverse state in terms of language and ethnicity, Maine is economically wide-ranged. There are plenty of wealthy retirees in the state who are long-time residents. And from time to time, we all need a change of scenery, especially when that change helps us explore the Pine Tree State. So, what can one do then if not contact long distance moving companies, Maine?
Cross Country (Interstate) Moving Companies Maine
Be it local or long-distance, every relocation is easier with professional movers helping you out. Howbeit, while local move is something you might be able to take care of yourself, long-distance relocations are trickier in that regard. The bigger the distance, the greater the challenges along the way will be. With that said, we honestly advise that you get in touch with reliable long distance moving companies Maine, and ensure your move is a smooth and successful process. Verified Movers is here to help you make the right choice in your moving assistance. Make sure to check out our platform for all the information you may need for your search.
Why do people need a long distance moving companies Maine?
Maine holds a spot on the list of top 10 healthiest US states. Public trails, land preserves and access to rivers and lakes make it easy to enjoy the states outdoors. With the general and specialized care Maine hospitals provide, it's no mystery why older people choose to spend their retirement years here. In fact, the quality of life and quality of place that historic districts and vibrant communities of Maine offer will leave you speechless.
As Maine has plenty to offer to all ages, people like to move here. And that is where long distance moving companies can help. With their expertise and diligence, relocations are handled in a swift and efficient manner.
Best ways to avoid moving complications with long distance movers in Maine

Verified Movers is here for everything your long distance relocation needs to be as comfortable and as easy as possible. Planning is caring, so we will match you with top long distance moving companies Maine from the very start. Once you decide on a particular moving company, they can have a representative come to your home or office. They will be equipped with all the knowledge and tools that a fast and effective relocation in Maine needs.
The residential or commercial moving companies we recommend offer a variety of services to help conduct your relocation. In case you decide to pack by yourself, we can provide you with expert packing tips. And in case you have no room in your new home, rest assured that we can find you the best storage facilities in Maine.
What makes people stay loyal to Maine?
Each year individuals and families, young and old relocate to Maine. Why? Well, for the benefits of the state's safe towns and cities, good schools, welcoming communities, and recreational opportunities. Your new Maine home could be a:
spacious apartment in a revitalized mill,
restored Victorian house in a quiet seaside town,
the house of your dreams with a white-picket fence and a big yard for your children and pets to play in.
The fact of the matter is that everything is possible in Maine. Choose to live in a rural location and commute to a job in a commercial center. Or settle down where you can walk or bicycle to work. The decision is totally up to you.
Expert long distance moving companies Maine – just one call from a stress-free move
From packing & unpacking services to transportation and storage solutions – Verified Movers can find the best match. No matter how large or small your move, we have the best long-distance moving companies in Maine for the job.
affordable moving estimates,
top-quality supplies and services,
experienced moving veterans and
modern equipment.
Moving advice by long distance moving companies Maine
Moving is a complex process, often containing plenty of unpredictable circumstances only the professionals can deal with. Simply put, sometimes, you can never know what's going to happen next. However, our long distance moving companies Maine are here to help. So, keep on reading and make your long distance relocation simple and easy!
Here are some things people usually forget when moving
It does not matter how organized you are, relocations are particularly hectic and stressful. This makes all of us especially susceptible to making a mistake or forgetting something. Don't beat yourself up about it, as moving mistakes and problems can happen to anyone. Still, here is some advice on is how you can prevent them:
Cancel memberships. Or – transfer them. And on time. (library, gym, magazine subscriptions, etc.)
Transfer your kids' school records and find them a new school on time.
Talk to your little ones and prepare them for the move. Make them feel like a part of the process.
Gather important documents, organize them and then make backups.
Find a new house and a new job before your long distance move. Both of these things can take some time, and it is always better to come prepared.
Notify your employer of your move.
Also, notify state agencies and service providers of your move.
Visit your pet's vet and check if your furry friend is ready for the relocation.
Sort your belongings and say goodbye to everything you don't need or use anymore.
How to save money on your long distance move?
It is easy. All you need is one of our long distance moving companies Maine by your side. Our movers in Maine are licensed, properly insured and professional. Just what you need when moving long distance. This way you won't only avoid common moving mistakes and scams that can cost you a lot of money, but you will also avoid having to pay extra fees and hidden costs.
Consider purging your belongings
This simple act will not only lower your moving costs, but also ensure your new place is filled only with the items you truly need. A truly fresh start you have been looking for! What you need to do is sport your belongings and make an inventory list. If you don't need a certain item, it is time for you to part ways.
However, while you can donate or toss the belongings you no longer have use of, you can also consider throwing a yard sale. This is a great way to make some money along the way. After all, you know what they say: one's man trash is another man's treasure. You can organize a garage sale in your yard prior to your moving day and make your long distance relocation much easier. You will not only make some money by selling your items, but also save some money because you won't need as much packing supplies as you needed in the beginning.
Long distance moving companies by cities in Maine
Have a smooth and stress-free move with the help of Verified Movers
All you need for a simple move is reliable, experienced and efficient assistance. That is why we are here. With our assistance, you will be able to find the moving company that perfectly suits your needs, possibilities and preferences. And, with such a moving team at your side, you can rest assured that your moving process will be a smooth and simple ride. Know that we are here for any questions or concerns you might have, so do not restrain from getting in touch with us. Verified Movers is here for your convenience.
Facts About Maine
01. Main Information
Popular Cities
Portland, Bangor, Augusta, Lewiston, Bar Harbor
Governor
Janet Mills
US Senators
Susan Collins, Angus King
State Website
https://www.maine.gov/portal/index.html
State Moto
I lead, I guide, I direct
State Nickname
The Pine Tree State
02. Geo Population
Area (sq mi)
35,385 sq mi
Total Population
1,354,522
Highest Elevation
5,270 ft
Lowest Elevation
Sea level
Time Zone
Eastern/UTC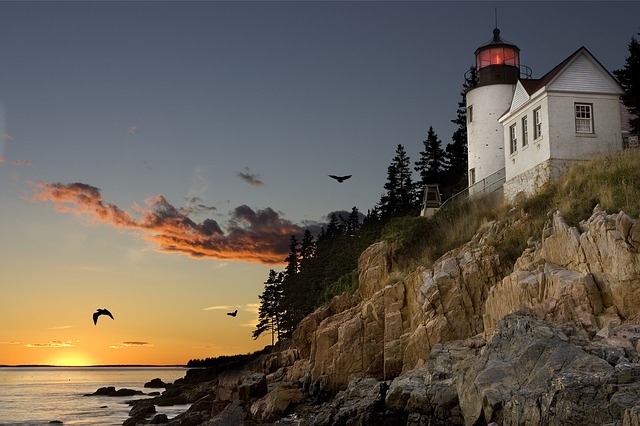 03. Education
Top 5 Elementary Schools
Waynflete, Berwick Academy, Yarmouth Elementary School, Pond Cove Elementary School, Falmouth Elementary School
Top 5 Middle Schools
Waynflete, Berwick Academy, Frank H. Harrison Middle School, Falmouth Middle School, Hebron Academy
Top 5 High Schools
Maine School of Science & Mathematics, Waynflete, Gould Academy, Berwick Academy, Yarmouth High School
Top 5 Colleges
The University of Maine, Colby College, Bowdoin College, Bates College, University of New England
04. Rates
Crime Rate
13.61
Employment Rate
60%
Average Income (household)
$57,918
Poverty Rate
11.79%