With an estimated population of 2,693,976 in 2019, Chicago is the most populous city in the US state of Illinois, and the third-most-populous city in the whole United States. It is also the most populous city in the Midwestern United States. All this indicates that there is going to be a lot of fluidity when it comes to the city's population. Now, in order to best illustrate the picture of who's moving into and out of Chicago, we have gone through some data and presented it all in the following article, where we also point towards some of our conclusions on the statistics at hand.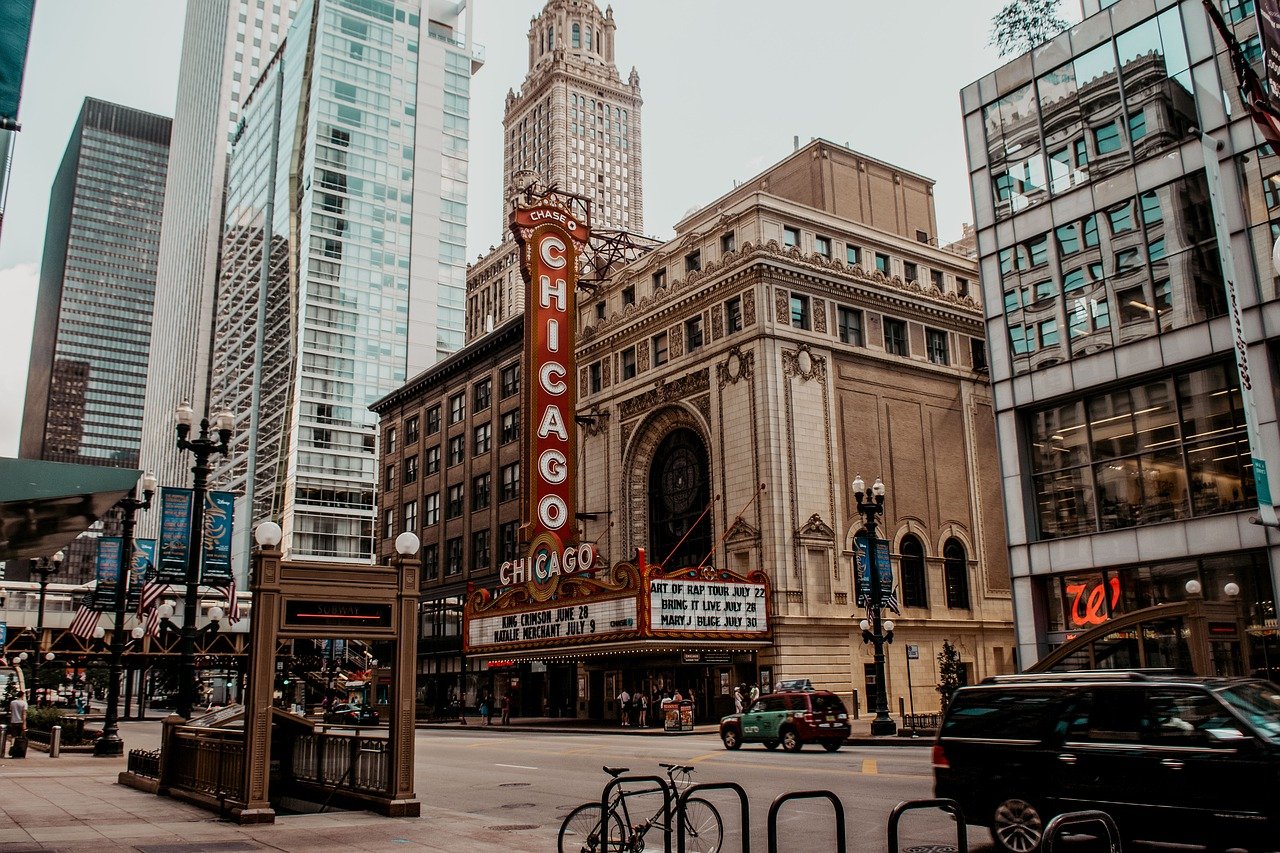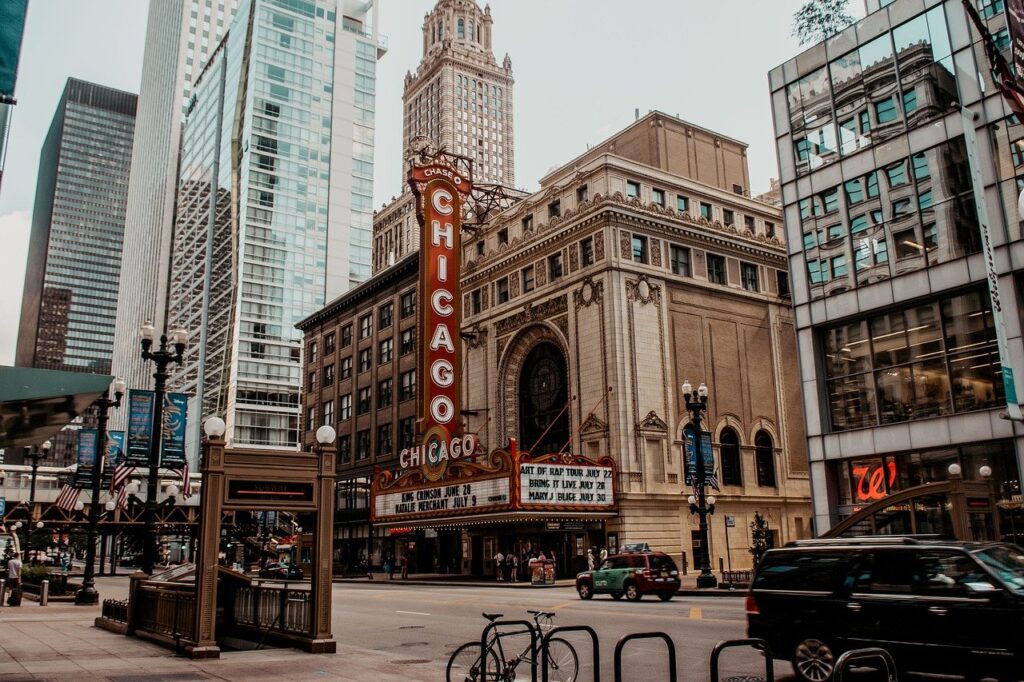 Wondering about who's moving into and out of Chicago?
According to the U.S. Census Bureau, the population of Chicago has decreased by -0.1%. since April 2010 and July 2019. Although this may seem insignificant, that is still 2,694 that have decided to leave Chicago. What's more, the statistic doesn't amount to the number of migrations that happened with the people moving into and out of Chicago. So, the question that we are all wondering about is who are the people who decide to leave this city, and why, as well as what makes others relocate to it. Let us start answering this question by learning a bit about the city itself.
What's to know about the city of Chicago itself?
So, apart from being Illinois' capital, Chicago is also the county seat of Cook County, the second-most-populous county in the US. It is also the principal city of the Chicago metropolitan area, often referred to as Chicagoland. Being home to nearly 10 million people, the metropolitan area is third-most populous in the United States.
The city of Chicago is an international hub for finance, culture, commerce, industry, education, technology, telecommunications, and transportation, meaning it has pretty much anything you may need. It is the site of the creation of the first standardized futures contacts, issued by the Chicago Board of Trade. Today, this is the part of the largest and most diverse derivatives market in the world, having that it generates 20% of all volume in commodities and financial futures alone. The city's O'Hare International Airport is either world's fifth or sixth business airport, depending on the year. The region also scores the highest number of federal highways. It is also the nation's railroad hub.
The Chicago area has one of the highest gross domestic products (GDP) in the world, and one of the world's most diversified and balanced economies. No single industry employs more than 14% of the workforce here.
People love to visit
In 2018, Chicago got received 58 million domestic and international visitors, making it the second most visited city in the United States, with just New York City being ahead with 65 million visitors. In the same year, Chicago was ranked first in the Time Out City Life Index, a global quality of life survey including 15,000 people in 32 cities.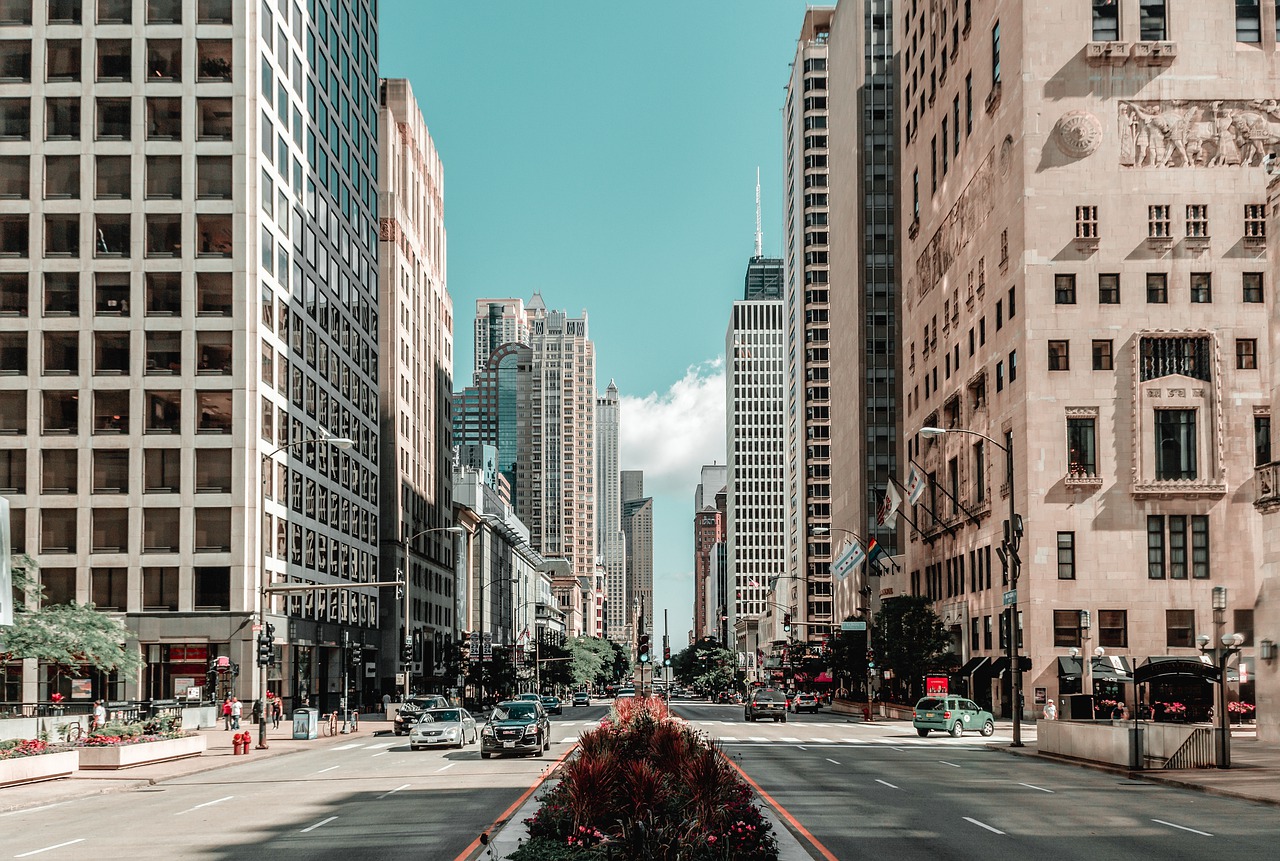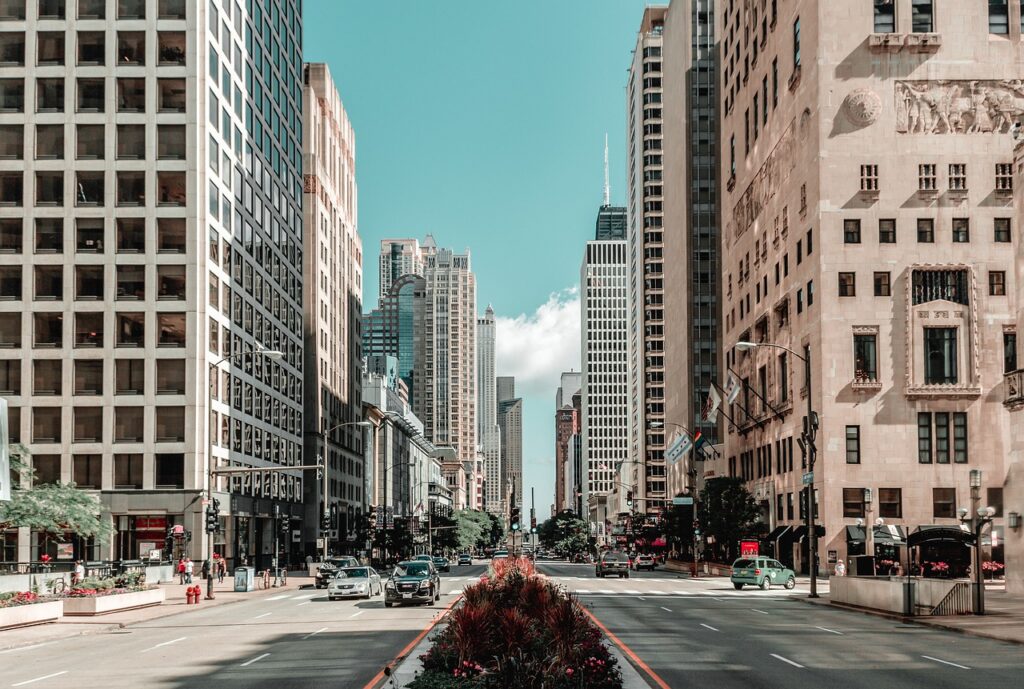 Some of the landmarks one gets to enjoy upon visiting include Millennium Park, Navy Pier, the Magnificent Mile, the Art Institute of Chicago, Museum Campus, the Willis (Sears) Tower, Grant Park, the Museum of Science and Industry, and Lincoln Park Zoo. When it comes to culture, you will get to experience visual arts, literature, film, theatre, comedy, food, and music, especially jazz, blues, soul, hip-hop, gospel, and electronic dance music. The University of Chicago, Northwestern University, and the University of Illinois at Chicago are classified as "highest research" doctoral universities.
Costs of living
The overall costs of living in Chicago, Illinois exceed the US average by 6,9 points, with transportation costs making the biggest difference. If you base the cost of living on a US average of 100, here is what you get:
Transportation costs are 138.5 in Chicago, and 106.2 in Illinois.
Grocery costs are 97.2 in Chicago, and 94 in Illinois.
Health costs are 90.6 in Chicago, and 97.2 in Illinois.
Utilities are 92.8 in Chicago, and 97.7 in Illinois.
Housing costs are 99.1 in Chicago, and 79.5 in Illinois (The median home cost in Chicago is $229,100, while it is $183,700 in Illinois and $231,200 in the US.)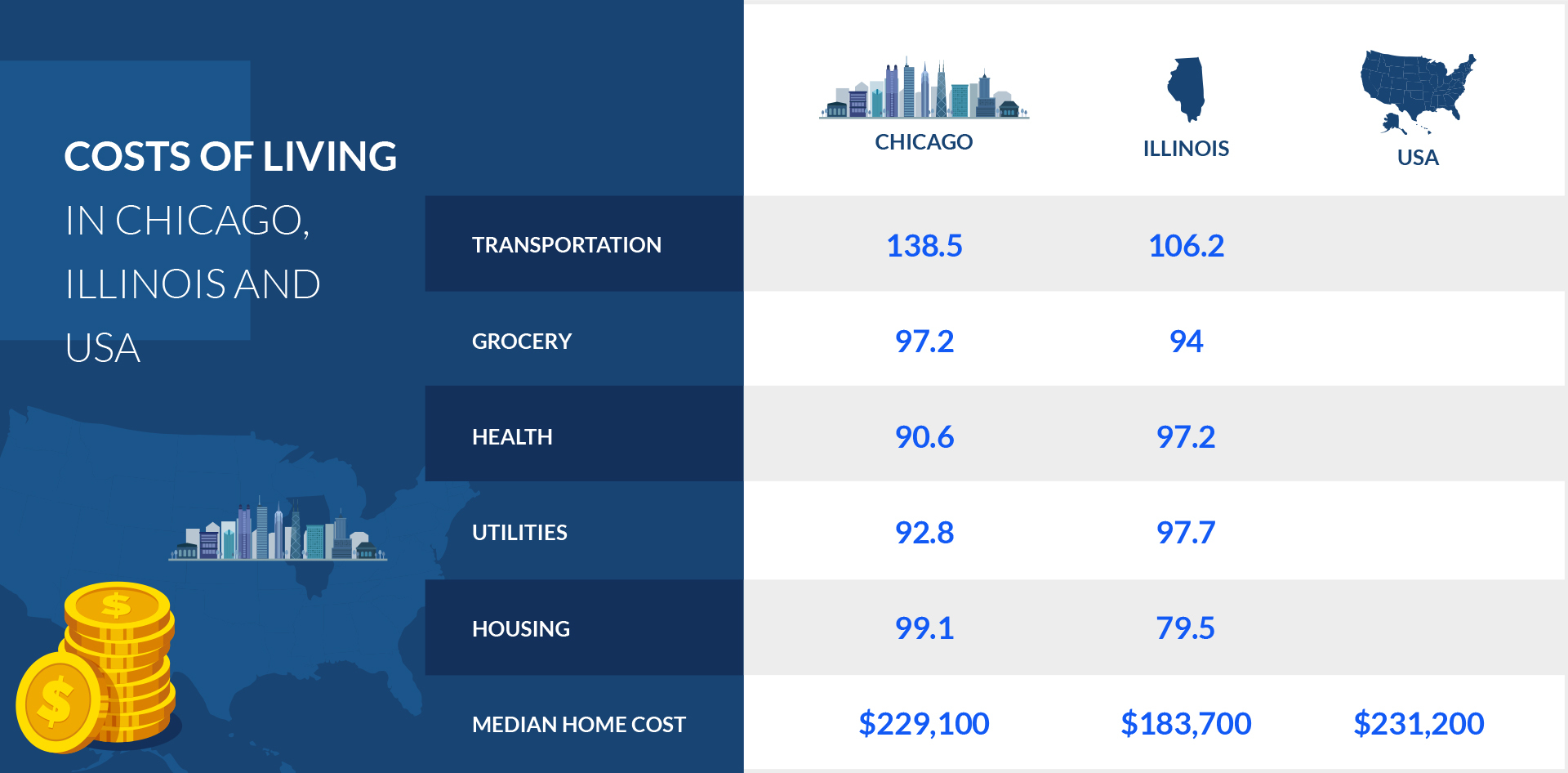 Why do people choose to live here?
Chicago is the center of Illinois in more ways than one. As you have seen, it can pretty much cover every need or wish you might have. A city with such history and size is bound to attract a lot of people, and thus create a lot of opportunities. And, whilst being large in size and possibilities, it is not putting the pedal on the costs of living. Quite the contrary, actually. While the costs of transportation may be a headache to some, it is the lower housing costs that attract people to come here in search of a better life for an affordable price.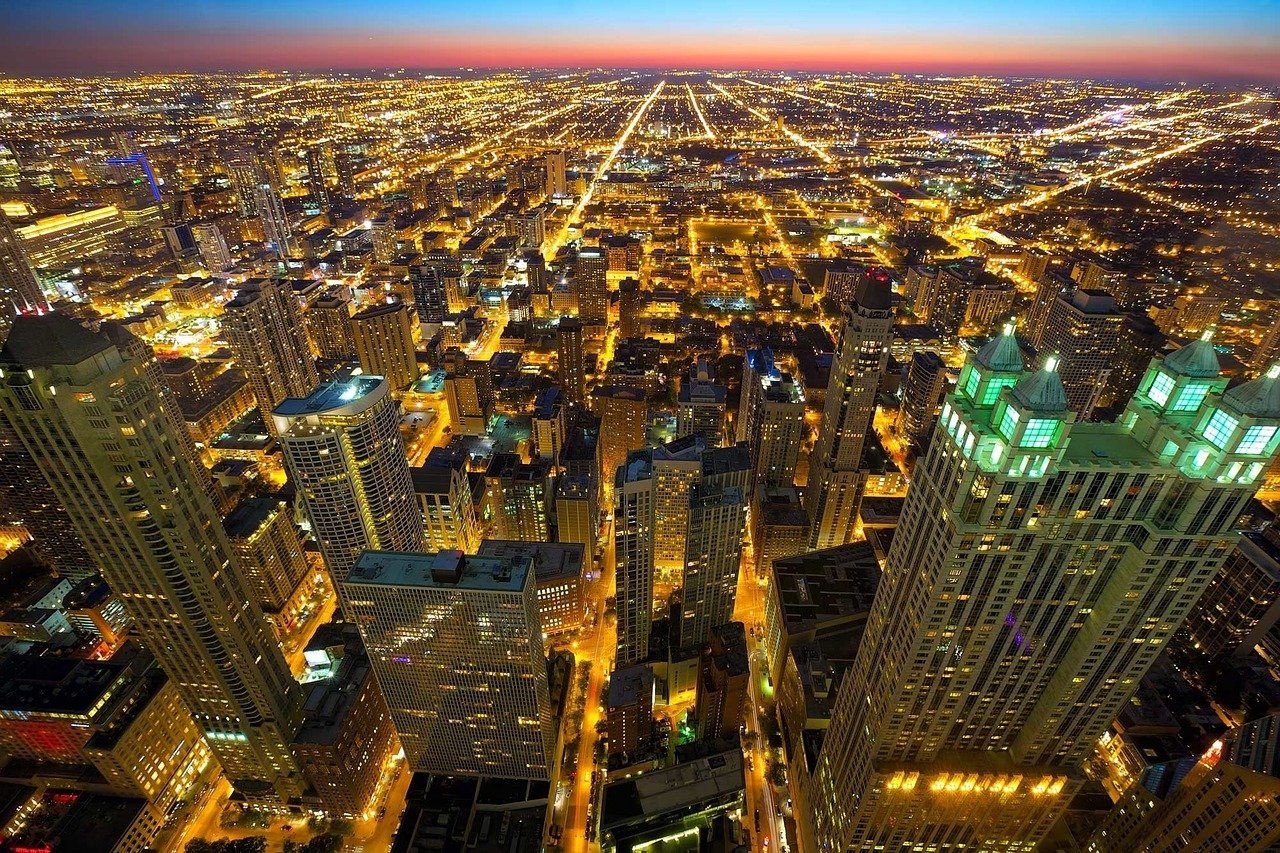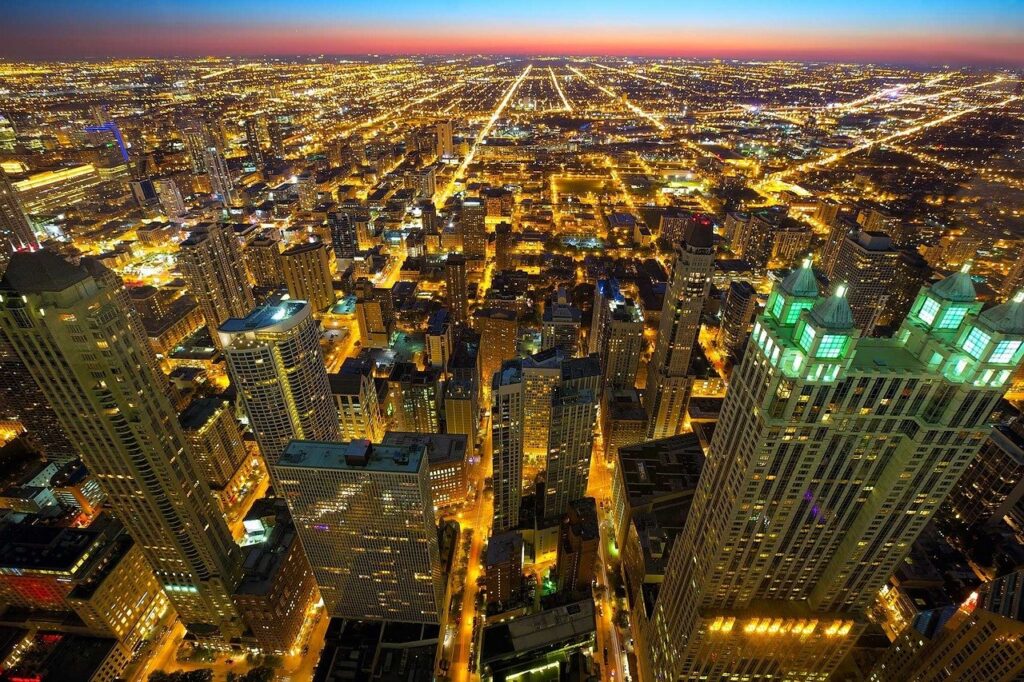 What makes them leave?
Regardless of how deep you dig, what you will get to conclude is that people most often move for a better job or housing opportunity. This is just how relocations work in this day and age. And, what's even more important noting, due to the Internet, and later due to COVID, people realize that plenty of jobs can be done right from their home, without the need to geographically move. It is with this in mind that people who leave Chicago may even be looking for a different vibe.
Who is moving into and out of Chicago?
To be literal, people who choose to move to Chicago most often come from these states:
Illinois
California
New York
Texas
Florida
Ohio
Pennsylvania
Massachusetts
Georgia
Washington

What this goes to show is that Chicago is a preferred Midwestern alternative to the higher populated states on the East and West coasts. And, just like many other major metropolitan areas, Chicago attracts a lot of people from its own state of Illinois. Now, things will clear a bit more when you take a look at the individual cities people are coming from:
New York, NY
San Francisco, CA
Pittsburgh, PA
Houston, TX
Los Angeles, CA
Seattle, WA
Atlanta, GA
Austin, TX
Brooklyn, NY
Saint Louis, MO
Going through this list will show you that people from other highest populated cities (New York, San Francisco, and Houston) find Chicago to be their city of choice.

However, what about people who want to leave? Where do they choose to go? Well, here is what the statistics show:
San Francisco, CA
Los Angeles, CA
New York, NY
Seattle, WA
Denver, CO
Nashville, TN
Austin, TX
Philadelphia, PA
San Diego, CA
Portland, OR
What you can see from this list is that the majority of ex Chicago residents are heading towards the cities on the coasts. It is obvious that a city this big is going to be trading a lot of people with other major areas like San Francisco and New York. We can also see that Denver and Portland are getting some attention, which is interesting, being that they are somewhat smaller cities, but both on the rise nonetheless.
What can we conclude from this?
With the big overlap between the places people are moving into and out of Chicago, we can understand why the number of residents this city holds is not fluctuating so much. Furthermore, whether you plan on moving into or out of this city, know that your reasons are yours alone. What we mean by this is that there are no obvious reasons why Chicago is either good or bad, having that people are both moving to and out of it. If it was just perfect, all would go there, and if it was a disaster, all would leave. Simple logic, really.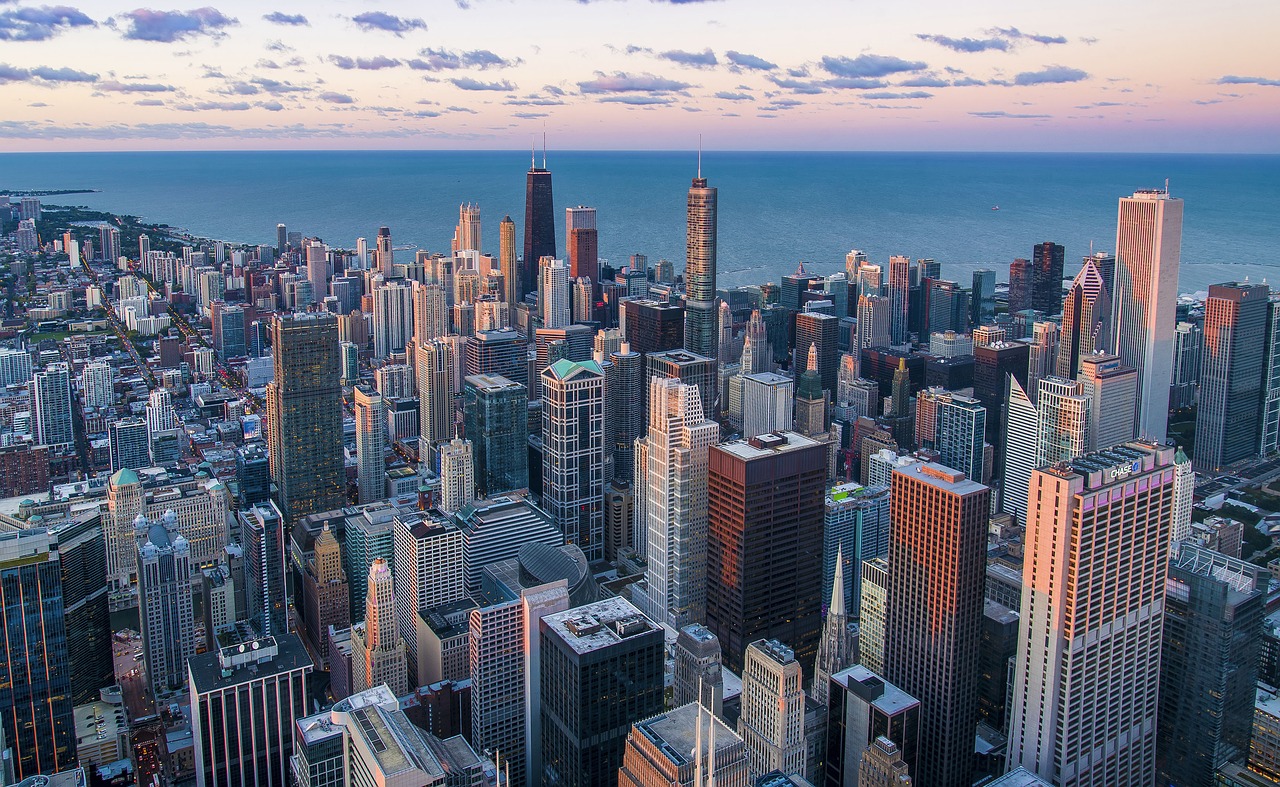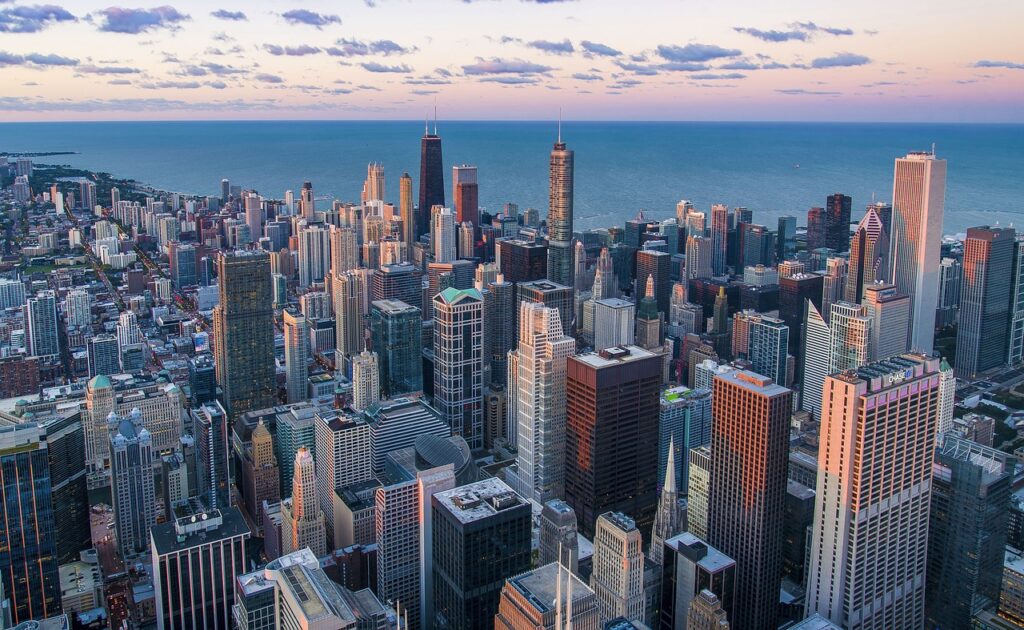 What are the reasons why you should consider moving to Chicago?
Chicago is a special city with its neighborhoods usually defining its residents. You can say that the backbone of Chicago is in its 77 well-defined neighborhoods in nine districts. Each has its own mix of attractions, culture, history, and personality, from Lincoln Square to Hyde Park. Still, residents settle in and stay loyal to their own areas. Here is what you can expect from some of them:
North: Chicago's Northern neighborhoods are known for being youthful and desirable. Living here means there is always something to do, from catching a Cubs game in Wrigleyville to boutique shopping in Bucktown and live jazz in Uptown.
West: This side offers a tad more of an eclectic vibe, allowing you to dine at ethnic restaurants and take in the stunning murals, monuments, and churches of Wicker Park.
South: This side of Chicago boasts an array of cultural and social offerings, from monuments in Bronzeville to the Museum Campus in South Loop to Chinatown's authentic cuisine.
Downtown: Chicago's downtown is home to all the top tourist attractions. Living here means being close to the "Bean" at Millenium Park, Buckingham Fountain, the Historic Theatre District as well as art galleries, cocktail lounges, and shopping on Michigan Avenue.
One truly great thing about Chicago is low housing costs. Regardless of whether you are looking for a single, temporary apartment or moving your family into a forever home, Chicago will deliver. Renting and buying here is easy, especially when you compare it to the East Coast, and West Cost. Chicago's housing can be considered the best bargain in North America. Now, when it comes to entry-level housing, this city offers the second-largest supply of starter homes.
Chicago has plenty to offer
Chicago has a lot to offer to everyone. Whether you are looking for some cultural boost, a place to spend quality time with your family or do some sports, Chicago will deliver. Oak Street to Wicker Park is great for shoppers. The Lakefront Trail, Chicago Sports, and Social Club are amazing for sports lovers. Navy Pier, Millennium Park, Willis Tower, and Lincoln Park Zoo will prove to be just the sports for you and your kids to spend some time together. Second City, Broadway in Chicago, and plenty of museums will satiate the appetite of every culture lover.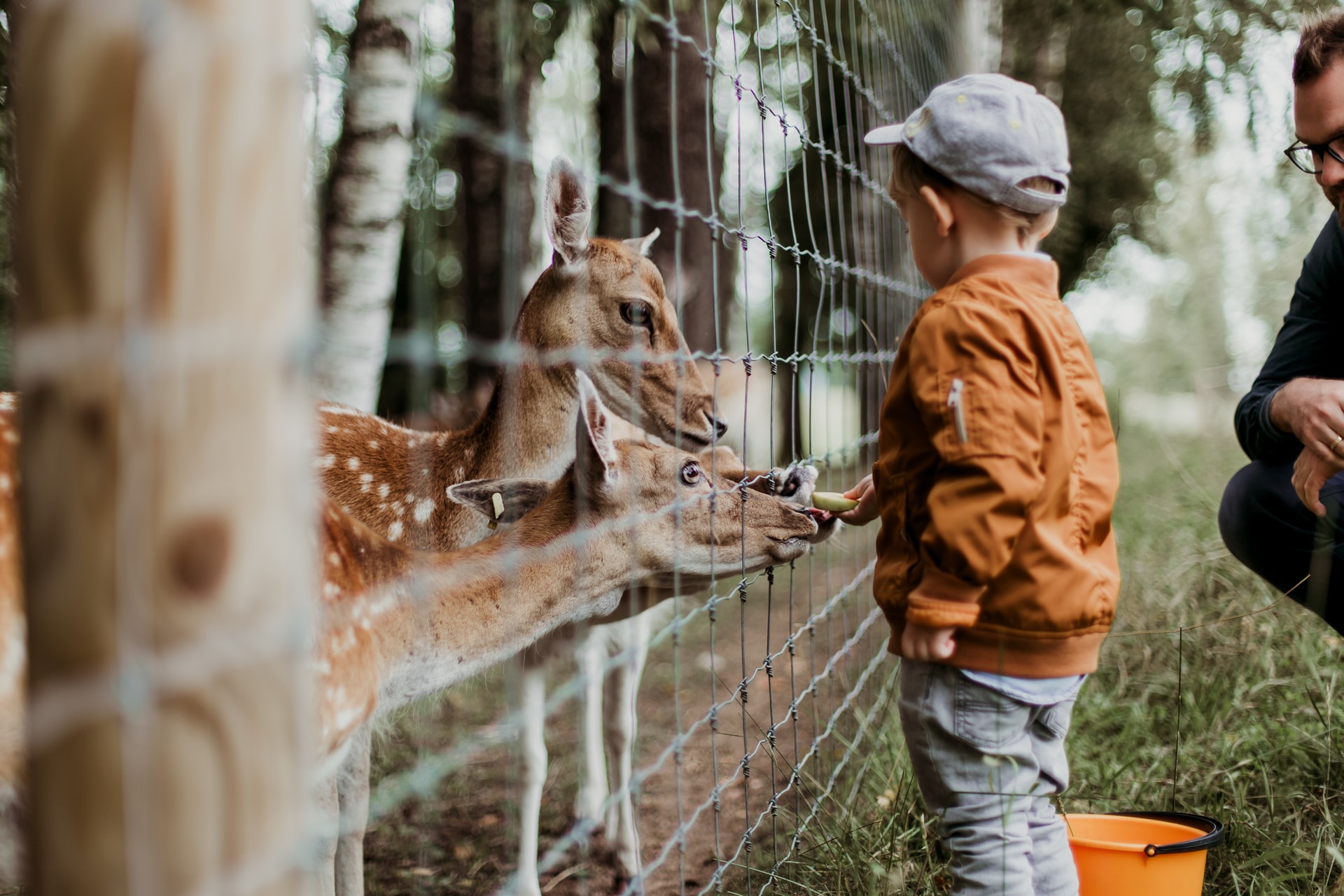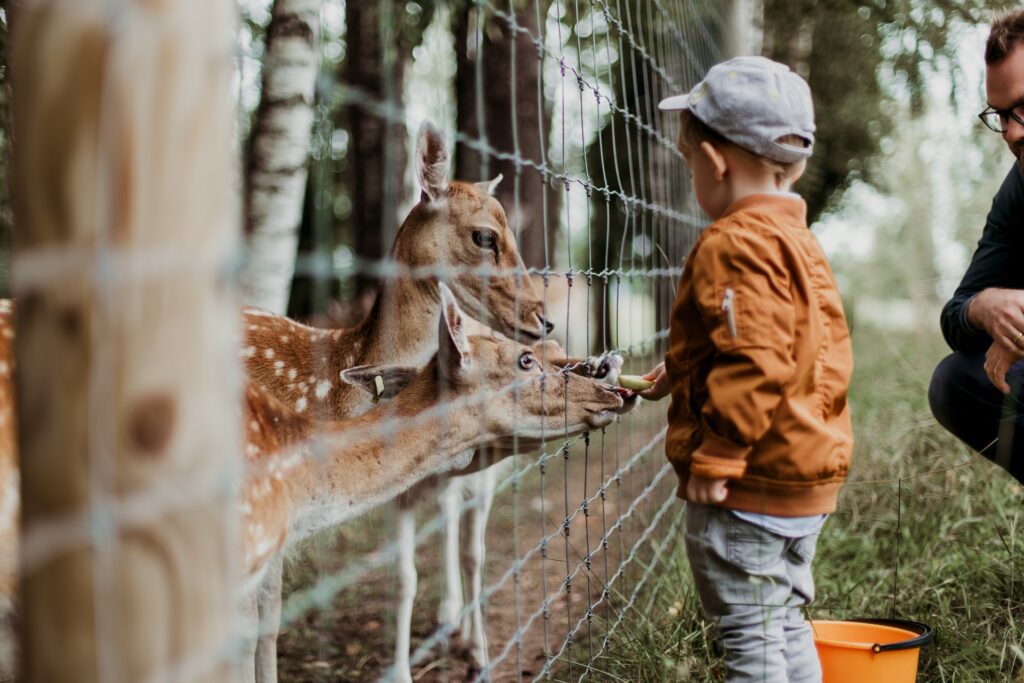 What is also important nothing is that this city has some amazing traditions. Every year on St. Patrick's Day, 400,000 spectators crowd the banks of the Chicago River to gaze over its emerald green color and enjoy. Music and dance are a long-lasting tradition of this city. In addition, Chicago has the most dance music festivals in the entire city.
How to prepare for the move
If you like what you have read, you might be pondering the idea of moving to Chicago yourself. If this is the case, you ought to start preparing right away. Whether for work or for the joy of life over there, Chicago will be sure to cater to your needs. Still, you ought to do your part. And this part will mostly consist of proper research. Now, DIY relocation is a venture of its own accord, and it can be not only costly on your wallet, but on your nerves and time as well. As this is probably the scenario you want to avoid, we strongly suggest that you hire a professional moving company.
With that said, here is how the costs of typical Chicago movers look like:
Studio apartment relocation lasts about 3 hours and would cost on average $320.
1 Bedroom apartment relocation lasts about 4 hours and costs on average $390.
2 Bedroom apartment move that lasts 6 hours costs on average $671
3 Bedroom apartment move that lasts 7 hours costs on average $964
4 Bedroom apartment relocation that lasts 9 hours costs on average $1193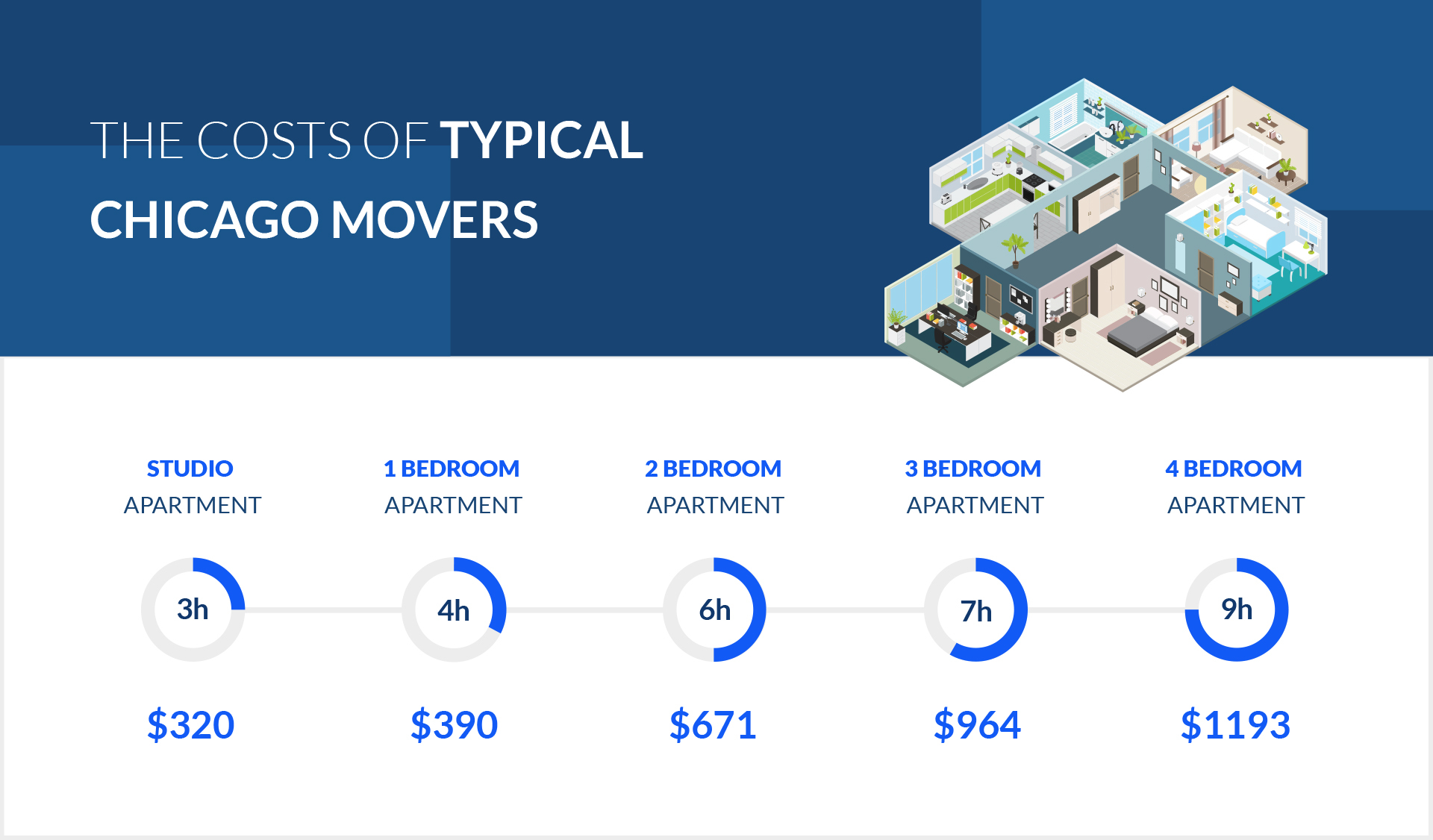 Now, take notice that these are just average costs. What you move and where you move will also affect pricing, as well as the company you choose. That is why you should compare at least three moving companies to make the best decision.
Whether you are moving into and out of Chicago, see that you give yourself enough time with researching your options. This does not only regard the moving company you ask to help you out, but also the reasons behind your decision, as well as the place you plan on moving to. Chicago has a lot to offer, which the number of people living there only beings to show.