Not so long ago, people were relocating to both Chicago and NYC in flocks, looking to experience life in these huge cities where everything is possible. However, since the pandemic started, things changed quickly, and now both of these giants are swiftly losing residents. The interesting thing is, there are still a lot of people moving from NYC to Chicago and vice versa. So, if you're looking to leave the Big Apple and give Windy City a chance, in this article, Verified Movers will show you what awaits during this relocation.
Are there many people who are relocating from the Big Apple to Chicago?
Since these cities are among the 3 largest metro areas in the United States, you'd expect to see a lot of relocations happening between them. Even more so when you realize that the distance between them is not too big for a cross country move, 780 miles. Moving from New York to Illinois has always been popular, but mostly because of the route we're discussing today, from NYC to Chicago. For example, in 2022, there were around 10,000 relocations from the Empire State to Illinois. Well, almost 3,000 of those 10,000 were from NYC to Chicago. Since you're thinking of going on this move, maybe you'll be glad to hear that relocations from NYC to Chicago are much more numerous than the moves in the opposite direction.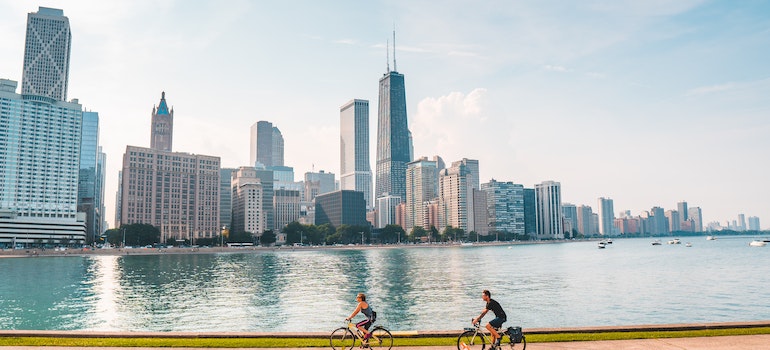 Benefits of moving from NYC to Chicago
When you compare any two cities in the United States, you won't find a case where one city is better than another in every important category. The same can be said about NYC and Chicago. Two world-wide famous cities, both certainly worth giving a shot, but which one suits you better depends mainly on your preferences. Therefore, we're going to assess the pros and cons of living in each of these cities, which will hopefully help you make the decision. So, we'll start off with the benefits of moving from NYC to Chicago, and you'll see them in the graph below.
All the things we mentioned in the chart are sound reasons for making this move. If you would like to change the crowded life you're used to in NYC, know that Chicago will suit you. Of course, it's not one of the least crowded places in the USA, but it is nowhere near as crowdy as the Big Apple. And, as you saw, there are many other benefits of this move. However, the one we'd like to discuss the most, arguably the most important one, is the cost of living difference, so more on that in the following section.
Chicago vs New York City: Cost of living comparison
This is a very important thing to cover, and the one that every person should carefully analyze before the move, regardless of the city they're moving to or from. In the case of New York City and Chicago, we already saw that Chicago is easier to afford by 36%. However, we also have to take into account each and every individual segment that goes into this cost-of-living equation in order to give you the best idea of what to expect. That's exactly what we're going to do now, so read carefully and see what awaits you financially after making this move.
Home prices in Chicago are 75% lower than in NYC
Rent prices are 60% lower in Chicago compared to NYC
Chicago also has cheaper utilities, 10% less expensive than NYC
Even groceries are much more expensive in NYC (by 40%)
NYC has higher income taxes (10.1%) than Chicago (5%)
Chicago does have higher sales taxes than NYC (10.3%>8.9%)
Chicago has an enormous property tax rate of 2.19%, while in NYC, this tax is set at a low rate of 0.88%
What are the downsides of leaving the Big Apple for Chicago?
Now, after we went into the smallest details regarding the benefits of this relocation, it's time to look at the other side of the coin. As we already mentioned, each relocation has its advantages and disadvantages. Not everything will be ideal and in your favor when moving from Chicago to NYC. It's about carefully weighing up the pros and cons and deciding if this is the right thing for you to do. So, here are a few downsides of this move.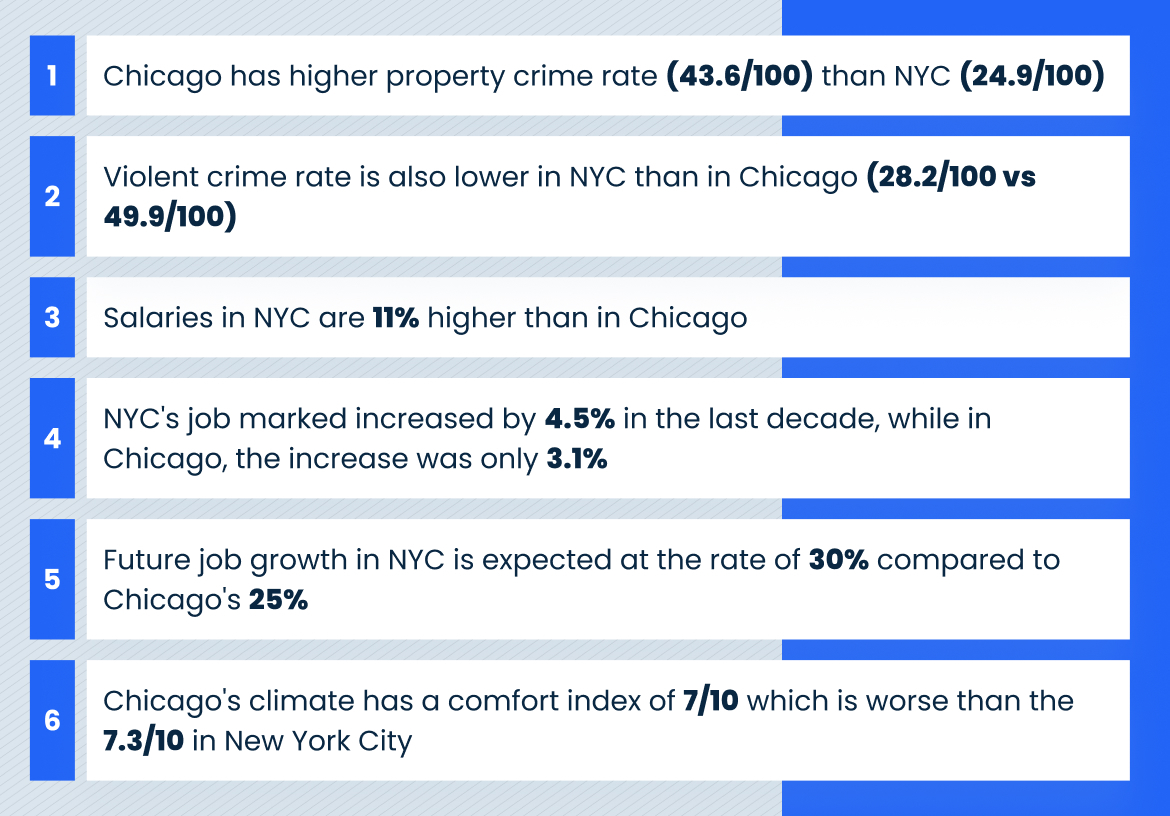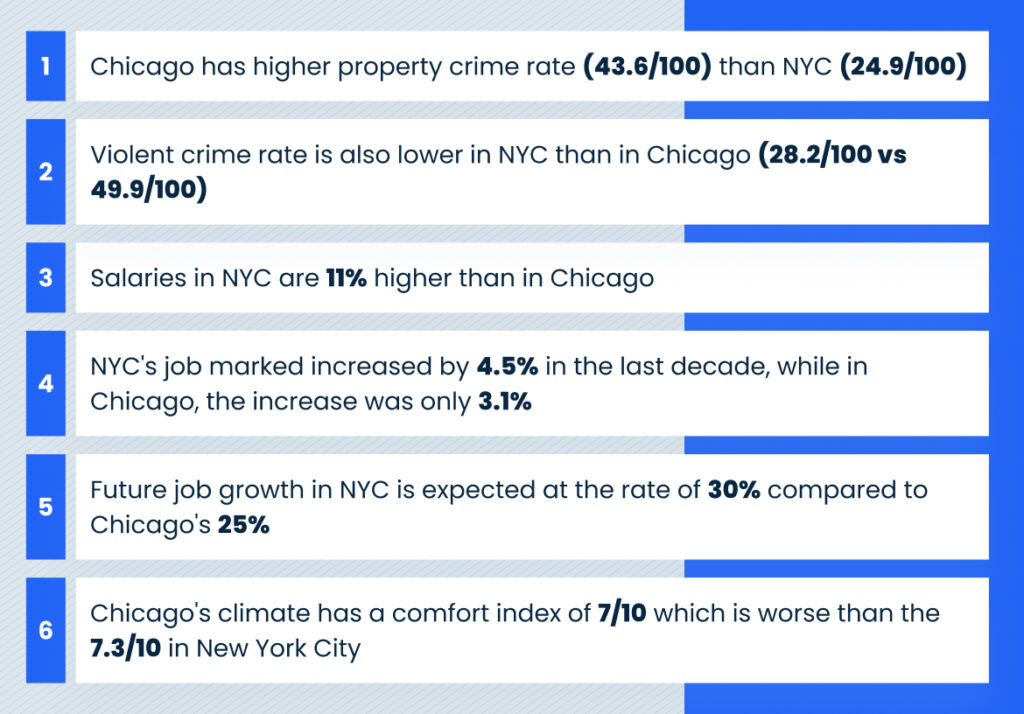 Find a good moving company to ensure the safety of your belongings
When you are moving from NYC to Chicago you need to know that you don't need to bother yourself because you cannot do it on your own. That is completely all right. How can you? You don't have the skills nor the knowledge. So, try to understand from the beginning that when you have the right movers by your side, you don't have anything to worry about. Therefore, choose long distance movers NYC if you want to have a successful relocation. They have all that it takes for getting good results when relocating.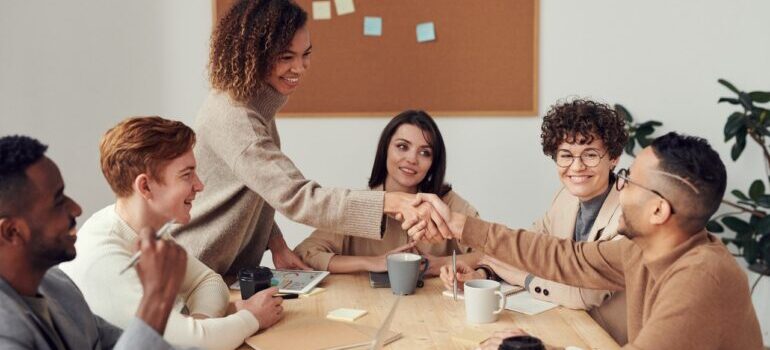 When we are talking about "all that takes for a safe relocation, " we think about several things. First of all, you need to work together, as one. Your movers will do everything in their power to give you the safest relocation as it is possible. But your role starts now! Make an effort to figure out what will be the best time to move. That actually means literally deciding when you will move.
Think about specific things regarding your relocation to the Windy City
In case you didn't know, timing is everything. Choosing the ideal time of the year to relocate is not only of the essence for you but your movers as well. Consequently, you could save a lot of money should you opt, for instance, to move during the winter months or early spring. On the other hand, you will let your interstate moving companies Chicago know that far in advance so they can prepare properly. As you can see, it's a win-win situation for both sides.
And when talking about belongings, which ones are you taking with you? Well, that's a very important topic. Chicago's lifestyle is way different from the lifestyle New Yorkers have. So, you will need some time to adapt. So with the top movers in NYC, you will have all the free time you need.
Choose the moving date wisely
You need to go through your move in your head. This means thinking it over. And take your time. No one knows better than you which timing suits you. Joggling between your obligations, family, and work, choosing the best time can be a bit difficult. However, with the right organization and time management, you will do more than fine.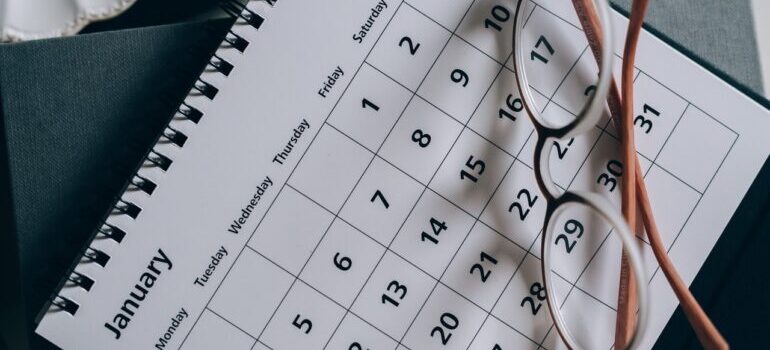 In the summer, when people are going on vacation, traffic jams are very frequent. That is why it is so important to know that the moving date needs to be during the offseason. To better put it, you should opt for the off-season relocation. Use the beginning of the year or the end. But, we advise you not to do anything without long distance moving companies Chicago, simply to ensure the safety of the upcoming transition.
Start your relocation planning early
Opt for the off-season move
Contact your movers and schedule a move on time
Good organization and time management are everything
Learn something about your future city
Why do we say that timing is everything?
The answer to that question is pretty clear. Why risk beginning with the moving process when you know that delays are common in the summertime? Or why risk traffic jams during holiday time in September? You don't need that kind of scenario. You need to relax and think about all the work that you need to do. Professional movers are here to relocate your belongings with extra care and dedication. In the meantime, you can focus on finishing all the paperwork for apartment rent or buying a house.
There are several factors that could affect your move. The ones we are about to mention only refer to the time you schedule your relocation. So, if you want to have a stress-free move while also saving more than just a few dollars on the side, keep this in mind:
If you can opt for winter or early spring months – This is because the demand for the movers is the lowest then. Most people are working, kids have school, and there is not enough free time. Summer is the time when almost everyone is on a vacation, kids are on a school break, and that's the time when everyone tends to book their moves. Consequently, the demand for the movers is higher, thus the prices go up.
Choose the middle of the month – Insteading of choosing the beginning of the end of the month, you should opt for the mid-month period. Due to the higher demand in the beginning (or the end). Mid-month is also the time when people avoid scheduling relocations. That's because they have rent to pay or some other reason that is stopping them from choosing some time within one month.
Prefer Wednesdays over Saturdays – The same goes for weekends as it does for the beginnings/endings of the month. The price will be lower. However, it's up to your whether you will choose your work night for your relocation.
Make sure to book your movers on time – We can't stress this enough. Therefore, you ought to get in touch with top movers in Chicago to get the supreme moving service you deserve. Just be sure do to it on time. It's never too early to book your movers.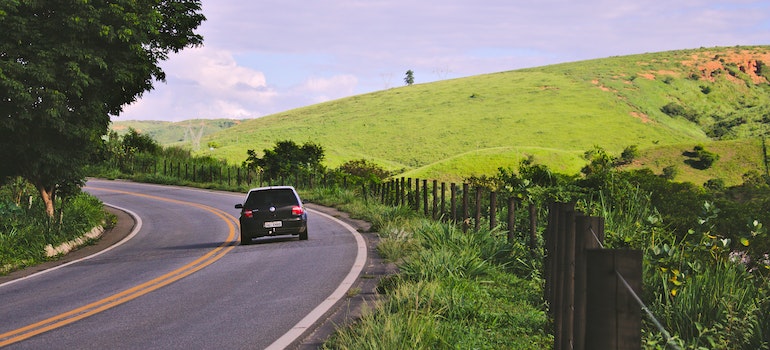 Prepare for your move like a pro thanks to our useful tips
To continue, if you hire movers to pack your belongings, you won't even have to think about the rest of your moving process. Depending on the material, design, and size movers will determine what kind of moving supplies to use. Decluttering is also important. You will get rid of unwanted things and at the same time reduce the moving costs. As you can see, there is much to know. That is why your movers have the main role in this process. Interstate moving companies New York City have experience with these things.
To make it easier to understand, you should do this:
Let your professional movers handle the packing process
Get the right moving supplies
Opt for high-quality packing materials
Use the right size moving boxes
Don't leave space nor overfill the moving boxes
Save money and space by using linens to wrap fragile and delicate belongings
Declutter your home before packing
Donate unwanted items or organize a garage sale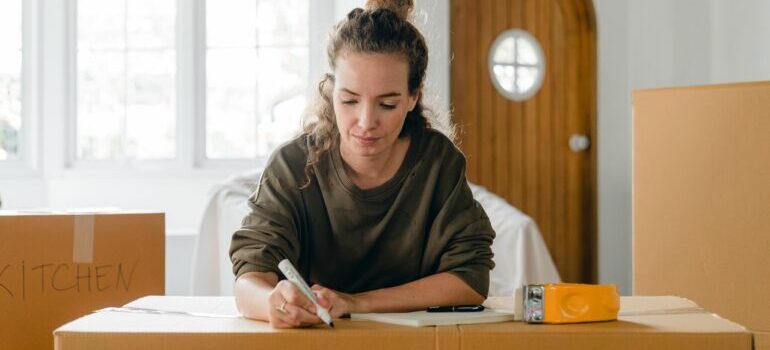 The costs of your relocation should be in the back of your mind
It is very important to emphasize that moving costs vary from one moving company to another. If you are moving from NYC to Chicago, you need a reliable assessment of costs. Therefore, contact our reliable movers and get the closest assessment of moving costs. And when you get one, you will know just how to plan your budget. Their experts will need information, so they can make a good estimate. It needs to be based on realistic projections and possible risks. However, when you deal with the right movers, nothing is impossible.
Moreover, you need to have faith in your movers. That is not actually that hard if you know you're leaving the business in the hands of someone reliable. Even though there are so many fraudulent movers, you won't end up with them. Here is how you can recognize fraudulent movers:
Check if the movers are registered with the Federal Motor Carrier Safety Administration
Read the reviews on their official website
You don't receive the estimate
They have an unmarked vehicle
Movers lack knowledge and hence the experience
To know the costs is to have control over your relocation
If your movers fulfill all the above-mentioned parameters, you are safe. You don't even have to worry about the safety of your belongings. Even though it's true that you cannot simply rely on any movers, relying on the right movers has never been easier. Just follow our instructions and you won't have anything to worry about.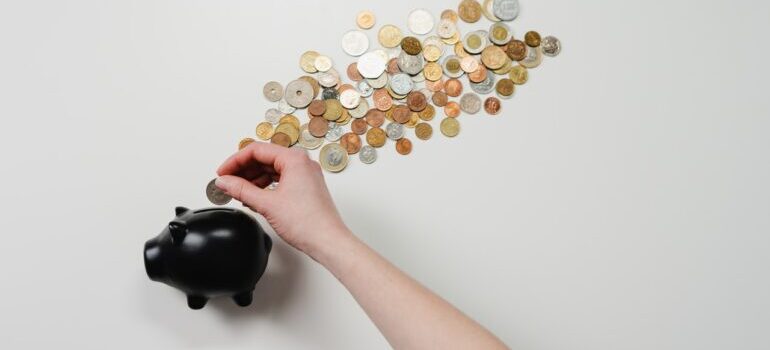 When you are in the right hands, you get to think about other things related to your relocation. This refers to transferring your utility bills, emails, organizing a farewell party, etc. To sum it up, there isn't a completely carefree relocation but with the right help, all your major problems will seemingly go away. That is why professional movers exist. However, listening to their advice is crucial.
Are you up for a slight culture shock when moving from NYC to Chicago?
To be honest, you made a good call choosing to move from NYC to Chicago. Both cities are metropolises with a large population, delicious food, mesmerizing attractions, and entertainment at every step. It will not take you long to get used to Chicago.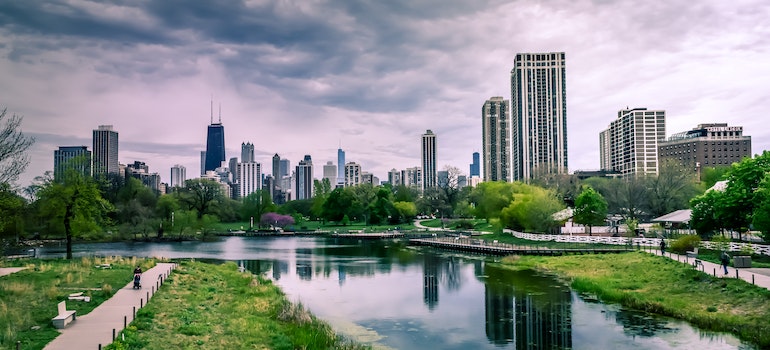 Starting from some trivia, it might be a true refreshment to be able to literally take a walk to lake Michigan from downtown Chicago. Although Chicago is a bit smaller than NYC, it still has some great sightseeing and landscapes. Additionally, you will be able to visit some amazing places in Chicago such as:
Millennium Park
Shedd Aquarium
Lincoln Park Zoo
The Chicago Theatre
Navy Pier
Chicago Riverwalk
We already showed how much more expensive NYC is compared to Chicago. On the other hand, Chicago gives you not only the opportunity to save money while living a very quality lifestyle but also the possibility to live in a top-class city. Many people move to Chicago for work or other purposes. That experience definitely transforms them into better people. After all, you should see yourself.
Get ready to move to Chicago
When moving from NYC to Chicago, think about new people you are going to meet and the place you are going to visit. It will be a blast! But, you need to get there first. Rely on the right movers to relocate your belongings safely to your new home. And try to relax your mind by walking in the park or meditating. Spending time with your friends is always a good idea to reduce stress. Just think that all the work will result in success. And when you wake up in your new home you will know why!