Anyone who has ever moved across the country knows that this is everything but an easy task. The sheer distance of this move is enough to make your head spin and make you realize that there really is little to no room for error. Luckily, we here at Verified Movers have all the experience in cross country moves you'll ever need. That's why we are more than competent to distribute some cross country moving tips we think will make all the difference during your move. You don't need to read countless different articles you will find on the Internet – we've already read all the best cross country moving reviews and we are more than happy to share our findings with you.
First things first – lighten the load before you move
You probably already know that a lot of moving companies charge based on the weight of the cargo you are transporting. That means that the more you transport, the more you will have to pay. And when you take into account the fact that an average cross country move will cost anywhere from $3,000 and upwards, it's easy to see why you'd want to save as much as you can. And this goes for both residential and commercial moves. In fact, it goes for every type of move imaginable.
Popular decluttering methods
Having a minimalist relocation is actually much easier than it seems. You will have to make an effort before the actual move but it will all be worth it once you save some money as well as move into a beautiful, clutter-free home. To help you get things going, we've decided to outline three decluttering methods we think will help you get rid of your items more quickly and efficiently. They are:
The Konmari Method – instead of focusing on the things you want to throw away, focus on the things that spark joy within you. If you hold an item and it fills you with happiness and positive feelings, that item should be kept. If nothing of this sort happens, this is an item you can live without.
The Minimalists Packing Party – bring over a group of friends and pretend you are moving as soon as tomorrow. Then pack up all of your items in moving boxes and slowly start unpacking the items you need over the following period of time. Once a whole month passes, you will have boxes filled with items you didn't need, and those are the items you shouldn't transport.
The Minimalists 90/90 Rule – this method is as simple as it gets. When holding an item, ask yourself whether you have used it in the last 90 days. If you haven't, there's a big chance you won't need it in the 90 days to come – or ever.
What to do with the things that don't make the cut? Our cross country moving tips will give you a clue!
A lot of people don't know what to do with the items they decide to leave behind, so we felt the need to cover this within our cross country moving tips. The items you decide to leave behind can be sold, donated, or thrown-away. It all depends on their condition. If they have been gently-used, the donation is your best option. In case you are in some dire need of cash, a yard sale will be just what the doctor ordered. And in case your items have seen better days, it's time you threw them away. And remember – this goes for every type of move. From local moving to international relocation, you stand a better chance when your belongings aren't weighing you down.
The size of your house will determine the price
Everyone is already aware of the fact that moving is an expensive endeavor. Even if you decide to do it in the good old DIY style (which you should know we don't recommend when it comes to long-distance moves) you will still have to spend some money. But if you do opt for professional help, the amount of money you'll have to spend depends on the size of your home. Naturally, the bigger the home, the greater the cost. Let's size up the current moving trends and find out how many people move out of small studios and what percentage of people moves out of large homes, shall we?
1 Bedroom Home – 28.81%
2 Bedroom Home – 21.16%
3 Bedroom Home – 20.27%
4+ Bedroom Homes – 7.70%
Partial Moves – 12.69%
Studio Moves – 9.37%
Statistics show that the majority of people who move do so while moving out of a one-bedroom home. Those same findings show that the smallest percentage of people moves out of large homes with 4+ bedrooms, and those relocations usually end up being quite an expensive endeavor. Where do you belong? With our cross country moving tips, you won't just find out many useful things to help you survive your upcoming move. You will also get a chance to identify with people who are going through the same thing as you and see how you compare to other people in the same situation.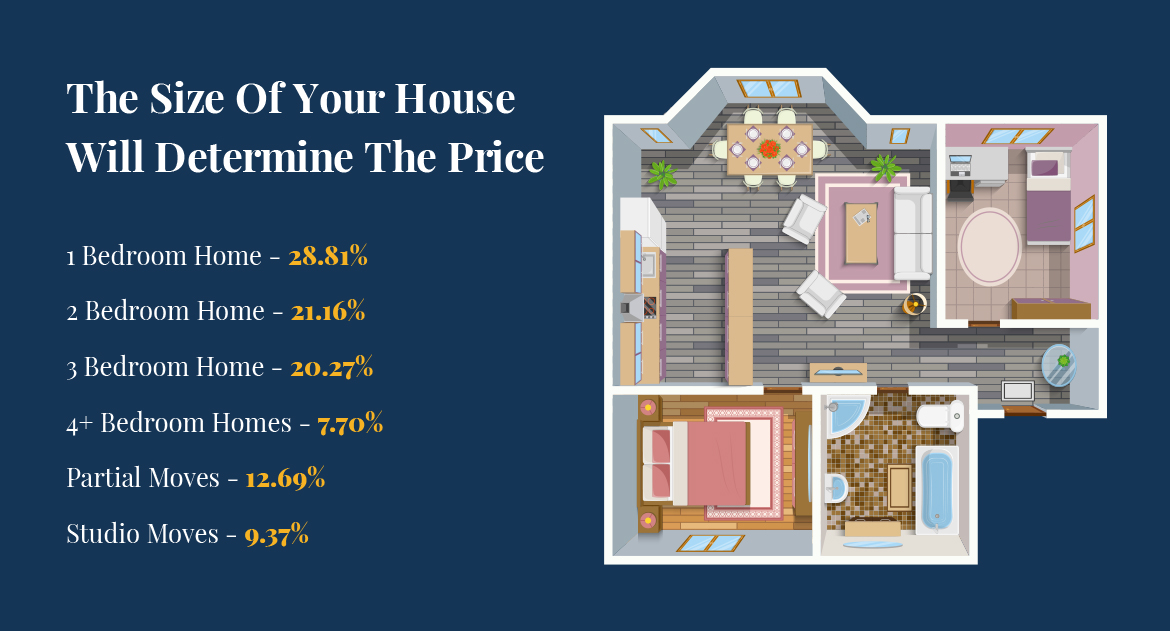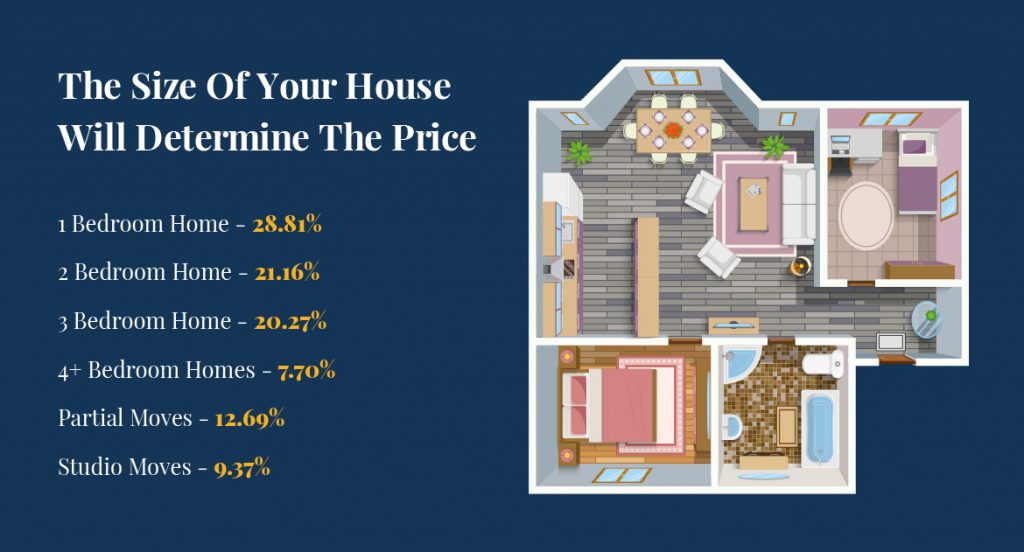 A cross country move calls for backup
Even if you do hire a top-rated cross country moving company, you will still need to call in the troops for help. And worry not – there will be many aspects of your move you will need help with. From packing your items to buying packing supplies, you will be in dire need of a helping hand. Whether that help comes from family members or close friends is up to you. Hey, sometimes the help you need can even come from your kids! We are by no means suggesting that you should burden them with moving tasks you know they are too young for. But there are always age-appropriate tasks they can help you with that will be of great help to you and won't burden them. Even if that's a small task like packing their toys – everyone will benefit from it.
Where are you moving to?
Unless you opt for a DIY cross country move, hiring a moving company will be the main task to accomplish before you hit the road. But in order to hire an appropriate moving company, you first have to know where you are moving to. Not all companies will facilitate relocations in the state you are thinking about inhabiting, so you'll have to be extra careful during your selection. Luckily (or unfortunately) some states seem to be more popular when it comes to cross country moves. So if you happen to be moving to one of them and manage to hit the peak season for moving, well, let's just say you will be in some good company. Wondering which states people are moving to the most?
Vermont
Oregon
Idaho
Nevada
Arizona
South Carolina
Washington
North Carolina
South Dakota
District of Columbia
Surprised by some of these states? According to an American mover who moves on average 12 times during their lifetime, these states have something that sparks interest. Be it a cheaper housing market, better job opportunities, beautiful vistas or something else entirely, our cross country moving tips list wouldn't be complete without listing a few good options for your upcoming move. That being said, let's quickly list the states that people seem to be moving out of these days.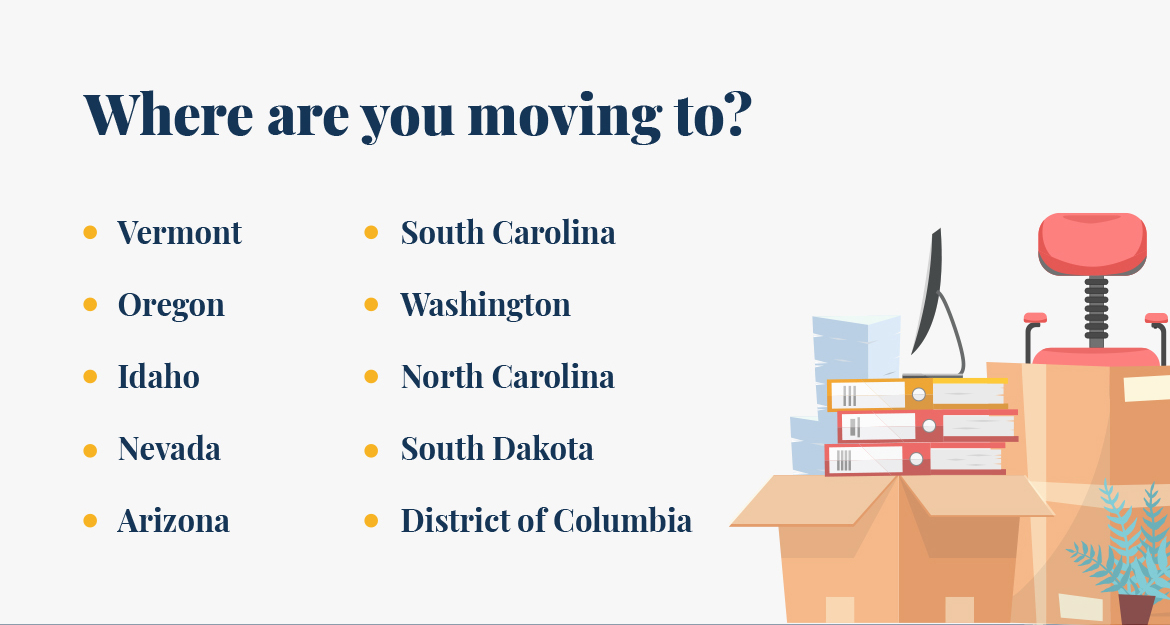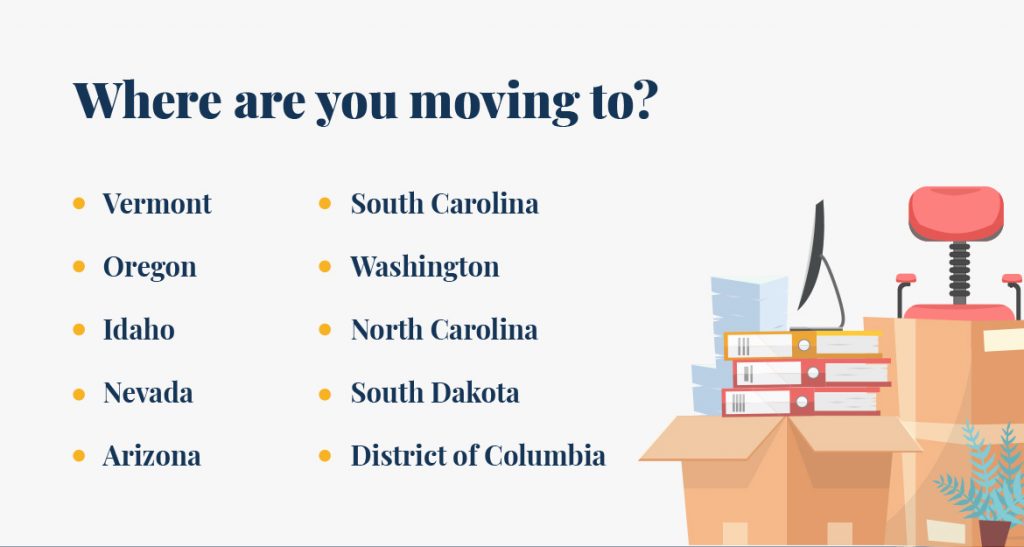 Top 10 states people are leaving
New Jersey
Illinois
Connecticut
New York
Kansas
Ohio
Massachusetts
Iowa
Montana
Michigan
Make no mistake – just because statistics show that these are the top outbound states for relocation doesn't mean life here isn't great for millions of people. Some people's circumstances and incomes differ from others, and they can't afford as much. And steep prices are certainly one of the main factors why people decide to move out of a state such as New York. What else could it be?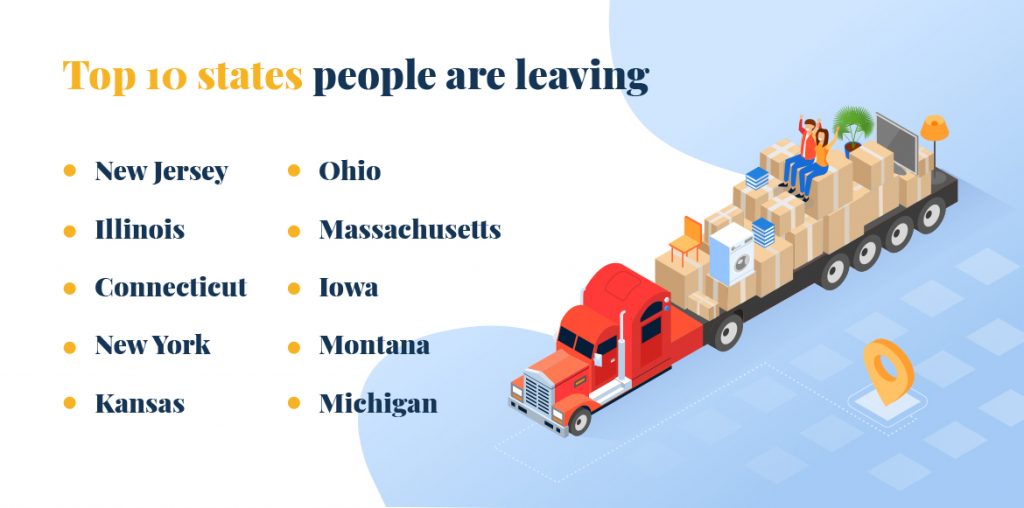 Tackling a major part of your cross country move – hiring a moving company
We've already established that hiring a professional moving company should be a mandatory part of your move. At least, it guarantees a much better chance of success than the alternative – if you make the right choice, of course. Still, for one reason or another, a lot of people decide against hiring a moving company. Let's briefly reflect on those people and what portion of the equation they make.
As much as 45% of people decide to have a DIY relocation.
34% of people decide to move by renting a moving truck.
Only 21% of people relocate while assisted by a moving company.
Bear in mind that a big percentage of people might have opted for a DIY move, but that doesn't mean those same moves went without a hitch. But before we start spilling our secrets and revealing our best moving tips for hiring a moving company, let's take a look at who are all these people in our statistics.


Who are all these people who move?
44% – the percentage of residential relocations.
39% – the percentage of corporate moves.
16% – the percentage of military moves.
1% – the percentage of fed government relocation.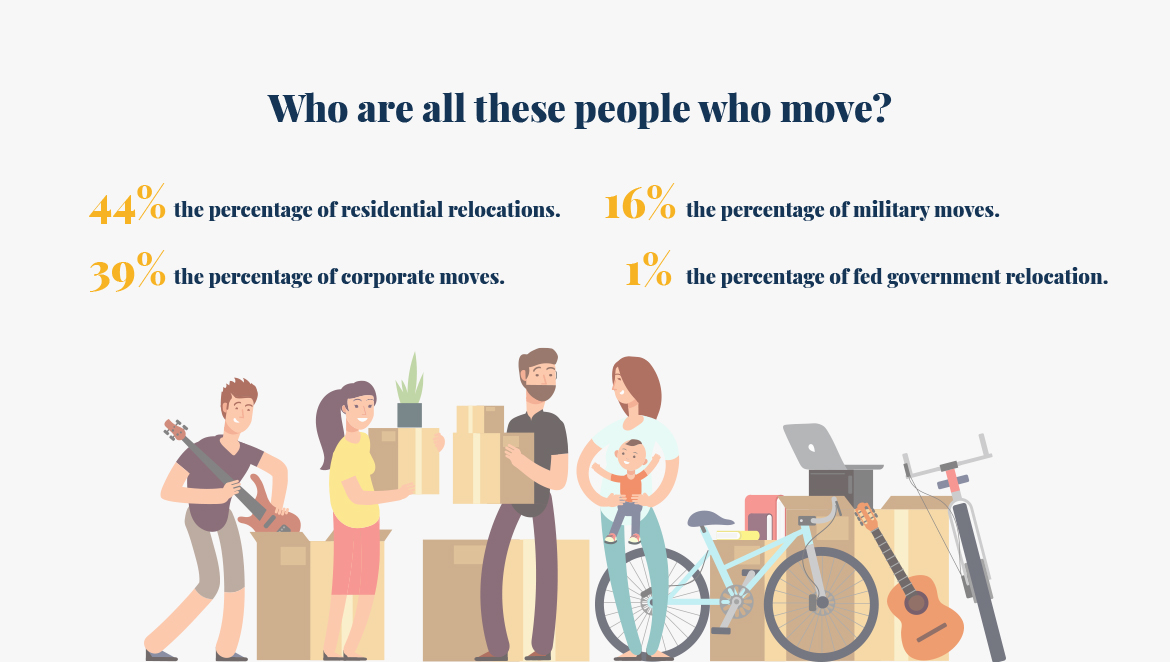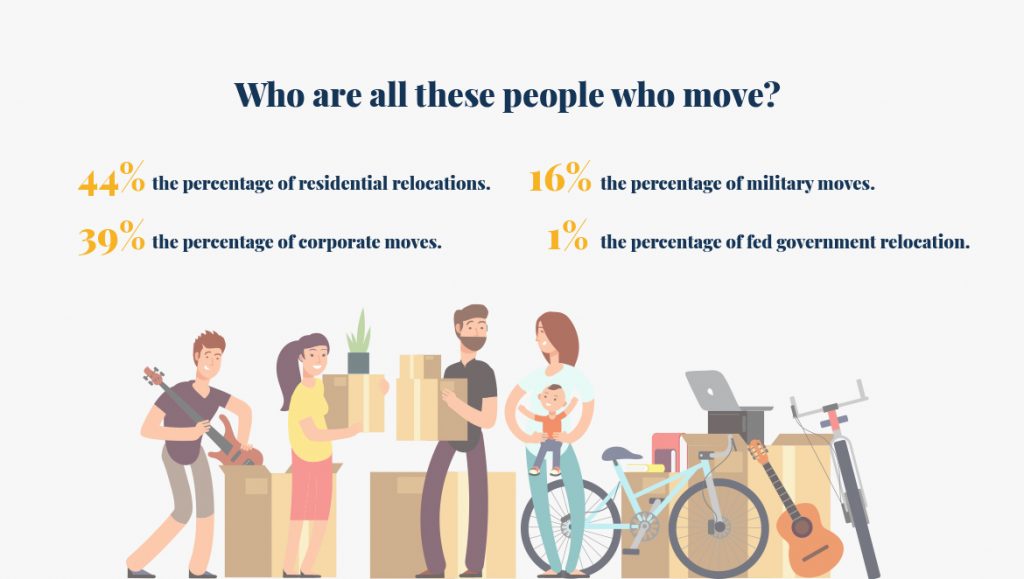 The importance of doing online research when hiring a moving company
A lot of people who are looking for a moving company at the moment are unaware of the fact that the right company could be right in front of them. All you have to do is turn on your PC and start googling. Since you know where you are moving to, you also know what to look for. For example, do you need a moving company that specializes in auto moving? Are you looking for piano moving specialists? Perhaps you need someone who excels in commercial moves? The good news is that whatever you need, you can find it online by typing in a few words.
Now, a lot of people are actually confused as to how the process of finding a moving company goes. The worst thing you can do is hire the first semi-decent company you run into. We are not saying that the first company that gets your attention won't be the one you end up with. We are just suggesting it won't do you any harm to shop around. By sticking to the right process of hiring a moving company, you will do much more than just hire a perfect mover. You will also succeed in avoiding moving scams which should be your absolute goal when cross country moves are concerned.
The steps that will lead you to your perfect movers – an important part on our list of the best cross country moving tips
Don't worry – it won't be as complicated as it seems at the moment. Finding your perfect mover will be as easy as ABC, as long as you really pay attention and abide by our cross country moving tips. They won't bring you good luck – they'll bring you the knowledge you need for coming out of this process as a winner!
Shortlist 3 to 5 candidates
Anytime you are choosing something in life you have to remember that too many choices are just as bad as not having a choice at all. When faced with many choices, it's hard to make a decision without spending days contemplating about it. And even then you might not be sure you made the right decision. So whether you are moving from New York to Florida, California to Idaho or Ohio to Michigan, what you need to do is create a list of 3 to 5 moving companies you think might be able to facilitate your move. And that's the end of step one – as simple and as straightforward as it gets.
Contact the moving companies and request a moving estimate
When you think about it, you will realize that finding the perfect moving company won't mean much unless you can actually afford it. And that's why you should contact the moving companies from your list and request a moving quote from each and every one of them. In most cases, moving quotes will be completely free and they should be accurate. Pro tip: don't rely too much on online or over-the-phone moving quotes. Instead, request an on-site estimate where an agent from the company will come to your house/office, estimate your needs and give you an accurate quote.
Compare the estimates you received
Be careful – you are not looking for a company that will provide you with the lowest moving quote. In fact, that's the last thing you need. Instead, look for a company that provides the biggest and best span of services for the price they charge. The company with the best affordability to quality ratio is the company you'll want to have by your side. At the moment, it's quite possible you have found THE company for you. But there's no harm in being extra careful, is there?
One of the best cross country moving tips we can give you is to verify your choice
The Internet is an incredible place. It's a place where people come to share their opinions and where they look for pieces of information they need. That's why as soon as you type the name of the company you are thinking of hiring you will get a couple of search results at least. There are different online forums where people come to give reviews for different services/products and those sites are the ones you'll want to target. 
You can also check the moving reviews and testimonials on your movers' website. But we don't suggest you rely on this form of verification only. A lot of movers actually pay to have positive reviews written on their website, thus creating a false image. Finally, you can always check different websites that are important for the moving industry, such as the BBB and AMSA. If your potential company is listed with them, you are good to go!
Being careful when choosing your moving date is an essential cross country moving tip we have to give
The date of your move actually holds a lot of power. Depending on your choice, you can end up paying a sum that's hundreds of dollars cheaper or vice versa, you can overpay for moving services. How come? In the moving industry, there are two seasons – the peak season and the off-peak season. With peak season being when most of the people move, the prices are also on the rise during these months. On the other hand, the off-peak season (which is winter mostly) is the time of the year when work is slow. A plethora of moving companies are competing for the decreasing number of clients and that urges them to lower their prices. Of course, a winter move is not for everyone as it comes with a lot of challenges. It won't be easy to move from NYC to LA when there are ice and snow all around you.
On the other hand, you'll have to pay attention to much more than just the date of your move when deciding about the details of your relocation. You'll also have to decide which route you'll want to choose for transporting your belongings from point A to point B. Interested to know which routes are the busiest and, thus, most popular ones? You came to the right place!
The busiest US relocation routes
California – Texas
New York – Florida
California – Washington
California – Arizona
New York – California
Massachusetts – New York
Will you be able to fit any of them into your move? Then be careful! Our cross country moving tips should also serve as a warning to what you don't want to do, and we are sure you don't want to spend hours being stuck in traffic. So, if you choose any of them, make sure you get an early start on the day of your move.
Don't forget about the important paperwork
When moving cross country, you will have to deal with a lot of paperwork. And no, we are not referring to your moving contract and similar things. We are just warning you that you will have to update a lot of information before you finalize your move. For starters, you'll need to obtain a new driver's license. Then you'll have to transfer medical records, school transcripts, and vet records. You will also have to change your address with many important institutions, such as your bank and the post office. We won't lie to you – you will be swamped with work. But it will all be worth it once you finally settle into your new home.
Moving seems like a hassle – so why do people do it?
The answer is not so simple! There are many reasons which urge millions of Americans to pack their bags and move across the country. From finding a new job all the way to looking for safer neighborhoods, we composed a list of the most common reasons why people move. You can tell us where you fit in later on!
16% of all Americans move in pursuit of a new and better home.
11.5% of people relocate because they want to establish their own household.
11.3% of people move for different family reasons.
9.9% of people move because they found a better job or got a job transfer.
8.3% of people will move in order to find cheaper housing.
7.3% will move because they want to own a house instead of renting it.
5.5% of Americans move in order to be close to their work and have an easier commute.
5.1% of us move due to a change in marital status.
3.0% of people move so they can attend college.
2.8% is the number of people who move in pursuit of a safer neighborhood.
There is no right or wrong reason to move! Even if you just need a change in your life, all you have to do is be careful when going through this process. And read our cross country moving tips, of course! Finally, Verified Movers are always here to answer any of your questions or even help you find your perfect cross country mover. You just have to get in touch with us and we'll be more than glad to help you out.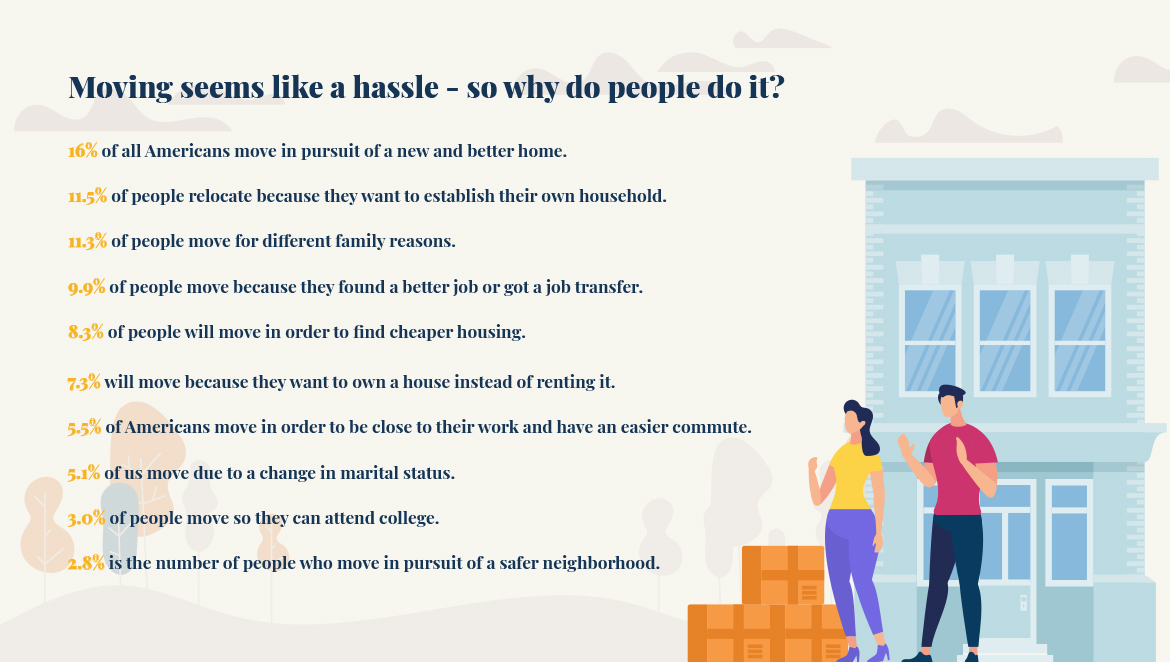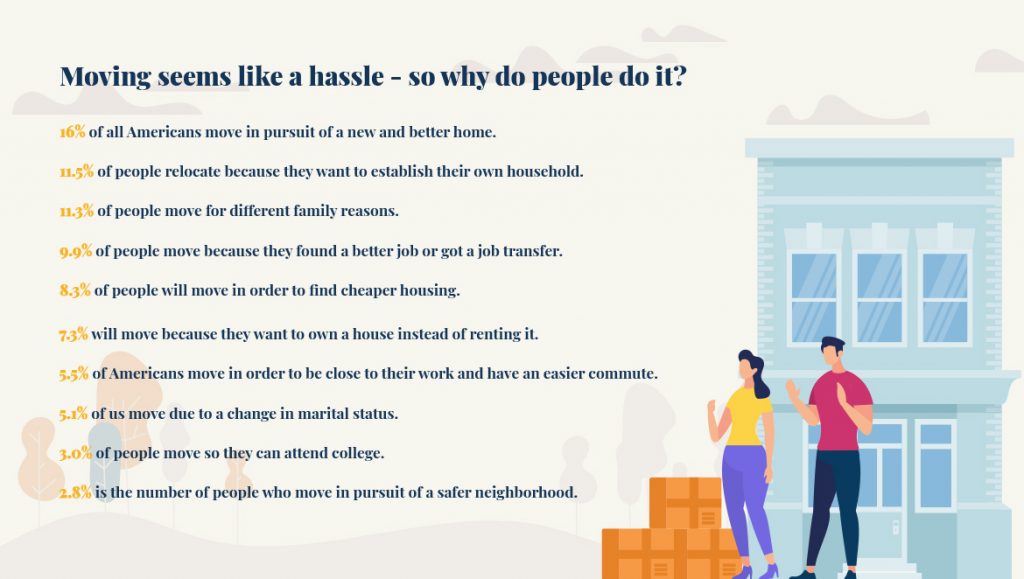 Hope for the best and let our cross country moving tips help you
At the end of the day, all you need is a bit of good luck and faith that everything will work out. When it comes to us, we wish you good luck and that's why we composed this list of the ultimate cross country moving tips. Sometimes, the best way to help is by sharing the knowledge you have. And after years in the relocation industry, we have a lot of it!