So, you decided to move and change your life for good? While this is a great decision, a move as big as this one requires thorough preparation. People who are moving from Jacksonville to NYC simply can't do it overnight. Your relocation will bring certain changes and the more you know them, the easier it will be to deal with them. If you are still thinking about it, this is the perfect time to get to know both cities and compare them to the fullest. Our team at Verified Movers reviews is here to dive into the details of this relocation, so let's jump into it.
How common is Jacksonville-NYC's moving route?
People from Florida will obviously choose a place to move to according to their needs and wishes. The same goes out for Jacksonville residents! In the period between 2015-2019 more than 850 people decided to move from Jacksonville to NYC. As the main reason for it, they said it was a job offer from one of the many NYC companies.
That would make NYC take the 14th place on the list of favorite places to move to among the residents of this city. It's not surprising that other Floridian cities were at the top of the list, with Orlando taking the first spot.
What will moving from Jacksonville to NYC bring you?
It is safe to say that your relocation is pretty specific. You are leaving one big city and moving to an even bigger one. Meanwhile, both of them are famous for their urban lifestyle and diversity. Jacksonville is mostly famous for being the city that is home to the largest attraction complex! Here you can find 80,000 acres of pure fun, including 7 State Parks, 2 National Parks, a National Preserve, and 400 City Parks. Top movers in Jacksonville will help you move faster since they're familiar with every corner of the city.
On the other side, NYC is a place that every person in the world has heard of. It is home to some iconic places, countless celebrities, and some of the largest companies in the world. The good thing is that after moving from Jacksonville to NYC you will not have to adapt to living in a big city as you already have plenty of experience with that. However, NYC is different and some things in your life will change.
NYC has a lower unemployment rate and a public health care
Moving from Jacksonville to NYC because of work will give you amazing results! The unemployment rate in NYC is 1.7% lower than in Jacksonville. If you start applying on time you will find a job with a steady income. You will also not have to worry about public health care since NYC offers it to its residents. Moving your business here, however, will require more time to prepare and probably assistance from top movers in NYC, because commercial moves tend to be more difficult than residential ones.
Jacksonville is warmer than NYC
But you may not like the temperature in NYC on the other hand. The average temperature in NYC is around 18 degrees while Jacksonville goes as high as 27. NYC has colder winters as well. So, before cross country moving companies Jacksonville relocate you to NYC, make sure to prepare enough layers of clothing.
If you are a student, this relocation will open more doors for you
You should know that NYC has 14 more universities than Jacksonville. For someone who plans on going there, that is a huge difference and shouldn't be ignored. Some of the most popular ones include:
Barnard College
Baruch College
Monroe College
Fordham University
Columbia University
Each one of them will give you a high-quality education and a chance to start building your career as soon as you finish. You should use the opportunity as NYC is really open-minded for young people and is offering countless interesting working places. Keep in mind that according to some statistics, Columbia University is rated as the best university and campus for students in the entire USA.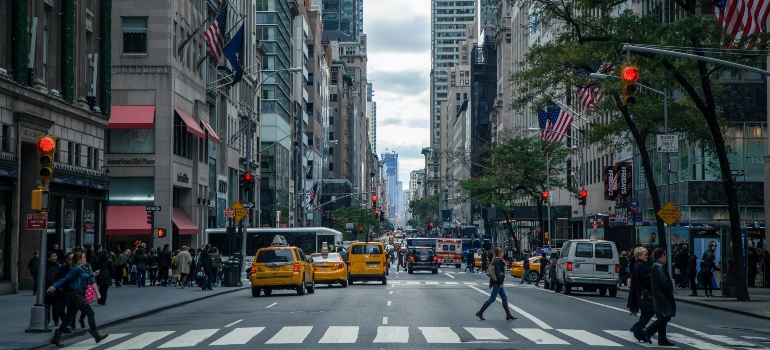 A huge percentage of young people will choose the Big Apple over Jacksonville
As a hot spot for good education, urban lifestyle, and diversity, a lot of young people will decide to move to NYC. Just in 2021. more than 75% of young people who did an online survey said that after the pandemic is over they would move to NYC. This is a perfect sign that this city indeed never sleeps and that it will be welcoming young people from all around the world forever.
Before you do it as well, make sure you check out the place you will be calling home in advance. Apartments in NYC can be really expensive while being super small at the same time. Whether you decide to move alone or with the assistance of cross country moving companies New York City make sure to devote enough time toward budget analysis. You may get a piece of this city and be close to its most iconic locations, but your apartment can be big enough to welcome you and only you.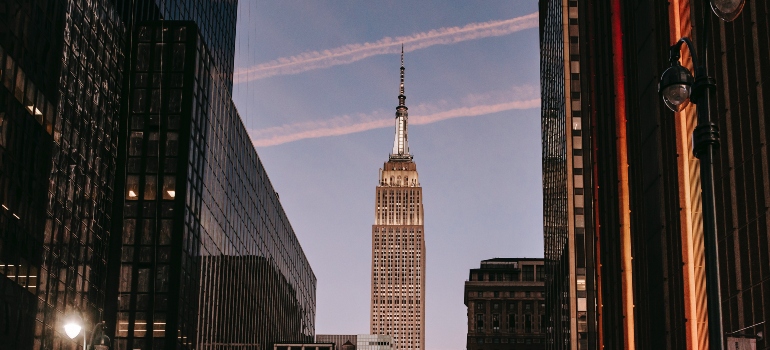 NYC is one of the most exciting places to live in the world, so moving there is not a mistake
You probably had a chance to see a lot of things NYC has to offer in countless movies, music videos, and YouTube clips. Well, after moving from Jacksonville to NYC you will feel like you knew nothing and saw everything all over again. This city will treat you well as long as you do the same for it. Get ready to meet the most passionate people on the planet and let them introduce you to some of the best parts of it. You will live the idea and before you know it, you will be calling NYC your beloved home!