Did you know that an average American moves 11 times in their life? At first glance, this number might surprise you. However, once you take into consideration every moving-related factor, the number 11 won't sound that scary anymore. But, what about families? How many times does the average family move? Let's take a look at what moving statistics have to say about these numbers. Here are some of the information about family relocations that will most definitely be of use to you if you plan to relocate any time soon.
Moving with a family – What is there to know?
Deciding to move to a different city with your family isn't something you can do with ease. There are so many things that need to be taken into consideration before you can make the decision that will change your and your kids' lives. So, we can all agree that family relocations are a bit more specific than other types of moves. This is why it is necessary to prepare for it as much as possible.
In America, it is perfectly normal to move your household a lot of times
If you think you are currently the only person who is dealing with the moving chaos, know that you are not alone! Americans tend to move a lot. Recent studies have shown that every year, tens of million people move within the USA. The numbers tell us that once an average American turns 18, they will move their household once every 5 to 7 years. Having that many relocations in one year mean you will need to choose your moving date carefully. It would be best to avoid "busy" months. That is when most moving companies are booked and their prices tend to be higher. To help you set the moving date, we have gathered some information regarding the number of relocations per month.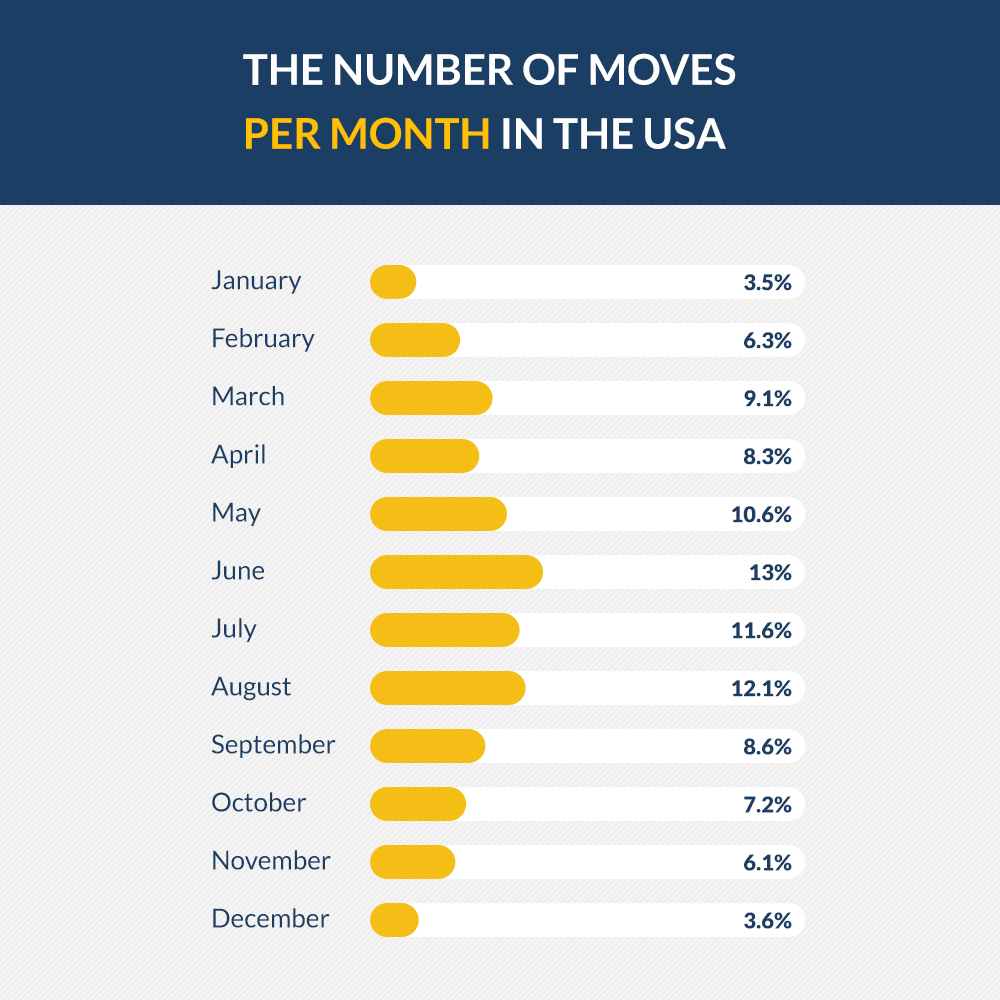 As you can see, most relocations happen in the summer so it would be best to avoid it if you want to save a couple of bucks on your move. On the other hand, if you have kids, the summer will be a perfect time for the move since they won't be at school. You need to pick the date very carefully… It needs to suit your family and your wallet! So, apart from solely focusing on how many times does the average family move, you will also need to think about your moving budget. Worry not, you can get a free moving estimate on our website to plan your budget with ease.
The traits of family-friendly cities and neighborhoods
Some of the most important moving tips regarding family relocations are focusing on the importance of finding a neighborhood that is family-friendly. After all, you can't just move to the first suburb you find on the Internet! Instead, you need to research thoroughly the neighborhood before deciding whether it will be a good place for your family. It would be best to choose a neighborhood that is safe, has friendly residents, and a wide variety of outdoor activities. In addition to this, if any good schools are close by, that should also be considered as a plus.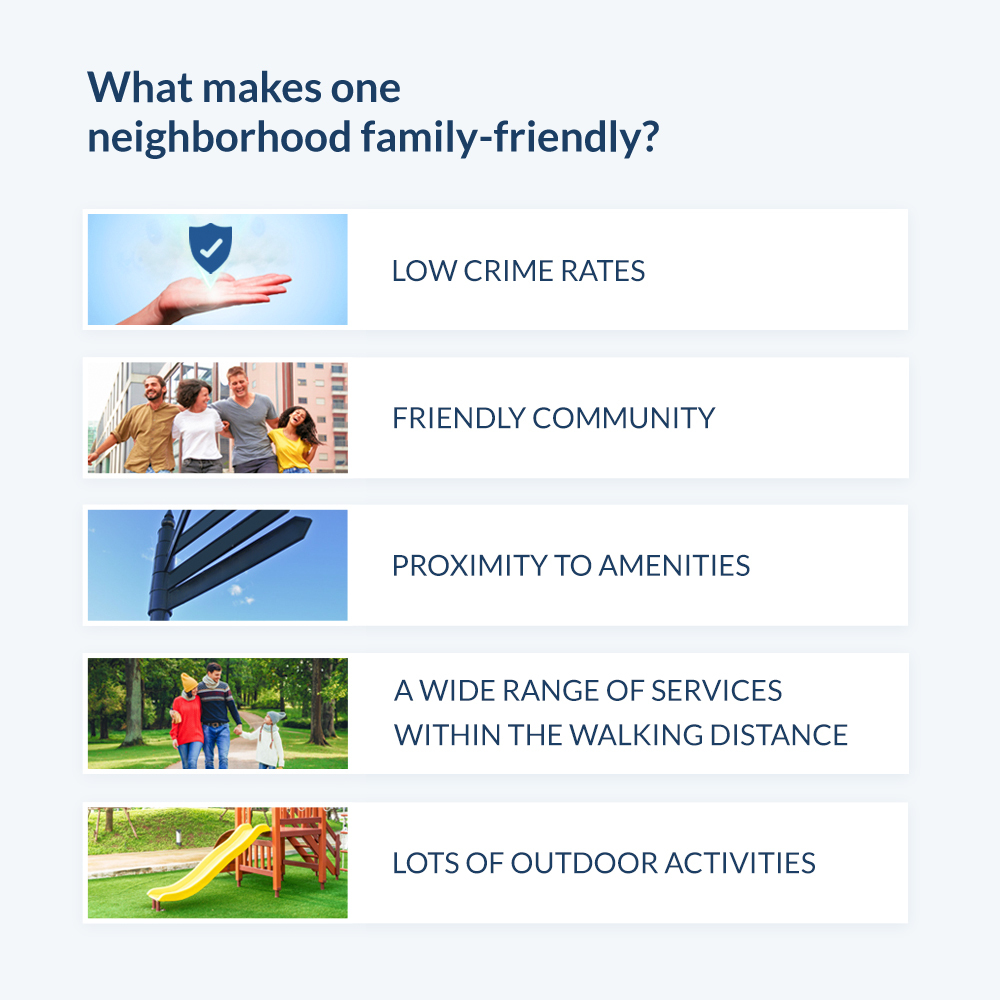 Who moves more – American families or European families?
As a company that has been a part of the moving industry this long, we have noticed that there are so many people who are wondering how many times does the average family move in the USA compared to European families. To give you an answer to this question, we, at Verified Movers, took a look at moving statistics from various years. The numbers show us that Americans are more mobile than Europeans. The reason why American families move more is mostly because of their employment. Americans change their jobs and get job transfers more often.
In addition to this, it seems like Americans think that it is way much easier to find a job in the USA. But even though they can get employed faster that doesn't mean all of them will be able to find a stable job.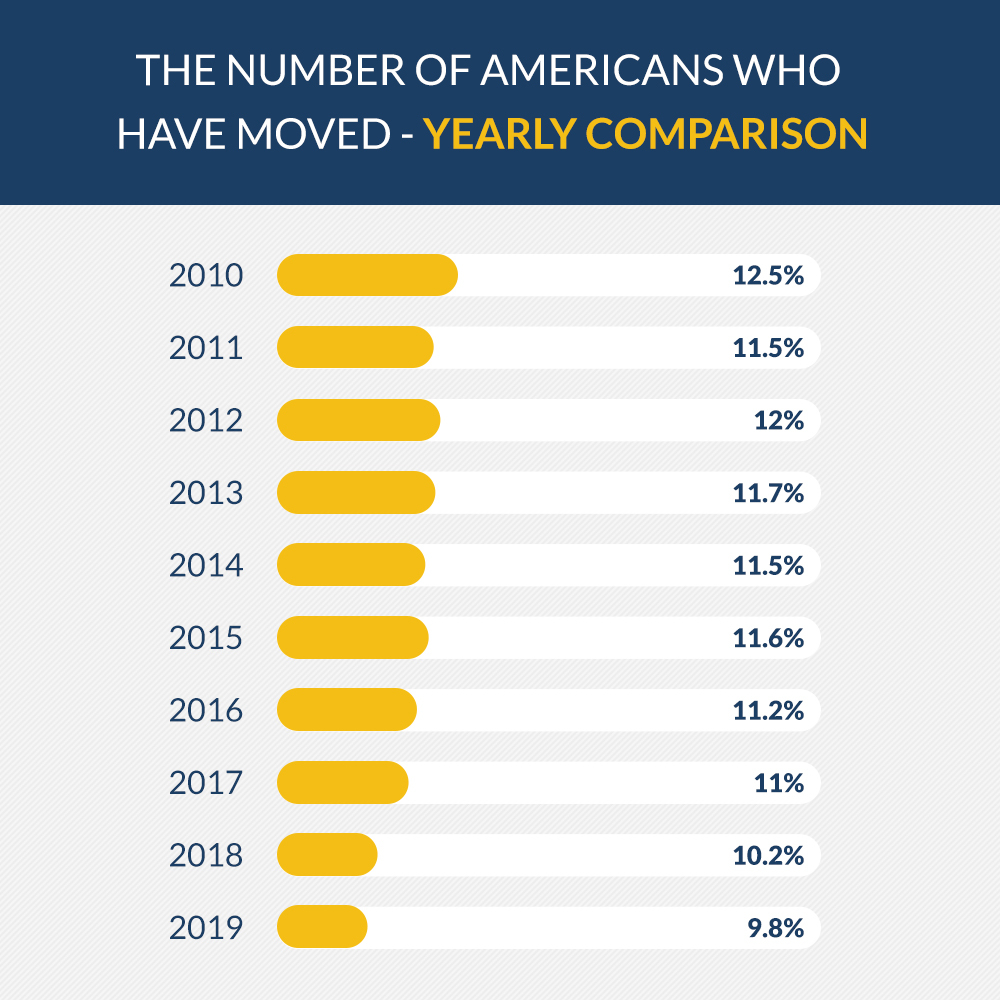 What are the reasons why families choose to move to a different home?
So, we have already mentioned that families move a lot because of job transfers and the search for new job opportunities. But, what are the other reasons why they choose to leave their home and find a new one? What makes one family decide it is time to hire some of the best long-distance moving companies and move to a different address? Well, let's take a look at some of the most common reasons why one family could consider relocating their household.
Moving to a better home
Getting children
New job or job transfer
Finding a cheaper home
Buying a home
To be closer to schools and/or work
Wanting a better and safer neighborhood
Other housing reasons
Other family reasons
If you were wondering how many times does the average family move it would be also useful the know the reasons why they are making that step. It has come to our mind that every family wants to find a better home where they can raise kids safely. That is another reason why they are constantly trying to upgrade their households and/or find a better one.
Do families move locally or over long distances?
What do you think – are families moving locally or they are moving over long distances more? Most of them choose to move within the state they currently live in. Only 10% opt for moving to a different state and starting their lives there. When you think about it, it is much simpler to move a couple of blocks away or to a next-door town than to a different state. However, this doesn't mean that local relocations shouldn't be organized or planned.
Every step of every relocation needs to be properly prepared. It is true that you will relocate locally faster and simpler, but you will still want to have a plan and a moving checklist by your side. Also, your kids will handle the move better if they know what is going on and are aware of the moving schedule. This is why you should do your best to prepare for the change that is about to happen or simply put your movers in charge of preparations.
USA states families are moving to and from
Apart from answering how many times does the average family move, we will also provide you with brief info of where families are moving to. Even though Americans move a lot and it is a bit hard to track their routs, we can list a couple of states that stand out. Some stand out because so many people are moving away from them. And some stand out because so many people are deciding to relocate to them. If you too are thinking about moving with your family, you will want to be aware of them. Who knows, maybe you too will choose to relocate to some of the most popular states we have listed for you!
Top outbound USA states
Not so many people are moving to a different state but those who decide to do it are mostly relocating from the same states. We have listed ten states that stand out because so many people are leaving them every year. Keep in mind that even though some states have found their place on our list, that doesn't mean they are bad. People have different needs and they change over the years. For example, a couple that has just got a baby won't like NYC's noisy nightlife anymore. Instead, that family will want to relocate to a quiet place. But that doesn't mean they have suddenly started to hate NYC. It simply means their needs and requirements have changed.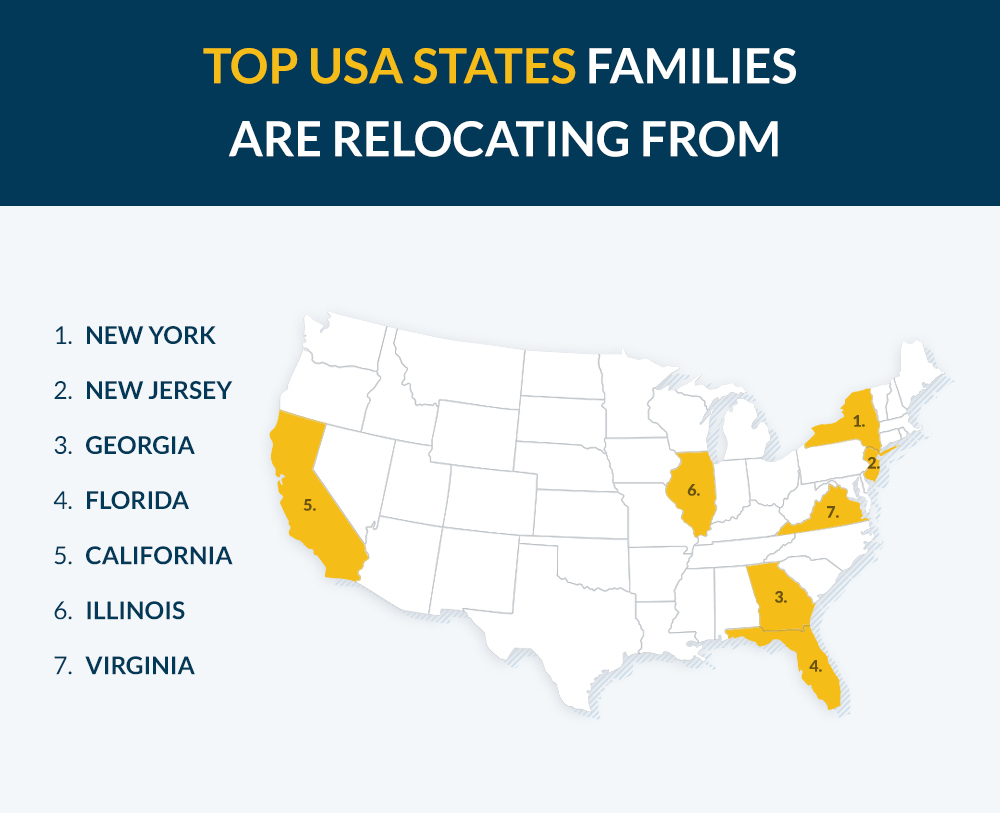 Top inbound USA states
These were the states most people are relocating from. But, what about those where most people are moving to? Let's take a look at the states that are the most popular option for families and people who plan to have kids.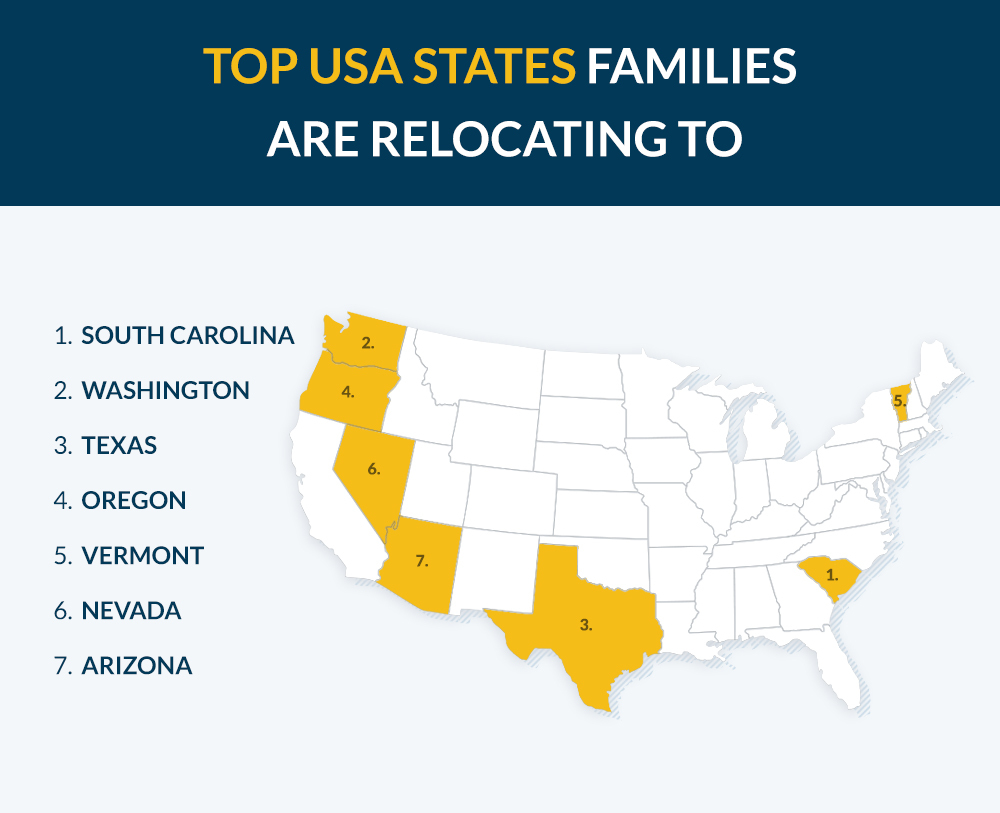 As you can see these states aren't the ones that are known for their nightlife, clubs, or parties. Even though you can find great parties and events in all of them, these states are better known for other things. They are much calmer and are great for people who love spending their time outside and go on adventures. But, no matter how good they are, you will still have to prepare your kids for moving there. There is a big chance your kids will get confused because of the move but you can make the entire process simpler for them. Talk to your children, explain to them the process of relocation and include them in it if they are old enough. This is how you will take the stress and other negative emotions away from your move. And, that is why you shouldn't skip this step no matter what.
So, how many times does the average family move?
We now know why families are relocating and where they are moving to. We have gone through different reasons of relocations but we still haven't answered one, the most important question – How many times does the average family move?
According to different data and information, the average American family moves every 5 years. Most of them have parents that are in their 20s and 30s. Also, most families have more kids in those years and that is why they need to find bigger and better homes. They need to find a place that is perfect for children so they switch homes so often.
Something has caught our eye while we were looking at these numbers. It seems like as people get older, their tendency to relocate goes way down. Elderly couples relocate only because of their retirement or because they want to be closer to their grandkids. These two reasons are the most important and most common reasons for the relocation of the elderly.
Thinking about moving with your family soon? Rely on Verified Movers
As you can see, both individuals and families tend to change their addresses a lot. Now you know that you aren't the only one who is currently sitting in a home, surrounded by moving boxes. Instead of feeling stressed or anxious, but some professionals in charge of your move. You don't have to do everything on your own and we will gladly prove this to you! Feel free to get in touch with us and we will be able to find the best moving companies according to your needs and requirements. And that is not all! You can also learn about the relocation process by reading our comprehensive guides or get a precise moving estimate free of charge.
Yes, we have answered your question regarding how many times does the average family move, but we can do so much more for you. We are here to help you and your entire family have the best possible moving experience. Whether you need to move locally or over long distances, we will do our best to help you move with ease.