Not many people think about packing when moving, but it is something that you really need to consider. This process is often tedious and tiring, and many people leave it for last. Then, they either try to rush it or try to find the best packers industry has to offer. However, then you need to think about the moving budget. Therefore, the next question to ask is about the average packing services cost. If you are plagued by these questions as well, then you are in luck! At Verified Movers, you will not only get the best moving advice you can – but also the answers you seek! Keep reading our article to find out more!
Why are people putting off packing their homes
There is a lot to unpack when you are thinking about packing your items. There is a lot of things to do – and the clock is always ticking during a move. First, you need to go through each room of your home and figure out exactly what you want to pack. You need to think about the size of each item and its weight. Another thing you might consider at this time is just what packing materials you can use for it. Then, you should also inform yourself about the best packing secrets in the industry.
All of this is both time-consuming and exhausting. But most of all, it can be emotionally draining. Moving already means you are saying goodbye to the life you used to know. Now, you also need to say goodbye to some of your items as well. This, together with the time constraints moves often have, puts a lot of pressure on a person.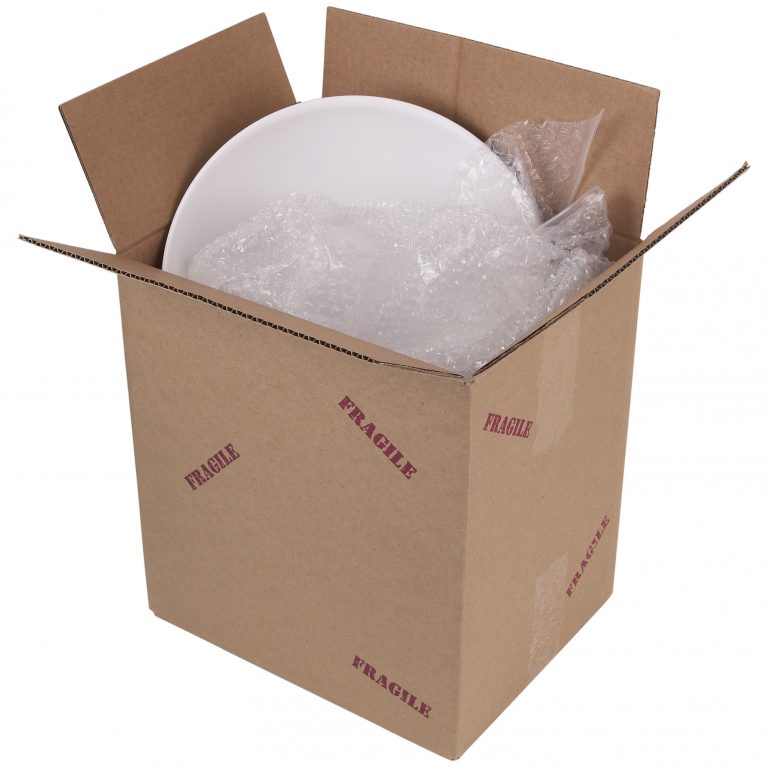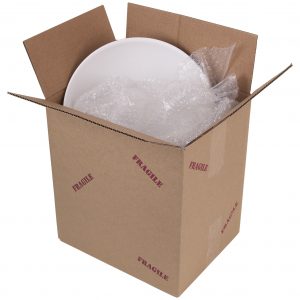 There is a method you can use, though, when deciding the future of your items. It is called a six-month rule, and many experts advise it. When you are unsure about whether you should bring an item with you or not, recall when you used it last. If this was more than six months ago, then it should stay behind. You probably will not get the change to use it again in the next six ones. And, as a matter of fact, the average packing services cost will be lower – so you can use the money you save to buy yourself a new, better copy of the item.
Should you pack yourself or call packing professionals?
This is one of the questions we most often get in the business. People are trying to find the average packing services cost, and then comparing it with the perceived cost of moving on their own. And while there is some truth that you can pack all by yourself, you will still be paying more in the long run. For example, during a long-distance move, a lot can go wrong. Things bump around in the truck and boxes might fall over. If you do not pack your items well, then they can break or fall out of the box.
On the other hand, if you use our services and find the best professional packers in your region, then you will be all set. This may cost you more at the start – but this is the price you pay for expertise. In the case of something going awry during the move, it will not be on you to pay – but on your insurance. When you pack alone, these are all your costs to bare. What's more, the chances of items breaking are higher – so choosing professionals is a safe bet! However, if you are still on the fence, let's look at some factors that will help you decide.
Packing is often time-consuming
We have already mentioned it once, but we will say it again. Packing will take a lot of time! As a matter of fact, experts usually recommend you take about two months for the whole process. So, as soon as you know your moving day, start planning to pack!
One of the main reasons why you might go for professionals is not their experience – but their efficiency. They will be very careful with your items, but they will also pack fast. While packing your home sometimes can take you weeks, it will take only hours (or days, depending on your home) for the pros we can get you in touch with!
How long will it take to pack up your home
1 -2 days – to pack up a studio or a one-bedroom apartment
2-3 days – to pack a two-bedroom home
4-6 days – to pack a four-bedroom home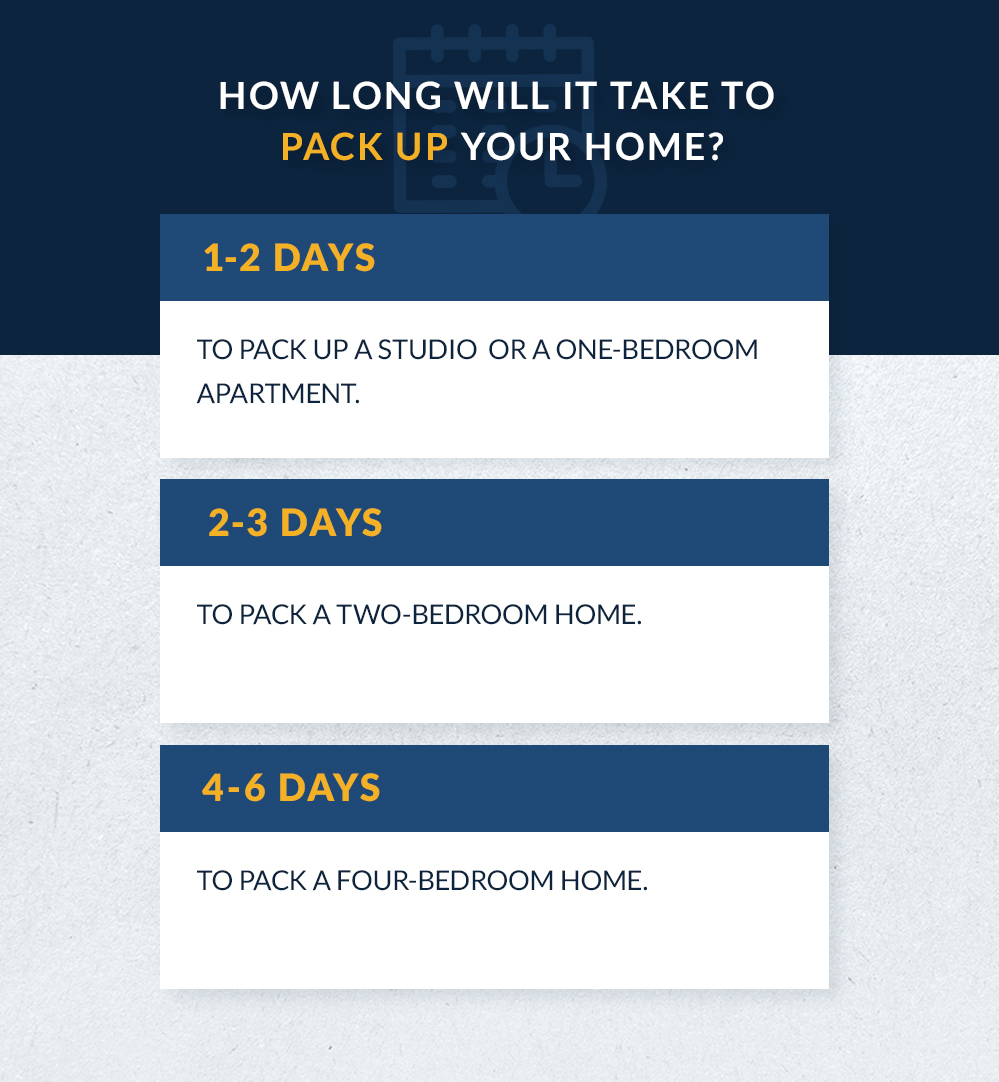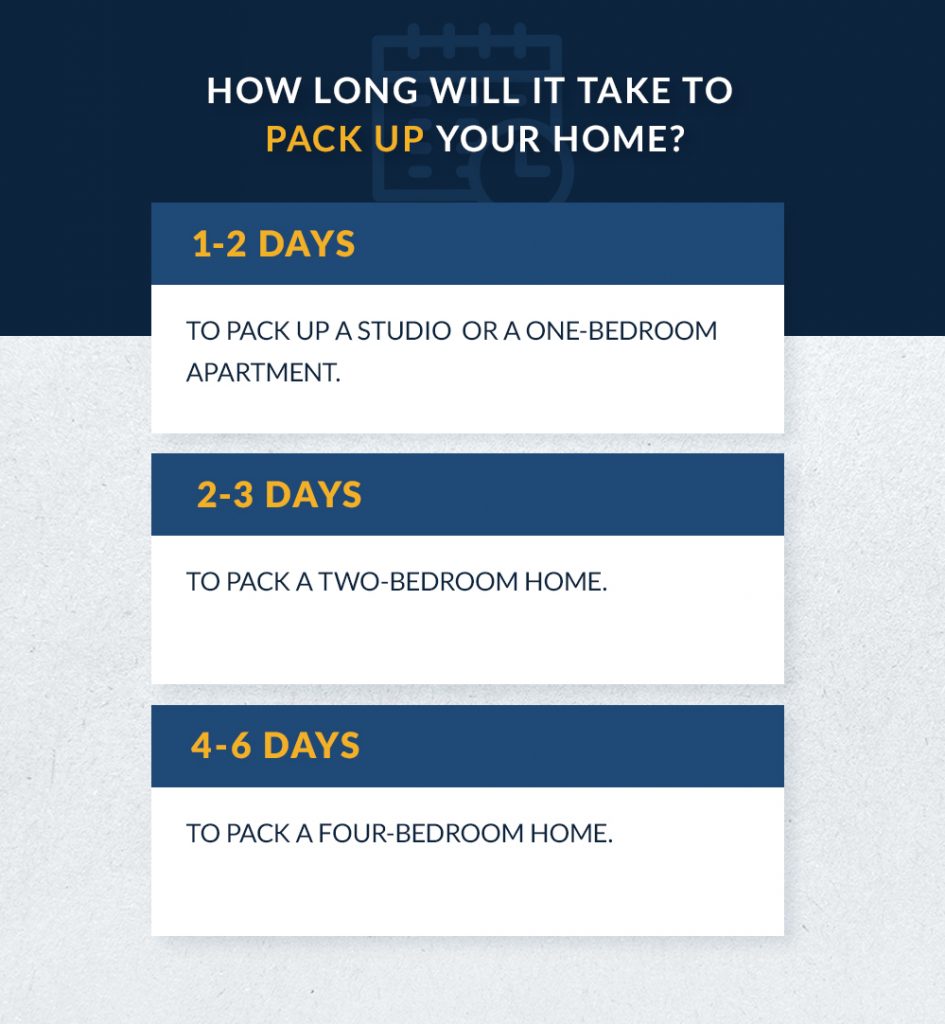 An added bonus is that you don't even need to be there! Just give them your moving checklist and you can go out and finish other chores, or even just hang out with your friends and say goodbye. This is a great way to destress during the move, and it is a well-earned respite! So, if you are short on time, then thinking about the average packing services cost is not your priority. Getting the job done on time is!
Get efficient and reliable packers with Verified Movers!
Another important factor of choosing professional movers over doing the packing yourself is the speed at which they do it. As we mentioned, the pros have a lot of experience in packing stuff up. This is beneficial for short-term moves, especially those with a tight schedule.
However, it is important to note that with Vefieid Movers, you will not only get efficient packers. They will never sacrifice the safety of your items for the speed! It takes a lot of experience, but also a lot of training to properly pack everything up. You need to know proper techniques and how and when to use the right packing supplies. This way, experts will protect your valuable and fragile items, so you can rest at ease during the move.
The quality of the packing materials vs the average packing services cost
The final thing you need to consider before diving headfirst into looking for professional packers is whether or not you can find the packing materials by yourself – and how much it will cost. As you might imagine, you can have all the skills in the world, but without good packing materials, you cannot guarantee the safety of your items. This is why they are an integral part of every packer's equipment, as well as a big part of calculating the average packing services cost.
There are many ways you can go about finding good material. You can search for shipping supplies on the USPs website where you can get good boxes for free – but maybe not the quantities you might want. There are also many other websites and Facebook groups that offer boxes for trade or sale, which you should also think about.
However, as you increase the number of items you are packing, so you need to increase the number of moving boxes. And this will, in turn, increase the average packing services cost. When you add packing supplies like wrapping paper and packing peanuts, it can get pretty high with ease. The worst part is that you never know if those are of high quality. With professionals, you will pay too, but you can be sure that you are working with the best this industry has to offer.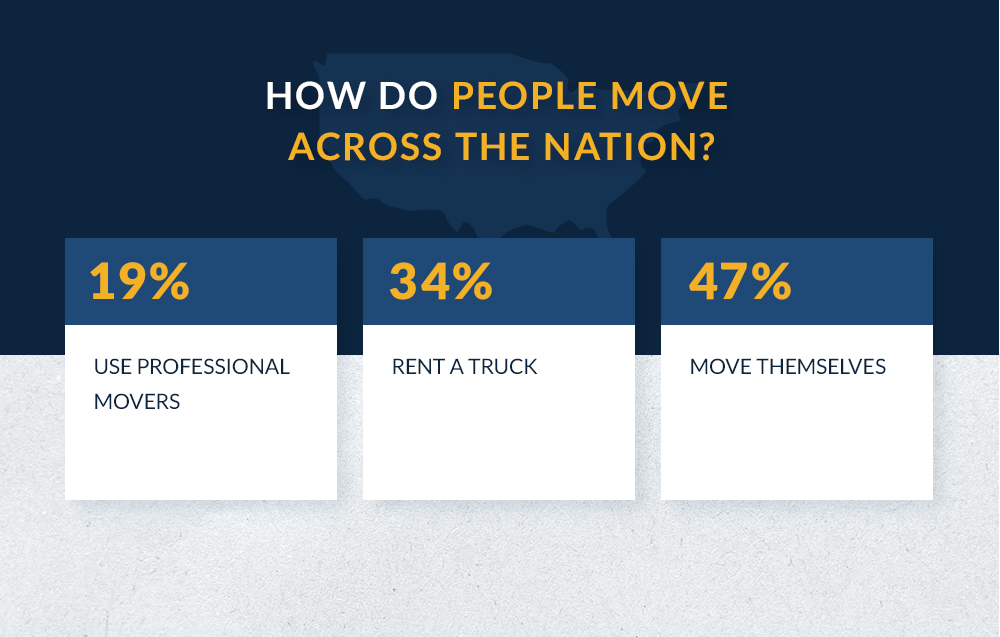 Of course, the final decision really falls down on just how much you will have to pay for it all. So, make sure you ask for moving quotes when discussing your move. They will inform your decision and help you figure out your moving budget as a whole.
What is the actual average packing service cost in 2020?
Now, we have talked about all these different things that go into the packing cost calculation, but we never settled down on an actual number. Is this something that stays under $100? Could you do the packing for an even smaller tip, or does it cost multiple hundreds?
According to researches, the national average packing services cost is between $50 and $80. This price range is, of course, flexible. If it is only a few boxes you need to pack, then it might be even less. If you need commercial movers to pack your whole office, then this number might rise up. Of course, it also depends on the size of your household.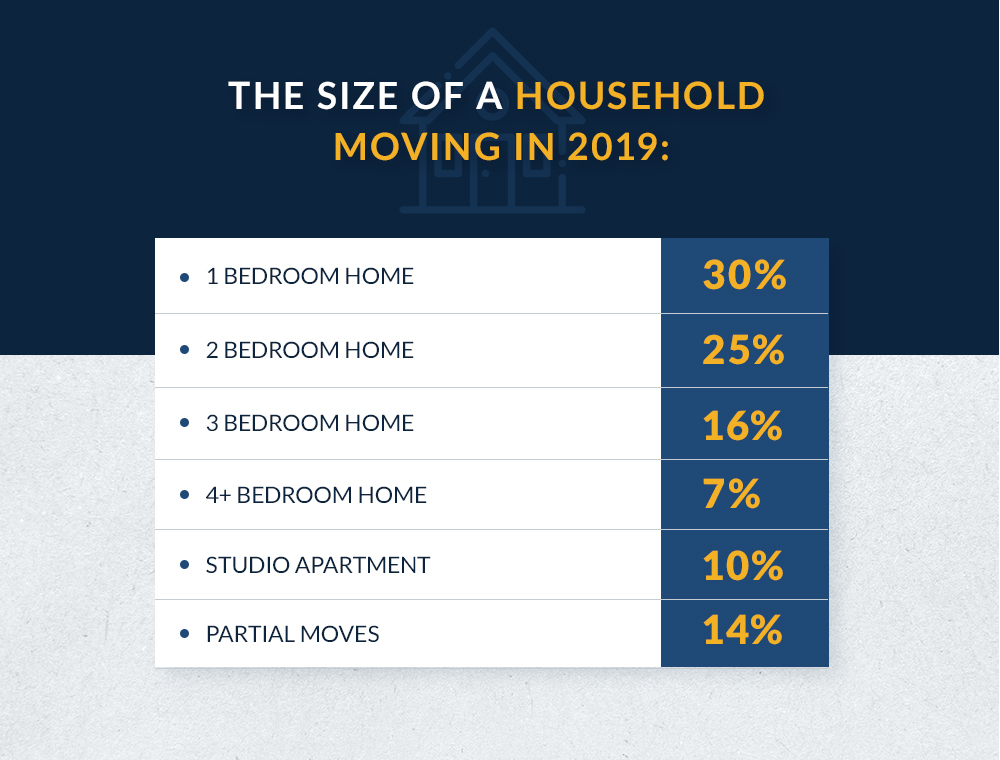 What else goes into forming the cost of the packing services? Well, as we mentioned, there are packing supplies you should look into. The more and the better – the higher their cost! However, this is not all. A lot of packing professionals will also offer other special services as well. For example, they will help you with disassembling and assembling furniture. This is an important task because it helps protect bigger pieces and items. Then, some workers will help you load and unload the truck, or do the heavy lifting for you. All of these cost more and will boost up the price of the packing services.
How to hire professional packers
How that you know all about the packing process and how much it can cost you, it's time to talk about the necessary steps to hiring your packing services. Usually, this process involves three things. First, you will want to take a look at your moving budget and determine just how much you will want to spend on packing. This will also help you figure out just how many of your items and furniture you can afford to take with you, which makes that first tough step somewhat easier.
Then, you might want to go online and start hunting for companies that offer packing services. This process can yet again be long and tiresome. Not everybody offers the same services and not everyone can move your home or your office. There are specializations even in the moving industry! Then, you will need to look at reviews and screen the companies. Of course, you want to end up with professionals – and this process is a must to ensure that!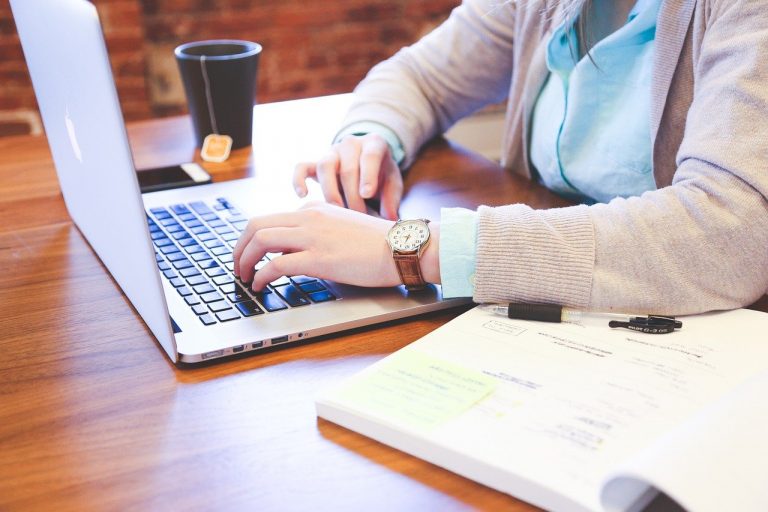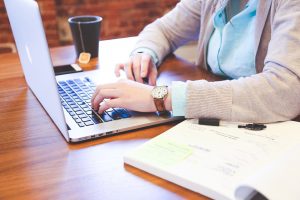 Luckily, there is a much easier way to finding the perfect company with packing services! All you need to do is contact us! Here at Verified Movers, we are dedicated to ensuring your move is as smooth as possible. That's why we will find the company you have always been dreaming of! With us, you can skip all this searching and screening, and focus on other, more important chores!
How to get your budget under the average packing services cost
Another thing that you should consider is finding out the way how to lower the total cost of the packing services. There are many things you can do – and many compromises you can make. As we mentioned, the first is to go hunting for moving boxes on your own accord. This process, however, can take a lot of time and effort. Unfortunately, when you are moving last-minute, this is time you cannot afford.
Then, you can get rid of a lot of your stuff. Minimalism in packing has become a trend in recent years. If you do not have much to pack – then your moving costs will be lower! However, this means saying goodbye to a lot of stuff, which is not always a great solution. Finally, you can also try to do some packing by yourself. As discussed, this carries a risk of you breaking something and this is something you should try to avoid.
Once more, you can avoid all of this by calling Verified Movers! We can find you an affordable moving company with which you won't even need to worry about the average packing services cost! With Verified Movers, moving is easy – and so can be your packing process!