Statistics show that moving is one of the most stressful events a person goes through in a lifetime. The longer the distance of your move, the more stress you are bound to have. There are simply more things that can go wrong when moving long-distance than when moving locally. So, how does one survive a long-distance move and not lose their sanity? The answer is simple – all you need is our guide for long distance move which will make your life during your move much easier. Besides, we here at Verified Movers have collected every piece of information we thought you should know when moving more than 50 miles from your home or office. From the most common issues that accompany such a move to what makes it more bearable, we have all the details.
The biggest issue people face during long distance moving – the money issue
What makes moving such a complicated event is the fact that it's oftentimes unpredictable. Of course, good planning and careful analysis of your every move can go a long way. But as much as you plan, there always seem to be some problems coming out of nowhere, threatening to ruin your entire move. Let's for a moment disregard the emotional challenges that come with moving far away from home. And let's also forget about the prospect that something can get broken/damaged/ruined. With a proper insurance policy, complete reimbursement is possible. But the one thing that will present your biggest cause of worry is your financial situation.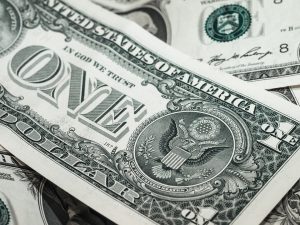 Before taking any other action, like hiring movers or buying packing supplies, you first need to plan out your budget. You need to do your best to estimate the cost of your move and then make sure you stick to it. Moving is actually a billion-dollar industry that garners $3.6 billion per year. A long-distance intrastate move costs $2,300 on average. We are talking about an average-sized home, as well as relocation where four movers were employed. So keep in mind that the cost of your long-distance move can actually be much higher, So, word to the wise: plan accordingly, anticipate where most of your money will go, and always expect your move to be pricier than you expected.
With all the problems that come with long distance moving, it makes it hard to see why anyone would decide to go through it. We have an answer to that question. Statistics show that there is a special group of people that is more likely to embark on a long distance move when compared to other groups. Interested to know who an average long distance American mover is?
Who decides to move long distance?
You might be surprised to know that not all people are equally inclined to move far away from home. Precisely because long-distance moves are much more complicated than local moves, people are more hesitant to go through the stress of it if that stress can be avoided. So it's safe to say that long distance moving takes some courage! And our guide for long distance move, any long distance move, wouldn't be complete without an overview of the people who usually take a leap of faith and make this difficult transition.
An average mover is part of a couple that is between 18 to 34 years of age.
That average couple usually has one to two kids.
Interestingly enough, older Millennials (25 to 35) these days are moving less than previous generations.
As people get older, they become less inclined to move far from home.
We know who, but do we know why?
The reasons why one might decide to move are many. However, statistics show that there are five most common reasons why people pack up their bags and venture on such a distant journey. But we don't think they will surprise you.
As much as 45.3% of those who move long distance do so because they want a new home or another housing option.
27.5% of people move for family-related reasons, like a change in their marital status.
19.5% of those who relocated did so because they got a new job or a job transfer.
3.2% are youngsters who move away for college.
4.5% for different, unspecified reasons.
Hey, sometimes, people just feel like moving and changing something in their lives without any special reason! Whichever group of people you belong to, and whatever your reasons for moving are, if you know that you will be relocating long distance, you need to do two things. First, you need to calm down and remind yourself that everything will be fine. And two, you need to read our guide for long distance move that will make your relocation a piece of cake.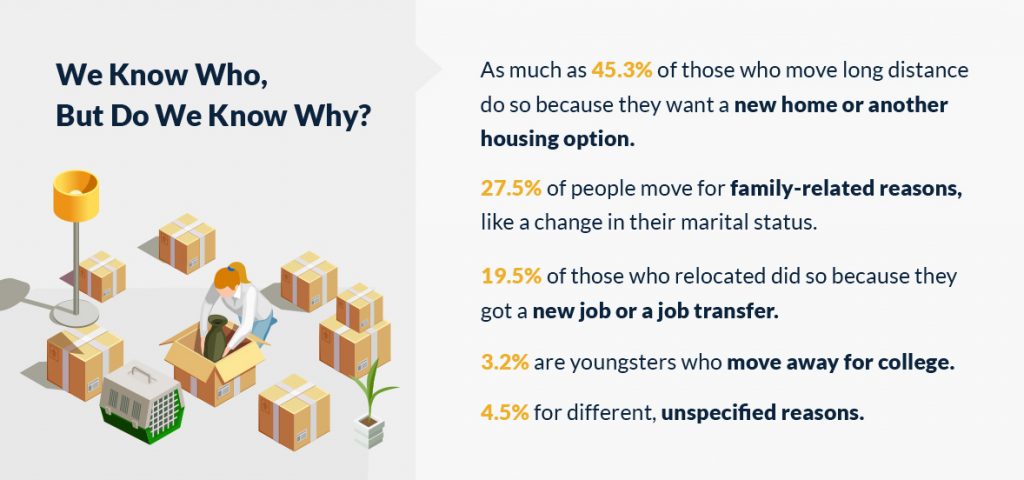 Planning – a staple of our guide for long distance move
Without a good plan, you won't have a successful relocation. As simple as that. Moving is not one of those things you can do in the spur of the moment and still get away with it. Moving is a process that takes time to plan and organize if you want everything to go right. If there is one thing you should know about us is that we always advise people to sit down with their moving companions and plan what's ahead down to the smallest of details.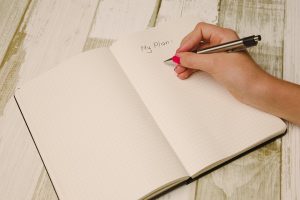 Now, we know that you aren't a moving pro. We know that making a plan that makes sense will be hard for you. That's why we have decided to help you out by listing all the most important things that need to be done before your moving date. Not only will we list what needs to be done, but we'll also suggest the best time for doing it. If you follow our checklist, you shouldn't have a problem with the most important parts of your move.
Take note that we suggest you make your own moving checklist and timeline as detailed as possible. If you were to accomplish to list every single thing that needs to be done, you would be doing yourself, and your move, a great favor!
8 weeks before your long distance move
The most recommended time to start getting ready for moving is two months before it. That gives you just enough time to deal with everything without losing your mind. The first thing you should do once you start preparing for your move is booking movers. Not only can booking early save you money, but it can also save your nerves. Besides, it will be easier to lock in a reputable company which is always a huge plus. Another thing you should do eight weeks before your move is to start throwing away items you no longer need. Beging decluttering by dealing with the basement or garage first.
6 weeks before your long distance move
Your move is slowly approaching but you still have plenty of time before the actual date comes. This is the time when you should start decluttering the rooms in your home and throw away or donate all the items you no longer need. Put the ones that you decide to move with you on your home-made inventory list. Another important thing you'll want to include in your moving checklist is letting everyone know you are moving. You should inform the utility companies of your address change, your bank, IRS, and your loved ones. Also, don't forget to contact your doctors, dentist, and veterinarians so that you can obtain copies of your personal records. You'll need to have them transferred to your new location.
4 weeks before your long distance move
Our guide for long distance move states nothing but honest truth. And the truth is that we consider this point of your relocation to be the crucial one. Why is this stage so important? Because this is the right time to start packing! Any start later than this and you might have a problem finishing everything in time without losing your sanity. Start by packing the items you don't use on a daily basis, like seasonal clothing. As your move approaches, work your way toward those items that you use with greater frequency.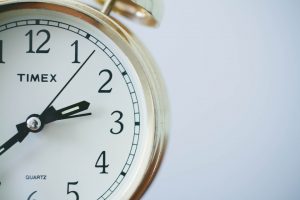 2 weeks before your long distance move
This is the time for you to ensure that everything is going according to plan in your new home. Or office if you are going through commercial relocation. You should also make travel arrangements and decide whether you want to travel by plane or you want to drive a car. At this point in your relocation, you really want to think outside the box and deal with smaller tasks that usually aren't associated with moving but make all the difference after relocating. Like finding a new family physician and a new vet. Try to leave that last week as free of duties as possible. That week should be left for some more pleasant things.
The creator of this guide for long distance moves thinks the week of your relocation should be a pleasant one!
Unfortunately, thinking that you won't have to pack a single item or finally finish up decluttering is a bit unrealistic. It's okay to finish up with all the moving tasks during this week, but remember that the focus should be on the phrase finish up. This isn't the time to start packing – it's the time to tie up loose ends. On the other hand, this is the perfect moment to throw a moving away party! Invite over all of your friends and reminisce about the good old times. That's going to liberate you of some of the moving stress which is bound to appear at this stage of the move! The good news? This is THE final stage. Once it passes, you will be in your new home or office, comfortably settled in.
Our guide for long distance move would be incomplete without tackling the big question – should you hire movers or have a DIY relocation?
What comes to mind when you think about relocation? Do you see yourself working hand in hand with a team of movers? Or do you see yourself packing, loading, driving, and unloading the moving truck? Usually, people belong to either one team or another. But what's the right decision and does one even exist? Our advice is certainly to choose one of the top-rated long-distance moving companies when moving far away from home. Local moves are a completely different thing, but they aren't our topic right now. If you are unsure which decision to make, then maybe you could benefit from seeing the statistics and knowing what other people are doing.
45% of people opted for a DIY relocation in 2018.
34% of people moved by renting a moving truck.
21% of people moved with the help of a professional mover.
This is a surprising twist of events as DIY relocations won by a landslide. But that doesn't mean those relocations ended in success. In fact, your chances of success are much smaller when you don't have the help of a professional moving company. Because they are just that – professionals. They have been moving people's belongings for years, if not decades! Think about the future the next time to you pose this question to yourself.

What now?
All right. So we've established that your best chances of a successful long distance move are with a professional mover. Glad we got that out of the way. But how does a person pick the right long distance moving company? There are so many of them on the market, so picking the one that's perfectly suitable for your needs could be a challenge. Not with our help, and not when you have our guide for long distance move.
The steps to finding the right long distance moving company
You'll be glad to know that you already have everything you need for finding your perfect movers. You have a PC with a stable internet connection, right? Then you are all set! These days, online research is all you need to find companies that provide services that you need. In this situation, those are moving services. Well, buckle up, because the process can sometimes be a bit lengthy, but every second will be well-spent!
Find a few companies that offer the services you need
Do you have a piano that needs to be moved across the country? Then you shouldn't settle for anything less than excellent piano movers? Do you need a professional to pack up your entire house or provide you with the basic moving package only? Look for a few companies that seem to offer everything you need. Once you shortlist 4 to 5 candidates (you really don't need anything more than that,) you will be ready to proceed to the next step.
Ask for moving quotes – and compare them
Finding a moving company with services that seem to match your needs is great! But it won't mean a thing unless those services come at a price you can afford. So once you find a few long distance movers that spark your interest, you should contact them and request moving estimates. Once they reply, it will be easy to compare the results. Just remember that you are not looking for the cheapest company – you are looking for the one with good quality to affordability ratio. In fact, reputable movers are almost never cheap. They can be affordable, but not cheap!
Feel like you might have found your match? Do a background check!
Our guide for long distance move could never be complete had we not dealt with the security issue. These days, moving has become a dangerous prospect, filled with mystery. You need to do whatever is in your power to avoid moving scams which seem to be all around us. But the good news is that you do have the power to prevent this from happening. All you have to do is ask around and do a background check of your potential moving company.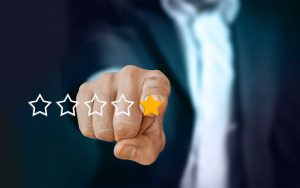 Asking around
Now, if a company is an excellent one or, quite the opposite, a fraudulent one, that company will probably be known to many people. So once you start asking around and people have actually heard about the company you are thinking of hiring, it can mean you either made a great choice or a very poor one. And you will find out soon enough. If no one in your vicinity has any information about the name you just dropped, it will be very easy to find out what others think about it by doing online research.
Online research
Just type the name of the company and you will probably see links to forums where people discussed the company in question. If the comments are good – congratulations. You made the right call! On the other hand, if comments are concerning, especially if they are the majority, it's best to go back to step 2 and review your options.
All that's left is to book your moving date
Now that you know how to find a perfect mover and you know how to prepare for your long distance move, only one question remains – when should you move? Well, it depends! Are you trying to spend as little money as possible? Is your goal to avoid the inevitable traffic jams? Or do you simply want to move at a time that will be most convenient for everyone, including your kids? While the right answer to the question 'when should you move' depends on your situation, we can tell you what the statistics show. Let's go month by month, and see how many people moved during it.
January – 3.49%
February – 6.40%
March – 9.05%
April – 8.42%
May – 10.49%
June – 13.11%
July – 11.72%
August – 12.09%
September – 8.71%
October – 7.17%
November – 6.09%
December – 3.26%
Clearly, the most popular month for moving out of your home is the month of June, which is the beginning of the summer season. That also makes it one of the most expensive months for moving. On the other hand, the least percentage of people decides to move in December which is right in the middle of the beautiful holiday season. Those who do decide to move during it can enjoy cheaper prices and greater choice when it comes to booking movers. But before we finish our guide for long distance move, let's first reflect on the number of moves per weekday. Perhaps that can help you decide the exact day when you want to be your moving date.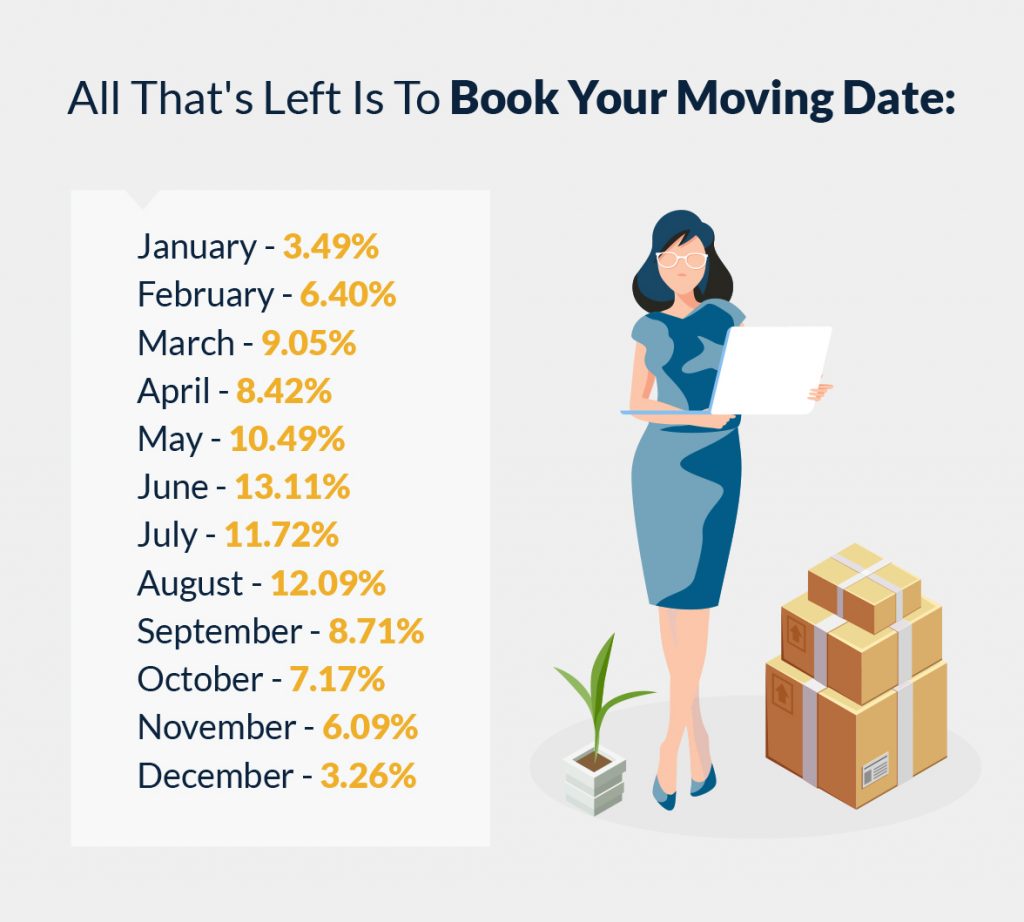 Which weekday to choose for your move?
Okay, so we have almost finished our guide for long distance moves. However, there is still one question that is left unanswered – should you move during the weekend? It depends! Are you willing to pay more or less? If you don't mind forking in more cash, weekends will be perfect. But let's not waste time and take a look at how busy particular days of the week are when it comes to moving. We believe you'll get all the answers you need very shortly.
Monday – 16.15%
Tuesday – 10.67%
Wednesday – 13.27%
Thursday – 13.60%
Friday – 20.22%
Saturday – 18.40%
Sunday – 7.69%
Who would have thought that Monday is the third most popular day of the week for moving? Looks like Mondays aren't all that bad. You certainly won't make a mistake if you choose Monday to be your long distance moving day. At least you won't have to sit stuck in traffic for hours!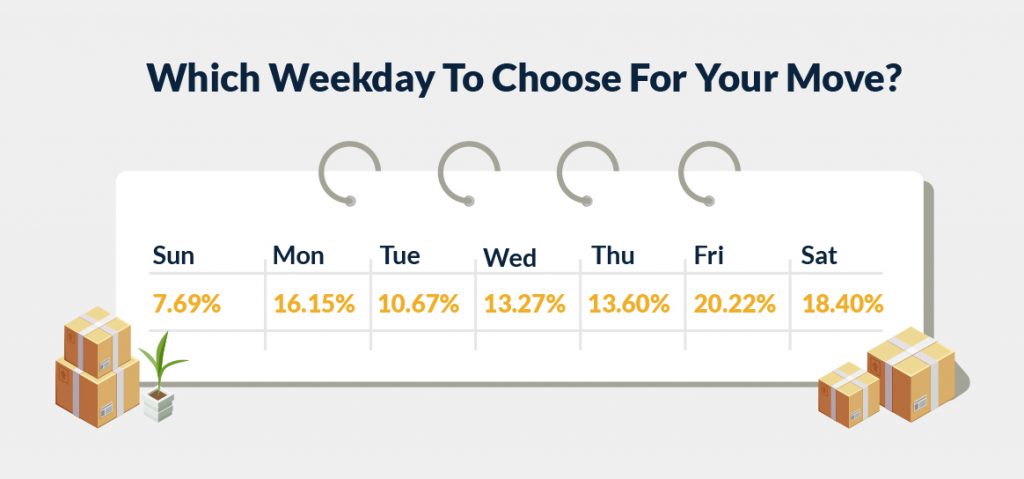 We hope our guide for long distance moves was useful!
After all, we made sure to include every piece of information we thought you might find useful in the days to come. Because we understand that going through a long distance move is never an easy thing. So we wanted to let you know you do have someone on your side – someone like Verified Movers who would do anything to help you. We hope our guide for long distance move will do just that – help you have a smooth and seamless transition to your new home!