Moving to a new country is an experience that a lot of people are looking forward to. Still, as much excitement as it gets, it is still a big decision and requires a lot of preparation. Moving to Denmark from US means you will need to do some research, pack your things and find help from a moving company. In order to make this process easier, Verified Movers reviews are here to help you choose the best professionals for your needs. Once you fill in your moving information, you can get a list of recommended companies. After that, get ready to eat healthily, ride a bike around town, and turn your life into a new adventure.
Why do people move to Denmark from US?
Denmark is a highly appealing destination for many Americans who are looking to relocate. The country has a high standard of life, exceptional healthcare, and amazing welfare programs. Additionally, Denmark is known for its excellent work-life balance and they have a strong emphasis on leisure time and family values. The country places significant value on sustainability and has a large renewable energy sector. Both residents and the government want to reduce their carbon emissions and have great ways to do so.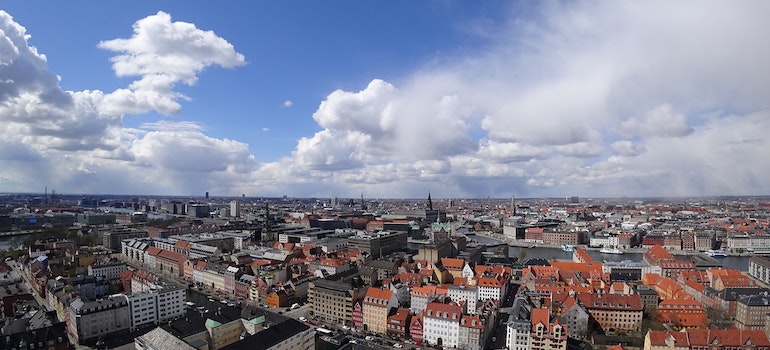 Once you learn more about the country, it becomes very apparent why people move there. They have a rich history and culture alongside beautiful landscapes, charming cities, and excellent cuisine. Moving from US to Denmark means you can expect a high quality of life and a healthy work-life balance. Denmark is amazing for young people, but it's also one of the best countries for senior citizens to settle in and enjoy their retirement. Therefore, it really has something for everyone.
What to expect from life in Denmark and how to adjust?
Life in Denmark can be very different than that in the USA. So, you might need a bit more time to adjust but don't worry. Danes might be reserved at first, but they are welcoming people. Their culture values equality, and social welfare, and the country rank as one of the happiest countries in the world.
Cuisine can be a big difference, as they enjoy more fresh produce, open-faced sandwiches, and seafood dishes. So, you might want to look up some recipes or visit locally popular restaurants to try them. When it comes to the weather, depending on where in the USA you live, it might or might not be a big difference. You will be moving to a country with mild weather, cool summers, and cold winters. However, you should prepare for a lot of rainy days and probably go shopping for some warm clothes.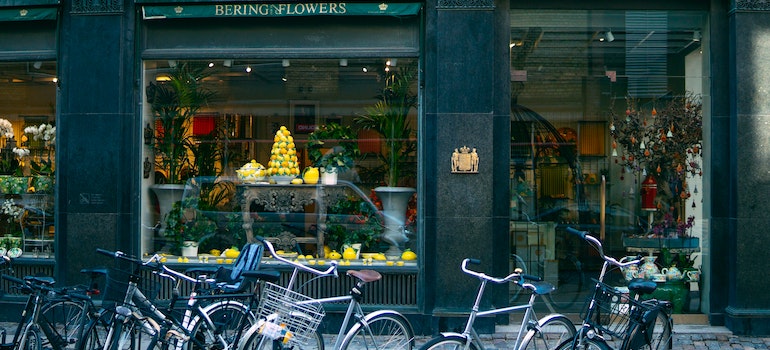 Acquire all the necessary documents
International moves need a very good plan, so start doing this early. Write down everything you need to get, finish and pack. The most important thing about these types of moves is that there is some necessary documentation for moving overseas, and it can vary from country to country. In terms of moving to Denmark, here's what you'll need:
visa
residence permit
registering with the national registration office
Danish tax number after the move
It is very important to start early and prepare everything with enough time to see if you forgot anything. Once you find yourself in your new country, you will also need to open a bank account. Luckily, Denmark is known for its highly efficient bureaucracy so you won't have any problems with it.
Moving to Denmark from US as a student
If you are a student, you are probably interested in the best options for your education. Even if you are studying in one of the best states for international students in the USA, you might be interested in an international experience. Denmark has a world-class education system and a lot of degrees are taught in English. Also, you can consider taking just one semester internationally, as a lot of universities have those options. As a student in Denmark, you can have access to healthcare and free transportation in some cases.
Navigating the Danish rental market
The process of finding a home in Denmark may somewhat be different than in America. It is very common to sign long-term leases, for up to two years. Renting a home in Denmark means that most likely you will get an unfurnished space that you will need to furnish. Also, it is very rare to find a property that allows pets, which you should know before moving with your furry friend. Foreigners who wish to rent a property in the country also need to have a Danish CPR number, so be sure to check how to apply for it. Once you find the space you want that suits your needs, you will need to prepare references, proof of income, and a deposit. Prices of rental homes will vary, from city to city, and based on the size. The average rent in Copenhagen for one bedroom is between $1,306 and $1,790, while for a three-bedroom apartment is between $2,859 and $2,100.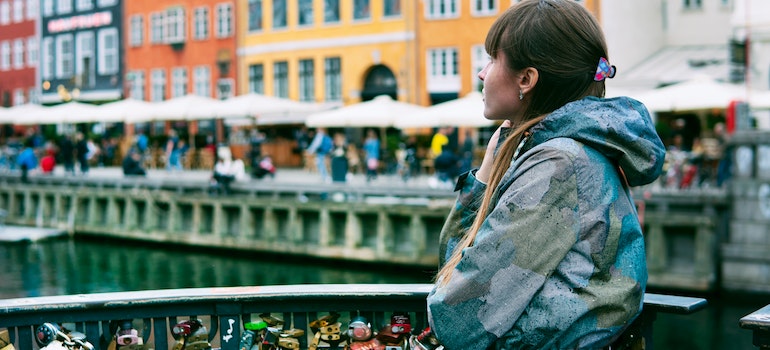 Is there a huge difference in the cost of living?
When moving internationally, it is important to make a budget for it to not overspend. The cost of an international move will depend on factors such as distance, which country you are moving to, and the moving company your choose. Also, you should know about the cost of living and make a budget for the first few months. There is a significant difference in the cost of living between Denmark and the US. Denmark is one of the European countries which have a higher cost of living, especially in cities like Copenhagen and Aarhus. The difference will also depend on where from the USA you are coming from, as the states have different prices and some are more expensive than others.
However, Denmark offers free healthcare, education, and other benefits which can persuade you to still move there. Groceries and housing can be more expensive than in America, while transportation costs are lower. There is a good public transportation system, so you might not need to go through the process of international car shipping if you don't want to. So, to answer the question, there is a difference between the cost of living, and it will depend on where you are moving to and from. Still, Denmark offers a worthwhile quality of life and social benefits to consider moving to this country.
Moving to Denmark from US for work
Moving to Denmark from US for work is a very common reason people decide to move. Denmark offers a highly skilled and educated workforce and, as mentioned, has a good work-life balance. The country has a welfare system that ensures that employees have access to benefits such as healthcare and paid parental leave. It is also home to many international companies and startups and is a desirable destination for those in different industry fields. In addition, Denmark has a progressive work culture that emphasizes collaboration, creativity, and flexibility. If all of this and a strong economy sound appealing to you, maybe it is time to pack your bags. You can have a nice life filled with opportunities in Denmark. However, if your company is moving to Denmark, you can negotiate a relocation package to make the costs of the move lower.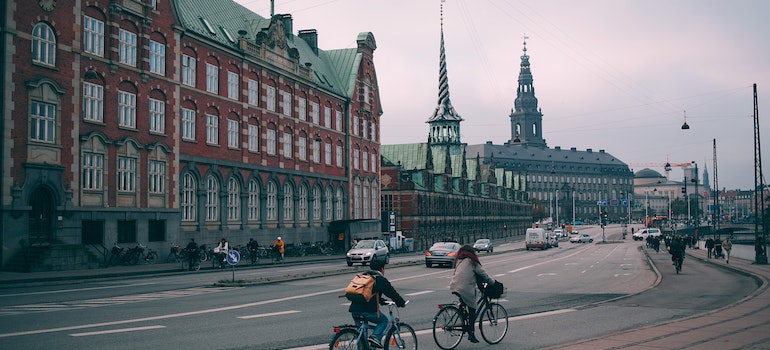 Learn about cultural differences and how to adjust
To fully adjust and integrate into a new country, it is important to learn about cultural differences. The Country of Denmark has a unique culture and way of life that might be different that what you are used to in America. Danes value equality, a good balance between work and life, and sustainability. Learning about these values can make it easier for you to adjust. Danes are known for their 'hygge culture, which means coziness, warmth, and togetherness. Other than that, learning the language and customs will allow you to start your new life in a great way. Try local food, go to festivals and events, meet people, and explore the country. With an open mind and willingness to learn, adjusting to your new life after Moving to Denmark from US can be an awesome experience.
Prepare yourself and your home for the big move
Heading towards a big move to a new country is exciting, but can also produce a lot of stress. With so much to think about, pack, and transport, surely there has to be a way to make it easier. The best way you can do this, and actually enjoy your move to Denmark from US is by preparing. Start by preparing mentally, and learn about Denmark and the city you are going to. Make some mental notes about differences like climate, customs, and food, so you are not taken by surprise.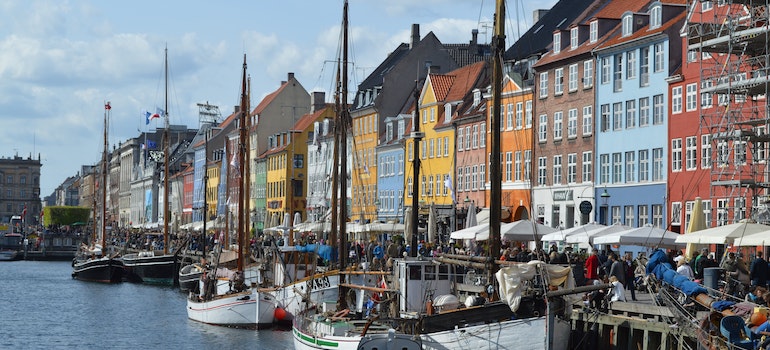 You also need to gather all of the needed documents, such as your passport, visa, and medical records. After that you can start planning the moving day, researching companies, and writing a list of things you are bringing with you. Also, don't forget to research the cost of an international move and make your moving budget. This way you can ease some of your worries and be fully ready for what is ahead.
The best way to pack and ship your belongings
Once you are ready to pack your home you can decide if you want to try and do it on your own, or with the help of professionals. Organizing a move, especially an international one might seem like you can save money, but it is also time-consuming and might overwhelm you. You don't need this additional stress, so consider asking professionals, especially if you're moving from extremely long distances, for example, from the West Coast. It's definitely better to ask interstate movers in California for their help. A team of professionals can pack all of your items, from the tiniest to the most breakable and the bulkiest.
This way you will know that everything is ready in a way that won't damage them during the move. With a moving company, you can also focus on other tasks you need to finish before moving internationally to Denmark.
When it comes to your shipping options, there are a few that you can consider. The first one is air freight. This option is the fastest but also the most expensive. If you want to pay less and you don't care if your items get to your new home slower, you can see other options. You can either ship your belongings by sea or land. No matter what option you go for, make sure to label all of your boxes. This will prevent the mess once the boxes come to your home.
Hire an international moving company
Moving to Denmark from US is not always the easiest thing to organize. With so many tasks you need to take care of, help is more than welcome. You can find many commercial moving companies which offer international moving services. This can ensure that you have a smooth and stress-free experience. They can take care of the logistics, packing, and even insurance for your belongings. All the while you are focused on everything else you need to do. Professionally trained movers can take care of your move so you don't have to worry about it at all. After we've covered the process of moving to Denmark from US with you, we can also help you find the company to deal with this relocation. And, of course, we wish you a safe trip to Europe!