When it comes to moving industries, it's still one of the businesses that are growing and developing constantly. As in the years prior to 2019., this trend is still present and it is unlikely to stop any time soon. Moving companies are developing and the new ones are getting started almost daily. It's a clear sign that this trend is going to go further at higher rates than before. But, just knowing that the moving industry is getting stronger by the day is not enough to analyze it altogether since not all areas in the United States of America are getting inhibited at the same rate. You are going to need some additional information on the subject to be able to understand just what is going on and what are the most popular trends in the moving industry in 2019.
Moving industry trends are not changing drastically, but there is always some new information that you didn't really see coming. When it comes to numbers, as far as the moving industry goes, in the past few years there was a slight decline, but last year showed that there was a growth in income slightly over 3%. That may not seem like a lot to you, but just in 2019., the moving industries had total revenue of 18bn dollars.
Verified movers and moving industry trends analysis for you
Verified movers are here for you when it comes to moving companies and all the data necessary to help you make up your mind about the moving company that you want to hire. This means we are here for you and you can rely on us to always represent just and only top moving companies. Representing only the prime moving companies is very important to us and that is why with us, you only get the best. But we don't just stop there. Giving you the data about the moving industry altogether is something that we will do here, since giving you all the necessary data is really important. There are many benefits to knowing how things are in the moving industry, and some of them are:
You will be able to affect and change your own business if you see how the best companies in the game are running it
Teaches you what to look for when upgrading your own business strategy regarding moving industry trends
You are able to make necessary adjustments to your own moving company
Marketing advertising trends are something you can learn for the best moving companies
In case you would like to start your own moving company, you should know what the trends are at the moment
It doesn't matter if you are new to the moving industry or not, being aware of the moving industry trends in 2019. is a must.
Top 5 moving companies at Verified movers
Our company grades top moving companies that we represent every year, so here is this years list of top 5 moving companies:
Best Cross Country movers
American Standard
Trinity
First United Moving and storage
Purple heart moving group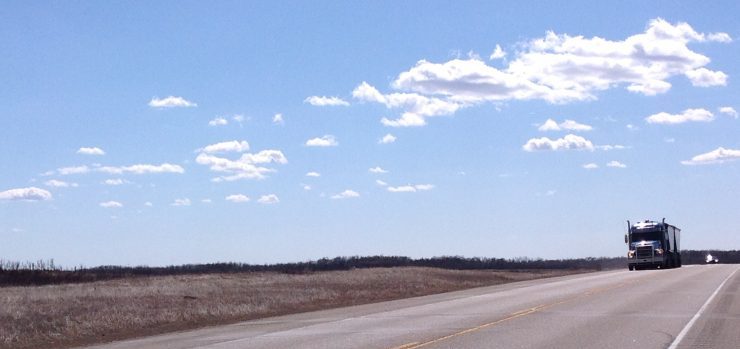 All of these moving companies are very experienced and all of them are at the top of the moving industry. That is not easy to accomplish. All of them have huge numbers of satisfied customers, modern equipment and skilled and professional employees. All of that is required for staying at the top of the moving game. Here, our focus will be directed towards the moves that are located in the US, both local and interstate, with mentions of the international moves. Knowing what are the best moving companies is not always enough. There is other information you need to know if you want to have affordable relocation, like when is the moving season peak. Once you have this information, you can make a plan to avoid the peak and move out of the season.
Moving industry trends in 2019.
When it comes to moving industry trends, 2019. has been an exciting year, just like any other one. Moving is something that brings us a new start and it is really important that you pick the moving company that suits you. With that being said, you need to know what the trends are to decide what you need. And we are here for that. There are some really interesting moving statistics for 2019. that you should lookup.
When it comes to the number of people moved in 2018., about 10.1% of the US population moved. That is about 319,310,000 people. No wonder the moving industry is so incredibly profitable.
Types of moves
When it comes to types of moves, based on 12,6 bn annually, individuals moved the most (44,0 %, or 5,544,000,000). Corporate moves were the second most common (39,0 %, or 4,914,000 000 moves). Military related moves came in third (16,0 %, or 2,016,000,000). The federal government made up 1,0% of moves or 126,000,000 moves. Families and individuals are the ones who use moving services the most.
Location of the move
Looking at about 32,351,000 moves annually, the data is showing that the moves were distributed
Local: 61,4%, which is about 19,852,000 moves
Intrastate: 20,1, or 6,496,000
Interstate :15% or 4,838,000
International: 3,6% or 1,165,000 moves.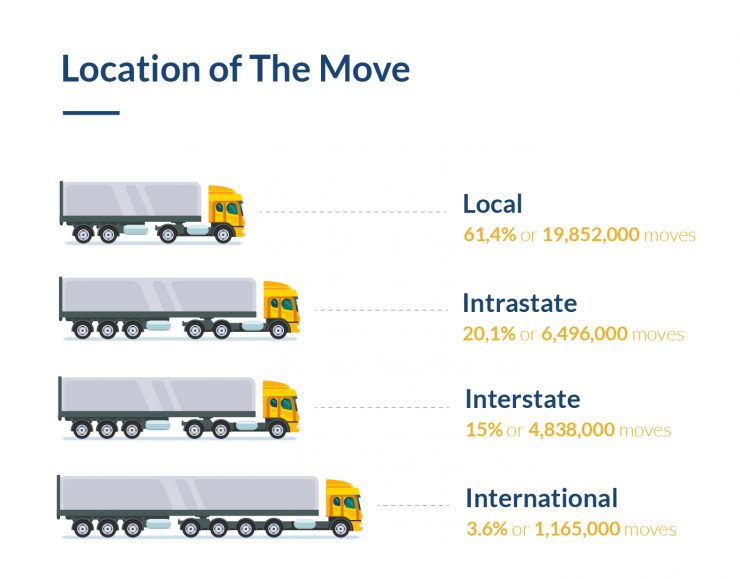 So most people will remain in the country that they are already living in and leas will move internationally. Even if that is the case, we have more and more moves annually so there will be more changes in these numbers eventually. Local moves will most likely be at the number one place for a long time.
Local vs interstate moving ratio in 2019.
You might be surprised to know that about 40 million Americans move every year. That is about 15% of the population. Huge numbers like this show that revenue is also sky high when it comes to moving companies. Having this in mind, about 80,3% of the moves were local and 19,7% of total moves were interstate.
House to house
When we take a look at the house sizes, that people are moving out of, there are no significant changes. As in the previous years, one-bedroom homes were moved out of the most. Right next to them, the two and three-bedroom houses are sharing the second place. Partial moves have the third place, and right under them are the studio and 4+ bedroom homes.
What are the most popular times for moving?
As every year, June is the most popular month people are moving in. About 12% of all moves were done at this time. Friday also remained the busiest moving day of the week. This is because June is the time most people are having breaks and kids are not going to school.  The weather is warm and the moving season is at a peak. Fridays are most suitable for moving, since the weekend is coming, and it's the perfect time to unpack in your new home.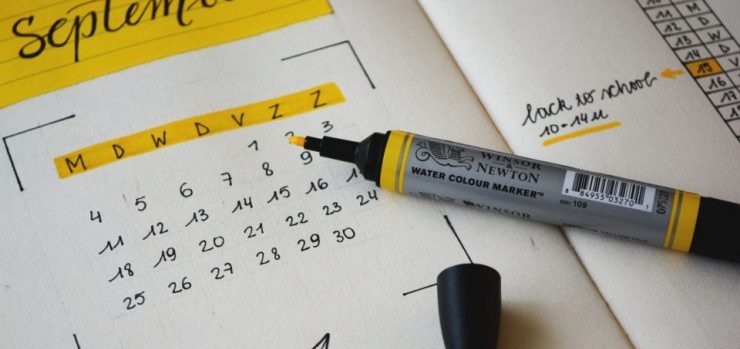 Reasons for the move
Reasons for moving can vary from family issues to changing your job or going to college. These reasons can be pleasant or not, but when you take a look at them, they all represent a fresh start.
Housing reasons for the moving industry trends
When it comes to owning a house, it is not the same in all states. It is more difficult to earn a house in some of the states, so take a look at the best places to get a house in America, you will see that there are many places that are perfect for this. This scale is based on 13,416,000 house-related moves. Most common reasons for people to move are:
Getting a better home 39,5 % or 5,300,000
Cheaper home 19% or 2,551,000
Getting their own home 17,5% or 2,350,000
Other reasons 16,1% or 2,156,000
More suitable neighborhood 6,3% or 844,000
Eviction 1,6% or 215,000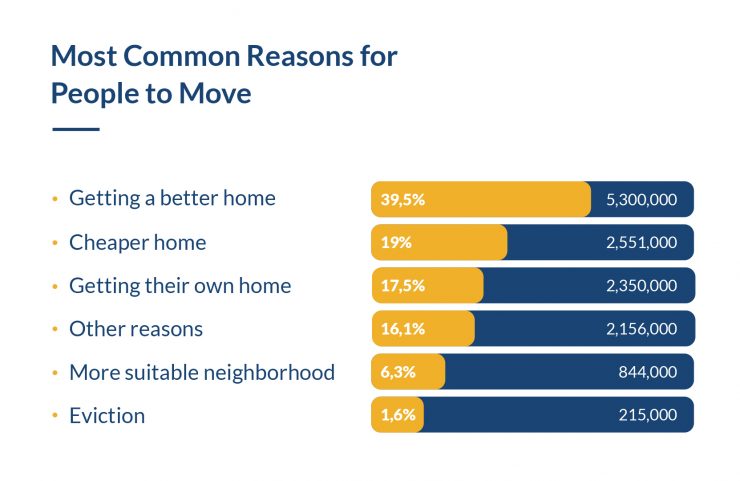 This information is showing us that most people are still moving willingly, looking for better opportunities and a better life altogether.
Employment reasons
There were about 6,368,000 moves related to the changing of the job. Out of them, here are the most common reasons:
Changing the job 52,5% or 3,341,000 employees
Making coming to work easier 28,6% or 1,821,000 employees
Searching for a new job 7,7% or 492,000
Other reasons 5,7% or 366,000
Retirement 5,5% or348,000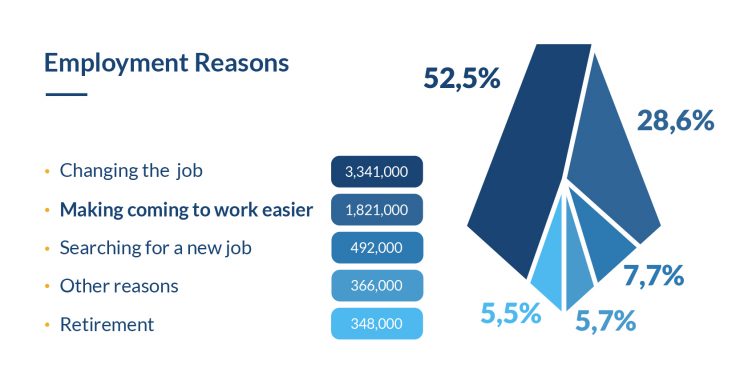 Looking for better job opportunities is the most common reason for people moving many years in a row.
Family reasons
About 9,091,000 families move annually.  There are many reasons families are relocating. At the moment, the most common reasons are pretty much the same for a couple of years. Most people, 44,8% moved so they could get their own home. That is about 4,073,000 people. Looking for a better economic situation is what made 15,8 % of people to move, or 1,435,000 people. And 39,4% or 3,583,000 people moved for other family reasons. This is another example of people moving and looking for a better life rather than being forced to move. Moving is easier if you see what are the best cities to live in with your family. This way you know what are the safest and cities with the best schools for you.
Miscellaneous reasons
These reasons are the reasons for about 3,476,000 moves. These are the reasons that force you to move, and not always in a good way. 
Other reasons 46,2% or 1,605,000 moves
Collage related  26,0% or 903,000 moves
Health-related  16,7% or 579,000 moves
Climate change 6,2% or 215,000 moves
Natural disaster 5,9% or 174,000 moves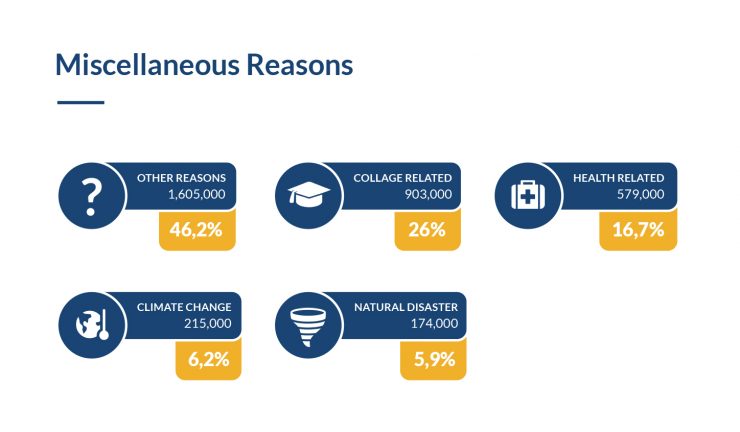 These reasons still make up only a small portion of the moves.
The most provided services
When it comes to services, pretty much all of the moving companies have at least basic ones. About 12,6 bn services are needed annually. Local and long-distance services are services pretty much every moving company offers, and they are the main services. That is why it is no wonder that 69,65% or 8,769,600,000 services used are local and long-distance moving. Storage and warehouse renting are the second most used services, and they make up 20,2% or 2,545,200,000 services provided. Packing and packaging came in third with 7,5% or 945,000,000 services provided. The 2,7% or 340,200,000 services are other moving services. Local and long-distance moves are the main services most of the moving companies offer so it's not surprising that these are the most commonly provided services.
Interstate moving methods
Intestate moves are long and can be pricey so most people (45%, or 650,000) move without assistance. Renting a moving truck and moving by yourself is what 33,3% of people did or 1,350,000 people. If you are planning on renting the moving truck and moving by yourself, make sure you take a look at the best ways to load a moving truck.  And the least common method was hiring moving companies, and that is what 21,7% of people did or 1,000,000 people. Most people are choosing moving without help from moving companies, and using their own car.
States most people moved into
When a lot of people are moving into one state, there is something in the said state that makes it stand out. More and more people are moving into these states annually and there are good reasons for it. These are the states most people moved into.:
Florida
Texas
California
North Carolina
New York
Georgia
Arizona
Washington
Virginia
Pennsylvania
There were no surprises on this list, especially when it comes to Florida since so many people move here annually. Texas, California and Nort Carolina are also warm states and people mostly move here for jobs and great weather. Most of these states are on the list of top states to find a job in.  It hasn't changed a lot in the past couple of years. Most people who are moving o Florida are looking for better job opportunities, but many move here after they retire.
States most people are moving out of
States people are moving out of the most don't always necessarily have some kind of issue. Cold weather or lack of job and housing opportunities are the most common reasons for relocating and this year didn't bring any new trends in this field. But the list of top 10 states people are moving out of can give you an idea about which states to avoid if you are planning to move. States most people moved out of were:
New Jersey
New York
Illinois
Connecticut
Kansas
Maryland
Hawaii
Masecuthses
Louisiana
California
Don't get confused, the fact that some states appear on both of the lists means that a lot of people are moving in, but also many people are moving out of them. The reasons for this mostly are high living costs and low job opportunities. So, states like California will attract many people to move in since the weather is beautiful, but many will leave as well since the living costs are high. There are also lists of the best states to live in. These lists are made after combining a few categories of good and bad things a state can offer you.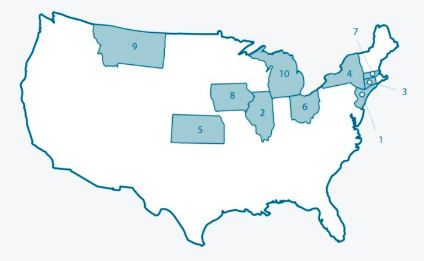 Moving trends are not changing by much annually but there are always some things that might surprise you. Following moving trends, year after year can help you decide where you want to move to, and can also give you the idea about where you should invest in. If you are planning to get into the moving business, following the moving trends might help you be more successful.