Are you already searching for apartments in Michigan? Amazing choice! Majestic nature, friendly people, endless outdoor activities– who wouldn't want to move here! And Verified Movers can help you find the perfect moving company to help you relocate. Moving from Pennsylvania to Michigan won't be easy, but it will be so worth it. There's a prominent job market, it's great for raising children, and the cost of living is not that high. Keep reading if this sounds like a place you wish to spend your whole life in.
Why is Michigan the choice of many?
There are roughly 10 million people living in Michigan, making it the tenth most populous state in America. Detroit is the biggest city, but the capital is Lansing. The most populated area is Southeast Michigan. However, Northern Michigan and the Upper Peninsula are top vacation spots. To this day, it remains a major player in the American auto industry, and it is also referred to as the automotive capital. If you are looking into relocating here and hiring some of the best interstate moving companies Pennsylvania offers, you are making a great choice you won't regret.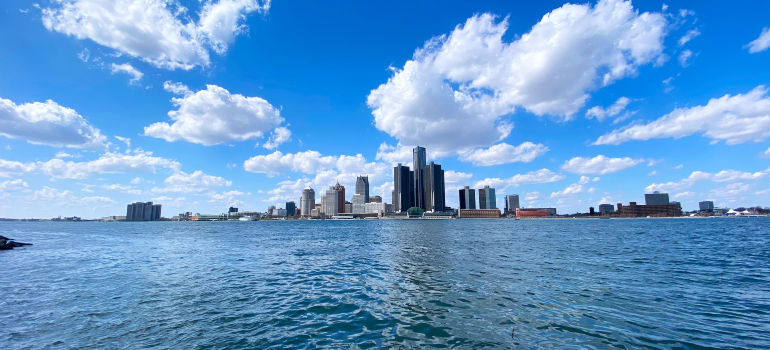 Top reasons for moving to Michigan
Michigan is a popular destination for many reasons. We've gathered the top reasons why this state may be the right move for you. Before you book any of the cross country moving companies Bethlehem offers, check out the following:
Moving from Pennsylvania to Michigan is a great option for all seeking high-quality education opportunities;
Although it's known for cold winters, you will enjoy all four seasons during the year;
It is home to the four most beautiful lakes, Erie, Michigan, Superior, and Ontario, and the coastal shore will amaze you.
Cost of living: Is Michigan expensive?
Michigan has a lower cost of living than most in the United States. In fact, this is the reason why many chose to relocate with interstate moving companies Michigan. It ranks 21st out of all the states in terms of overall living expenses. Most of the time, living in densely-populated metropolises is more expensive than living in rural areas. It is the Ann Arbor metro area where goods and services are the most expensive in the state, with a 1.2% over the national average.
Housing in Michigan is affordable. You can save up to $60,000 when buying a home in this state (as compared to the national average). The median price for rent is around $850, again below the average in the US. As for other costs, an average person spends around $250 and a family of four $750 for food and groceries. Annual taxes are also lower, at around $1,000 a year per capita according to Tax Foundation. The state has a flat rate of 4,25% for income tax.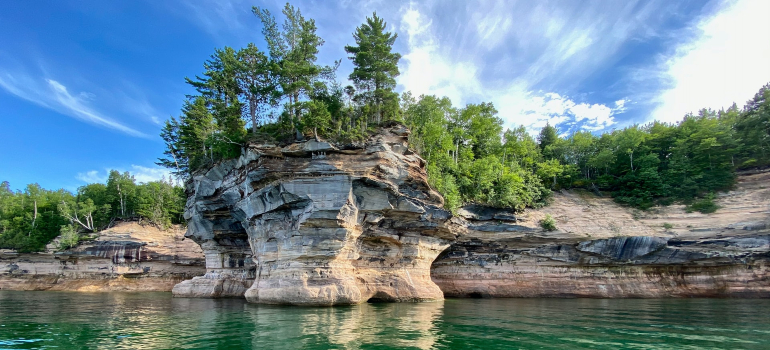 Moving from Pennsylvania to Michigan for job opportunities
If you are searching for a job in Michigan, consider the fastest-growing sectors and jobs. Here, you can find jobs in manufacturing, agriculture, tourism, and many more. Some of the biggest companies that call this state home are Ford Motor Company, General Motors, Whirlpool, and Lear. In Michigan, the average salary is around $60,000.
It ranks lower than Pennsylvania, but there is a growth for several jobs like credit counselors or operation analysts who can earn up to 90,000 a year. If this sounds appealing, you should check out cross country moving companies Scranton offers, and relocate as soon as possible.
Best cities to live in
Ann Arbor ranks #12 on the list of best cities to live in. Doesn't this sound great? Cross country moving companies Ann Arbor has their hands full as many chose to relocate here. It is both rural and urban at the same time. It is most famous for being home to the University of Michigan. People of all ages find Ann Arbor to be an attractive place to live because of its diverse job market and low crime rates. It is close to Detroit, so that's another plus. However, people chose it for its charm and its Midwestern feel.
Grand Rapids is the choice of many, a beautiful town on Grand River. The job market is thriving, attracting young families and students from all over. Based on quality and cost of living, it ranks high at 34th place. If you like craft beer, public art, and outdoor activities, this is the right spot for you.
Last but not the least, Detroit, is the biggest city in Michigan. The city has great neighborhoods worth exploring. Crime rates are low, so many chose to relocate their family here. It has a low cost of living while providing you with that modern lifestyle. People come from all over for the music and food scene, and the Art Deco architecture keeps them there.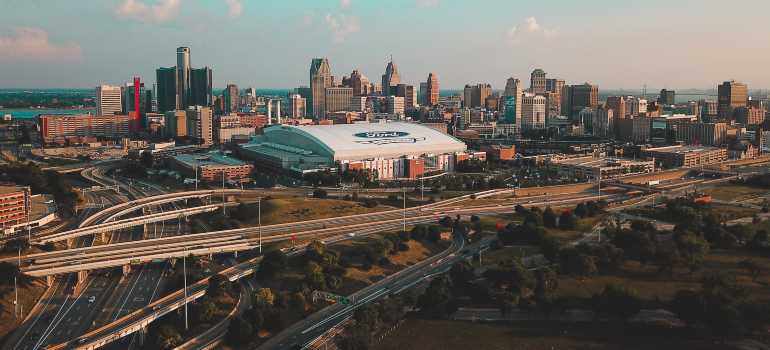 Moving from Pennsylvania to Michigan: Pros and cons
Finally, we want to reflect on all the gathered information and tell you all about the pros and cons of moving to Michigan. The biggest pro of moving here is the cost of living. There are a lot of natural beauties that you can enjoy all year round. The housing is affordable and the school system is great, with a lot of choices. Chose one of the cross country moving companies Flint offers if this sounds like your cup of tea.
However, there are a few cons to moving from Pennsylvania to Michigan. The tuitions for higher education are expensive. The winters are cold, and some people claim that the transportation infrastructure is not at its greatest. However, Verified Movers believe that good outweighs the bad, and this is a perfect choice for young professionals and families. You won't regret your decision, so all that is left is to start planning your relocation.