The state of New York is more than the skyscrapers and the electrical vibe of the Big Apple. A number of places in The Empire State are becoming an increasingly sought-after relocation destination for people from all corners of the country. Our moving specialists at Verified Movers will share their knowledge and will cast some light on the most popular places to move to in New York at current. If you're moving from Georgia to New York and looking for a surefire way to make your project easy, take note of the following mini-guide and benefit from these pro tips. We'll give you some practical overview of your new digs, and the best advice on how to make your interstate relocation as safe and easy as it can be. So, reading glasses on, and let's see what to expect from upping sticks for New York from Georgia.
Essential guidelines for moving from Georgia to New York
If you've decided to trade peaches for apples, you're in for some exciting changes. But before anything else, make sure you start checking reliable state to state movers reviews Georgia with time to spare. Relocating to New York from Georgia means your possessions will be set on a journey spanning over 922 miles. Hence, make sure that you put them in good hands, and find a mover that you can depend upon.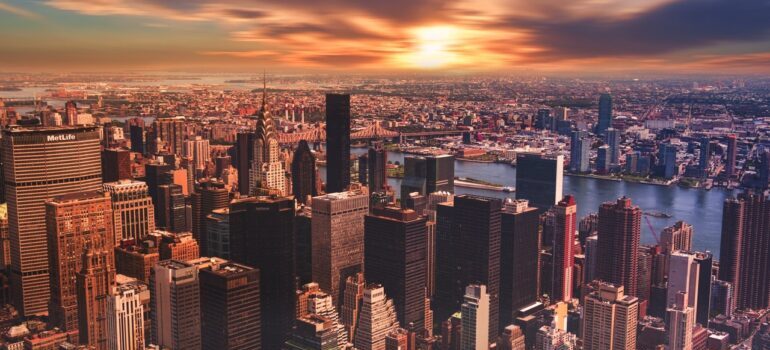 Moving from the Empire State of the South up north to New York means changes in weather and a bunch of new doors opening. So, whatever your reasons for setting your sails up, it will be worth the while.
What are the most prominent changes you should expect when moving from The Empires State of the South up north?
Now, here's a brief account of what major changes you should expect when transferring to New York from The Peach State.
The weather. While Georgia has short and mild winters, in the state of New York these are longer and much cooler. There are also fewer sunny days in The Empire State, as you would expect it to be so when moving northward. Also, be ready to experience more snowfall than you're used to in the Peach State.
Cost of living. When you're moving from Georgia to New York, you should expect an increase in the cost of living, as well as in your income. Depending on where exactly in New York you're moving to, this can be a significant change in living circumstances you should prepare well for. In general, The Big Apple is notoriously costly. Here your cost of living would be about 44% higher than in Atlanta. You'll find that many people cut costs by sharing an apartment with roommates.
Job market. The job market in The Empire State is diverse. In NYC in particular, lots of people have a second job or do side gigs. Also, here you'll find it easier to turn your favorite pastime into a profitable venture. The City That Never Sleeps has a well-nourished entrepreneurial spirit. It's not said in vain that many dreams are made in this concrete jungle.
Real estate.  In The Peach State, the median for purchasing a home is currently at $320,000.  The average cost for New York state is about $380,000 but this however should be taken with a grain of salt. For instance, in The Big Apple, the average price for a house is $800,000, while in the capital, Albany, this would be $230,000.
Where in the state of New York are people moving to?
The Empire State consists of more than 50 different counties. Of course, when New York is mentioned, the first thing that comes to mind is the skyline of Manhattan. But there is more to New York state than possibly the worlds' most famous city. Moving to New York from Georgia means you'll have to look up interstate moving companies New York that will help you relocate to other areas of the state if that's the case.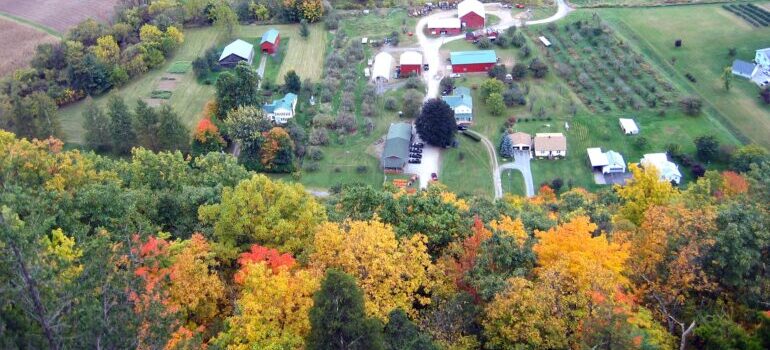 So, what are the most attractive places when moving to New York state? Well, will it be a surprise if it's the Big Apple? Recent reports show that currently there are more people moving to NYC than leaving, as was the case last year. Besides, Upstate New York has also come into the limelight as a desirable place for moving to. But, the truth is, New York City and Upstate New York are two different worlds.
Now, if you haven't decided where exactly in the Empire State are you moving to, the question is, what exactly are you after? Do you rather see yourself raising a family in a spacious family home with a big yard? Upstate New York is the perfect backdrop. Or, do you picture yourself living in a tiny apartment in The City that Never Sleeps? Pursuing a prolific career and vibing in with the electricity of the concrete giant? Besides, many people living outside the NYC metro area commute into it daily for work when relocating to New York from The Peach State.
In continuation, let's name a few cities that are a popular choice among people upping sticks for New York from Georgia.
Moving from Georgia to New York and what is the Big Apple like
So much has been said and sung and filmed and written about this iconic city. And yet the well of inspiration never runs dry when it comes to it. The cultural and artistic magnetism of New York City is undeniable. If this is what pulls you towards it, rest assured that there isn't a better place to be at. Moving to the Big Apple from The Peach State means that you wouldn't hear as much country music tho. And certainly, you're aware that the winters here are much longer and much colder.
Another great reason to book top movers NYC right now is the job market. In NYC you'll get an opportunity in just about any field you wish to grow in professionally. But be ready to face fierce competition, which can be an exciting venture if you're the ambitious type. Other than that, you'll never run out of options to explore when relocating from Georgia to the Big Apple. World-class museums, galleries, restaurants, and shopping options are plentiful, so be ready for lots of adventures coming up.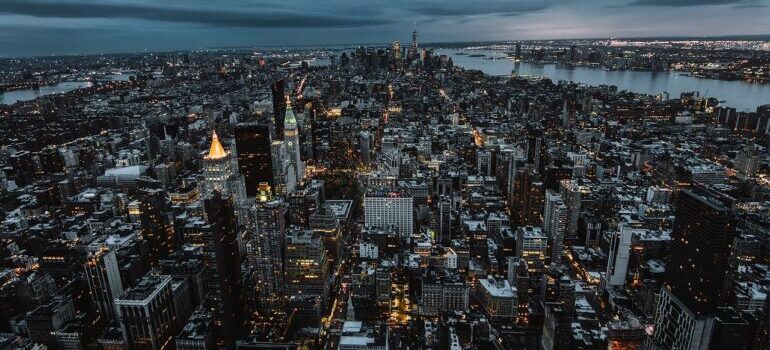 Albany – The Empire State Capital
In Albany, you will not find the crowds and price tags that at times make NYC infamous. This is a historic place with a lively downtown area located approximately two hours and a half on the east of NYC. Albany is the capital of New York state and along with Troy and Scenegdaty is referred to as the Tri-city area.
If you're moving from Georgia to the Empire State, and Albany happens to be your new digs, you should look forward to the great educational opportunities that this place offers. The Tech Valley Highschool and The University of Albany are both renowned institutions on a national level.
Albany has a population of roughly 98,000. The median household prices are at around $200,000, and the monthly rent on average is $1,100.
Hudson – an upcoming business hub
Known as the Nappa Valley of the East, Hudson is a small port city with a bustling downtown area, nestled among a wide space of agricultural land. From here you'll have easy access to NYC, which takes about 2 hours by car. This, and the supportive business environment makes it a sought-after destination for relocation from Georgia to New York state.
Hudson has a population of 6,000, the median home prices sit at around $183,000 and the average monthly rent would be $1,500.
In summary, take your lead from the aforementioned tips to further your research on moving from Georgia to New York. In a nutshell, it's a step promising lots of positive changes. So, embrace it all, and enjoy the ride. Good luck.