Development is always noticeable and with it, the choice of cities in every state widens. And there are those communities that are better and those that are worse than others. So, there is really no need to rush buying a new home in the US before you explore what the rest of states have to offer. You can find temporary housing options and have reliable long distance movers transfer your valuables to one of their or public storage facilities until you are ready. So, here are ten of the most popular US cities worth considering.
Most popular US cities in 2017 to live in
First of all, let's take a look at the list of top ten most popular US cities to live in 2017:
Seattle, WA
Minneapolis-St. Paul, MN
Washington, DC
Huntsville, AL
Portland, OR
Fayetteville, AR
Des Moines, IA
Denver, CO
Colorado Springs, CO
Austin, TX
10. Seattle, WA
Wonderfully located in the northwest of the country, Seattle has been notorious for two reasons in the past 20 years: rain and grunge music. Nevertheless, this city has been developing since then and has a lot to offer. Situated in the north of the west coast and bordered with mountains to the East, Seattle offers a breathtaking view of nature any way you look.
Furthermore, hop in a car and decide whether you'd like to go for a swim or skiing, you'll be there in no time. Work opportunities are ample, however IT companies represent the majority of employers. Given the nature of the industry, the housing prices have been on the rise, making Seattle one of the most expensive metro areas to live in in the country.
9. Minneapolis-St. Paul, MN
Located in the Northern part of the Midwest, two largest cities in the State of Minnesota have grown so close together that now they form a single vast metro area. Even the cold winter weather hasn't prevented locals from coming up with ideas how to stay in shape. Any time of the year you can find people skating, playing baseball or ice hockey.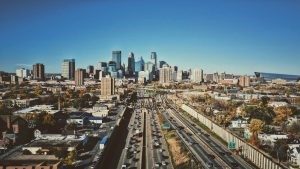 Furthermore, this metro area is filled with parks which are interconnected with cycling tracks which undoubtedly helps with getting through the traffic. Also, the median price of the housing market is a bit over the national median meaning Minnesota can be quite affordable depending on what you do.
8. Washington, DC
The capital of the country has for long been regarded as an administrative center and not much more than that. The situation has changed and Washington D.C. now boasts a handful of museums, theaters, sports and concert venues and nature escapes close by. With its proximity to Maryland and Virginia though, one might opt to live there due to excessive housing costs of D.C.
7. Huntsville, AL
Welcome to the South! Once a farming town, the rise of Huntsville started back in the 60's when NASA came to town. Today, it is popular with engineers due to NASA and defense industry presence. However, the city is far from walk or bike friendly, so owning a car is a must. What's more, improvements in entertainment are necessary. While housing is more expensive than the state median, due to low costs of living, Huntsville has found its place among the most popular US cities to live in 2017 and remains pretty affordable too.
6. Portland, OR
Oregon is believed to have some of the most amazing nature in the country. While you can get around Portland without a car pretty much easily, owning one will allow for easy access to trails, forests, and mountains that are located to the East of the city. Due to its mild winters and limited precipitation, the surrounding area is popular with campers all year long. Still, Portland remains one of the expensive metro areas on our list due to increasing housing costs.
5. Fayetteville, AR
Coming up are some unexpected cities on the list of most popular US cities in 2017 and Fayetteville, AR is one of them. The large portion of residents is comprised of families and students. Families like Fayetteville due to its good school system and stable economic situation, while University of Arkansas of famous nationally. Nonetheless, the housing can be costly, so make sure you do your research before moving here.
4. Des Moines, IA
Small areas top the list, so please bear with me, this is just the beginning. Due to its size, living in Des Moines will make you feel like you know everybody, so don't be surprised in case locals appear very friendly. It can be pretty cold place in the winter and humid during summer but offers good schools with a well educated local population. Add low housing prices with plenty of outdoor activities to choose from, Des Moines can be a place for you.
3. Denver, CO
The mile-high city used to draw its name from the altitude at which it sits, since marijuana has been legalized for recreational purposes, this nickname has received a new meaning. Being one of the first states to legalize cannabis, Colorado is making the most in monetary sense of being a pioneer. Home to Colorado Avalanche of the NHL, Denver Nuggets of the NBA and the Broncos of the NFL, Colorado's capital surely has much to offer in terms of sports entertainment. Additionally, plenty of natural escapes are located close by.
2. Colorado Springs, Colorado
And we're back in Colorado again! Colorado Springs is located an hour's drive away from Denver providing easy access to all amenities this town does not offer. If that's the case, why is it on the list, one might wonder. Because of its proximity to Denver, Colorado Springs can be regarded more of a suburb than a town on it's on that it really is.
It is very accessible by car and also close to mountain resorts Aspen and Vail. For those who are interested in seeing top-notch athletes perform, U.S. Olympic Training Center is the place to go to. Due to the proximity of Air Force base, however, retirees make up a decent portion of the population living here.
1. Austin, Texas is the most popular US city in 2017 to live in
The place that tops the list of the most popular US cities in 2017 to live in was Austin, Texas. It is a prominent capital that has been known as the most liberal place in the state. The city has been growing at a quick pace over the past decade. Such development has influenced local housing market with prices skyrocketing for local conditions. On the other hand, state and local taxes are at a very low level. This, in combination with non-existing personal income tax, helps boost the purchasing power of the locals.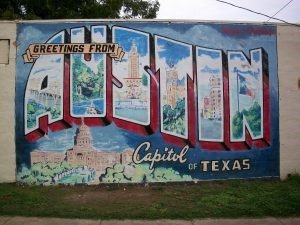 Climate
Austin's winters are mild with an inch of snow being regarded as a lot by the locals. On the other hand, summers can be scorching hot with high humidity and can take a while to get used to. Thanks to nice weather though, number of outdoor activities are available to choose from.
Getting around
The biggest downside to living in Austin is getting around. Truth be told, traffic is dreadful in the rush hour. On the other hand, malls are close to every suburb, so going grocery shopping or even eating out doesn't represent an issue.
Population
Austin is a home to a vast student community from the University of Texas. You will see plenty of students when Longhorns play college football. Their home is Texas Memorial Stadium which seats more than 100,000 people and is the 8th biggest stadium in the country.  Its prominent nightlife is personified in the East 6th St, with a portion of it known as the Dirty 6th.
Furthermore, Austin is dubbed the Live Music Capital of the World due to a large number of live venues and bands that fill the bars. Still, this is just the beginning of the story on nightlife, you'll need to experience it yourself. Apart from students, Austin attracts young and old alike. With many family-friendly opportunities in and around it, it will come as no surprise if Austin remains on the top of most popular US cities in 2018 to live in.