People are completely right when they say that moving can be stressful. The amount of stress one person endures during the moving process is enormous. So, it comes as no surprise that our pets feel the same way, although they can't express it with words. Pets need to be taken care of just like any other living creature. And in case you are wondering, reducing that moving stress can be done easily enough. Verified Movers are here to talk about everything you will have to do when moving long distances with pets. And in case you are not yet aware, good organization and planning lead to a trouble-free long distance pet relocation.
Steps to a successful long distance pet relocation
A pet-friendly environment is not the only factor you need to weigh in during a move. As a start, you need to get familiar with the regulations of moving with a pet. Then, you need to plan out the packing and transportation to your new home. And finally, you need to help your pet adjust to your new home. So, the following advice should help both you and your animal companion come to terms with moving long distance. That's why we won't keep you waiting any longer, and we'll get right into it.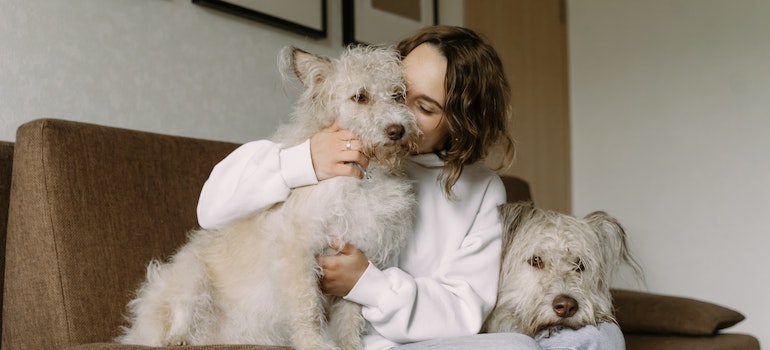 Get familiar with the pet laws in the state you're moving to
Regardless of where you're moving to, if you want an easy move with pets, know that there are laws that require you to possess certain documents, permits, and certificates. If you are relocating to another state, make sure to do some research. And even if you are staying in the same state, you need to have all of the necessary info. You never know when and what you might need. So, what is it that you need to have during a long distance pet relocation? Read up:
The birth certificate usually states which type of check-ups and vaccines your pet has. Hence, it is a necessity.
Do your research on the requirements of the state or country you are planning on moving to. That way, you are sure to avoid any trouble at the borderlines.
For pets with pedigrees, make sure that you have their papers in order – to act as a certificate.
Customs documentation for international moves. Basically, you as an owner need to provide a copy of your passport, visa/work permit, and the customs clearance form.
You should do well to ensure that you are moving inside a pet-friendly zone in case you are planning to bring your animal companion with you. Remember that both your neighbors and landlords need to be informed and give their consent before you move in with a pet. Local communities have a big say in this as well. And it makes a lot of difference what type of animal or even what breed your animal companion is. Avoid causing unnecessary problems for yourself and check out all of this in advance.
Explore your new neighborhood before moving to check for everything your pet might need
To ensure your long distance pet relocation is a success, you need to keep informed. Laws in regard to vaccination, leashes, and even zoning of certain areas – all come into play. And since you are the one moving into the neighborhood, you need to follow the rules of the community. In addition to this, you should check out all of the necessities your pet will require such as:
vet's office
infirmary
groomer
pet shop
If you're unsure where you're moving to just yet, you can check out what the most pet-friendly US cities are, and consider moving to one of them.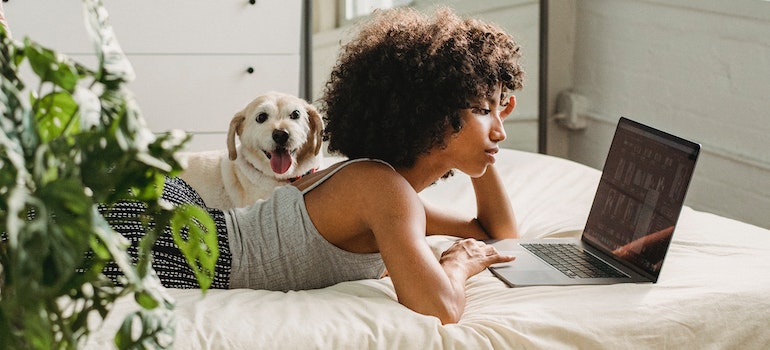 How to get familiar with pet laws?
It will take some time to research these kinds of things and get completely familiar with them. But luckily, all you need is time and the Internet. Everything you need to know about the laws in a certain state can be found online. The website of the US Department of Agriculture could be useful. They have a lot of information on pet laws. And, for further information, just do some browsing by using the phrase "pet laws" plus the state you're moving to, and some useful info will pop up right away.
Think about the needs of your pet and pick the best travel option for them
Before you start thinking about transportation options, talk to the vet first. You surely have a vet that you have visited numerous times and whom you can trust. So, that's should be your first step. Consult with your vet on the general health of your pet and the ideal way for transport. You need to think about the needs of your pet at all times. Here are a few ways you can transport your pet to your destination:
Plane
Rented moving truck
Car
Via pet relocation services
Planes can be tricky for any large pets because they would have to be placed with the cargo. But, even if your pet is small, it is sometimes tricky to transport it with you in the cabin. With that in mind, this is also the fastest option, so the good thing is that the trip would soon be over. If you're relocating on your own with a rented moving truck, this option could work easily, but make sure to have your pet close to you, ideally next to a driving seat. In case you decided to let moving professionals relocate your items, you can move with your car, with the pet there with you. This could be a great option because, to your pet, this is the most familiar environment out of all these options. And finally, you can ask for pet relocation services and allow professionals to relocate your pet safely.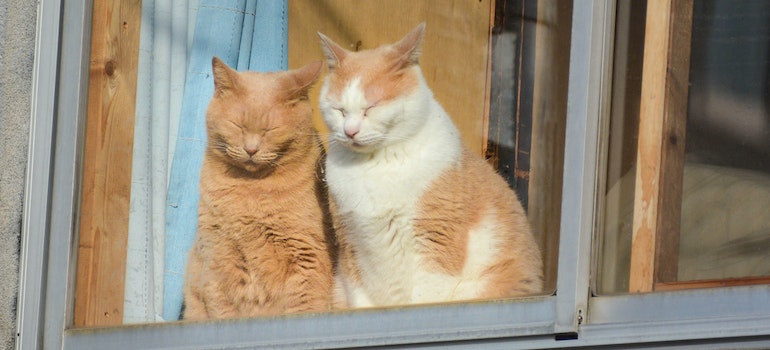 Make sure that you dedicate your time both during and after the move
Moving being chaotic and stressful as it is, no one would blame you if something slipped your mind. You will need to meet the emotional needs of your pet. You need to help your pet prepare for the moving day. Always assume that they will be confused and in need of attention and extra care while adjusting to the new environment. You might not have enough time to give it to them, but make sure they have enough attention, if not from you than from other people.
Some extra precautions to help secure a safe long distance pet relocation
Moving can be very dangerous, and pets can be collateral damage in the entire process. Still, there are protective measures you can implement while the move takes place:
First things first, make sure your pet has an ID tag. It doesn't have to be long, but it should be able to resist the weather and have all of the necessary information. Information such as your pet's name, your name, and the address you are heading to. This way even if it does get lost, it would be much easier to find him.
A microchip is yet another level of protection that enables you to track your pet. Today it is a very common practice for pets to have this so they wouldn't get lost and they would be much easier to find.
Have a picture of your pet and a short description at all times. If there are any significant changes in the appearance of your, make sure you have the most recent picture.
Taking care of your pet on a moving day
Finally, once you reach the moving day, it's time to successfully conclude this journey. Unfortunately, this will probably be your busiest day. But the good thing is, after you complete the moving day, all that will be left is to help your pet adjust to a new home. So, let's talk about the moving day.
The first thing you need to ensure is safety. Other things matter a lot as well, but safety is always a priority. So, if you decided to travel to your destination with the pet, whether in a car or a rented moving van, here's what you should not. While a lot of people don't use leashes often, we strongly recommend this for the moving day. This isn't your regular walk in the park or letting your pet run around in your backyard. You are moving over long distances, and you need to keep your pet close to you for their own safety. Therefore, a leash is a must on a moving day.
Also, you should plan for stops. Stops on long distances trips are necessary for both people and animals. If you'll be on the road for more than one day, plan the hotel in advance. This is simply because you never know whether the hotel you randomly encounter on the road will allow pets. So, make sure to find the one that does allow pets a few days before. And, of course, don't leave your pet alone in the vehicle when you're stopping at the store or a gas station. Finally, try to keep your animal friend as comfy as possible during the ride, by giving them some blankets, or whatever they usually like when they're at home.
If you take all the necessary precautions and carefully plan the process, your pet relocation will be a success
While long distance pet relocation is a complex process, with proper preparation, it will end up being a success. Your little friend might actually enjoy this adventure. Once again, it's important to consult with the vet and tell them all details about the relocation. Also, don't forget to get familiar with the pet laws in the city and state you're moving to. And, since this is a long distance move, especially if it's a big coast-to-coast move with pets, think about which way of transport is truly the best one for them. Picking the right one could play a huge role in the outcome of your move. Stay safe and enjoy your long distance trip!