Every move is difficult in its own way, but usually, with longer distances, it becomes harder, introducing unique challenges and potential issues. It takes vast experience to be confident about solving all of these obstacles. That's why a lot of people are hiring professionals, and you should consider it too. Moving across North Carolina with them by your side will give you peace of mind since you'll know that your belongings are safe and sound. With the goal of helping you have a smooth and stress-free relocation, Verified Movers is here to help you get in touch with some of the finest long distance moving companies North Carolina has to offer. Therefore, we invite you to check out our website and enjoy the database filled with proven moving teams, waiting to assist you at any given moment.
Cross Country (Interstate) Moving Companies North Carolina
Long distance relocations: Which one is right for you?
While there are so many important things regarding your move that we'll walk you through in this article, the first thing you should do is make sure which type of long distance relocation you want. If you're not keen on moving within one metro area in North Carolina and want to try a new life away from your current home, you're going to need a long distance move. What is a long distance move? It is a move that goes beyond 50 miles of your current place of residence. There are two main types of these relocations, interstate and intrastate moves.
Interstate relocations
These moves are often called "cross country", and when we use that term, it's easier to differentiate them from intrastate moves, because the names aren't so similar. Interstate, or cross country, move means that apart from, in your case, North Carolina, there has to be another state involved. To be precise, if you want to leave the Tar Heel State altogether and move elsewhere, you should ask for an interstate move, and in that case, you'll need cross country moving companies North Carolina to help you out.
Intrastate relocations
If you're here because you wish to move from one city to another, but within North Carolina, then you're about to go on a move that's intrastate in nature. Here, we'll focus on moving companies who can help you relocate from, say Raleigh to Winston Salem, or from Charlotte to Greensboro. However, if you change your mind and decide to move to another state, Verified Movers will be here to help you out.
North Carolina is one of the most moved-in states in the USA
Even before the pandemic started, North Carolina was a reasonably popular destination for movers across the USA. With that in mind, these last two or three years have put the Tar Heel State firmly in the top 5 moved-in states in the country. Low cost of living (so far), a great economy, and an appealing lifestyle are what North Carolina offers to its residents, and in the wake of inflation and the pandemic, the combination of these attributes is what the majority of American movers are looking for. Just in 2021, the Tar Heel State recorded 60% inbound moves, which is one of the highest percentages in the nation. When the medium-sized state welcomes almost half a million people in just one year that's an exceptional accomplishment, and this is exactly what North Carolina did last year.
Assuming you're here since you already live in North Carolina, all that's left for you to do is choose the city where you wish to move to. That takes time, but at least you won't have to move across the country in order to get a taste of North Carolinian life. We'll analyze the prospects of every major metro area in detail, but Charlotte and Raleigh really seem like obvious choices. Not to say that moving somewhere else won't suit you. But Charlotte and Raleigh are those who are gaining residents rapidly, especially from other states.
Where are the new residents of North Carolina coming from?
Before we jump into an analysis of North Carolinian cities and their moving trends, we wanted to quickly show you the states that are sending most people to the Tar Heel State.
Florida
Virginia
New York
South Carolina
Georgia
Out of the total of 400,000 people that North Carolina welcomed in 2021, more than 100,000 of them are from these 5 states.
Charlotte certainly isn't one of the big cities people are fleeing
Charlotte is not going out of fashion. In fact, moving trends in the city are better than ever. While that is mostly because of newcomers from other states, North Carolinians are fond of Charlotte as well. Nowadays there are a lot of big cities in the United State that are popular among people from other states, but not among the residents of the state where the city is located. That's not the case with Charlotte. North Carolinians from all over the state are moving to Charlotte to grab the opportunities that the city is offering. And why wouldn't they?
The economy in Charlotte is healthy with a promising job market, the cost of living in the city, albeit slightly higher than the average in North Carolina, is 5% lower than the nation's average. That makes it twice more affordable as the major cities on the East Coast such as New York City, Miami, and Boston. This is the main reason why movers from other big cities are definitely more busy than top movers in Charlotte. Of course, with the dynamic of our society, you'll find a lot of people who are leaving Queen City, but they're in the minority compared to newcomers.
Most common routes within NC that involve Charlotte
For long distance moves in North Carolina that involve Charlotte, here are some of the most popular routes. Obviously, relocations between Charlotte and Raleigh are firmly at the top. What is interesting though, is that Raleigh is the only big name in North Carolina that Charlotte is losing residents to. Looking at the two-year period since the pandemic started, almost 5,000 people have moved from Queen City to Raleigh, and around 1,000 fewer went in the opposite direction. But that speaks more about Raleigh's qualities and popularity than Charlotte because the moving trends are suggesting that Charlotte is an amazing place to live in at the moment.
As far as the other cities go, Charlotte has a positive migration in relation to almost every single one of them. Moving from Fayetteville to Charlotte is popular (more than 1,000 people a year), but Charlotte is also gaining residents from pretty much every notable metro area in NC such as Winston Salem, Durham, and Greensboro. All of the aforementioned cities are sending between 2,000 and 3,000 of their residents to Charlotte on a yearly basis. So, all things considered, Charlotte is showing no signs of stopping. It's more popular than it has ever been, and every mover in the Tar Heel State should have this city firmly on their radar.
In spite of Charlotte's appeal and positive moving trends, Raleigh is the most popular city among North Carolinians
If we had so many great things to say about Charlotte, finding a good place to start when talking about Raleigh is very difficult. The city with the best net migration in North Carolina has everything you need to live a life of the highest quality. For tech enthusiasts, you'll be pleased to know that it is one of the most high-tech cities in the United States. There is no shortage of job opportunities in other industries too. Living in Raleigh is very affordable because the City of Oaks has a cost of living that is right around the nation's average. As such, it is slightly more expensive than Charlotte, but the average salary is higher than in the rest of the Tar Heel State, sitting at $71,000 a year. If you manage to get into the tech sector, your wage will be much higher than that.
While top movers in Raleigh are mostly helping people relocate to Charlotte, people who are leaving the City of Oaks are also moving to other metro areas in NC. However, the number of outbound moves from Raleigh is not even remotely close to the number of inbound relocations. Raleigh has positive net migration in comparison to virtually every other city in the Tar Heel State. We already spoke about how many people are moving from Charlotte to Raleigh. But, it is worth saying that Raleigh gains even more people from Durham. And that number is actually quite surprising because almost 10,000 people have moved from Durham to the City of Oaks since the pandemic started.
Raleigh also welcomes around 2,000 people from both Greensboro and Fayetteville every year. Raleigh is lucrative for young entrepreneurs, and in spite of people of all ages moving to the state's capital, young professionals are leading the line. Moving to the City of Oaks seems like something you will not regret. So, if you're still choosing which North Carolinian city you'll move to, Raleigh seems like the best option, with Charlotte closely following.
What about the other cities?
Let's take a look at the other cities. Raleigh and Charlotte really are stealing the headlines, and for a reason, because they're the most moved-in cities in the state. However, Greensboro has relatively good moving trends as far as the North Carolinians go. Overall, the city's moving trends are more positive due to the newcomers from out of state. In fact, Greensboro is gaining residents when compared to most metro areas in the Tar Heel State, apart from, of course, Charlotte and Raleigh. The Gate City welcomes around 3,000 people from Winston Salem each year, but also around 1,000 people from each of Durham, Fayetteville, and Burlington.
Durham and Winston Salem are neither here nor there when we look at the number of North Carolinians who are moving there. The good thing for both these cities is that they are attracting a lot of movers from NYC and Washington DC. Fayetteville, on the other hand, is the most moved-out city in North Carolina. People seem to be leaving Fayetteville at the first chance they get. And, it goes without saying that the majority of them are going to either Raleigh or Charlotte. But, it is worth saying that moving from Fayetteville to Durham is also popular since there are as many as 1,000 relocations in this direction on a yearly basis.
The pros of moving with reputable professionals in the Tar Heel State
There are so many great things about professionally-assisted relocation that it's tough to find a good way to start. But, safety, as the most important thing, should be mentioned first. If you leave the relocation to long distance moving companies in North Carolina, one thing is certain – your belongings will be safe and sound. Not to say that they wouldn't have been if you relocated them by yourself. But, you need to understand that many things can go wrong during the process, especially if you don't have experience. On the other hand, long distance movers North Carolina have both the experience and equipment to guarantee the safety of your belongings, which is the most significant benefit of asking for their assistance.
This is just the beginning. Moving with the NC's relocation experts will be quick and you won't have to exhaust your body with so many physically-challenging tasks. As a result, you'll come to your new home with more energy, which is priceless. Especially if you have a job that awaits you in Charlotte, Raleigh, or wherever you're moving to. Just imagine going to your first day at work exhausted. Not an ideal scenario, that's for sure. With long distance movers in North Carolina, this won't be an issue. And finally, stress is something that we see a lot during the moves, and when the professionals are by your side, the whole moving period will be practically stress-free.
How to track down companies you can entrust with your belongings
Now, this is maybe the most important thing in the whole moving process. When you find a company that's experienced and worthy of your trust, everything will resolve itself one way or the other, and you can expect your journey to have nothing but a successful outcome. But unfortunately, finding such company in the Tar Heel State is not easy as it sounds. North Carolina, like the majority of other states, has individuals who are looking to take advantage of people, commonly known as fraudulent movers. You need to do everything in your power to avoid them, and doing some research is the best way to do so. Verified Movers want you to be safe, which is why we'll show you a few things to keep in mind when choosing moving professionals in NC.
Verified Movers reviews can point you in the right direction
Although many people don't pay attention to reviews, as sometimes they don't feel like it's important, when it comes to choosing a moving team, these testimonials are of the absolute essence. Long distance moving companies North Carolina reviews have almost everything you need to make sure you're making the right choice. And our team has decided to put them all in one place to spare you some time, so make sure to take a look at Verified Movers reviews, because you definitely won't regret it. You'll learn whether the company is good or bad. You'll also learn about the services they're providing and how they're executing these tasks. And, ultimately, you'll get an idea of what your whole moving journey with them would look like.
Reliable long distance movers in North Carolina are always licensed
One thing that all reputable movers in the Tar Heel State have in common is that they are all licensed. There is simply too much risk involved when moving with unlicensed movers. So, this is something you should avoid entirely. But how does one check if the movers are licensed? The answer to that is by visiting the website of the North Carolina Utilities Commission. Not only is this agency responsible for licensing movers who are transferring people across the Tar Heel State, but they have made it available on their website for every client to check if certain companies are licensed or not. But, bear in mind that this is only for local and long distance moving companies in North Carolina. Checking the cross country moving companies can be done at the Federal Motor Carrier Safety Administration, the institution that regulates movers on a federal level.
Movers in the Tar Heel State have made a plethora of services available for their clients
When relocating with long distance movers North Carolina, you should expect a unique move tailor-made for your needs. This isn't the case of raising your expectations too high. This is something you should and what you will get. In the end, you're paying for their assistance, so it's natural for you to expect a unique experience because each and every individual has their own needs. Finest moving professionals in NC know that this is what clients deserve, and that's why there'll be plenty of services on offer. We'll start with a few of the most popular ones.
Residential moving – Residential movers are specialized in household moves, so if you're changing a place of residence and moving from, let's say, Raleigh to Durham, or Greensboro to Charlotte, they will offer you their expert assistance.
Commercial moving – This relates to business moves, so if you're one of the people who are moving their business to Charlotte or Raleigh, but also any other city in NC, you're going to ask for commercial movers.
Packing services – Packing requires so much work and we're sure that you're not looking forward to it. You can easily skip this task since the majority of long distance movers in North Carolina are offering packing services.
Storage services – Did you know that you can place a portion of your belongings in a safe facility until the move is done? If there is a need for that because you want the moving process to be easier without worrying about each and every one of your belongings, then renting a storage unit is the way to go.
Apart from these four, which are most frequently asked for, you'll be able to seek furniture moving services, junk removal, college or senior moving, and so on. Additionally, we would like to mention specialty item moving services because usually, everyone needs one of those.
Long distance movers North Carolina will expertly pack and transport your specialty items
There are some items out there that are simply too difficult to move, either because they're heavy, fragile, or valuable. They require extra care and protection during the relocation, and simply can't be treated as the majority of other items. Still, you shouldn't worry, because it's nothing that movers can't handle. Moving experts in the Tar Heel State are skilled enough to deal with these items, so rest assured they'll be transferred without a scratch.
Piano moving
Pool table moving
Fine art moving
Auto moving
Antique moving
Long distance moving companies by cities in North Carolina
Even after you find a company that's proven and trustworthy, that doesn't mean that reaching them will be easy. North Carolina is not a small state, so it would be easier to look for movers who are operating in the area where you live in. That's why we wanted to sort these companies by cities which will surely help you narrow down your choices.
Verified Movers can be a useful companion during your move
By now, you have probably realized that moving is a complex process. Even after you decide to move with professionals, there is so much left to do. Not to say you can't do it alone, but having a companion on this journey across North Carolina will make it a lot easier. Verified Movers are the only ally you need! Why is that? For starters, it's been a while, more than a few years actually, since we dived into the moving field. Our experience has thought us a lot about the moving process, and we're sharing useful pieces of advice on our blog every week. We're sure that it will have something for you as well. After all, there are a lot of unknowns during the moving process, especially for moving rookies, so make sure to take a look.
But, even more importantly, we're here to help you find the moving team. Our priority is to match you with true professionals, or better said, help you avoid fraudulent movers. Nothing comes even close to safety, and as long as your belongings are safe, everything will turn out ok in the end. However, we don't want to stop there. We want to find a team that's ideal for you. This means that we want to connect you with long distance moving companies North Carolina that are offering all the services you need. That won't be as difficult as it sounds, because our database contains over 20,000 moving professionals from all parts of the United States.
In the end, we wanted to mention again that Verified Movers reviews is the place to find testimonials from other people, that will ultimately help you figure out which long distance movers in the Tar Heel State are ideal for you.
Avoid moving during North Carolina's hurricane season unless you have to
The Tar Heel State is known for so many great things, from wonderful shores, and parks, to advanced cities with great economies, low cost of living, etc. Unfortunately, not everything about it is great, because North Carolina is infamous for the likelihood of hurricanes. There is a long hurricane season in NC every year, from the beginning of June all the way until November. Weather conditions can be quite extreme, and you should definitely avoid moving during this period. If you need to expedite your move in the middle of hurricane season, it is still likely that there won't be many issues. But, if you have the luxury to choose, it's always better to be safe than sorry, which is why April or May might be the best months to relocate across the Tar Heel State.
Breaking down the cost of your move
Calculating the moving cost requires a lot of work, certainly more than you thought. Different things are affecting the final price you'll end up paying. Small details that are easy to neglect can make the price go up or down. That's why we wanted you to have a look at some factors that have the most significant impact on the overall cost.
Special services – Asking for special services will gradually raise the cost of your move, depending on how many of these services you ask for.
The weight of your shipment – Heavy shipment is always more expensive than a light shipment, as it requires better and larger trucks.
Size of the household – If your current home in the Tar Heel State isn't huge, and there aren't too many items for you to relocate, you'll be able to save a few bucks because you won't need a big moving truck.
The distance between the cities – Shorter trips cost less. For example, relocating between Durham and Greensboro is one of the cheapest long distance moves out there because the distance is only 50 miles. However, if you're moving between Raleigh and Charlotte, which are further away from each other, expect a bigger price.
The difficulty of loading – More often than not, North Carolinian homes have more than one level. As such, they're more difficult for movers to navigate and load the items from. That impacts the cost and makes the move more expensive.
Moving date – Late spring and early summer (from May to July) is when long distance moving companies in North Carolina are the busiest and when the price is at its high point. If you want to save some money during the move, a January relocation will be the cheapest.
Simple steps that will make your move much more likely to succeed
Before you take a trip across North Carolina, we wanted to share a few steps you should follow in order to increase your chances of having a successful outcome. This is not the only moving checklist you should have, of course, because the long distance relocation is a complex process that requires dealing with various things. However, if you follow the steps below, the whole moving adventure will be much easier to navigate.
Conducting research on moving professionals in your area
By doing some research, we don't mean spending days doing background checks on moving companies. A few hours will probably be enough, especially when Verified Movers reviews are offering you everything at one place.
Giving a call to several long distance moving companies in North Carolina and asking them for a free quote
After doing research, and making a shortlist of several companies for whom you think are worthy of consideration, now is the time to give them a call. Reputable movers in NC are offering a free, non-binding moving estimate for everyone, which is something you could really benefit from.
After assessing the estimates, arrange the move with the company of your choice
You're almost there. Making a choice takes time, and by this point, a lot of work has already been done. Now you know which long distance movers in North Carolina you want by your side, so give them a call and arrange the move. We suggest you do this around a month before the date you prefer, so there's enough time for everything to be done smoothly.
Long distance movers North Carolina will offer you a customized moving plan
Sounds great, doesn't it? If you opt for a full-service move, the experts who are well-familiar with the moving process can make a plan for you. That eliminates the chances of you forgetting something important, and, it will spare you quite some time.
Calmly wait for movers to arrive and enjoy the professionally-assisted relocation
There you go. While this may sound too good to be true, it is in fact that simple. Once again, we must say that there will be some other tasks you need to do that long distance moving companies North Carolina can't help you with, but this is enough to ensure the safety of your belongings and peace of mind. In the end, this is the most important thing during the relocation.
What if I decided to relocate without long distance movers North Carolina?
To put it simply, it will be way more difficult. However, it isn't necessarily a bad thing, but expect a bumpy ride to say the least. DIY moves will save you some money, so if this is the deciding factor for you, it makes sense to consider it. But, the big issue about DIY moves is that they are truly overwhelming. When people have short deadlines with big households to move, even a relocation assisted by long distance moving companies in North Carolina can be overwhelming, let alone if you're going through the process by yourself.
In our eyes, moving with experts is always the best way to go. Mostly because it's safer, but also because it will be fewer things for you to do. And, if you end up choosing the DIY option, make sure to at least have some friends or relatives by your side, who'll be able to make it at least a little bit easier for you.
Long distance moving companies North Carolina: FAQ
Now, there are still some questions that people are wondering about long distance movers in North Carolina and what the relocation with them looks like. We'll give the answers to them in this section. But, if you're still left with some dilemma, don't hesitate to reach out to us, and we'll be happy to give you the answer.
What is the duration of a professionally-assisted move?
When it comes to long distance relocations, they are usually done and dusted within 2 weeks, especially in medium-sized states such as North Carolina. If the distance is very short, say 50 to 100 miles, and there are no major problems in the traffic, it could take less than 10 days.
What items cannot be transported in a moving truck?
There is a long list of items that long distance moving companies North Carolina will refuse to move. However, don't panic, because these are mostly flammable or hazardous items. Some of the most common things that won't be allowed in the moving truck are:
Gasoline
Matches
Oxygen bottles
Fireworks
Ammunition
Nail polish remover
Lighter fluid
Paint
Pesticides
Motor oil
How much does it take for long distance movers North Carolina to pack up a household?
Experienced movers will pack up your home in less than 24 hours. Sometimes, it could take slightly longer than that, but this is usually if the household is huge. Still, it will be much quicker than you think.
Is there insurance on offer when relocating with Tar Heel State's moving experts?
Three types of moving insurance will be offered to you by the majority of movers in NC. Even if you don't have all three options, rest assured that every reputable mover will offer you some kind of insurance.
Basic carrier liability
Declared value protection
Full replacement liability
Are movers giving notice to their clients before they arrive?
You will be notified 24 hours before the movers arrive with your belongings.
You can always count on Verified Movers' assistance
Having experienced and diligent long distance movers at your side during the moving process is a great way of ensuring a successful trip. After all, they have completed countless of these relocations and they have the best tools at their disposal. Truth be told, reaching these movers can be trickier than you might think, but Verified Movers are offering you a simple solution. With a database filled with quality long distance moving companies North Carolina, finding the right team becomes a certainty. And after you get in touch with one of the finest companies in the Tar Heel State, everything from that point onwards will run smoothly. Make sure to check out our website today!
Facts About North Carolina
01. Main Information
Popular Cities
Charlotte, Raleigh, Greensboro, Wilmington, Asheville
Governor
Roy Cooper
US Senators
Richard Burr, Thom Tillis
State Website
State Moto
To Be, Rather than to Seem
State Nickname
Old North State
02. Geo Population
Area (sq mi)
53,819 sq mi
Total Population
10,701,022
Highest Elevation
6,684 ft
Lowest Elevation
Sea level
Time Zone
Eastern/UTC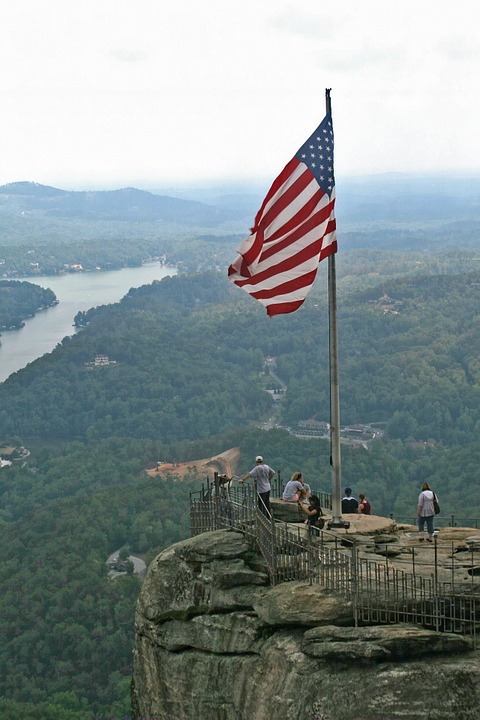 03. Education
Top 5 Elementary Schools
Durham Academy, Providence Day School, Charlotte Country Day School, Charlotte Latin School, Ravenscroft School
Top 5 Middle Schools
Cary Academy, Durham Academy, Providence Day School, Charlotte Country Day School, Charlotte Latin School
Top 5 High Schools
North Carolina School of Science and Mathematics, Cary Academy, Raleigh Charter High School, The Early College at Guilford, Durham Academy
Top 5 Colleges
Duke University, University of North Carolina at Chapel Hill, North Carolina State University, University of North Carolina at Charlotte, Wake Forest University
04. Rates
Crime Rate
27.29
Employment Rate
58%
Average Income (household)
$54,602
Poverty Rate
14.70%