Recent polls show that over a third of US citizens wish they could move to a different state or even city. Whether you are a recent college grad or a mid-career professional, long distance relocation comes with its share of challenges. But when it comes to New York, most people are able to find what they are looking for, whether in one of the many fragments of NYC or another part of the Empire State. And with Verified Movers recommendation of long distance moving companies New York has to offer, this task becomes a lot easier. Even if the time comes for you to leave the Empire State, with us by your side, you'll easily track down cross country moving companies New York that will take expert care of your goods. Just visit our database and read the moving companies' reviews and you will find the movers of your dreams!
Ensure a smooth migration experience with the help of long distance moving companies New York has to offer
In order to relocate your home or office from one point to another, you will have to take care of many tasks and overcome plenty of challenges. To start, you will have to pack and prepare your belongings for the upcoming road, as well sort all the documents, utilities, bills, and
everything else that has to do with your address. And, as if these weren't time-consuming enough, you will have to do it all while racing the clock. At this point, you are probably wondering whether every moving process is this hard. No, not really.
When long distance moving companies New York has to offer, take care of a move, everything is much smoother, more efficient, and stress-free for the customer in question. Verified Movers will gladly help you find just the right moving team for your upcoming relocation process, and thus ensure you have the move worth reminiscing about.
What kind of movers to look for, interstate or intrastate?
Many people think that there are only two types of move –  local and long distance. However, they are wrong. Each relocation requires a different approach, therefore, you need to know what kind of movers you need. So let's dive in.
There are two different types of long distance moves, interstate, and intrastate. Every long distance relocation that is conducted within the state borders is considered to be an intrastate move. For example, if you are moving from Buffalo to Jersey City, intrastate movers are the ones to call.
However, if you plan on relocating from Buffalo to Charlotte you need a team of interstate movers. Every time you need to cross the border to relocate, even if the distance between the two places is a shot 30 min drive you need to look for interstate movers. There are different rules and regulations when it comes to interstate and intrastate moves, therefore, you need to make sure that you have hired the right company for this job.
Long distance moving companies from New York require special licenses to conduct out-of-state moves. This is why it is important to check if they have all the right documents, you don't want to get scammed. The easiest and safest way to find reliable movers that have their documents in order is by contacting us. We are one of the best moving brokers in the country. Our large database is made of legitimate and professional moving companies. Our staff can find you the best out-of-state movers that will ensure safe relocation. Before we add a company to our database we make sure to check all of their documents. Your only job is to tell us what your needs are and let us find you the perfect match.
Moving services that long distance moving companies from New York can provide you with
Moving is a complex task, whether you are moving within the state borders or across. Relocation requires a lot of planning and organization. You need to take care of packing, loading, dissembling, and much more.  And let's not forget that you need to navigate through the traffic, which can be quite chaotic in New York. On top of that, you will not have to worry about finding a parking spot, and we know that this can be a nightmare, especially if you are moving to Manhattan, NY.
Moving services are designed to make every part of the move easier. The more services you add to your contract the better your moving experience will be. You will feel less stressed and will have more time to do other things besides handling your moving tasks.
Long distance moving companies in New York offer all kinds of moving services that can be tailored according to your needs. This is why it is extremely important to tell your movers what your expectations are so that they can adjust their services and provide you with the best ones. There are basic moving services and specialty moving services. Which ones you will need depends strictly on the type of your relocation and the items that you need to move. Here are some of the services that people use the most when moving long distances.
Moving services
Residential moving services– Each day thousands of people in New York decide to move. Moving from a place where you feel safe to a completely new one can be emotionally draining. Dealing with the moving logistics on top of that can cause a lot of stress. In order to avoid that, long distance movers from New York are there to remove this burden off your back. You will not have to worry about the safety of your items, and you will have time to take care of yourself and adjust to this change. For example, if you are moving from New York to Washington you will make your life easier if you just call residential movers to help you.

Commercial moving services – Every business needs to have a team of commercial movers that can move their business to a new location. Regardless of the distance, calling professionals is the best thing to do. Business equipment is expensive and getting it damaged can cost you a lot. Moreover, you probably have some confidential and important documents that need to be transferred, and losing them will cause you a lot of trouble. But if you leave this job to the commercial movers, you will not have to worry about this. Movers will take care of this.
Packing services– If there is one service that you should always add to your contract this is the one. Often times people don't realize how much time they will spend packing their items. It seems like a simple task, but it can quickly turn into a nightmare. There is no need for you to waste your precious time on buying packing supplies and packing your household or business. Leave this to the professional New York long distance movers. They know how to secure each item, regardless of its shape and size. If you want your things to be intact always let professional packers pack things for you. No matter how far away your items need to be transferred, you can rest assured that they will be safe and sound.
Storage services – Moving long distances, renovating, when in between homes- there are many different scenarios why you could possibly need storage services. Let's say that you are moving from New York to Nevada and you cannot bring your furniture with you, you can rent a storage unit and leave everything inside until you decide what to do with it. Almost every reputable long distance moving company in New York has storage services on their offer. Verified Movers is here to help you find storage that is climate controlled and that uses a state-of-the-art security system.
Furniture moving services – Furniture is heavy and hard to move. While some of it can be disassembled, some of it cannot. No matter what kind of furniture you have, furniture movers that our team from Verified Movers will help you find will know how to handle it. If you want your expensive sofa to arrive in pristine condition when moving from New York to Virginia for example, look for furniture moving services.
Specialty moving services
Piano moving– Moving a piano is not a job for amateurs. It requires a delicate touch and strong hands, that only skilled piano movers have. Therefore, if you plan on moving your instrument from New York to Florida consider looking for long distance movers in New York that offer piano moving services. With them handling the transportation, your piano will arrive without a scratch and you will use it for years to come.
Auto moving– This is one of the services many people forget about. When moving from New York to California for example, instead of driving there with your car it is safer and more economical to opt for auto moving services and let professional movers bring your car there. You will avoid driving for 43 hours to arrive at your destination. You will be more energized and ready to tackle the unpacking process.
Pool table moving services– A pool table is definitely something you shouldn't even try to move alone. It is oddly shaped and heavy. You could easily hurt yourself or damage the pool table if you are not skilled enough for this job. Moving a pool table safely requires a special skill, that only real professionals possess. Don't risk damaging your pool table when moving long distances, leave this to the real pros.
Senior moving– Moving can be extra challenging for elderly people. They need more help with the entire moving process. Use our database to find movers that are compassionate and that can offer you a wide range of solutions for your senior relocation.

Moving trends in New York
In 2020 during the coronavirus outbreak, 336000 people left New York. The need for freedom and more space has pushed New Yorkers to move to their second homes. The lockdown rules were very strict and people moved in order to find a place where they will have more freedom. Even when the quarantine was lifted the move-outs were on the rise. Many were still leaving the state in order to move to a more tropical and more laid-back states like Florida and Texas. But they were not moving to the big cities as you could presume. On the contrary, they moved to small cities where they can have a home with a backyard. Now after two years, people are finally coming back. For example, the number of move-ins in Manhattan is bigger than before the pandemic.  
New York never had this big number of move-outs as during the pandemic. Just between March 2020 and February, 2021 160,000 households have moved out of the state. Manhattan had the biggest number of move-outs out of the five boroughs. A lot of people who fled Manhattan moved to Rockland County, Suffolk County, and Westchester County.  
In the second year of the pandemic, the number of move-outs started to decrease. Many believe that this was due to the increase in housing prices. Once everyone started looking for a house, the prices tripled, which made it harder for people to buy a new home, this is why a lot of them didn't have a choice but to stay.

Where did New Yorkers move to?
Florida is one of the most popular places for New Yorkers. A lot of them permanently changed their address from New York to Florida. Even though Miami Dade County and Palm Beach County were some of the most popular places to relocate to, many people choose to move to smaller places too. Florida has great weather all year round, and there are no state income taxes. Florida is very favorable for businesses too. The cost of living is lower compared to New York, especially when you compare it to Manhattan. 

Texas was and still is one of the popular destinations. Favorable tax laws, great weather, and a laid-back lifestyle attracted many people. The state of Texas has a booming job market, and its economy is on the rise, therefore, it is not surprising that New Yorkers love Texas so much.
Another popular destination is Pennsylvania. The most popular city for New Yorkers to move to is  Philadelphia. The city is very attractive because of the low cost of living and great quality of life. The average rent in Philly is around $1,430 which is almost half the price of an apartment in New York. Being one of the largest cities in Pennsylvania, there are many things to do and see. You can have a great life, and New Yorkers have recognized it. 

Suburbs and family-oriented neighborhoods became trendy
While many left the state a lot of people didn't go that far away. One of the most popular places where New Yorkers went during the pandemic is Connecticut. Fairfield County, Stamford, and Greenwich were and still are the trendiest places in Connecticut for people to move to. The housing prices in New York City are still on the rise. In Connecticut, you can get more space for a way better price. A lot of young professionals that are planning on starting a family have moved here. The commute to the city is not too long and is definitely worth it!  
New Jersey is also one of the most popular places within the state. New Jersey is a nice and secluded area. You are not so far away from NYC but far enough from the hustle and bustle of the city. Hudson County, NJ is the most popular neighborhood. Many families move to New Jersey. The price of homes is significantly lower than in other places in the state. The community is great and the neighborhoods are pretty safe compared to other places. Everything that NYC has you will find in New Jersey, plus you will have more space and better quality of life.  
Now things are slowly coming back to normal. People are going back to the office and more and more people are going back to New York. Slowly the number of move-ins is rising. The housing prices in the smaller places in Texas, California, and Florida have skyrocketed, therefore, moving back to New York is more beneficial, since there are many high-paid job opportunities. However, even though it will take some time to bring all the people who have left back, the future is looking bright for New York.
Who is moving to New York?

Now let's see from which places people are going to New York and how much the average move costs.
Delaware to New York
If you are moving from Delaware to New York the relocation will cost you anything from $923 to $7,250. The price will depend on your moving needs, the number of things that you are moving, the moving season, and many other factors.   
Studio / 1 Bedroom, $1,425 – $5,800

 

2 – 3 bedrooms, $3,020 – $7,250

 

4+ bedrooms, $4,950 – $9,500

 
Connecticut to New York
When moving from Connecticut to New York the cost of the relocation starts at around $1,107 and goes up to $7,250. If you are relocating alone the cost will be lower, however, if you decide to hire a moving company you will pay more. Also, the more moving services you add to your contract the higher the price of the move.  
Here is an overview of what you can expect to pay when moving with a professional company: 
Studio / 1 Bedroom, $1,425 – $5,800

 

2 – 3 bedrooms, $3,020 – $7,250

 

4+ bedrooms, $4,950 – $9,500

 
Los Angeles to New York
It is common for people to move from LA to NY. This is one of the most long distance relocations. On average you will pay from $1,200 to $4,632 to move from Los Angeles, CA to New York.
Studio / 1 Bedroom, $1,290 – $2,455

 

2 – 3 bedrooms, $2,200 – $4,632

 

4+ bedrooms, $3,885 – $7,340



Quality moving services are just a few clicks away
In just a few clicks you will find the movers that offer quality moving services. There is no need for you to look for hours on the internet in order to find a reliable team that will be able to fulfill all your moving needs. Use our database to find the best long distance movers in New York. With more than 18, 000 moving companies in our database we can assure you that you will easily find the help you need. Our website is easy to navigate. We have many long distance moving companies from New York on our list. They are all great and verified and can provide you with a set of comprehensive moving services that will make your long distance relocation a seamless process.
What do you get by hiring professional movers?
Moving can be quite stressful for some people. Even the smallest change can bring a lot of anxiety into one's life, now imagine how a long distance move can impact a person. This process can be overwhelming and tiring. Having to deal with your emotions and planning your move is a lot. Professionals can give you a piece of mind. They will remove the moving stress and help you relax. Verified Movers are here to match you with the movers that you can trust. You will have an honest team that has the patience to guide you through the process.
We suggest you take a look at the long distance moving companies New York reviews and read people's testimonials of how moving with professionals has helped them go through the process stress-free. Having an honest moving ally can make a huge difference when relocating long distances, whether you are moving for the first time or you are a regular mover.
When in doubt ask your movers!
No matter how many times you move you will probably still have some questions for your movers. Always feel free to ask everything you want to know. Getting to know the company and how they approach each relocation will help you understand if they are the ones for you or not.
Are the moving estimates they provide free and non-binding?
Most of the long distance moving companies from New York offer free quotes, both online, over the phone, and onsite. You want to ensure that quotes are accurate so that you don't get hit with unexpected costs at the end of the move. Finding out whether their estimates are binding or non-binding is important. Non-binging estimate means that you will pay the estimated price which will not change at the end of the move.
What kind of insurance do they have and do they have a license?
A license is a must. This is how you know that you are not dealing with scammers. If they have nothing to hide they will show you their license and provide you with the moving insurance. There are different types of insurance that you can get from a moving company – full value protection and partial.
What kinds of services do they provide?
It is important to know if movers that you plan on hiring can provide you with the services that you need. If you need partial or a full packing service for example make sure to mention it before you sign any contracts.
Are delivery delays common and what causes them?
Delays can happen due to bad weather, dense traffic, blocked roads due to an accident, etc. However, they are not common. Professional movers know how to properly calculate the time they need to execute a move and transport everything. You will be given a time window for the delivery and will be informed if anything unpredictable happens while on the road.
Are they allowed to conduct moves of the state borders?
Companies need special licenses in order to conduct moves across the border. Even if the destination is only 30 min away, they still need to have special permission to conduct a move if they need to cross the state's border.
Long distance movers can tailor their services according to your needs
One of the best things about working with long distance movers New York has to offer is the fact that they can tailor their services according to your needs. Each person is different, therefore everything has different needs when it comes to moving. Moving from Colorado to New York is completely different than moving from Texas to New York.  Also, moving a single-family home differs from moving to a three-story house. Different moves require different services, and professionals will know how to cater to each situation. Be honest with your movers and give as many details as you can about your move.
The more specific you are the better moving plan they are going to create. If you need full or partial moving services, make sure to ask them if they offer one or both of these options. The same is with storage. If you need storage make sure to mention it. They probably have a safe space for your items. Feel free to ask them questions about their storage services, and how secure they are. A reliable moving company will have no problem answering them. On the contrary, they want you to feel reassured. Furthermore, professionals will give you valuable advice on how to prepare for the move.
Long distance moving companies by cities in New York
Moving alone or hiring professionals
Many people think that by moving alone they are going to save a lot of money. However, this is not always true. If you only have some simple things to move, like clothes and shoes, then you will be fine on your own. However, in reality, we have way more items to relocate than just clothes and some shoes. There are decorative objects, documents, furniture, art pieces, instruments, etc. Imagine wrapping this all alone and loading it into a moving truck, it can be quite a challenge. Also, we all know how dense traffic in the state of New York can be. Navigating through the busy streets with a moving truck is not an easy task. This is the case, especially during the rush hours in the morning when everyone is going to work and late afternoon when people are going back home. New Yorkers are always in a rush, therefore, renting a truck and trying to drive alone is not the best idea.
You will need days to pack everything and it will take you hours to load all those things in the back of the truck. On top of that, you need to drive for hours to get to your destination. This can be overwhelming and tiring. And not to mention it can be dangerous. Furniture, appliances, and instruments, are heavy and bulky. One wrong move and you can hurt yourself. Breaking them due to poor handling, or poor packing is also an option. You'll have to spend money on reparations. And let's not forget that some items cannot be repaired, so you will have to buy new ones. Because of this, hiring movers is a way better option. You get personalized service, a professional team, and fast and safe relocation. You will save both your money and time. Hiring professionals vs DIY move is a no-brainer -go for the best and the most economical option and that is hiring one of the long distance moving companies in New York!
You have more time to explore your future neighborhood if you let professionals handle your move. New York has many great places that will leave you breathless. While long distance movers are unpacking you can start discovering your new environment.
Find expert long distance moving companies in New York that can assist you
We have more than 18000 moving companies in our database, and a large amount of them are from New York. We check each company before we add them to our list.  Therefore, you can rest assured that they are legitimate and trustworthy. Our site is easy to use. You will find what you need pretty quickly. Plus you can get free moving quotes from multiple moving companies. This way you can compare their services and their prices, and pick one that suits you the most.
The fact of the matter is that long distance moves can take a lot of effort and are a huge waste of time. So, why risk the well-being of your belongings and spend time on such meaningless tasks? Especially when there is a far simpler way to handle this task. You can make your relocation both easy and efficient with a little research. Simply discover the best long distance moving experts in New York and take out all the stress out of moving.
New York long distance movers are here for you
As we have mentioned many times before, what you need during your long distance move are professionals from the top echelons of the moving industry. But why are long distance movers in New York the right choice for you? Well, for one – movers in NY go through enough training to obtain all the skills you need in someone doing your relocation. Their services are professional and customized, all in order to satisfy your moving needs, no matter how unique they are. These teams understand you, and your needs. That is why professional long distance movers in New York can and will satisfy all your needs.
We value our clients
There is no success in any business with unhappy customers. And that's precisely why our dedication and loyalty to our customers are second to none. Verified Movers and long distance movers in New York will do everything in their power to satisfy your needs. Even more importantly – we will help you find a team that will make your relocation simple and easy. We don't have customer relations – we have customer relationships. We know how important relocation is in anyone's life. That is why NY long distance movers treat the moving process with respect and dignity. So whatever you need during your move – call us! We will find you a moving ally that you can count on!
Affordable service
Living in New York can be pricey. However, moving to or from it doesn't have to be. While living in it may put a strain on your finances, long distance movers in New York won't. Moving services are tailored to meet your needs, which won't leave your bank account in the red. Make no mistake – affordability is not synonymous with low-quality service. At least not with long distance movers from New York. Give us a chance to find you affordable movers, and we promise you won't be sorry!
The importance of moving reviews
The first thing you should do is check the company's reviews. This is the best way to find out more about the company and its work ethic. You will understand better the way they operate since you will have the opportunity to read other people's testimonials. Moreover, you will see if they have good customer service. The way they respond both to positive and negative comments will indicate if they truly care about their customers.
You should keep in mind that no moving company from New York will have only good comments. If you see only that, it's a red flag. It is normal to have a few not-so-great comments, things happen. But the way the company decides to handle the situation is what matters the most.
We suggest you take a look at the reviews of long distance moving companies New York has to offer on our website. We have strict rules when it comes to reviews. We do not alter or delete comments, we strive to be as transparent as possible. Spams and fake comments are removed. We monitor everything, to ensure only truthful reviews are on our website. This is why using the Verified Movers website to find a moving partner is the safest option.
Moving scams are on the rise
Scammers are everywhere, even in the moving industry. You need to be careful when hiring movers in New York. Nowadays it's easy to create a good-looking website and make an advertisement that is going to be appealing to people. Scammers in New York have become so good at this, that many people have become their victims. You can lose both your money and items if you are not careful. New York is a big state, therefore it is easy for scammers to operate. You can not catch them easily, especially since they are targeting the bigger cities in the state.

Take your time to verify if movers are legitimate. We suggest you look at the FMCSA website and see if the company is registered. The easiest way to find reliable and licensed movers is by using our database. As we previously said we have verified each and every moving company. We have looked at their documents and checked if they have everything a legitimate moving company needs. You can be serene, knowing that you will not have to deal with scammers that are only after your money. There are many great and trustworthy movers in New York, you just need to be careful. You can ask your friends that live in the state if they can recommend you, someone.
FAQ
What is the cost of a long distance relocation?
The cost can depend on many things, however, the average cost of a long distance move in New York can be anywhere from $1,780 to $8,400 or even more.
When is the right time to book your movers?
New York movers are very busy, therefore, book them as soon as you know the moving date. The earlier you book your move the more time you will have to prepare and the chances of getting the perfect moving date are higher. Two months in advance will be enough both for you and the movers to create a perfect moving plan. If you are planning on moving in or out of New York during the summer, you might want to book your movers even earlier. Many people are on vacation, and the demand for movers is higher.
However, since unforeseen things can happen, don't hesitate to contact movers in case you need to move last minute. They are more than capable of conducting relocations in a short time frame.
What can affect a relocation?
Natural disasters, traffic, and bad weather. Always make sure to check your weather app before you book movers. If you can, avoid scheduling a move on a rainy day. You will have a way better moving experience on a nice and dry day. Winters in New York can be harsh. In certain parts of upstate, New York snow accumulations are averaging from 100 to 120 inches. This is something that you should consider before you book your relocation in winter in New York.
Dense traffic can be avoided by booking a move during the part of the day when the traffic is less chaotic. However, if there is an accident, and the road gets blocked, unfortunately, there is not much you can do except wait. Also, when it comes to natural disasters, sometimes you cannot predict them. This is one of the unexpected things that can happen.
Will movers move everything?
Don't expect your New York long distance movers to relocate dangerous substances. Anything flammable or toxic is not going in the back of the truck. There are special rules when it comes to moving certain items. It's not that they don't want to, but they are not allowed by law. Movers in New York are not allowed to move plants and pets. You need to find another way to relocate your furry friends. Make sure to contact your company and request a list of things that they will not relocate. This way you will know exactly what to expect.
Will you be given a delivery window?
Yes, before movers leave your old place with items they will calculate how much time they need to arrive at your new location. They will stay in touch with you throughout the move. You will be given a time and date of your delivery that will correspond to your schedule. If you are moving from Jamestown NY to Troy NY your items will be delivered faster than if you are moving from Clymer to Champlain for example since the distance is shorter.
What kind of moving boxes do you need for a long distance move?
No matter where you decide to move and how far away, you need to get moving boxes. There are four main types of moving boxes. They all have different purposes.
Normal (small) boxes – They are mostly used for heavy small objects and books. They are sturdy and easy to carry since you cannot overstuff them.
Medium boxes– They have a bit more room than smaller boxes. They are perfect for packing kitchen items, decorative items, shoes, and clothes.
Large boxes – Use these boxes to pack large items that are not too heavy. They are perfect for clothes and accessories.
Extra large boxes – Big items like bedding, and couch covers can be stored in these boxes.
Apart from these regular boxes, there are all kinds of specialty moving boxes on the market. You can find mirror boxes, wardrobe boxes, boxes for dishes and glassware, and many more.
How many boxes do you need when moving long distance in New York?
This depends on the size of your home and the number of things you need to move. However, to give you an idea of how many boxes you will need, here is how many boxes are needed on average for a long distance move in New York :

1 bedroom apartment
10 small boxes
14 medium boxes
7 large boxes
4 Dish boxes
2 Wardrobe boxes
5 Mirror boxes
2 or 3-bedroom apartment
14 small boxes
18 medium boxes
11 large boxes
6 Dish boxes
4 Wardrobe boxes
8 Mirror boxes
2-bedroom home
22 small boxes
28 medium boxes
17 large boxes
11 Dish boxes
16 Wardrobe boxes
12 Mirror boxes
3-bedroom home
31 small boxes
40 medium boxes
25 large boxes
13 Dish boxes
9 Wardrobe boxes
16 Mirror boxes
Prepare a plan of action for your move to New York
Is it better to hire expert long distance moving companies in New York or conduct a DIY move? How will you pack your valuables and ensure their safety during the move? Will you leave it to the interstate movers in New York you hire? What expenses will your new employer cover, if any? So before you start your hunt for the perfect long distance moving experts in New York, consider these organizational guidelines to help your moving task.
Secure a budget before you search for long distance moving companies in New York
Shipping, gas, hotel, and insurance costs can pile up quickly. Add to that security deposits for renting and starting utilities in your new home, and it becomes clear that moving requires quite a few upfront costs. Suddenly, the plan to save money and build a moving budget doesn't seem that crazy, does it? It's simply a matter of financial security. After all, you can't rely on the security deposit from your old place since you never know when you might get it.
Building your budget shouldn't stop when you get to settle in your new home. The cost of living varies from state to state. And your current income might not afford you the same luxuries after the move. Consider how far your current salary will take you in specific parts of the Empire State. That should give you a more general idea of whether long distance relocation in New York is a smart fiscal idea.
Decide what you plan to take with you to your new home
What is the point of dragging an antique couch and decade-old TV with you to New York? You need to take inventory of all your belongings, especially bulky furniture and electronic appliances. Then you can calculate whether they are worth the effort of transportation or if you would perhaps fare better with new replacements.
It might seem small but there is a lot of ground to cover, so make sure to move as light as possible.
Don't underestimate how much time, money, and energy you can save by not hauling heavy items without a good reason. After all, professional long distance moving companies in New York will sometimes charge per quantity or weight.
What affects the moving budget?
Your moving budget will depend on a few things:
The weight of your shipment– This is one of the principal things that will affect your moving budget when moving long distances. The heavier your things are the bigger the bill. This is why you should take the time to decide which items you want to bring with you.
The distance of your move – This one is self-explanatory. Moving from Massachusetts to New York will not cost the same as moving from Ohio to New York.
The number of moving services that you have selected– There are all kinds of moving services that you can choose from. The more services you choose the easier your relocation will be, however, be ready to pay a bit more than expected.
The number of items– When you have a lot of items, one moving truck might not be enough. Also, you might need more people. Let's say if for a one studio apartment you need a small truck and two to three movers, for a two-story house you will need up to eight movers and two big moving trucks in order to fit everything.
Insurance that you have chosen– There are different insurance options. The two basic options that most of the long distance moving companies in New York offer are partial and full coverage. Partial is free and is included in your moving contract, while for full you will have to pay.
The moving date– There is a low and high moving season. The low moving season is from October to April. Moving during the low season is better for people looking to save money. Many companies offer discounts. This is all due to the low demand. However, if you plan to relocate during high season you will pay way more. Since everyone is moving companies are booked and have options, therefore, they charge more.
The complexity of your relocation– If movers need to use stairs or elevators in order to load your items in the moving truck then your bill will be higher.
Specialty moving services if you have chosen any- Moving a piano or a pool table is not a basic service. This is a part of specialty moving services. Only movers that specialize in these types of relocations can and should be in charge of the relocation of these objects. Since this is not a basic service it will affect your moving budget.
Moving regulations
Long distance moving companies that conduct interstate moves are regulated by the FMCSA and USDOT. Mind you this is only the case for companies that are crossing the state border, not for local and intrastate movers. If you want to check if an interstate company is legitimate you can visit the US Department of Transportation and type in their name. You will get all the information you need, their full name, since when they operate, whether they have the minimum insurance, and their safety rating.
When it comes to intrastate and local relocations, they are regulated by the New York State Department of Transportation (NYSDOT). Licensed movers need to have the NYSDOT number in order to be able to conduct relocations within the state of New York.
Turn to Verified Movers, and get to some of the best long distance moving companies New York has to offer
Make sure your move is a smooth and stress-free process by hiring tried-and-true professionals in the industry. Verified Movers will be happy to help you reach some of the best long distance moving companies New York can offer. Make sure to take a look at our website, and explore our vast database. Brimming with useful information, our platform will be sure to prepare you for the upcoming moving process. Contact us if you have any problems or questions, and we will make sure to assist.
Facts About New York
01. Main Information
Popular Cities
New York City, Rochester, Buffalo, Albany, Syracuse
US Senators
Chuck Schumer, Kirsten Gillibrand
State Website
State Nickname
The Empire State
02. Geo Population
Total Population
19,496,810
Highest Elevation
5,344 ft
Lowest Elevation
Sea level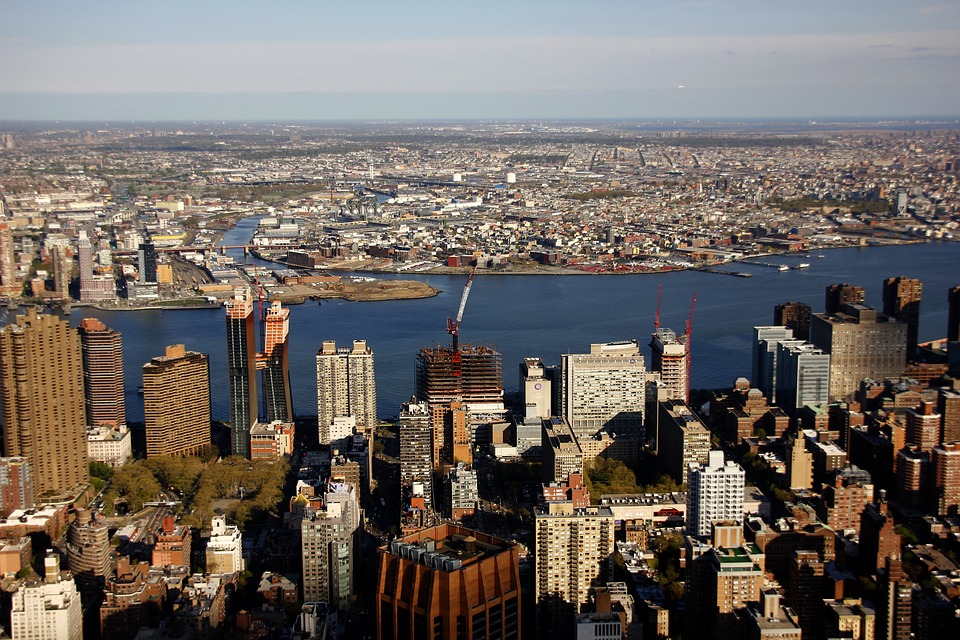 03. Education
Top 5 Elementary Schools
Trinity School, Riverdale Country School, The Brearley School, Horace Mann School, Collegiate School
Top 5 Middle Schools
Trinity School, Riverdale Country School, The Brearley School, Horace Mann School, Collegiate School
Top 5 High Schools
Trinity School, Riverdale Country School, The Brearley School, Regis High School, Horace Mann School
Top 5 Colleges
Cornell University, Columbia University in the City of New York, New York University, University of Rochester, Syracuse University
04. Rates
Crime Rate
16.65 (per 1,000 residents)
Average Income (household)
$69,021