It's very important to get recommendations when it comes to choosing reputable and trustworthy long distance moving companies Indiana. This is all the more important when you plan a business relocation. And it doesn't matter where in Indiana you are moving to Indianapolis, Fort Wayne, South Bend etc. This is definitely something you need to look into before a long distance relocation. And the best way to find out if a moving company is good enough is to consult their former clients. They will tell you how was their experience and what is their general opinion about particular Indiana moving companies.
Cross Country (Interstate) Moving Companies Indiana
The bigger the distance you have to travel between point A and point B, the more challenging your move will be. And, let's be honest, it is not all about that trip. There are many tasks that make up the process of moving. From packing, to sorting documents, and fitting it all in your already hectic daily schedule. It is no wonder people turn to professional long distance moving companies Indiana. And, it's no wonder. When you compare the price for the service received, you will be quick to realize that hiring movers is worth it, especially when you are short on time, and nerves. Verified Movers is the company to help you find your moving team, and venture into this process on the right foot.
Rely on the people who have already had experience in the moving process
Verified Movers operate a platform where people are invited to leave their reviews and share their experienced with the moving companies they have hired. We belive this to be the perfect way to promote companies who deserve it. However, this is also a great way to shed some light on the companies that are not worth investing time and money in.
We are all different, coming forth with individual needs, wants and possibilities. This is why no one company fits all. And that is why we suggest that you really go through our vast database, and try to find the company that suits you. Many of them offer a whole plethora of services, making sure their clients don't have to do as much as lift a finger. On the other hand, there are companies who are ready to take on as little of the process as you wish, taking care of things you are really struggling with. Make sure to know what you want, and search on.
You should always make sure to get a second opinion. After all, stories from different people will help you decide on the most reliable long distance movers Indiana. Not sure where to start your search? Verified Movers knows all the qualities you want in your expert movers:
Reputation. It's essential that you trust your Indiana, and that comes with certain verification and assurances. You should always opt for a professional long distance moving companies Indiana. And we can match you with only well-known and established Indiana movers. After all, you really want to avoid the scenario where your office inventory gets damaged or stolen while in transit.
The matter of price. What good is the perfect commercial moving services if you can't afford them? Hence, the importance of affordability. So, instead of the cheapest long distance movers Indiana has to offer, search for affordable ones. Find the balance between quality services and the right price for them.
Sufficient experience. Finally, you need professional moving crews that know what they're doing. So, you need long distance moving companies Indiana with experience and understanding of professional services. This is simply one of the best ways to guarantee that your relocation will be handled properly.
Moving rules to abide by – courtesy of long distance moving companies Indiana
Moving across Indiana? Here are some professional tips to help your transition to the Hoosier State.
Mind the Time Zones. When calling for information, scheduling appointments or planning arrival times, note that Indiana is in two different time zones: Eastern Time and Central Time. Check your time zone to avoid missing appointments!
Stay focused on the roads. There can be lots of trash, litter and other debris on and along Indiana roads, so be extra careful when driving.
Traffic can be a real hassle. Roads in the vicinity of Chicago (around Hammond and Gary), as well as around Indianapolis, can be very busy. Check your route before moving to IN so you know ahead of time where your exit is—especially when driving a moving truck. In addition, allow yourself extra time in case you get stuck in traffic.
Be mindful of the climate. Spring and summer bring tornadoes. So, remember to listen to the weather reports, especially when you're on the road! You can be sure that long distance moving companies Indiana will plan for this.
Don't forget the Moving Permits. You don't need a moving permit when moving to IN, but it's always a good idea to be familiar with your new street and any parking regulations that may be enforced.
Additional things to be mindful of
Moving is a process that can take a lot of your energy and time. That is precisely why you need to come prepared. Getting ready ahead of time is something that doesn't seem like a fun thing to do, but once your moving day comes – you will be more than happy with your choices. Let's dive in!
Start preparing and planning for your upcoming relocation to or from Indiana as soon as possible. Starting early is what will give you enough time and space to make the best moving strategy possible.
Make a plan and stick to it. Just like with almost everything else in life, postponing your tasks won't help you this time.
Use every tool at your disposal. Make a moving checklist and create an inventory. They will both help you stay organized.
Calculate your moving budget before you start looking for long distance moving companies Indiana has to offer. This way you will be able to determine how much are you willing, and sometimes even more importantly – how much are you able to spend on your relocation.
Start looking for different housing options and job positions ahead of time.
Feel free to use our moving companies' database and find yourself a mover you can trust and rely on.
Once you make an inventory list it is time to start decluttering. If there are some items that you don't need or use anymore – make sure you say goodbye to them.
Obtain professional packing materials and ensure your precious belongings' safety.
Avoid moving scams and stay safe at all times
Because that is all that matters. Your safety. There are many moving companies on the market. However, they are not all properly insured and licensed. On the other hand, our long distance moving companies Indiana are worth taking a look at. Feel free to use our movers' database and find yourself a mover you can trust and rely on. Here and now!
Moving with kids
…can prove to be challenging. And the best thing you can to is to find some assistance for your move. Assistance that our long distance moving companies Indiana are more than happy to provide you with. All you need to do is to give us a call. Our seasoned professionals will take it from there.
Senior relocation
If you are looking for some special moving assistance – you are in the right place. Our long distance moving companies Indiana are more than capable of helping our senior citizens move. We are here to help you move out or to Indiana in no time, and at an affordable rate!
Long distance moving companies by cities in Indiana
Turn to Verified Movers for reliable long distance moving companies Indiana
Your best bet at a smooth, stress-free, and swift relocation is with the help of professionals. And, with Verified Movers, you will be able to come across some of the best long distance moving companies Indiana can offer. Make sure to reach out to us today, or visit our website for more information.
Facts About Indiana
01. Main Information
Popular Cities
Indianapolis, Fort Wayne, Bloomington, Evansville
Governor
Eric Holcomb
US Senators
Todd Young, Mike Braun
State Website
State Moto
The Crossroads of America
State Nickname
The Hoosier state
02. Geo Population
Area (sq mi)
36,418 sq mi
Total Population
6,805,663
Highest Elevation
1,257 ft
Lowest Elevation
320 ft
Time Zone
Easterns/Central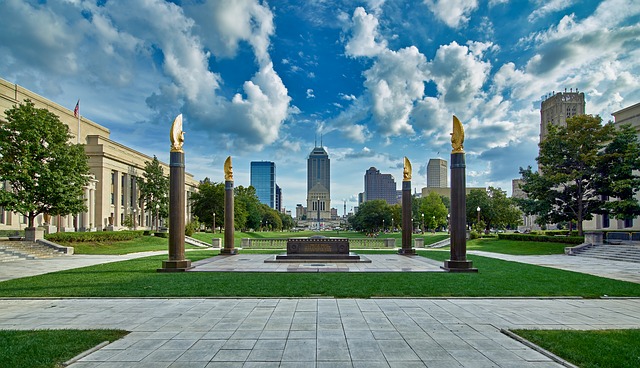 03. Education
Top 5 Elementary Schools
Park Tudor School, Canterbury School, West Lafayette Elementary School, West Lafayette Intermediate School, International School of Indiana
Top 5 Middle Schools
Park Tudor School, Canterbury School, International School of Indiana, Brownsburg West Middle School, Brownsburg East Middle School
Top 5 High Schools
Signature School, Culver Academies, Indiana Academy for Science, Mathematics, and Humanities, West Lafayette Junior/Senior High School, Park Tudor School,
Top 5 Colleges
Purdue University, Indiana University Bloomington, University of Notre Dame, Indiana University - Purdue University Indianapolis, Ball State University
04. Rates
Crime Rate
23.42
Employment Rate
61%
Average Income (household)
$56,303
Poverty Rate
13.43%