There is a lot of talk about people moving in and out of the United States in recent years. The migrations have been a burning question for quite some time – and the political situation in the country has only added fuel to the fire that was already burning. However, whatever your opinions on the topic, no one can deny that there has been a huge economic impact of moving in the United States in 2019. The industry creates jobs and changes in the work field in many areas. How much and to what extent, as well as how long? It is really hard to tell. But since moving is our industry, Verified Movers are here to take a swing at the bat! Today, we have created an overview of the biggest shifts in the economy due to the moving industry in 2019.
Who is a part of the moving industry?
When you think about the moving industry, you are probably thinking about the moving companies and their huge trucks. This is a correct assumption because they do make the bulk of the industry. But then the question becomes just how much you know about moving companies. What are the types you can find out there? Is there a difference between a commercial move and a residential one? And what are their differences if the answer is positive?
When you take all into consideration, there is quite a diversity among moving companies. First, you can divide them up by size. This is why you have small, medium and large moving companies. All of them can provide only or both intrastate and interstate professional moving services. But this is not all! A lot of moving companies also dabble in special services. So, you have to include both relocation and storage services. This way, the moving industry is made out of both multi-million dollar giants as well as the family-run offices. There are independent movers as well as moving brokers. Just take a look at these numbers:
The moving industry consists of:
7,000 moving companies which include:

van lines and their agents;
independent full-service movers;
international movers;
freight forwarders;
auto transporters.

13,900 locations;
122,6000 people working in all of these places;
50,000 trucks (32,000 tractor units for pulling semi-trailers as well as 18,000 of just straight trucks)l
the annual payroll of $3.6 billion.
As you can see, according to the American Moving and Storage Association, these numbers aren't little. As a matter of fact – they are quite huge! This is why the economic impact of moving in the United States in 2019 is undeniable! What's more, it creates many magnificent job opportunities.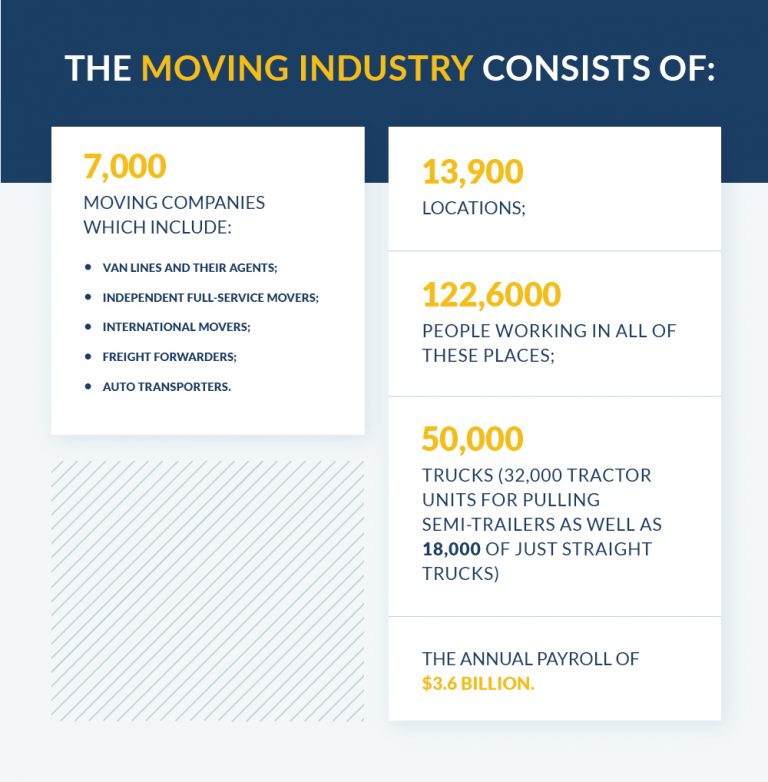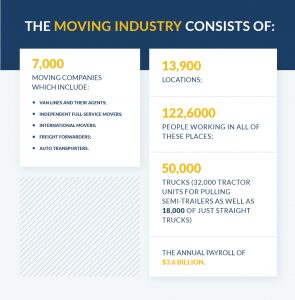 The moving industry offers a variety of services
As we already mentioned, the moving industry, due to being so huge, offers an amazing variety of services that you can employ. From just the regular ones – like local moving and long-distance relocation to more specialized ones, like getting movers to transport your safe or your pool table. Then there are the companies who specialize in transporting your office furniture, as well as those who offer storage. Finally, you might want to get someone to help you with packing your items. This is why the economic impact of moving in the United States in 2019 was so huge!
Moreso, there are also those companies who deal with fine-tuning your move – like us! These companies do anything from distribution to logistics consulting, giving you amazing moving tips you can use at any time! When you count all of these services, the total industry revenue ends up being more than $12.6 billion annually! 97.3% of this comes from three very specific services:
69.6% comes from local and long-distance moving services (around $8.77 billion);
20.2% comes from warehousing and storage services (around $2.55 billion);
7.5% comes from packing services and services that provide packing materials (around $0.95 billion).
As you can see, the majority of this comes from simply moving houses. It doesn't really matter where you are moving – it all adds up to staggering amounts! This is why the moving industry is so important for our economy. There is just so much being earned and spent here! And now that we know how this money is spent, let us take a look at how the movers actually get to these numbers.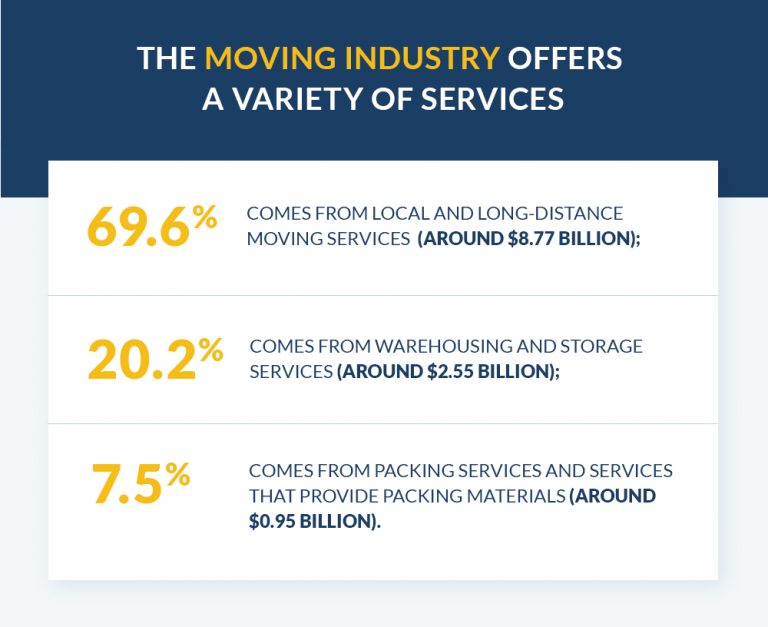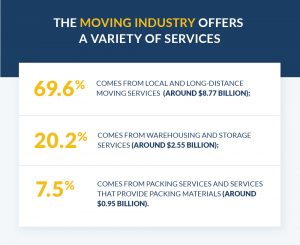 How movers charge for their services
So, an important question to ask is how movers and companies actually get to these costs. Better yet, what is the number of people moving – and how much a single move costs. After all, when you are moving, all of these numbers and the economic impact of moving in the United States doesn't have much value to you. However, knowing how much to expect your movers to charge does. To answer this question, though, we will need to take a deeper look into different moving estimates that a company can give. But first, the basics!
Usually, the cost of the move is calculated in two ways. The first one is simple enough – the movers will charge by the hour they spend moving you. Basically, they will have a fixed charge per hour, and they will multiply this based off on the hours it to them to load the truck, transport your items and then unload it back into your new home. Of course, the cost of the move will increase based off on any special services you might require from them. For example, movers will charge you extra for packing services, or a difficult entry into your home, etc. This is why it's important to get as many moving tips as possible before the move and avoid fraudulent movers with hidden costs.
The second way a moving company can charge you is based on the weight of your items and the distance they travel. It's simple – the more you have to move, the more it will cost. This is because the company is, in a way, renting you the space on their truck. The same goes for the distance and the gas costs. This might change with different estimates – so let's examine those, too.
Different types of moving estimates
When you are making a deal with a moving company, what you want with you is a moving estimate. This is the document that will tell you just how much it will cost you to move. It's an important one because it will help you when deciding how much you can spend on a move. Remember – your budget is an important part of your moving checklist! Without it, there is no move! Usually, the moving estimates come in two shapes.
The first one is a non-binding moving estimate. This is the one to avoid if there is a chance. In this document, you will find a non-binding cost of the move. What this means is that the movers will be able to legally exceed this cost by 10%. It happens when the movers or the client don't have much time, so the estimator makes an educated guess about the cost. If the cost ends up being higher, they can charge you for that difference, if it is in that +10% range.
On the other hand, there is a binding moving estimate. People are often scared of these because they are usually higher than the non-binding ones. However, this estimate is thorough. The move will usually cost this much – if you are moving with reliable movers. If it ends up costing more, then the company covers the difference. However, if it costs less, you still need to pay the binding estimate that you signed off on. This estimate is usually more reliable because you will know for sure what you are paying for. This way, you can plan it more easily and put it in your budget.
The economic impact of moving in the United States affects everyone!
So, we discussed just how we are spending (or earning) money in the moving industry. Let's take a look at what people are actually moving, and where these things go from and to! This way, we might be able to track moving trends and decide just which states will prosper the most from different moving trends.
First, let's examine what the moving companies are transporting. When looking at the items on moving trucks, the majority (75%) falls down to household goods. This includes 12% on military as well as 1% on other federal government employees. So, the majority of money spent in the moving industry actually goes into moving the furniture. But what else is there? Well, 18% of things inside the trucks are computers, copiers, and similar office equipment. IT components are often hard and expensive to move, and this might explain such a percentage. Finally, the remaining 7% goes on exhibits and trade shows around the country.
But what states are the most popular when it comes to the inbound and outbound traffic of household goods? Let's take a look!
Outbound household goods:
1. Illinois — 64.4% of shipments outbound
2. New Jersey — 63.5%
3. West Virginia — 61.7%
4. New York — 61.7%
5. Alaska— 60.3%
Inbound household goods:
1. Idaho — 66.9% of shipments inbound
2. Nevada — 60.8%
3. Vermont — 60.2%
4. Arizona— 59.9%
5. Oregon — 59%
What this shows us is that the trend of moving to bigger cities – specifically New York City – has been losing steam. Instead, people are moving out of the east coast states like New Jersey, West Virginia and New York and heading west – to Idaho, Nevada, Arizona or Oregon. Of course, there are other contendents on the list – Illinois and Alaska – but Alaska has been declining in its popularity, and Illinois is probably there due to people also moving out of Chicago.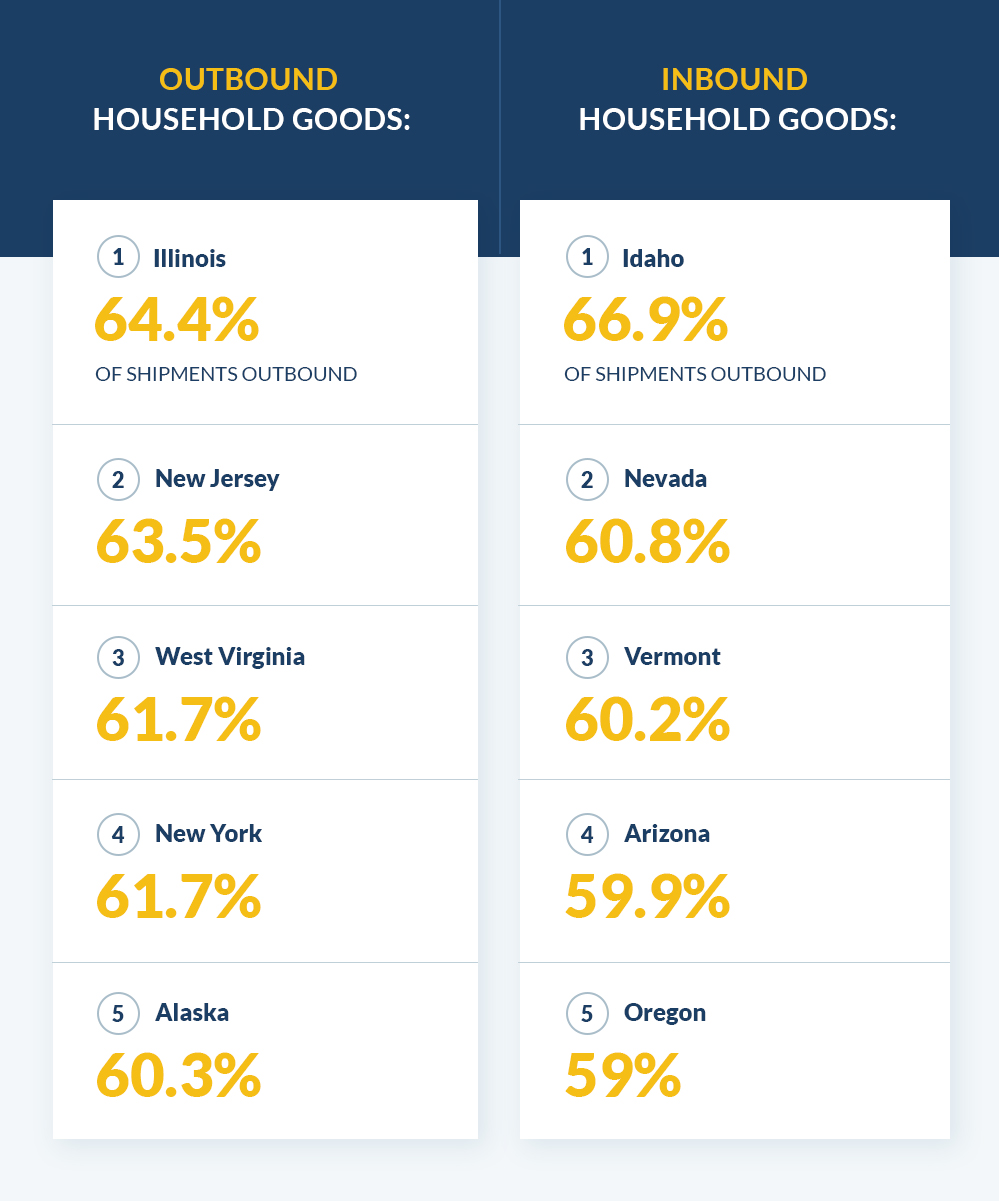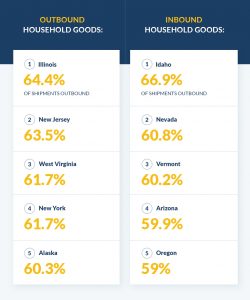 How many Americans are moving each year and the economic impact of moving in the united states
Now, we examined just what we are moving across the nation, as well as where we are heading. But let us take a look at how many of us are actually moving each year. Again, the American Moving & Storage Association has collected great resources based off on the US Census of 2015-2016. These numbers might be a few years old, but they are still relevant. The moving industry hasn't really changed in any drastic measure for us not to examine them thoroughly.
11.2% of Americans move annually (35.1 million – or 15.3 million households)
Of all Americans (314,992,000):
9.3% moved within the same state;
1.5% moved to a different state;
0.4 moved from the US to another country.
Of Americans who moved (35,138,000):
82.7% moved within the same state;
13.4% moved to a different state;
0.36% moved from the US to another country.
This means that each year, every tenth person moves their home. The majority of them move within the same state, however, every tenth of those who moved went outside of their own state. People usually move in search of a better house or apartment – 17.4% of them, to be precise. 12.2% more do it to start their own family, while 10.8% do it for work, with an additional 6% for an easier commute. These numbers show us that moving is popular in this country – and thus the economic impact of moving in the United States is quite large.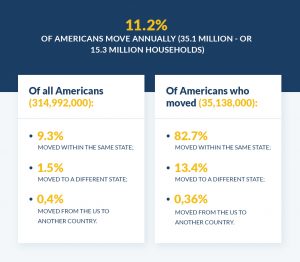 The economic impact of moving in the United States by the immigrants
Finally, there is a commonly-discussed topic that we need to address. In recent years, immigration has been pulled through the mud, with people throwing many accusations every way. However, immigrants play a large part in the moving industry of the United States. They are an important component that cannot be ignored.
Wharton School of the University of Pennsylvania has done research paper about the economic impact of moving in the United States from outside of the country. Their conclusion is that economists generally agree that immigration has a broadly positive effect on the economy of the country. The immigrants do sometimes cause short-term disturbances in labor markets. However, no matter whether they are low- or high-skilled, the research shows that they are "unlikely to replace native-born workers or reduce their wages over the long-term".
What's more, it shows that this type of moving gave a lot of benefits to our citizens, bu pushing them into higher-paying positions. This way, the moving industry rases the overall pace of innovation and growth of the United States in multiple ways. Also, the huge part of the population – baby boomers – is now nearing the retirement age. Immigrants help keep the country young, and this way help financing retirement benefits for the evergrowing population. This way, the economic impact of moving in the United States has a positive net worth – and that's all that matters!