Whether you've had the chance to experience it or not, the truth is that moving gets difficult. It is an experience that takes a lot of time and energy, especially if you do it by yourself. And it gets even more complicated if you are moving to a different state altogether. So, why not make it easy on yourself and get professional assistance from cross country moving companies Washington. And with the help of our detailed interstate moving companies reviews, you will have a premium selection at your disposal.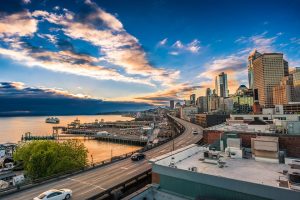 What is making Washington so popular in recent years?
Known for its tech-savvy inhabitants and evergreen forests, the Evergreen State earns its name. If you want to surround yourself with people, 60% of its population lives in the Seattle metropolitan area. This Pacific Northwest state is currently one of the most popular in the US. A temperate climate, along with a booming job market fueled by the tech industry in the Seattle area is just one of many reasons people move here. So, it's easy to see why Washington was ranked #8 among U.S. states in population growth.
You'll find a utopia for the outdoorsman of America in the Spokane area. And with 77 lakes and numerous parks, and hiking trails, this should really come as no surprise. This is yet another example of a popular location for those embarking on a interstate relocation to Washington.