With many options for housing and schools, Virginia has much to offer. The Washington, D.C. area consistently boasts one of the lowest unemployment rates in the country. Whether it's the opportunities for government jobs, jobs with government contractors and jobs servicing the government and its contractors, you have it all here. So, if you have your eyes set on this lovely state, you might as well make the most out of your relocation. And to do that, Verified Movers can offer to match you with some of the best cross country moving companies Virginia.
Long Distance Moving Companies Virginia
Facts About Virginia
01. Main Information
Popular Cities
Richmond, Virgina Beach, Norfolk, Fairfax, Roanoke
Governor
Ralph Northam
US Senators
Mark Warner, Tim Kaine
State Website
State Moto
Thus Always to Tyrants
State Nickname
Old Dominion
02. Geo Population
Area (sq mi)
42,774.2 sq mi
Total Population
8,603,985
Highest Elevation
5,729 ft
Lowest Elevation
Sea level
Time Zone
Eastern/UTC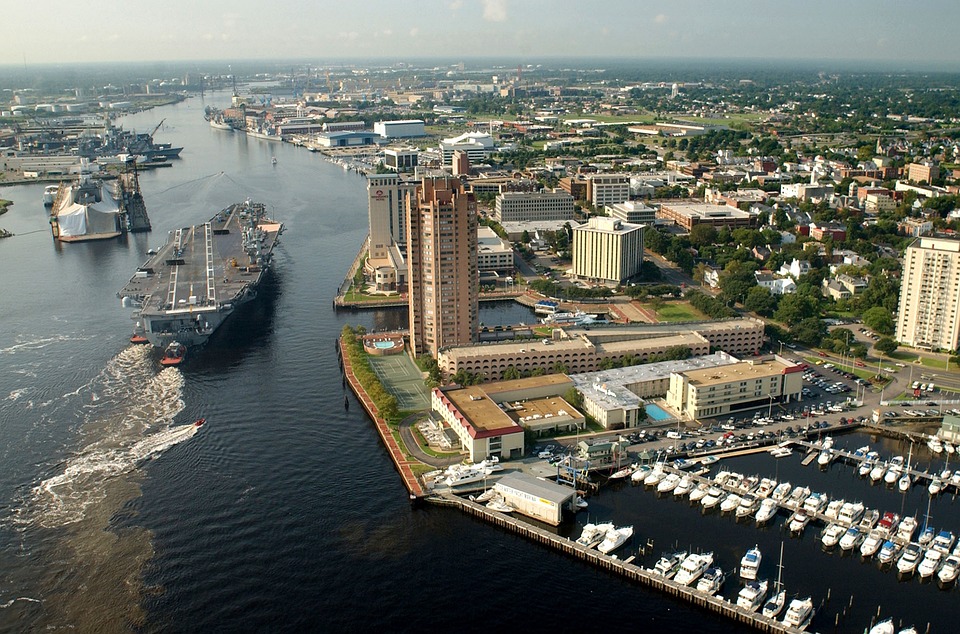 03. Education
Top 5 Elementary Schools
The Potomac School, Flint Hill School, BASIS Independent McLean, Norfolk Academy, St. Stephen's and St. Agnes School
Top 5 Middle Schools
The Potomac School, Flint Hill School, BASIS Independent McLean, Norfolk Academy, St. Stephen's and St. Agnes School
Top 5 High Schools
Thomas Jefferson High School for Science & Technology, Maggie Walker Governor's School, The Potomac School, Episcopal High School, The Madeira School
Top 5 Colleges
University of Virginia, George Mason University, Virginia Polytechnic Institute and State University, Virginia Commonwealth University, College of William & Mary
04. Rates
Crime Rate
18.51
Employment Rate
61%
Average Income (household)
$74,222
Poverty Rate
10.56%
Moving is known to be one of the most stressful periods in a person's life. With plenty of tasks, and no lack of deadlines, this is easy to understand. However, that does not mean that you need to have such an experience. By hiring one of the most reliable cross country moving companies Virginia, you are allowing yourself to have peace of mind, knowing it will all work out just fine. And, with Verified Movers, you will be able to reach the ideal moving team in no time.
Verified Movers is the ally you can count on
Finding reliable movers is not an easy feat. One has a great challenge ahead, and plenty of details to be mindful of. However, while it is, by all means, daunting, know that your quest can be simpler and straightforward, so long as you turn to Verified Movers. Our platform serves the purpose of helping you find and further get in touch with the moving company that best suits your needs and preferences. We make sure to update our database regularly, keeping you up to date with the best offers. In addition, we encourage honesty and transparency, which is why we encourage you to go through our comment section. Previous customers speak of the quality of moving services first-hand, giving you a unique and comprehensive stance with your choice.
Moving with professionals will allow you to enjoy your relocation process from start to finish. And, having a great moving experience is what you deserve in a time like this. After all, it is not every day that you are changing your life, and making such a big step forward, so make sure that you start on the right foot with the right moving team.
Old Dominion lifestyle
Most people both in and out of Virginia these days are moving long distance to Northern Virginia because of its vicinity to Washington, D.C. area. However, Virginia is more than just a satellite community for people working in Washington, D.C. Several other popular communities in Northern Virginia include:
Arlington
Alexandria
Ballston,
Crystal City
Reston
Fairfax
However, you should consider your likely commute from your workplace if you do have a job lined up. And you should do this before you search for cross country moving companies Virginia. Because if you do not carefully plan the location of your new home, commuting between northern Virginia and Washington, D.C. can waste a lot of time. So, you might want to think about a neighborhood near a metro line that is also accessible to your job.
Bear in mind, however, that Virginia does have a higher standard in terms of cost of living. So, your budget might not be able to match the ideal housing solution near a metro line. And even though you might have to switch trains to get around, you still have absolute freedom to explore the state without having to drive around.
Expert advice by cross country moving companies Virginia
The most pleasant weather for moving to Virginia is spring and fall. Winters can be really icy, and frequent snow can cause traffic jams. On the other hand, summers can be quite humid, so if you decide to move then, make sure both you and your cross country movers Virginia are hydrated.
And don't forget to file change of address information before you relocate to Virginia. That way, your mail is forwarded at the same time you move to your new home.
Certain apartment building in Virginia practice moving permits and specific days for moving in. So, before you start searching for state to state movers Virginia, make sure that you secure proper parking and choose the right day. If you need access to a special delivery area behind your building, make sure to arrange access. Another option you should consider is booking a freight elevator.
Cross country moving companies by cities in Virginia
Have a smooth and simple relocation with proper assistance
Moving really does not have to be a complicated endeavor. You only need to make sure to get the few steps done right. First, find one of the best interstate moving companies Virginia offers that will suit you the most. Second, see that you organize properly and on time. Thirdly, try to enjoy the process, even if minor inconveniences occur. Verified Movers is here to help with all of the listed steps. Our platform will not only prove to be a great source of information concerning moving companies but also regarding quality moving advice. We are here to help you have the move you are hoping for. Reach out to us should you come across any questions or concerns.