Moving is always much easier to handle when you have professionals guiding the way. With this in mind, it would be smart to consider hiring some of the best cross country moving companies Texas can offer to give you some assistance during the relocation. While getting in touch with them may seem difficult at first, Verified Movers are here to prove otherwise. Our database is filled with over 20,000 moving companies all over the US, allowing you to find all that you need in one place. Apart from the important information regarding the movers you plan on hiring, you will also get to read the reviews of interstate moving companies Texas. We believe this is the perfect way of gaining the most objective perspective on a company's quality and ensuring that your Texas relocation is silky smooth.
Long Distance Moving Companies Texas
Texas has its own unique culture and every city has its own micro-culture. Everywhere you move in Texas you'll experience a different culture, lifestyle and most of all a huge dollop of Texas pride. Cross country moving companies Texas help you relocate to the state where you'll get a friendly "howdy" once you arrive. Whether you are moving because of a new job, quality of life, or to change your entire life and habits, before you pack all your belongings, read how to prepare for your relocation to the Lone Star State. Verified Movers are here to guide your way to a unique Texas.
How much does it cost to move from Texas to another state?
If you are about to leave Texas, you're surely wondering how much is the relocation going to cost? The best thing we can do to answer this question is give you some price ranges. The final price will depend on many different factors. The distance and the size of a household are among the most notable ones. But, please note that you shouldn't consider these ranges set in stone, as they are only the average ones. Cross country moving companies Texas will give you the most accurate estimate as soon as you contact them. Until then, hopefully, we'll help you by giving you some idea of what the final price might look like.
Moving from Texas to California. The distance between the borders of Texas and California isn't huge, but considering these two states are, it is hard to say how much the move is going to cost because it depends on which part of California you are moving from, or which part of Texas you are moving to. But, for orientation's sake, this relocation costs between $2,600 and $5,000 on average.
Moving from Texas to Colorado. The Centennial State is closer to Texas than California, which is why you'll pay slightly less. While the final cost depends on many factors, the average range for this move is $2,200-$4,300.
Moving from Texas to Oklahoma. Finally, Oklahoma is the closest state to Texas out of these three and the total price will reflect that, especially if you're moving from the northern part of the Lone Star State. Expect to pay between $2,000 and $3,700
Things to pay attention to when choosing interstate movers Texas
There are many things you need to keep your eye on when choosing a moving company.  This will help you stay on the right track and steer away from fraudulent moving companies. So, let's see what you should look out for before giving a call to the moving company of your choice.
See if the company is licensed. You can check it at the Federal Motor Carrier Safety Administration, which is the institution that regulates motor carriers from all over the USA, moving companies included. Also, if the company doesn't provide you with their USDOT number, you should ask for it, because every licensed motor carrier in the country gets this number. And, by using it, you can gather important information about the company you want to hire.
Read the reviews. Cross country moving companies Texas reviews will help you understand if the previous clients of a certain company have had a positive experience or not. Choosing cross country movers Texas with good ratings and positive reviews is less risky than going with the low-rated ones.
See how they communicate with you. For starters, go to the company's website and see if they have available customer support. Reputable companies will most certainly have it. Then, after you get in touch with them, whether in person or via phone call, observe how they treat you. Companies that are worthy of your trust will be polite and patient. You shouldn't consider movers whose employees are rude. Remember, you want nothing but the best for your Texas relocation.
If you need any special services from your movers, make sure to ask for them and see if they're on offer
Special services are there for a reason, and that is to improve the quality of your relocation. You may need some extra assistance around the moving day, so make sure to ask for it before signing a contract. If the company you chose doesn't offer it, surely you'll find the other one that does. After all, Texas has so many moving companies. So, no doubt that you'll be able to find movers who provide everything you need. It's important to organize the relocation the way you want it. Below, you'll find some of the most popular special services, and if you need any of those, don't hesitate to ask for them. The majority of reputable interstate moving companies Texas will be able to offer these.
Packing services
Piano moving
Junk removal
Storage services
Fine art moving
You'll find many of these services helpful during your Texas relocation, but packing services are probably the most useful. Nobody wants to deal with the exhausting packing process, especially when the household is big. Also, if you own bulky valuables, like pianos, asking cross country movers Texas to give you a hand will take a huge amount of weight off your shoulders. Not only that, but your bulky items won't be at risk since these movers are experienced and qualified to transfer these valuables.
How long does it take to move from one state to another?
The duration of your relocation will mainly depend on distance. Most interstate relocations are completed between 10 days and three weeks. The moving company of your choice will certainly give you more accurate details about this. But, until then, we're here to give you as much help as we can. For example, we've seen that the majority of both inbound and outbound moves in Texas involve California. Since the distance between two states is more than 1,000 miles, if you're going from one of these states to another, you'll have to be patient. It's really unlikely for this relocation to last less than 2 weeks. These moves take time, but the most important thing is that your belongings will arrive safely at your new home.
Cross country moving companies by cities in Texas
Frequently asked questions about cross country moving companies Texas
Before we wrap up, we'll give answers to some frequently asked questions about interstate moving companies Texas, and moving companies in general.
Is the free moving estimate I get from interstate movers Texas binding?
Usually, it's not. A free moving estimate is the first step in your communication with professional movers, and the final price may be slightly different, but not by much. Texas is the second-largest state in the nation, so coming up with a 100% accurate estimate, in the beginning, isn't easy due to many factors affecting the final price, and distance is one of the most important ones. When you're given the estimate, if it's binding, it will be emphasized.
Will I have any moving insurance?
Yes, you will have moving insurance, at least if you're doing business with reputable companies. If the company doesn't provide any insurance, look elsewhere. As for the proven companies that operate in Texas, they will, in most cases, provide not one, but three types of insurance:
Limited liability
Added valuation
Full-value
Are there any items that cross country movers Texas won't move?
Movers won't move (potentially) hazardous items. These include:
Gasoline
Fireworks
Oxygen bottles
Lighter fluid
Matches
Nail polish remover
Paint
Bleach
Ammunition
…and other items that can be dangerous and are considered safety risks.
Can I file a complaint after the move?
If you are not satisfied with your movers, you can file a moving complaint. There are many ways to do this, but in most cases, it would be best to contact one of these three institutions (as soon as possible):
Federal Motor Carrier Safety Administration
American Trucking Association
Enjoy a unique moving experience with our cross country moving companies Texas
Being authentic is something that's important in every sphere of life. When it comes to relocation, it's the authenticity that decides how successful or unsuccessful your relocation will be. It will be the job of your cross country Texas movers to ensure that you are provided with a moving plan tailored to your needs. The aforementioned moving plan should include all the key details pertaining to your move, as well as the complete logistics behind your relocation. Your move to, or from, Texas will be unique, and it will differ from someone else's relocation. For that reason, your movers are obliged to come up with a perfect plan to suit your demands. But, don't worry because some of the best Texas movers are definitely able to give you everything you're looking for.
What's so great about Texas?
You have probably heard that Texas has become very popular among movers in the United States. This is true, and we'll cover these relocations in more detail later on. But now, let's see what's so appealing about Texas because a large number of inbound moves surely can't be a coincidence. There are many reasons people are relocating to the Lone Star State, and here are the biggest ones.
Texas is among the states with the lowest tax burdens
The tax system of a certain state can often be a deciding factor in someone's mind when considering whether to move there or not. And, for this reason, Texas has become so popular. The Lone Star State's tax burdens are among the lowest ones in the nation. Starting with the fact that Texas doesn't impose the individual income tax, nor the corporate income tax for that matter is already enough to consider this state a tax-friendly one. Furthermore, there is no state property tax either, so it's not hard to see why so many people are choosing to relocate to Texas. Other taxes are moderate. For example, state sales tax is set at the rate of 6.25%, and the local sales tax rate is only 2%. All things considered, Texas deserves to be put among the most tax-friendly states in the nation.
Affordable cost of living
Not only does Texas have a low tax burden, but the cost of living in the state is quite affordable as well. The cost of living in Texas is 7% lower than the nation's average. While that may not seem incredibly affordable, you need to compare that with everything that Texas offers. Not to mention that it's the second-largest and second-most-populous state in the country. Housing has to be emphasized since it's very cheap all things considered. Homes in Texas are being sold for just a little over $300,000 on average, which is quite affordable by USA standards. The only everyday expense in the Lone Star State that exceeds the nation's average is transportation, and even that is not by much, only 3% to be precise.
Booming economy
Over the past few decades, a great economy wasn't the first thing that came to mind when talking about Texas. That doesn't mean it was awful, but it surely wasn't near as good as it's today. Now, Texas has one of the fastest-growing job markets in the country. The yearly job growth rate is more than 2% and over the next decade, the job market in Texas is predicted to rise much faster than the USA average. The population growth has caused many industries to expand, producing new openings each year. And, the average salary in Texas is $70,000 a year, which is higher than the USA average, and when you combine it with the cost of living that's lower than in the majority of the country, it's not hard to see why Texas is so popular nowadays.
Interstate movers recognize the beauty of this glorious state
Texas offers a wide variety of neighborhoods with many amenities and facilities where you can find your perfect new home. Rich in history, culture, and entertainment Texas attracts a big number of newcomers. Whether you want to move because of business, lifestyle, or education, cross country moving companies Texas have key moving resources to fulfill all your moving needs. Interstate movers understand all the beauties of the state giving you a smooth move with the best possible quality. If you want to guarantee your family an amazing moving experience, check  cross country moving companies Texas reviews and pick the best one on our website.
It's no secret that moving to The Lone Star State is almost exclusively a good decision. Should you happen to be moving from a distant place, you will need the best interstate moving companies Texas has to offer. If you want your relocation to be as smooth as they come, you will need all the help you can get. And no one can provide you with greater help than Verified Movers and companies with whom we match you with. It will be the task of our moving companies to take care of you and your family and secure that you have a wonderful time relocating to your new welcoming home.
Who is moving to Texas?
Due to its perks, Texas attracts people from all over the country. In the previous section, we saw that you have plenty of good reasons to move to Texas, and surely the biggest benefit is affordability. And, the fact that 55% of relocations involving the Lone Star State are inbound shows you that movers from all over the USA are coming to live in Texas. However, some states are sending more people to Texas than others, and now, we'll take a more detailed look at those.
California
Without any competition, the Golden State takes first place. Around 80,000 people are moving from California to Texas on a yearly basis, which is twice as much as the next state on the list. So many Californians are leaving their state due to its sky-high cost of living. The pandemic of COVID-19 and the crisis that happened as a result has encouraged even more people to leave the Golden State. As we said, the cost of living is the main reason for this exodus, and Californians recognized Texas as one of the best states to live in. The Lone Star State is around 20% less expensive than California, but the most shocking difference comes from the housing. The median home price in California is $627,000 which is two times more expensive than in Texas, where the median home price is only $308,000.
Florida
Moving from Florida to Texas is the second most popular choice. Around 40,000 people complete this relocation every year, which is a significant number, but still nowhere near California. The reasons are pretty much the same because Texas beats Florida as well when it comes to affordability. Truth be told, the difference isn't as big as in California's case. Still, the Sunshine State has a cost of living 10% higher than Texas which is not a negligible number. While the difference in home prices is not that big, every expense that counts as cost of living is between 5% and 15% lower, which ultimately helps the budget of former Floridians after moving to the Lone Star State. That especially goes for people who are coming from Miami, because Magic City is one of the most expensive places in the nation.
Louisiana
With people from Louisiana, motives for leaving their state and moving to Texas are completely different than the motives of Californians and Floridians. The cost of living is not an issue here. In fact, living in Louisiana is slightly less expensive. So, why are people moving from Louisiana to Texas? Well, Texas has better job and educational opportunities. The economy in Texas is growing and becoming one of the best ones in the USA. So, when these people leave the Pelican State, they are doing it for better job opportunities which will allow them to have more success in their field. And for young people, Texas is home to some exceptional universities.  So, young people from Louisiana decide to pursue their education in the Lone Star State, and they also, more often than not, stay there after getting a degree.
What about people who are leaving Texas?
While the outbound moves involving Texas currently can't compete with the number of inbound ones, we can't deny that there are still a lot of people who are leaving the Lone Star State. The main reasons people are leaving Texas are lifestyle changes, settling into a climate that suits them more, and to pursue their education at an even higher level. Even while these people aren't as numerous as newcomers, it is interesting to see where are they going, so let's take a look.
California
California is at the top of the list again, only this time regarding outbound moves from Texas. This might seem odd, but there's a good explanation for it. For starters, let's see what the numbers are telling us. Well, on a yearly basis, around 30,000 people move out of Texas to live in California, mainly in Los Angeles and San Francisco. Right away, we can see the number that's nowhere near as big as the one we mentioned earlier about people who are moving from the Lone Star State to California (80,000). This may be our best indicator of how popular Texas is. Truth be told, we should take into account that California is the most populous state in the country.
Still, we need to answer the question of why people are leaving Texas to go to the Golden State. Well, you must remember that we're talking about California here. Although it has a notoriously high cost of living, it's still one of the best states in the USA when you consider how much it offers. If you're really good at what you do, you'll find a job that pays incredibly well in California. The lifestyle of this state can compare to any other. Recreational opportunities are never-ending, and nightlife is on a whole new level. So, although the Lone Star State is great, moving from Texas to California surely provides countless benefits to some people, which is why seeing California at the very top of this list can't be a surprise.
Colorado
The Centennial State welcomes almost as many newcomers from Texas as California. And the reasons are quite similar as well. Although the cost of living in Colorado is much higher than in Texas, 25% to be precise, around 30,000 people decide to go on this very relocation each year. Well, Colorado, like California, offers some outdoor activities that Texas finds it hard to compete with. The Centennial State is simply majestic, and the economy is booming as well. Plus, since these two states are close to each other, we shouldn't discount the impact of family relations. A lot of relocations are motivated by family-related reasons so rest assured that is another reason for moving from Texas to Colorado. All things considered, living in Colorado is a great experience, so it's perfectly natural for people to move there, even at the expense of the Lone Star State.
Oklahoma
Being the northern neighbor of Texas, Oklahoma welcomes between 20,000 and 25,000 people from the Lone Star State each year. While we surely have a lot of family-related moves here, possibly the biggest reason for moving from Texas to Oklahoma is the cost of living. Movers in the USA are actively trying to find less expensive cities and states to live in, and Oklahoma is truly one of the most affordable states in the country. Its cost of living is 11% lower than Texas, but it does lack job and educational opportunities compared to the Lone Star State. Nevertheless, Oklahoma ranks third in states people from Texas are moving to, and other worthy mentions are Florida, Georgia, Louisiana, Washington, and Arizona.
Tips for your Texas relocation
Every moving journey is difficult, at least to some extent. As soon as you dive into the process, it will seem like there are more questions than answers. That's normal, and eventually, you will find a way to cope with these tasks. But, if you could get some answers before your Texas relocation starts, that would be very useful. This is exactly what we at Verified Movers will try to do now. We want to share some relocation tips with you that will help you welcome the moving journey prepared, so let's get into it.
Making a good early plan
No matter which moving option you choose, making a good early plan will be incredibly beneficial whether you're leaving Texas or moving to it. A tricky period is ahead of you, so it would be better to limit the surprises, as these surprises are almost exclusively unpleasant if they happen around the moving day.  Having a moving checklist is very useful because you're going to organize the relocation much better if you follow it.
Notify everyone that needs to know about your new address
For starters, your utility providers are the ones that need to know you're relocating. Canceling some utilities you won't need any longer will help you avoid some unnecessary fees. Your employer should also know about your new address.  Don't forget about your medical records as well. Moving from one state to another is tricky, because Texas, and every other state, has its laws and regulations, and there might be some key differences between them. Therefore, avoid doing everything by pattern and pay attention to these potential differences. And after all that, you're left with notifying your family and friends, which can take a while as well. Although it goes without saying, if you have kids or any pets, you should take care of their paperwork as well.
Give a call to cross country moving companies Texas
Finally, another thing you should do in time is giving a call to interstate moving companies Texas. That is, of course, if you want your relocation to be handled by professionals instead of doing it yourself. For what it's worth, we think that's the best option. So, if you decide to go down this road, it would be better if you contact the movers around 2 months before the relocation. Although there's a chance you could arrange it just a few days prior to moving day, 2 months seems like an optimal period.  Verified Movers can help you find companies to take care of your relocation because our database contains countless moving experts, and there is a lot of proven cross country moving companies Texas within it.
Tips for your commercial relocation to/from Texas
All the advice we gave above works for commercial moving as well. But, business relocations tend to be a little more complex, because, in addition to all the residential moving tasks, you will have a few more assignments. Commercial relocation brings even more paperwork, and you need to make sure you don't forget any of the important details which could cause you a lot of trouble down the line. For example, you should register as an employer whether you're moving to or from Texas. Every state has laws that need to be followed and registering as an employer is something you need to do in pretty much all states.
In Texas, the institution you need to report to regarding your business move is Texas Workforce Commission. Moving to any state requires learning a thing or two about its tax system, but even more so when you're moving business. Keep in mind that even if your income derives from a different state, you're going to have to pay taxes to the state you move to. Finally, ask around for licenses you're going to need, just to make sure that everything is ready and legitimate. After that, all that's left is to reap the benefits of your commercial relocation, and Verified Movers certainly wish you the best of luck.
Is there any way to cut the expenses during the relocation?
Luckily, there are some methods to cut the costs during relocation. While choosing cross country moving companies Texas to take care of your move is the safest option that shouldn't be negotiable, you can do a few things that will ultimately cut the costs, at least slightly.
Getting rid of things you don't need
Since the size of the household affects the price, it's logical that if the amount of stuff you're transferring is smaller, so will the cost. If there are some things you no longer need and let's face it, all of us have some, you might want to get rid of them. You can do this in many ways. If other people can have some use of it, donating is surely the noble thing to do. There is always an option of selling it online or via a garage sale. Texas is the second-most populous state in the nation, so there will definitely be some people interested in buying your stuff. That way, not only that you'll cut the costs of relocation, but you'll also earn some money in the process. And finally, if there is no use for these things no more, you can simply throw them away.
Choosing the timing for your relocation
Many people don't know that timing is among the things that affect the price of relocation. If you're moving when the cross country moving companies Texas are least busy, it should be less expensive. And, usually, the time of the year during which they're least busy is winter, especially January. Summer, on the other hand, is the busiest season for interstate movers Texas and the prices are larger during that season. Another thing worth keeping in mind is that the time of the month affects the cost as well. Making a moving arrangement for the middle of any month will make the relocation slightly more affordable compared to the month's beginnings and ends.
Compare the quotes and choose the most affordable one
Before you choose a certain company, it is always wise to analyze a few different ones before making a final choice. That is beneficial for many reasons, including making sure you're choosing proven and experienced professionals. But, it can also help you with your budget, since you'll be given a free estimate from multiple companies, and you can pick the one you like the most. And, you can imagine that there are a lot of moving companies operating in the Texas area, so finding a few of them that will give you a free estimate won't be a problem. After all, we at Verified Movers will always give you a few ideas, as we're aware that each client has their own preferences.
Choosing between the DIY move and professional moving assistance
If you are having second thoughts about hiring cross country moving movers Texas, let's see compare it with DIY moves. First of all, if you opt for DIY relocation you will cut a lot of expenses, which is a big plus. However, other than the affordability, there are simply no other benefits of DIY moves.  Maybe if you're moving with your family or friends, there's a chance you could have fun moving day ahead, but even then, you'll probably be too exhausted to enjoy this adventure. Organizing DIY moves requires a lot of hard work and patience. If you go down this road, we strongly suggest you start preparing for it at least 2 months in advance.
But, what we suggest even more, is asking cross country moving companies Texas for some help. If you are able to afford it, and we imagine you probably are because there are some estimates out there that will pleasantly surprise you, then moving with professionals is the way to go. The safety of your items will not be in question, which is arguably the most important thing and the biggest benefit of this moving option. Then, you should think about all the exhausting tasks you would avoid completely if you let someone else take care of them for you. And, in the end, whether it's a residential or business move, rest assured it will be a lot quicker if the interstate moving companies Texas are handling your relocation.
Verified Movers are keeping you safe by matching you with some of the best cross country moving companies Texas in the business
Finding proven and trustworthy movers for your Texas relocation take time. Not only do you need to find experienced and reliable moving professionals, but they also have to be your perfect match, meaning they provide all the services you need. So, you can imagine that there's a chance you'd be spending a lot of time on this research. Luckily, it doesn't have to be like this. Verified Movers have your back! We are matchmakers who have been in the moving field for years, observing tens of thousands of companies in order to ensure that all of our clients have a safe moving journey.
Currently, there are almost 20,000 moving professionals in our database, and rest assured that within that number, there are more than a few experienced interstate movers Texas who are willing to help you relocate out of state. Since we want to give you the moving experience you've always wanted, we're just going to need a few details about your relocation which will allow us to find you a perfect moving fit. And, if there is anything else you want to know about the moving process, the Verified Movers blog might give you some answers you are looking for. It contains useful relocation advice, so it could prove to be very beneficial for your moving adventure. For example, we have a lot of Texas moving guides available, so taking a look at it certainly won't hurt.
Professionalism at its best
If there is one characteristic all state-to-state movers in Texas should have, it's this one. Being professional means always keeping your customers happy and satisfied, and that's precisely what movers with whom we match you with will do. With the experience they have, your transfer will be safe and quick, and you will feel comfortable every step of the way. Throughout the process, you can expect these movers to maintain an enviable level of professionalism. Sounds great, doesn't it? So, if you're leaving the Lone Star State soon, hiring trustworthy cross country moving companies Texas will give you a chance to enjoy your relocation experience. For the best and most reliable professionals, all you have to do is contact Verified Movers. Our team will take it from there and ensure you are settled into your new home as soon as possible.
Facts About Texas
01. Main Information
Popular Cities
Houston, Dallas, Austin, San Antonio, El Paso, Fort Worth
Governor
Gregg Abbott
US Senators
John Cornyn, Ted Cruz
State Website
State Moto
Friendship
State Nickname
The Lone Star State
02. Geo Population
Area (sq mi)
268,581 sq mi
Total Population
29,730,311
Highest Elevation
8,751 ft
Lowest Elevation
1,700 ft
Time Zone
Central/UTC MT/UTC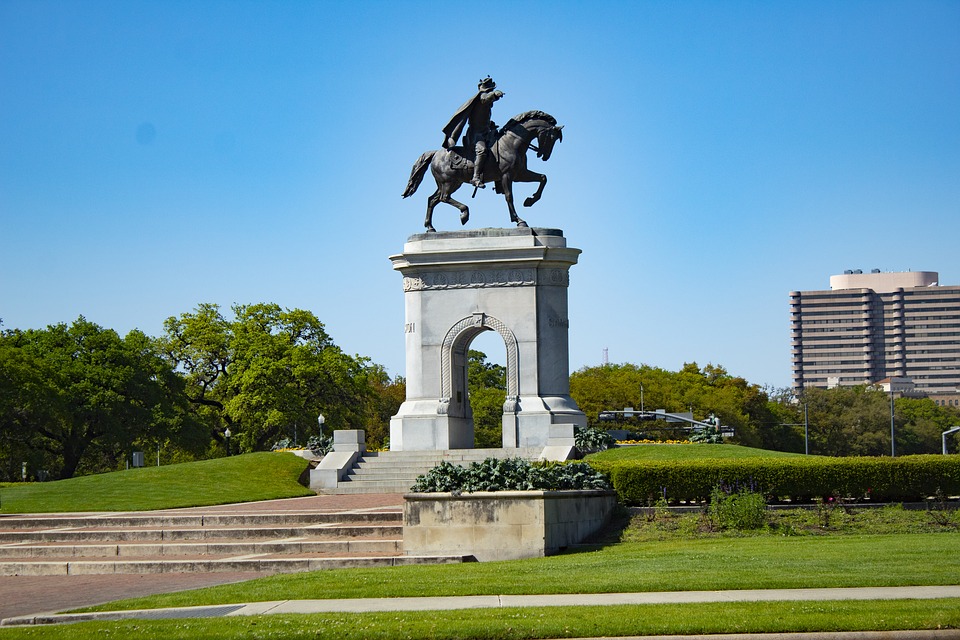 03. Education
Top 5 Elementary Schools
St. Mark's School of Texas, St. John's School, The Hockaday School, Greenhill School, The John Cooper School
Top 5 Middle Schools
St. Mark's School of Texas, St. John's School, The Hockaday School, Greenhill School, St. Stephen's Episcopal School
Top 5 High Schools
St. Mark's School of Texas, St. John's School, Liberal Arts & Science Academy, The Hockaday School, Greenhill School
Top 5 Colleges
The University of Texas at Austin, Texas A&M University, William Marsh Rice University, University of Houston, University of North Texas
04. Rates
Crime Rate
28.10
Employment Rate
61%
Average Income (household)
$61,874
Poverty Rate
14.73%