Are you looking for a time-saving and simple way to discover affordable and reputable cross country moving companies South Carolina? Well, when it comes to long distance moving, you couldn't have chosen a better place than Verified Movers. To begin with, we offer you 3 simple steps that take only several minutes, after which we provide you with a list of interstate movers South Carolina that you can hire. So, if you want to enjoy some of the country's best beaches, top resorts and unforgettable golf courses, we are here. As you will soon see, the Deep South's smallest state is a giant when it comes to history and culture.
Long Distance Moving Companies South Carolina
Facts About South Carolina
01. Main Information
Popular Cities
Charleston, Columbia, Greenville, Myrtle Beach, Florence
Governor
Henry McMaster
US Senators
Lindsey Graham, Tim Scott
State Website
State Moto
While I Breathe I Hope
State Nickname
The Palmetto State
02. Geo Population
Area (sq mi)
32,030 sq mi
Total Population
5,277,830
Highest Elevation
3,560 ft
Lowest Elevation
Sea level
Time Zone
Eastern/UTC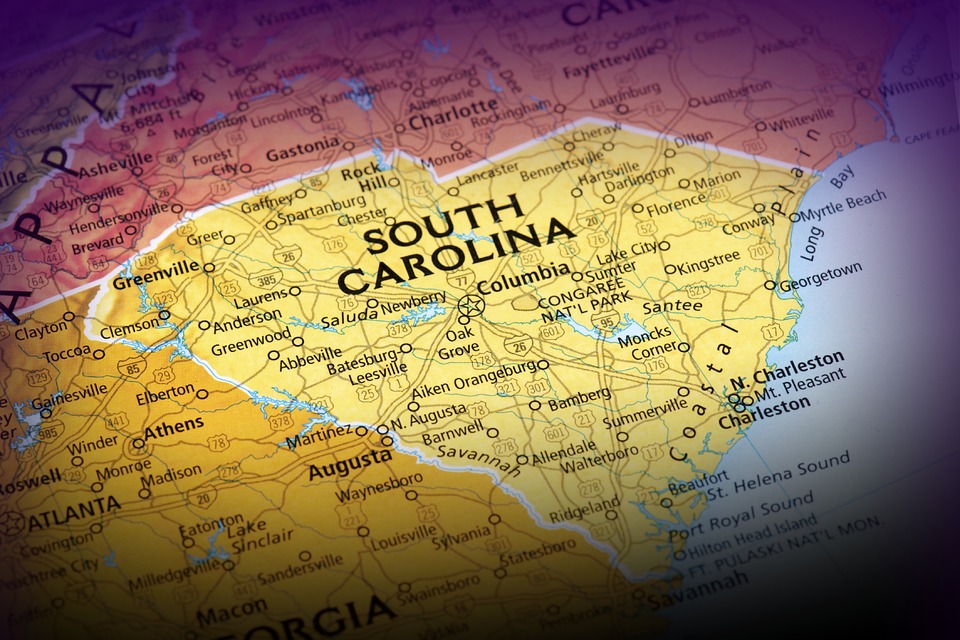 03. Education
Top 5 Elementary Schools
Christ Church Episcopal School, Hilton Head Preparatory School, Hammond School, Porter-Gaud School, Spartanburg Day School
Top 5 Middle Schools
Christ Church Episcopal School, Hilton Head Preparatory School, Hammond School, Porter-Gaud School, Spartanburg Day School
Top 5 High Schools
South Carolina Governor's School for Science & Mathematics, Academic Magnet High School, Christ Church Episcopal School, Spring Hill High School, Hilton Head Preparatory School
Top 5 Colleges
University of South Carolina, Clemson University, Medical University of South Carolina, College of Charleston, Furman University
04. Rates
Crime Rate
28.96
Employment Rate
56%
Average Income (household)
$53,199
Poverty Rate
15.20%
Moving is an exciting process that bears promises for betterment either in your personal or professional life, depending on the reason behind the move. With that in mind, it is normal to want to initiate this big change on the right foot. And that is why you should consider hiring cross country moving companies South Carolina has to offer. Professional movers have the job of ensuring your belongings reach their destination in the shortest, safest, and most efficient manner. As you can imagine, this will do a great deal of putting your mind at ease during an otherwise hectic and stressful process. With the help of an experienced moving team, you will be able to enjoy this big step in your life the way you should. And, Verified Movers is here to make sure you make the best choice in your moving crew.
A plethora of cross country moving companies South Carolina
Embarking on the long journey called moving is never easy. There are many decisions to be made and the biggest, most troublesome one is which movers to opt for. When moving to South Carolina, this shouldn't be one of your biggest problems. You have Verified Movers to help you make an easy, as well as a safe decision. It should suffice to say that all of our moving companies are licensed, insured, and bonded and that they all come with glowing recommendations. It is through our website that you can connect with the movers that will be able to suit your every moving need. And there are many that can do so. In addition, our website also offers quality advice on the moving process itself, making you truly ready for the relocation ahead.
A personalized moving experience is a guarantee with our South Carolina Movers
All cross country movers South Carolina should have one common goal – to please you. Moving may be a universal occurrence, common to all the people worldwide. Regardless, two relocation processes can never be the same, as your needs will differ from someone else's. What is and should be universal for South Carolina cross country movers is the dedication. The dedication they put into every relocation, and ensure that every customer gets an individual moving experience. You can rest assured that our movers will do just that. Beginning with a moving plan suited to your particular needs to providing unconditional support, it will be the job of our movers to get you through your move quickly, easily, and seamlessly. All you will have to do is reach out to them, and state your wishes, needs and possibilities, and enjoy the rest of the ride.
Patience is a virtue, and so is the experience
Speaking about the virtues of our cross country moving companies South Carolina, it's important to mention they are good-natured. Movers should be patient and full of understanding, as they know how difficult this period is. During the entire process, they should treat your items, as well as you, with a gentle touch. But, that's not all.
In the history of movers, never have there been those who are more experienced and competent for handling a relocation than there are today.  All of the companies listed on Verified Movers come with experience. And that experience can range from a year upwards. Having an experienced moving company on the day of your move is imperative for many reasons. First and foremost, you will be surrounded by pros who know the best way of relocating you to your new South Carolina home.
The only thing that will be your obligation is to take an online moving calculator. No one but you can help you get a price estimate of your move. For everything else, the best cross country moving companies South Carolina will be in charge. And to find the best, all you need to do is visit us – Verified Movers.
Cross country moving companies South Carolina introduction to easy relocation
Keep the following tips in mind when moving state to state to South Carolina:
Roads get congested around Columbia and Charleston all summer long. So, check traffic conditions before driving, especially if you choose a self-move.
Be extra careful when driving. There are numerous fatalities each year from litter and debris-caused accidents because highways and other roads can be heavily littered in South Carolina.
The cities are generally busy during weekdays. So, contact your local city ahead of time to find out if any parking restrictions apply. Even though you don't need a moving permit when relocating to SC, it doesn't hurt to secure parking ahead of time.
Try to avoid heavy lifting during the heat of the day because summers in South Carolina get really hot.
Also attempt to avoid moving to South Carolina during springtime, because this time of year is the rainiest season. However, all of the seasons bring quite a bit of rain, so make sure to have an extra tarp handy to cover any stuff you might have to leave outside.
Don't forget to change your address online with USPS before moving to SC. It's easy, convenient and ensures you get your mail on time at your new address before cross country moving companies South Carolina even get you settled.
Once you finally decide to start looking for the best cross country moving companies South Carolina has to offer, one question will quickly arise – where to look for them? When you visit Verified Movers, you will have no major problem finding the best moving companies in the state. It is our duty to connect you with premier movers South Carolina has to offer. All you need to do is decide which ones best match what you need.
Cross country moving companies by cities in South Carolina
Reach out to Verified Movers for reliable cross country moving companies South Carolina
Verified Movers is here to provide you with the proper choice of reliable moving companies. Our platform is easy to navigate and user-friendly, allowing you to find what you need quickly and without much fuss. It is also brimful with useful information on cross country moving companies South Carolina. Apart from learning about the services they offer, you will also get to read about the quality of their assistance. Our company encourages honesty and transparency, which is why you can turn to our reviews section for some genuine first-hand experiences. We wish to provide you with an all-encompassing insight into these company's services, thus helping you make the soundest choice in your moving team. Make sure to reach out to us should you have any questions or concerns, and we will be happy to help.