Cross country (interstate) moving companies New Mexico
New Mexico is a southwestern U. S. state which attracts people of all backgrounds. If you want to settle in the state with great numbers of Navajo, Pueblo, and Apache people, cross country moving companies New Mexico help you settle in the Land of Enchantment. Verified Movers help you find and hire the best cross country movers with great reviews. Whether you need to move your home or business, professional moving assistance is what you need to make your relocation smooth and successful.
Planning your route to New Mexico with interstate movers
If you're planning to drive to your new place, you need to plan your route and to check current road conditions with the New Mexico Department of Transportation. But, if you want to fly to your new place, check with your cross country movers to transport your car. In case your home or office space in New Mexico isn't ready for your arrival, consider renting a short-term or long-term storage facility for your belongings. Cross country moving companies New Mexico will plan out the resources that will lower your moving stress level.
Call your agents in New Mexico today to get a free relocation quote
If you decide to move to the Land of Enchantment, you will find the scenic red deserts and mesas that New Mexico is known for. New Mexico has millions of acres of government protected national forests and the world famous river the Rio Grande, which is also the fourth longest river in the United States.
Get a free relocation quote from your cross country moving companies New Mexico if you want to move to one of the great cities of New Mexico.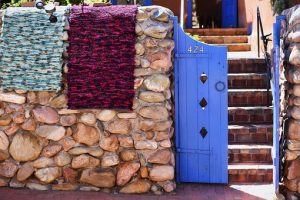 Cross country movers help you relocate to the best cities of New Mexico
New Mexico offers you a great number of beautiful cities. If you want to live in the state capital, you should start scheduling your move to Santa Fe. This city is also the oldest state capital in the U. S. offering you beautiful historic districts. Santa Fe is a popular destination for visitors all around the world because it is a home to many museums and festivals of interest.
Another city you should consider to live in is Albuquerque – the city with the highest population and best business opportunities in the state. No matter what your motivation is for moving to New Mexico, its bustling cities offer many locations that fit your profession and lifestyle. The cost of living in New Mexico cities is 7.37 percent lower than the US average.
Contact your cross country movers to help you settle into your new home in New Mexico.