If you're moving to Massachusetts, you're in luck. Cross country moving companies Massachusetts help you handle all the challenges of an interstate move. Hiring moving assistance is the best way to prepare for interstate moving tasks ahead. Before you pack your entire life in few boxes, you need a trustworthy moving company you can trust with your belongings. When hiring interstate movers you have to be very careful to pick the best movers who follow federal and state regulations.
Long Distance Moving Companies Massachusetts
Facts About Massachusetts
01. Main Information
Popular Cities
Boston, Cambridge, Worcester, Springfield, Salem
Governor
Charlie Baker
US Senators
Elizabeth Warren, Ed Markey
State Website
State Moto
By the sword we seek peace, but peace only under liberty
State Nickname
The Bay State
02. Geo Population
Area (sq mi)
10,565 sq mi
Total Population
6,912,239
Highest Elevation
3,489 ft
Lowest Elevation
Sea level
Time Zone
Eastern/UTC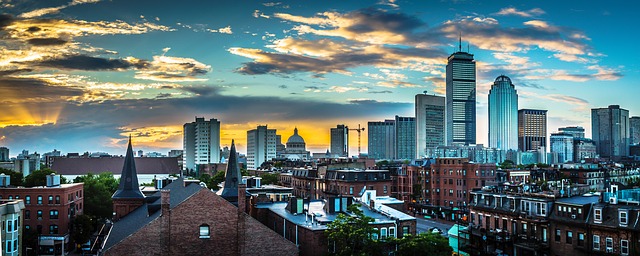 03. Education
Top 5 Elementary Schools
Bancroft School, International School of Boston, Milton Academy, Buckingham Browne & Nichols School, British International School of Boston
Top 5 Middle Schools
Milton Academy, Winsor School, Buckingham Browne & Nichols School, The Rivers School, British International School of Boston
Top 5 High Schools
Phillips Academy, Groton School, Noble and Greenough School, Massachusetts Academy of Math & Science, Concord Academy
Top 5 Colleges
Massachusetts Institute of Technology, Harvard University, Boston University, University of Massachusetts Amherst, Tufts University
04. Rates
Crime Rate
15.07
Employment Rate
64%
Average Income (household)
$81,215
Poverty Rate
10.29%
In order to ensure your cross country relocation is a smooth and simple process, we strongly advise that you hire professionals for assistance. Simply put, there are too many tasks for any individual to take care of single-handedly. Not only will you have to take care of packing, preparations, and overall organization, but you will also have to sort your documents, utilities, bills, and everything else that's in your name. While the latter is something only you can take care of, the former can be entrusted to reliable cross country moving companies Massachusetts. You really needn't be alone in this process. With professionals at your side, your relocation will be an enjoyable period. And, finding these professionals will be rather easy through our platform. Verified Movers are here to ensure you make the right choice in your moving assistance.
Put your trust in licensed cross country moving companies Massachusetts
Only federally licensed cross country moving companies Massachusetts are allowed to ship and move your goods cross country. Fully licensed and bonded movers provide full-moving services. Interstate moving with trusted cross country movers is easier when you have someone to safely deliver your belongings to any destination in Massachusetts.
Cross country movers help you choose a city when moving to Massachusetts
So you've already made the decision to move to Massachusetts, but you don't know where? There are many things to consider when picking the right city and neighborhood. You are lucky because Massachusetts offers places for every lifestyle.
The City of Boston with many distinct neighborhoods: South Boston, East Boston, Beacon Hill, Hyde Park and several others.
The North Shore with communities along the water.
The South Shore includes locations along the water and areas south to Cape Cod and the Rhode Island border. It is a popular vacation destination.
Metro West includes cities and towns west of Boston
Western MA – locations west of Worcester County
Cape Cod and the Islands
Key Federal Requirements for Interstate Movers Massachusetts
Reliable interstate moving companies follow federal and state laws. These laws ensure the safe and legal transition of your belongings. So, before you hire cross country movers, you should ensure that a mover holds interstate operating authority.
How to tell whether your cross country movers are qualified
Acceptable Insurance Levels. All reliable cross country moving companies Massachusetts carry a minimum level of motor vehicle insurance and also liability insurance. Trustworthy movers protect their employees and your belongings.
FMCSA Registration. Make sure your interstate moving company is registered with the Federal Motor Carrier Safety Administration (FMCSA).
US. DOT. Number. Interstate moving companies Massachusetts should also have a unique identifier issued by the United States Department of Transportation (USDOT).
Verified Movers is the company to help you reach true moving professionals
Moving across the state lines is everything but simple. There are just so many things that need to be done while the pressure of a deadline is always upon you. On the other hand, every single detail matters. Moving scams, mistakes, injuries and problems are common and can happen to anyone. It doesn't really matter if you are planning on moving to or from Massachusetts. You will need some assistance. And what is the best kind of moving assistance? The professional one. And that is precisely where Verified Movers and its team step in. We are here to make your relocation simple and easy. We are here to provide you with the best cross country moving companies Massachusetts has to offer. All you have to do is to pick the one that can and will satisfy all your needs at an affordable rate. This task might seem complicated, but with our interstate movers Massachusetts at your disposal, things will get much easier, and in no time!
Moving organization
It doesn't matter if you are planning on moving to or from Massachusetts. And it doesn't matter if you are planning on moving your household goods or your business. The only thing that does matter is your moving strategy. Having a solid plan in place is something that will not only help you find the right mover for the job but will help you relocate with a smile on your face. Verified Movers and its team are here for you. And if you need some help with organizing your move – you are in the right place!
Start early
Moving is a complex and time-consuming process. That is why you would be smart to start early. Ideally, you would start planning for your relocation as soon as you realize that it is going to take place. By giving yourself ample time, you are giving yourself space to react in case something unpredictable occurs, and relocations are notorious for such instances. In addition, if you find yourself struggling too much with the moving process, you will always be able to hire professionals to take care of it. And, the more time they have to organize and execute your move, the better the outcome will be.
Prepare your moving budget
This is one of the most important things you need to do before hiring movers. Our interstate moving companies Massachusetts can help you move across the state lines, however, you are the one that needs to decide on your moving budget. How much are you willing to spend on your upcoming relocation? And even more importantly, how much are you able to spend on your move? Compare your income to your expenses and make sure you make the right call.
Choose the right kind of moving assistance option
Our cross country moving companies Massachusetts can offer you a wide range of moving assistance options to choose from. However, you need to choose the right ones. Explore our mover's database and you will find the right interstate mover and the right kind of moving assistance option in no time.
Cross country moving companies by cities in Massachusetts
Verified Movers are here for your convenience
Having a pleasant relocation is virtually guaranteed with professional cross country moving companies Massachusetts taking care of the process. Make sure that you have the right team by your side by turning to Verified Movers. Our platform allows for swift and easy research of all reliable moving companies Massachusetts, and the rest of the US have to offer. Reach out to us for any questions, and we will be happy to help.