Indiana is a rich mix of business, sports, education, and truly American landscapes. The Hoosier State offers an attractive cost of living and good quality of life to its residents. If you want to live on "The Crossroads of America", we've gathered all the best info to help you make your transition easier. When moving to Indianapolis because of a job, or to be closer to your family, or just because you're looking for a change, hiring a cross country moving companies Indiana is the first step. So, for corporate relocation or household move in Indiana, you need high-quality service and skilled agents. Read positive experiences and hire the best cross country movers in Indiana by checking their reviews on Verified Movers website.
Long Distance Moving Companies Indiana
Facts About Indiana
01. Main Information
Popular Cities
Indianapolis, Fort Wayne, Bloomington, Evansville
Governor
Eric Holcomb
US Senators
Todd Young, Mike Braun
State Website
State Moto
The Crossroads of America
State Nickname
The Hoosier state
02. Geo Population
Area (sq mi)
36,418 sq mi
Total Population
6,805,663
Highest Elevation
1,257 ft
Lowest Elevation
320 ft
Time Zone
Easterns/Central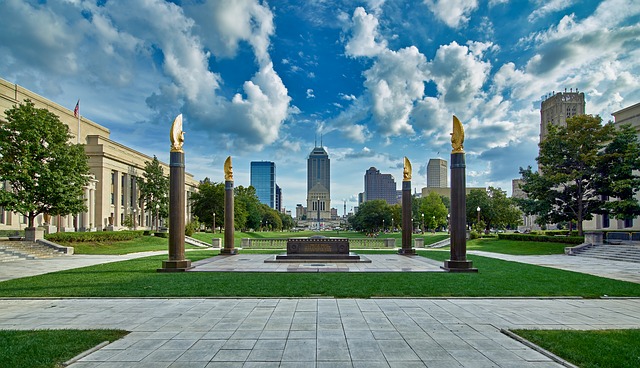 03. Education
Top 5 Elementary Schools
Park Tudor School, Canterbury School, West Lafayette Elementary School, West Lafayette Intermediate School, International School of Indiana
Top 5 Middle Schools
Park Tudor School, Canterbury School, International School of Indiana, Brownsburg West Middle School, Brownsburg East Middle School
Top 5 High Schools
Signature School, Culver Academies, Indiana Academy for Science, Mathematics, and Humanities, West Lafayette Junior/Senior High School, Park Tudor School,
Top 5 Colleges
Purdue University, Indiana University Bloomington, University of Notre Dame, Indiana University - Purdue University Indianapolis, Ball State University
04. Rates
Crime Rate
23.42
Employment Rate
61%
Average Income (household)
$56,303
Poverty Rate
13.43%
Cross country relocations are best known for their hectic, stressful, and strenuous tendencies. After all, there is plenty to do in an often short amount of time. Even people who are not novices in the moving process find it particularly challenging. However, not every experience has to resemble that of stress and fear over the safety of your goods. The simple act of turning to professional cross country moving companies Indiana will give you the peace of mind you need and deserve in a time like this. And Verified Movers is here to help you reach those reliable experts in the shortest and easiest way.
The costs of living in Indiana
When moving to Hoosier State, it is important to know how the cost of living will affect your finances. So, you should think about local and state taxes, housing prices, and the availability of resources to determine the prices of everything, including food, education, and healthcare. Indiana's living costs are lower than the U.S. average by 17.9%. The biggest differentiator is the median home cost. While it is $231,200 in the US, it is $142,600 in Indiana. That being said, everything else is also, on average, lower in this state. Take this into consideration if you are pondering moving here.
The best way to relocate
The most efficient way to move your stuff is by hiring an interstate moving companies Indiana. They have packing secrets and a moving crew to load everything. Cross country movers Indiana lots of options available, from packing your entire household or office to packing selected things. With professional help, all your items will be properly packed, also wrapped and moved to your new destination.
Moving with professionals does more than save you time. It also spares you the energy and nerves you would spend worrying about everything getting done properly. Simply put, the best way to ensure a certain job is done right is by letting experts of the trait take care of it. The same goes for relocations. Professional moving companies have all the necessary experience, knowledge, and tools to take care of your move in the most efficient, safe and secure way.
Finding reliable cross country moving companies Indiana
Moving cross country can be rather expensive, but Indiana is one of the affordable states in the USA. This means that you can find cross-country moving companies Indiana for a reasonable price. Quality is everything and affordability is a must, so you need to hire a moving company that can give you a great balance between these two services. While this may sound especially hard to do, our platform allows for a smooth and simple search. All you have to do is input a bit of information, and go through the vast choice we offer.
Verified Movers – your moving ally
Our website allows you to learn about other people's experiences with the companies they have hired, and thus make the soundest choice. Verified Movers is here to shed light on trustworthy companies, as well as ensure that the ones who are not to be trusted are exposed. We believe that experiences ought to be shared, so that people can receive the service they are expecting and paying for. And, once you find that reliable cross-country moving company in Indiana, you will be able to truly enjoy your move every step of the way. They will not only save you time and energy but also money in the long run, as they will ensure it all goes swiftly and smoothly.
Start preparing for your move in advance
Time is a luxury when moving. It really is. And that is precisely why you shouldn't waste any of yours. Start preparing for your upcoming move as soon as possible. Moving across the state lines is a serious task to take on. And you know what they say – it is better to be safe than sorry. That is why you need to create a solid strategy, plan your time and calculate your budget as soon as you realize that you are about to move.
However, if you find yourself short on time, know that moving companies can help out with that. Plenty of cross-country moving companies offer full services, where they take care of every bit of your move. Anything from packing in your current home to unpacking in the next one can be handled by professional movers.
How to cut moving expenses?
There are plenty of ways in which you can lower the cost of your relocation. The most important one is to choose a reliable moving company, as fraudulent ones are after your money, and they have smart ways of obtaining it. However, with Verified Movers, you ought to have no issues with finding a reliable moving team. On the other hand, there are things you yourself can do to lower your moving expenses.
Choose to move during the off-season. Many companies offer discounts when people move during the less busy months, which include those from November all the way to May.
Opt for services you really need, and take care of the rest yourself. If you have the luxury of time, perhaps you could take care of the packing process yourself. Still, if this is not a possibility, don't worry, there are options still.
Simply make your shipment smaller. It really is basic math. The fewer items you have to transport, the smaller will your shipment be, and thus will the price of your relocation follow.
Decluttering 101
Purging your belongings of all the redundancies can do a great deal of good. For one, it will make your relocation less pricey. And, it will also ensure you arrive at your new place only with the things you truly need. To conduct a decluttering process, all you have to do is to sort your belongings, make an inventory list and decide what needs to go. And once you gather all the things you don't need or use anymore – it is time to save and make some money!
Sell your items online or at a yard sale.
Recycle some of your stuff.
By doing so, you won't only save money on packing supplies, you will be able to make some cash. Nice! And after you do all that – leave all the hard work to cross country moving companies Indiana and enjoy your new beginning!
Cross country moving companies by cities in Indiana
Verified Movers are here to help with your choice in cross country moving companies Indiana
Your relocation will be a smooth process with professional cross country moving companies Indiana helping you out. And, you will find that sort of assistance easily on our website. Our platform is optimized in a way that ensures intuitive navigation and easy comprehension. We believe that everyone should be able to find their ideal moving company, and that is what we provide through our vast database. Reach out to us today if you have any questions or concerns, and we will be happy to help.